The stock market of the past few years has provided a fertile test bed for exploring new concepts in stock selection and portfolio management. The market turmoil of the past three years, but more recently since April 2010, has highlighted that clusters of stocks behave with distinct and different characteristics and that recognizing them may then lead to more profitable investing. The following is an illustration of a methodology that may do this.
Our basic analysis involves the calculation of risk/return ratios, and categorizing stocks on the basis of their relation with an index, and with regard to the degree of market volatilities and correlations.
As an example, we show a risk/return ratio for Dow Chemical Co (NYSE:DOW) as compared to the SPY, over an approximate 3 year period.
right click to enlarge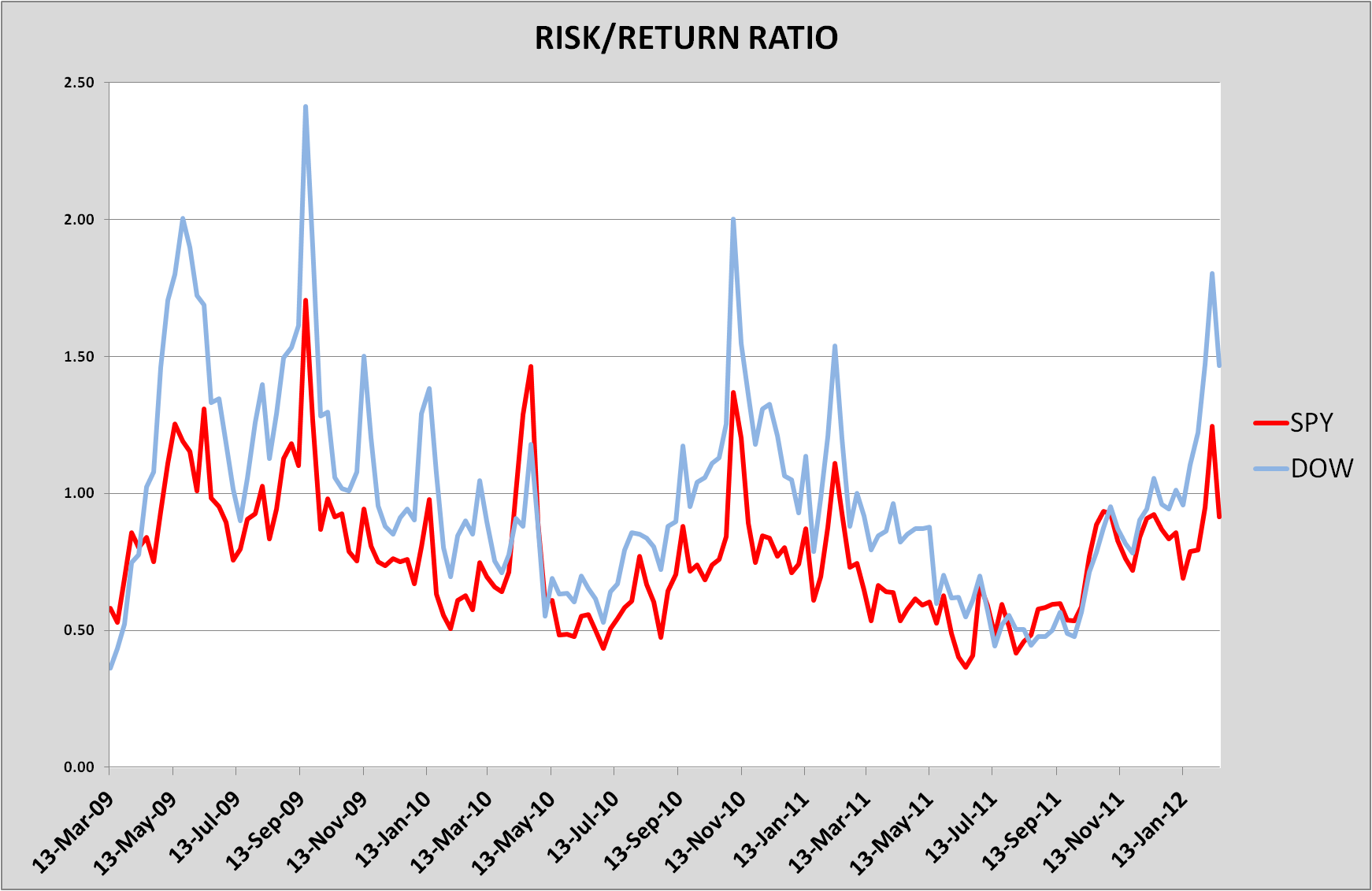 We focus on the fact that, as the risk/return ratio for SPY spikes, Dow Chemicals spikes coincidentally, but with a superior characteristic, over the entire period. That is the defining category. Our view is that it is therefore quite reasonable to consider Dow Chemicals as a stock likely to add alpha to our portfolio when we expect significant market rallies. We are not forecasting, so much as expecting this characteristic to continue. That is one half of the story.
The other half is that Dow Chemicals reacts adversely to periods of market turmoil as shown in the following graph.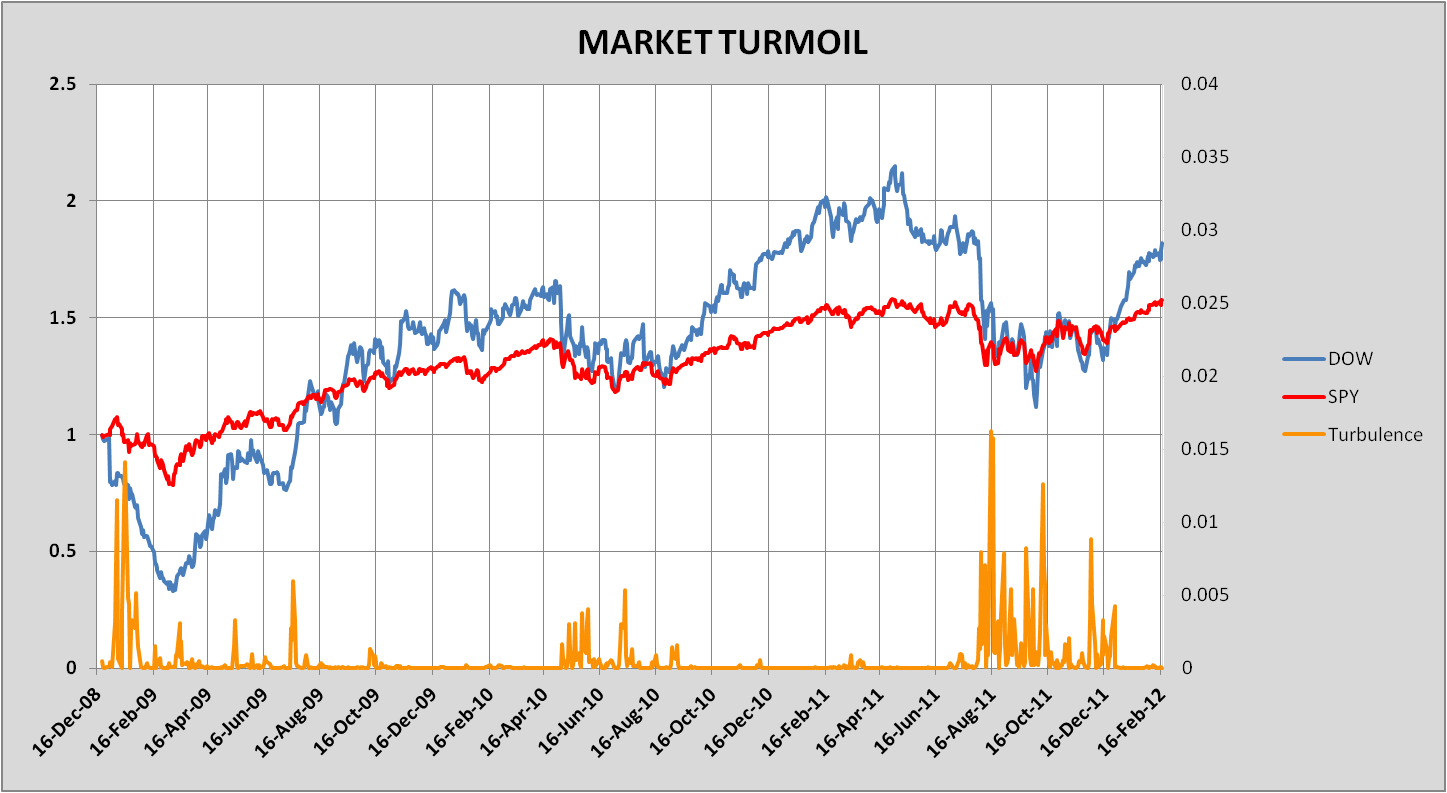 In terms of managing a position in this stock:
Quite clearly, an exposure to DOW requires active monitoring of market turbulence so as to avoid crushing losses, but this is part of the analysis. Forewarned is to be forearmed.
If market turmoil were to kick in again, then our view is that stocks with characteristics such as DOW's are prime candidates for a shorting strategy. In effect, this downside risk has been identified as an opportunity to add value.
Currently, market turmoil is at very low levels, which favors stock picking, and the current interplay of the stock/bond returns are indicative of a continued bullish stock market.
If stock fundamentals support this quantitative outlook, then DOW appears to be a stock worth considering. Our emphasis in a fundamental analysis of DOW would be to satisfy ourselves that this sector/stock is in an earnings upgrade cycle because this may underpin continuing price appreciation on reduced risk.
Taken together, there is enough analysis here to form the basis for a successful active management of this position.
How many stocks fit into this cluster? On our data base of around 1,600 stocks, around 70 can be considered, across a range of industries. To illustrate, the following compares four additional stocks:
Caterpillar (NYSE:CAT) and CBS Corporation (NYSE:CBS) in diverse industries with very similar patterns, and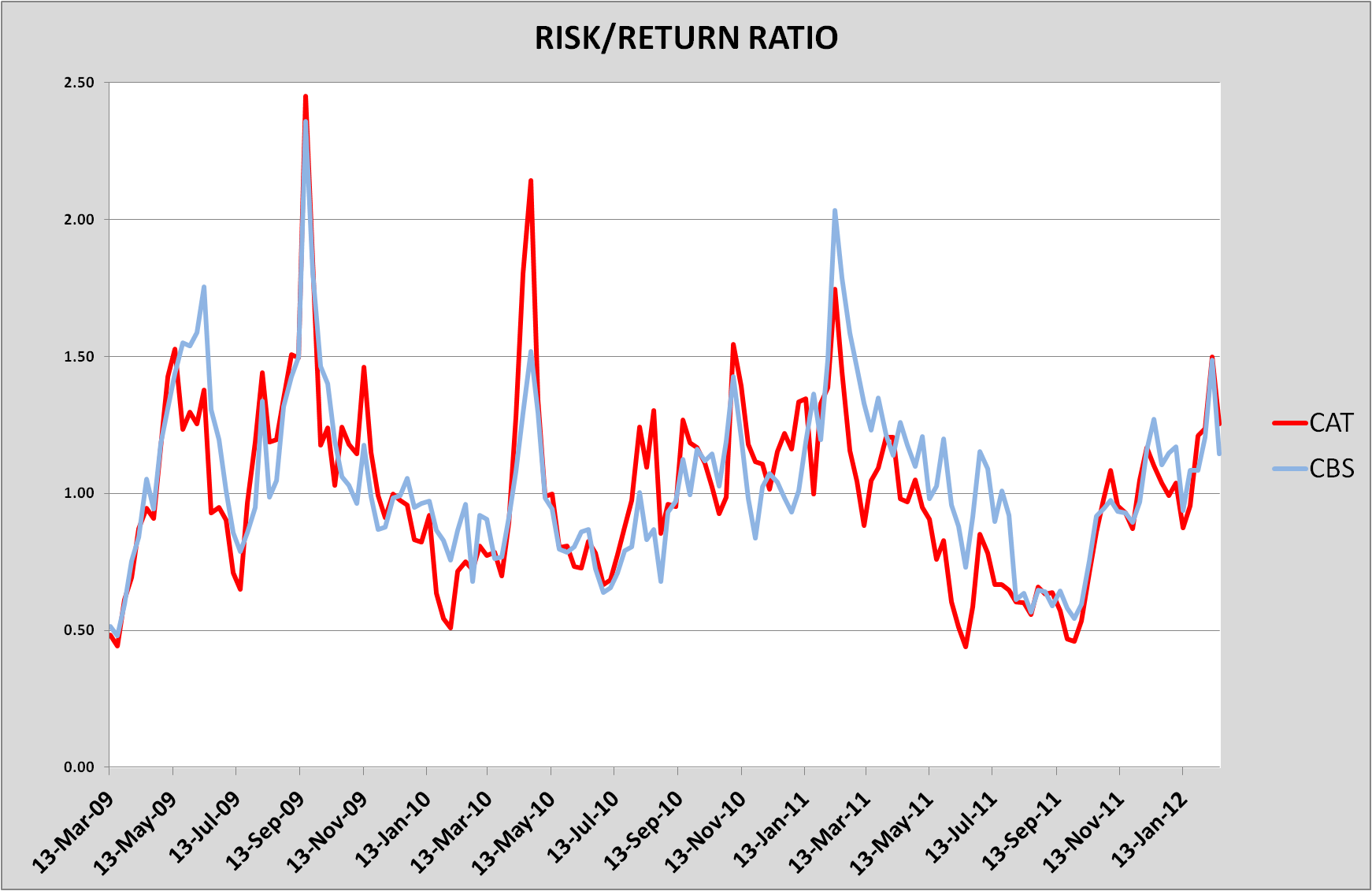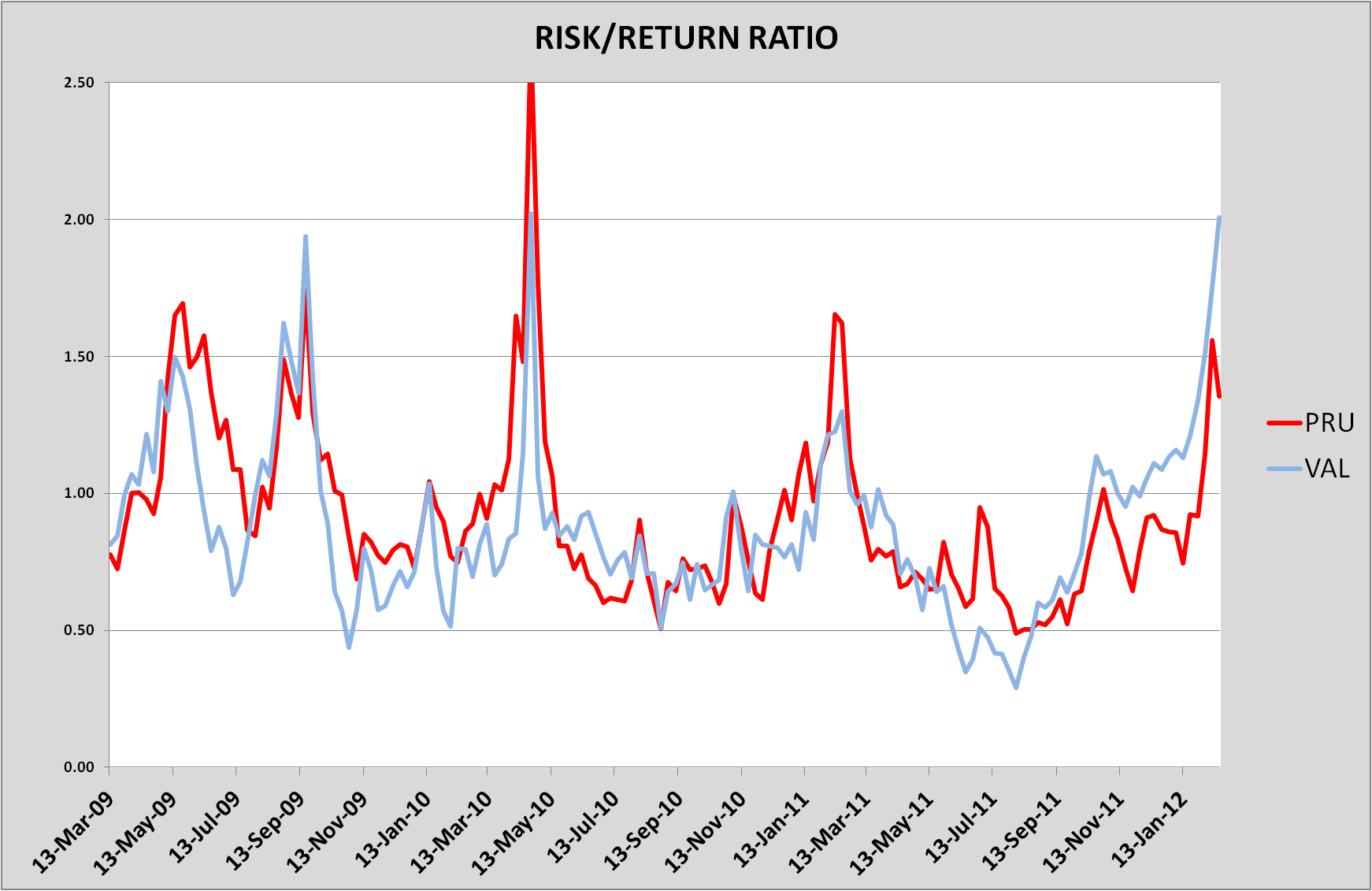 Any further research on these companies can be efficiently undertaken using the resources of this site.
A Note on Ratios
A possible benefit of ratio analysis is that ratios range between limits. At present, there are I believe, divergent views as to whether the market is overvalued or not. Of the stocks considered above, the risk/reward ratio are pushing towards their maxima for the analysis period. This implies that the rate of price appreciation may slow from current levels.
Disclosure: I have no positions in any stocks mentioned, and no plans to initiate any positions within the next 72 hours.