On Friday a few things were clear. First, the market wasn't going to slow down much after the S&P closed above its highest level since 2008, while every trader seemed to be screaming that a pullback has been due for weeks. Second, oil was going to continue to relentlessly climb higher and higher, possibly driving the U.S. economy further back into the dark days of a recession. And third, the DJIA will continue its attempt at piercing the 13,000 point threshold, to either excel this already long-in-the-tooth run, or fade from the clouds it's currently perched in. However, one thing remains very clear, volatility is extremely cheap!
As many people are beginning to notice, TVIX, the double levered ETF measuring volatility, has not been performing the way many had hoped it would. In the second half of 2011, huge market swoons allowed this security to rip 10% or more in one trading session. Nowadays the market seems to rise without question, and the "down days" are usually a measly 50 points or less. Well fantasy and reality will have to clash, and judging by previous price levels, that time may not be too far from here. The VIX, the CBOE index measuring volatility of the S&P 500, is quite low in these bullish times. While 52 week ranges may not play as vital of a role in volatility as it does in stocks, a look at the VIX one year chart will show it's indeed very close to the bottom. In fact it traded in the mid-$16 range on Friday, before the markets got dis-complacent and started swinging, allowing the VIX to close at $17.31.
Another way to play this inevitable movement would be to buy levered volatility. The first thing that comes to many minds is TVIX, the double levered volatility ETF, but with its strange behavior and news from Credit Suisse, TVIX's issuing bank, I don't think this ETF would be the most suitable option. Along the price action of TVIX, I do not like these levels as much, though anything in the $16 range is extraordinary cheap for TVIX. I prefer to be long UVXY.
Like TVIX, UVXY is a double levered ETF at nearly a quarter of the price. Currently, UVXY sits at the bottom of its 52 week range trading at $5.73, as of the Friday close. At its highest, UVXY traded for a little over $40, towards the end of October. I'm not saying that I expect to see this price again any time soon, but rather pointing out it is currently very close to its one year bottom of $5.13. Another reason I like UVXY is because it has a lot less room to fall, and you presumably would have a lot less on the table to risk losing, with the upside potential greatly outweighing the downside risk.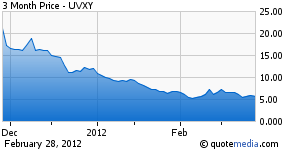 Of course the markets may continue to rise, as the world waits to see if Greece can be rescued, once again. But sooner or later the market has to correct, it has to come back down to earth. That is the way the market works; whether it's just another dip buying opportunity or a crash, the market has to come back down and volatility is cheap enough at these levels to begin acquiring it. You don't have to be a doomsayer, but it would be wise to pick up some portfolio insurance on the cheap, to protect the gains we have seen thus far.
Disclosure: I am long UVXY.