The S&P 500 has been on a tear so far this year, climbing more than 9 percent to a new 52-week high amid growing confidence the U.S. economy will avoid recession and Europe's sovereign credit crisis will not devolve into a 2008-style credit freeze.
Since the market rout in August and September of last year, I have been consistently bullish in my newsletters as well as in articles posted to Seeking Alpha. For example, in my December 27, 2011 article "My 2012 Investing Cheat Sheet," I explained my outlook for stocks and oil prices to rise in 2012 and for funding costs in key European economies like Italy and Spain to fall.
It's notoriously difficult to predict significant tops in the broader market. Upside momentum tends to feed on itself and, in recent sessions, investors have been all too eager to regard even a modest intra-day dip in stocks as an opportunity to pile into the market. But, the risks to the rally are growing and I see several major headwinds facing stocks over the next 2 or 3 months including:
Crude Oil Price Shock - In early 2011, the dramatic run-up in oil prices in the first half of the year due to supply disruptions in Libya and a tightening supply/demand balance was one of the major factors that prompted a soft patch in economic activity through the spring and early summer. This year, Brent and West Texas Intermediate crude oil prices are once again rallying sharply with the former crude oil benchmark now approaching its 2011 highs. U.S. retail gasoline prices are higher today than they were one year ago, and $4/gallon gasoline is a distinct possibility in coming months.
As I explain in an article on Investing Daily entitled "Rising Oil Prices Threaten the Economy - But Don't Panic," this jump in fuel costs will slow the consumer. The threat in the U.S. is somewhat mitigated by the nation's favorable domestic supply outlook and cheap natural gas and electricity prices but Europe and other major economies face a much bigger headwind.
Warm Weather Boosts Economic Data - Last year, temporary shocks including the spike in oil prices and manufacturing supply disruptions caused by the Sendai earthquake in Japan were the major drivers of the economic soft patch through the middle of the year. These temporary disruptions likely made the economy appear to be in worse shape than was actually the case.
This year, however, unusually warm winter weather across much of the United States has been a positive economic shock that's helped to improve the data. As part of its widely watched monthly Employment Report, the U.S. Bureau of Labor Statistics publishes data on the number of workers not on the job due to bad weather conditions.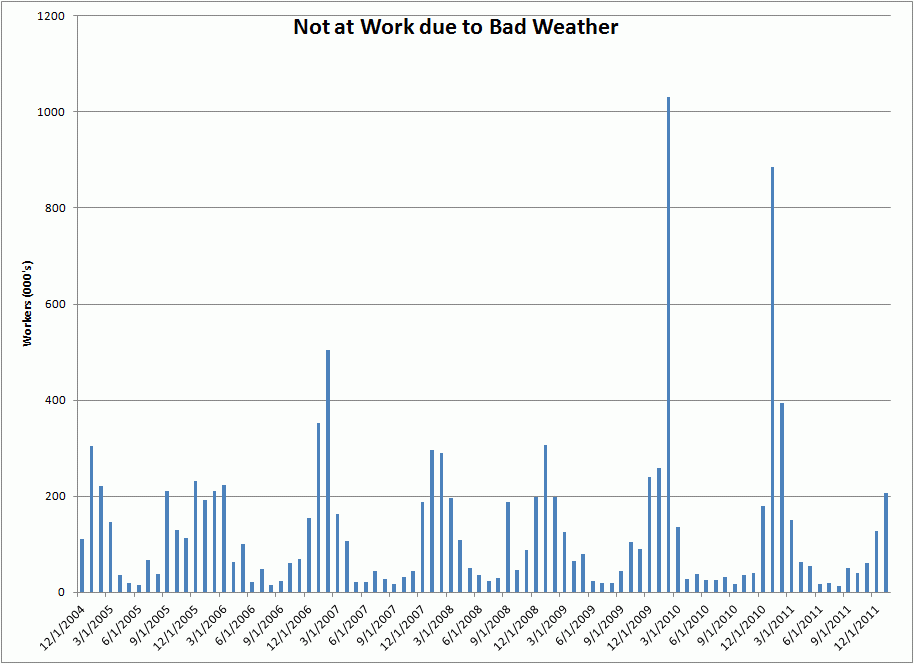 Click to enlarge
(Click to enlarge)
As you can see on the chart, the number of workers staying at home due to bad weather always spikes in the winter months and those spikes were extreme during the 2009/2010 "Snowmageddon" that impacted large portions of the country. But, this year mild winter weather has resulted in little of the normal winter spike in this series. I don't think weather alone accounts for all of the improvement in the employment data but, on balance, it's making the data look better than actual underlying trends in the job market.
Warm weather is also likely boosting other pieces of economic data such as construction and the housing market. Housing market activity normally picks up during the so-called spring selling season but some of that seasonal sales lift may be falling earlier in the year due to pleasant weather.
Political Uncertainty - U.S. presidential elections are always the source of considerable uncertainty and can cause volatility in the stock market. Those risks are intensified this year due to the murky outlook for U.S. fiscal policy after November.
Several significant tax increases are poised to hit the U.S. economy starting in 2013 as are a number of spending cuts that were part of last year's compromise on the debt ceiling limit. As a percentage of Gross Domestic Product (GDP), the concomitant fiscal contraction would be the largest in post-war economic history.
It's important to understand that these tax increases and spending cuts represent the status quo - they will go into effect if Congress and the president do nothing to repeal them. Considering the partisan rancor on Capitol Hill and the fact that this is a presidential election year, it's extremely improbable that the two parties will come together on any sort of grand compromise on tax and spending policy ahead of November. A more likely scenario is that both parties continue to propose policies that appeal to their core base of supporters. I see this uncertainty as a huge headwind for the market in the second half of 2012.
And don't forget that the U.S. faces the specter of another credit rating downgrade this year if there's no progress on the deficit. In addition, Congress could face the need to pass another debt ceiling increase as early as the end of 2012 to keep the government running.
Technical Resistance - The S&P 500 is currently testing its 2011 intra-day highs near 1,370 and looks extended on the charts after a dramatic rally off the October lows. This marks a logical point for investors sitting on significant gains to take some profits off the table.
None of these reasons should be sufficient to prompt investors to exit the market entirely but they're all causes for concern and prudence suggests taking some profits off the table in holdings that are showing significant near-term gains. These factors are also enough to have me considering some potential short sale ideas for the March recommendation in my Cocktail Stocks service. Here's a look at four short ideas that make my watchlist:
Kohl's Corporation (NYSE:KSS) - Kohl's operates a chain of around 1,100 department stores spread across 49 states with a particular concentration in the Midwest and East. The retailer focuses on moderately priced apparel, accessories and products for the home.
The retailer beat its fourth quarter earnings estimates by about 1 cent but the stock was hit after the release due to concerns about competitive pressures in Kohl's core mid-tier retail niche. In the second half of 2011, Kohl's hiked prices across-the-board in an effort to offset rising product costs; there's been upward pressure on product costs over the past year due to the rising price of raw materials such as cotton and fuel. But those price hikes cost the retailer customers: comparable store sales dropped 2.1 percent in the fourth quarter, the number of transactions per store fell 2.5 percent and units per transaction were off nearly 5 percent. Gross profit margins in the fourth quarter fell 64 basis points (0.64 percent) due primarily to lower-than-expected sales.
In discussing its strategic plans for 2012, Chief Executive Officer Kevin Mansell stated that the company intends to lower its margin plans in an effort to become a price leader in key product lines and boost sales. This likely spells an increase in sales promotion activity, especially in the first half of 2012 as Kohl's tries to grow its market share. In addition, the company is scaling back its plans to open new stores and is stepping up marketing activity in an effort to drive store traffic.
But Kohl's isn't the only mid-tier retailer that's eyeing promotional activity in the first half of 2012 to boost sales. Key competitors JC Penney (NYSE:JCP) and Macy's (NYSE:M) both relied on heavy promotions to drive sales in the fourth quarter and JC Penney rolled out a new pricing model on February 1 that will likely force Kohl's to cut prices in order to remain competitive.
Another key risk is rising gasoline prices. Consumers in the low to moderate income categories -- Kohl's core customer base -- are more susceptible to negative shocks such as a jump in fuel prices or an uptick in unemployment than are higher income consumers. A continued rise in gasoline prices through the first half of 2012 would likely put further pressure on sales for all of the mid-tier retailers including Kohl's, forcing even more aggressive promotions.
A tough economic backdrop coupled with the threat of a price war in the mid-tier retail space will be major headwinds for Kohl's stock this year. The stock gapped lower on heavy volume after its fourth quarter report and could retest the low end of its recent trading range in the $42 region in the first half of 2012.
Best Buy (NYSE:BBY) - Best Buy is the largest retailer of consumer electronics in the U.S. with around 1,300 domestic stores.
Problems facing Best Buy are more secular than cyclical in nature as the company is facing increasingly intense competitive pressure from online retailers of electronic products such as Amazon.com (NASDAQ:AMZN). In addition, discounters like Target (NYSE:TGT) and Wal-Mart (NYSE:WMT) have also entered the market for electronic devices selling digital cameras, tablets and laptops, usually with aggressive pricing strategies that further undercut the profitability of Best Buy's bread-and-butter business. Competition was particularly cutthroat towards the end of 2011: Best Buy offered aggressive promotions in its stores, expanded its product selection on BestBuy.com and offered free shipping during the holiday season to drive a 1 percent increase in fiscal third quarter comparable store sales, a 20 percent increase in domestic online sales as well as a 7 percent year-over-year jump in revenues on Black Friday.
While that increased traffic is positive, it's taking a toll on profitability with domestic gross profit dollars falling 3 percent in the quarter. Adding to the pressure is a shift in the product mix sold in favor of the popular Apple iPhone smartphone, tablet computers like Apple's (NASDAQ:AAPL) iPad and e-readers. These products carry far lower profit margins for Best Buy than laptops and digital cameras. In addition, purchases of higher-ticket items like televisions and computers shifted towards more value-priced models that carry smaller margins for the retailer.
Another competitive threat to watch is Apple. While Best Buy sells Apple products in its stores, Apple's own retail locations featuring a unique store layout and enhanced customer service are becoming increasingly popular destinations for consumers, taking customers from Best Buy. Online, it's likely that many consumers will continue to buy Apple products on Apple.com rather than through Best Buy's website.
Best Buy was hit hard when competitor Radioshack (NYSE:RSH) reported weak results in late January but has since recovered those losses, dragged higher by broader market strength. The stock recently tested resistance at its 200-day moving average and looks poised for another leg lower ahead of its quarterly earnings report due on March 29, 2012.
Baidu (NASDAQ:BIDU) - Baidu is China's dominant search engine with a market share estimated at around 75 percent compared to roughly 15 percent for Google (NASDAQ:GOOG). Long-term, the outlook for Baidu is bright with the firm continuing to benefit as advertisers shift more of their budgets from traditional media such as television and newspapers to online advertising. Search has proven to be among the most effective forms of advertising as it allows companies to better target their ads at particular demographics and customers that are likely to be interested in their products.
In the fourth quarter of 2011, Baidu continued to deliver respectable growth with online marketing revenues up 82.3 percent compared to the same quarter of 2011. That growth was driven both by a 12.3 percent year-over-year increase in the firm's customer base as well as a near 62 percent jump in average revenue per customer.
Nonetheless, the firm faces some significant profit margin headwinds in 2012 and growth is already slowing. In the fourth quarter earnings growth was 77 percent year-over-year, the slowest pace in two years and down from a rate close to 90 percent in the second and third quarters. The 12.3 percent year-over-year growth rate in active paying customers is respectable but is also the slowest pace of growth in two years. Earnings growth should moderate to around 50 to 60 percent over the course of 2012.
In addition, Baidu faces a surge in expenses as it plans to invest heavily in infrastructure and staffing to support future growth. In 2011, the company added between 1,000 and 2,000 new employees per quarter compared to just 800 per quarter in 2010 with the majority of the new hires focused on research and development (R&D). Management has reiterated its commitment to further investments in R&D; while these efforts will ultimately bear fruit, in the short-term they're likely to create more margin pressure.
In addition, the company nearly doubled its total capital expenditures in 2011 to around 12 percent of total sales. Bandwidth costs-fees paid for telecommunications services and hosting of Baidu's servers at data centers -- also doubled to about 4.3 percent of sales and more investment will be needed in 2012 to support rising traffic volumes.
Baidu also plans to expand Baidu Union, essentially a network of third-party websites that display promotional advertisements from Baidu customers. Typically, the company displays advertisements on Baidu Union websites that fit well with the content of those websites; the Baidu Union member and Baidu split the revenues generated by customers who click on these promotions. As a result of the expansion in Baidu Union, the company's traffic acquisition costs -- the fees paid to Baidu Union members-are likely to rise in 2012 from a current level of 8 percent of revenues.
Despite these pressures on margins and slowing earnings growth, Baidu is currently selling for around 20 times revenues and 45 times its trailing 12 month earnings. The stock sold off in the days following its fourth-quarter earnings release despite beating earnings expectations due, in large part, to fears of slowing growth.And with valuations already high, Baidu is vulnerable to further downside in the near-term.
PetroChina (NYSE:PTR) - PetroChina is a China-based integrated energy company that participates at every level of the business including exploration and production of oil and natural gas, refining, chemicals production and pipeline transportation. The long-term outlook for PetroChina is positive thanks to China's fast-growing demand for energy commodities and its position as the nation's largest producer. But in the short-run the stock has overreacted to a series of energy market reforms by the Chinese government and looks vulnerable to a pullback.
One of the most important catalysts for the rally in PetroChina this year is the Chinese government's rollout of a pilot program governing natural gas prices in Guangdong and Guangxi provinces. The price of natural gas for consumers is fixed by the government meaning that PetroChina can get squeezed when the costs of importing or producing natural gas rises and it's unable to pass those costs along to customers. In the past, the government has relied on one-off price hikes to raise domestic prices but that wasn't a particularly transparent process.
Under the new pricing formula, natural gas prices will vary between different regions of China with prices remaining lower in less-developed areas where energy is less affordable. Base prices in these two pilot provinces will be based on the prices of fuel oil and liquefied petroleum gas; natural gas prices in China will be more closely indexed to the price of crude oil.
While North American natural gas prices are near decade lows due to strong production from shale gas fields in the U.S. and Canada, the same isn't true outside the U.S. In fact, imported gas prices in Europe are typically indexed to the price of Brent crude oil, currently hovering near its 2011 highs. Spot gas prices also spiked last year as nations like Japan and Germany idled significant nuclear power capacity in the wake of the devastating Sendai earthquake. Natural gas prices in the United Kingdom, for example, are currently about 4 times those in the U.S.
PetroChina has also historically faced similar margin pressure in its oil refining business as the cost of diesel and gasoline are also controlled by the government. That means that when the cost of crude oil spikes as it did in early 2011, PetroChina is forced to sacrifice profit margins. The stock received a boost when the government recently announced increases in diesel and gasoline prices to reflect the jump in crude feedstock costs.
In China, reforms tend to be rolled out gradually. While the Chinese government has said it plans to roll out natural gas price reform nationwide eventually, the timing of that introduction is far from certain. In addition, it's unclear exactly how much social affordability will factor into the gas pricing formula. While these changes will ultimately mean higher profits for PetroChina and more investment in exploration and production, the near-term benefit is often overstated.
The same is true of efforts to link domestic gasoline and diesel prices more closely to global crude oil prices. The spike in oil in the first two months of 2012 will put these changes to the test and will threaten PetroChina's margins once again if it's not able to pass through feedstock costs.
Despite higher energy prices, in the first nine months of 2011 PetroChina achieved only 3 percent year-over-year earnings growth and growth is likely to remain modest in the first half of 2012 as well. Yet, PetroChina currently trades at more than 10 times forward earnings estimates, a premium to other integrated majors like ExxonMobil (NYSE:XOM) and Chevron (NYSE:CVX).
Disclosure: I have no positions in any stocks mentioned, and no plans to initiate any positions within the next 72 hours.