Clean Energy Fuels (NASDAQ:CLNE) was founded by T. Boon Pickens, who remains a major shareholder. In the 1980's it was Pickens who taught me how to seek out and profit from takeovers in the enregy business through the takeovers of Gulf Oil and Phillips Petroleum, of which I was a happy-camper shareholder of both. In 1987 I read his autobiography,"Boone," and have followed him into every public company in which he held a significant interest ever since. T. Boone has been very kind to me and my profitability.
This time, its CLNE, a natural gas "utility" that sells natural gas to 500 customers and 20,000 vehicles ... and growing. Their quarterly revenues grew by 58% in the most recent quarter. But what is lurking in the shadows is President Obama's State of the Union address "pumping" the use of natural gas in our transportation industry. The President harped on the benefits, monetary and environmentally of natural gas. HR 1380, "The Natural Gas Act" will turn his vision (and that of T. Boone) into a tax insensitive ballistic missile for the natural gas industry, with CLNE going along for the ride.
That's where CLNE call options come in. The stock has risen over 100% in the past six months. It has risen 50% so far in 2012, 33% of which has occurred just in the month of February. It would be an understatement to describe CLNE as in an uptrend; it is soaring. My Elliott Wave count (see chart below) is suggesting the mid-30's before this five-wave advance is over.
The September in-the-money 18 calls are trading at about $3.50. With the stock at $20.00, that is a time premium of only $1.50. This for a stock that is going up at the rate of 30%+ per month. It would only take a continuation of this trend for two months for the stock to reach $28.00 and the calls to be $10.00 in-the-money. That's a gain of about 200%. That is what I call a grand slam home run.
What can go wrong? The stock can sit dead in the water for the next six months and those calls can go off the board at merely intrinsic value, $2.00. That would be a 33% loss. Worse yet, the stock could decline below the strike price for a 100% loss, but only if the calls are held throughout a significant down trend without a stop. Using a 25% decline in the underlying shares, or a 50% decline in the calls for alternative stops should prevent this worst case scenario.
On the upside, the gain is virtually unlimited, i.e. how much higher can this stock price go? Current momentum suggests significant gains, and the Elliott Wave count is suggesting the mid-30's. Even if momentum slows, these are cheap calls with a lot of time left and the risk:reward equation is heavily weighted toward reward.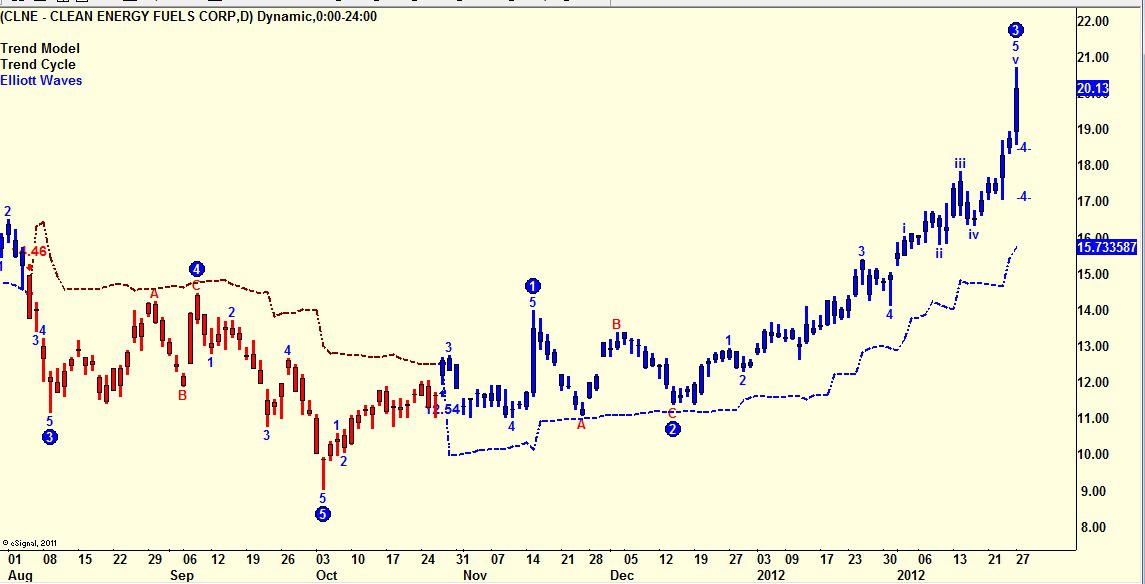 Click to enlarge
(Click to enlarge)
Disclosure: I am long CLNE and may buy the calls described in the article, or calls of another strike price and time frame in the near future.