A top tier play on the Permian Basin, Pioneer Natural Resources (NYSE:PXD) continues to unlock value by pushing the limits of what hydraulic fracturing and horizontal drilling can really accomplish in the Midland Basin. That can be seen at its new completion design, Version 3.0, in the northern and southern part of its core Midland Basin operations. In those areas, Pioneer Natural Resources is targeting the Lower Spraberry and Wolfcamp horizons.
Version 2.0 replaced Pioneer's initial frac design implemented from 2013 to the beginning of 2015. With V2.0, Pioneer boosted the amount of proppant per foot by 40%, increased fluid barrels per foot by 20%, cut cluster spacing in half (aided by better drilling targeting abilities, allowing for those tighter clusters to target rock with similar geological properties to counterbalance the impact of stress shadowing), and shrunk the distance between each frac stage by 37.5% (allowing for more frac stages per well) in its upgraded completion design.
This did cost an extra $500,000 per well to complete (assuming a 9,000-foot lateral) but it created wells that were far more productive, significantly boosting the amount of hydrocarbons recovered from the interval and materially enhancing well economics.
Stronger well productivity more than offset the additional costs, creating an inventory that could withstand and even thrive in the current environment (aided of course by Pioneer's hedging program).
That was just the beginning, as promising signs from its Version 3.0 program indicates that there is room left to keep pushing returns higher. By continuing to increase the amount of proppant and fluids per foot, further tightening the distance between frac stages and clusters, going for an even bigger completion technique for an extra $500,000-$1 million per well, Pioneer had positive results to show for it.
Below is a look at the type curve comparing V2.0 and V3.0 completions. It may be hard to tell, but the V3.0 design is tracking above V2.0 (V2.0 wells are on a trajectory to yield an average 1.25-1.35 million BOE EUR rate). By choke managed, Pioneer is limiting the amount of oil, gas, and fluids that are coming up through the wellbore which has been shown to increase EUR rates in some instances as pressure is maintained. In this case, the primary reason is to limit waste water disposal costs. These wells have only been producing for about a month without being choke managed, meaning Pioneer is at just the tip of the iceberg as to what to expect with Version 3.0.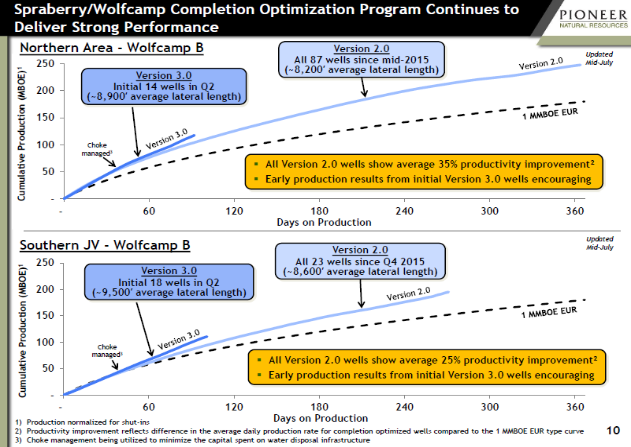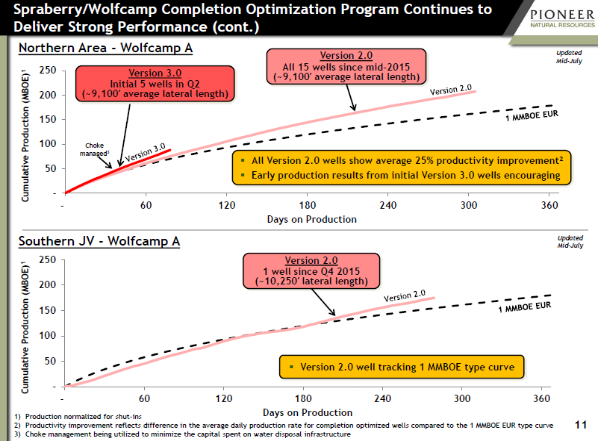 Source: Pioneer Natural Resources September Presentation
"The first 45 days [or] so of that data really needs to be tossed out as NA, simply because during the period of our choke management. It's not unusual now to have some wells choked for two months. Just as we wait [for] the ability to handle these significantly increase volume of water being pumped into these wells. But if you take a look at the version 2.0 results, they are outstanding course probably 35% improvement over the million barrel type curve.

But we are looking forward to see the fruition of all the version 3.0 wells. You can see we have had wells on improving on production. Only on production without being choked back for about a [month]. So they are starting to show results that exceed the 2.0, which is what we expect and those results I feel like are encouraging so far. You have to stay [tuned] as we get more data over the next couple of quarters."
There are some caveats to keep in mind. These wells have been producing for only a couple of months, if the trajectory dips (however seemingly unlikely) then the added costs might not be worth it. With a broad range of $500,000-$1 million, the additional completed well costs could take a decent bite out of capital. In the event of a pricing recovery pushing up oilfield services costs, would these bigger fracks still be justified? That being said, it looks promising so far and has been progressing favorably.
What makes the success of V3.0 important is that Pioneer and its JV partner may be able to shave the incremental breakeven cost of well locations down a bit. That could shift some Tier 2 and Tier 3 locations into the more economical bucket and make Tier 1 inventory all the more appealing.
It also highlights how there is room for future improvement in the Permian through multiple avenues, the optimization stage as it is vaguely defined is still underway. Over in the Eagle Ford, another Tier 1 play, there is less room for improvement on that front short of a major revelation other than marginal changes in completion designs and longer laterals.
That isn't to imply that there won't be continued cost cutting and well productivity improvements, but the Eagle Ford has entered the more mature stage where the industry already has found many of the ways to squeeze as much value out as possible (the implementation of XL and XXL laterals is the next thing to watch).
Background
For some background info, Pioneer Natural Resources sold off 40% of its stake in 207,000 gross acres that was prospective for the Lower Spraberry and Wolfcamp plays for $1.7 billion to China's Sinochem Group in 2013. That includes Reagan and Upton counties, the core of the play currently, along with Irion, Crockett and Tom Green counties. In other words, the southern portion of its operations in the southern part of the Midland Basin.
Overall, the company has an 800,000 gross acre position in the Wolfcamp and Lower Spraberry plays, with a huge 600,000 gross acre position in northern part of the Midland. Pioneer has been directing its 2016 drilling activity towards Midland and Martin counties with some activity in Glasscock and Martin counties as well, which will most likely remain its focus heading into next year.
That is before factoring in its latest Midland Basin expansion, where it acquired 28,000 net acres from Devon Energy Corporation (NYSE:DVN) for $435 million, a deal that closed at the end of August. Most of that was in the core and/or the core of the core up in the north, making it a solid deal for both parties and their respective strategic goals. To read more about that deal, check out this article here.
Production costs move lower
Pioneer Natural Resources brought up how its production costs were very low, coming in at $2.25/BOE for LOE, workover, transportation, gathering and processing expenses, on top of $1.88/BOE in production and ad valorem taxes. Other than bringing down completed well costs, unconventional upstream players have been investing in infrastructure, cutting jobs and negotiating lower long-term rates to bring down ongoing expenditures as well.
However, that doesn't factor in the most expensive parts of unconventional drilling, the D&C costs, the cost to lease that acreage (which is now very high in the core of the Permian), midstream investments along with G&A, interest expenses, and other corporate overhead. It is a sign that things like limiting the amount of water coming through the wellbore through choke management schemes are having a very positive effect on ongoing costs, as is its infrastructure investments, but investors should always look at that kind of stat as one loaded with caveats.
In regards to infrastructure investments, Pioneer plans to spend $190 million on saltwater disposal infrastructure to shave $150,000 off its per well costs this year as it centralizes its operations. $45 million on gas gathering infrastructure, $45 million on water handling infrastructure, and the firm may expand its Brady Sand Mine depending on how its production ramp up goes. These investments are being made in part because Pioneer plans to go from operating 12 rigs on its northern operated acreage position to 17 by the end of 2016.
Final thoughts
As Pioneer Natural Resources ramps up to 17 operated rigs, with the possibility that the JV will resume drilling (the last rig was let go in June), it plans to boost its 2017 output by 13-17% versus 2016 levels. This is largely made possible by a combination of its top tier drilling portfolio, ample levels of liquidity, and hedging position that will protect 85% of its 2016E oil output and 50% of its 2017E crude production at significant premiums to spot prices.
To make the most out of those wells, Pioneer Natural Resources will keep testing out its latest completion design, Version 3.0. With its new water disposal and handling infrastructure in place, it will be able to use these bigger fracks without having to choke back output for as long. Investors should closely monitor the production curves from those wells post-choke management, as there appears to be plenty of room to meaningfully exceed Pioneer's stellar Version 2.0 results.
As Pioneer Natural Resources makes its Tier 1 inventory even stronger and pushes Tier 2 locations into that category, its stock price is set to continue its bullish trajectory. Throw in a solid financial position to boot, and this is a firm worth taking a look at on a pullback. Its stock price is arguably lofty, making it prone to large swings alongside crude prices, but its strong drilling economics in the Midland Basin that is getting better and better every year through organic gains makes Pioneer Natural Resources a company worth looking at as an investment.
Disclosure: I/we have no positions in any stocks mentioned, and no plans to initiate any positions within the next 72 hours.
I wrote this article myself, and it expresses my own opinions. I am not receiving compensation for it (other than from Seeking Alpha). I have no business relationship with any company whose stock is mentioned in this article.