Fibria Celulose (NYSE:FBR) is the global leader in pulp production. Its current production capacity is 5.3 million tonnes of bleached hardwood kraft pulp per year. Pulp produced by Fibria is used primarily for production of tissues, printing and writing paper and specialty paper. Although pulp prices tend to be relatively stable compared to other commodities, a decline of pulp prices in late 2015 and early 2016 weighed on Fibria's share price notably. As a result, the shares are down by more than 40% year-to-date. However, the pulp market started to stabilise in late Q2 and Fibria started to raise pulp prices for its customers.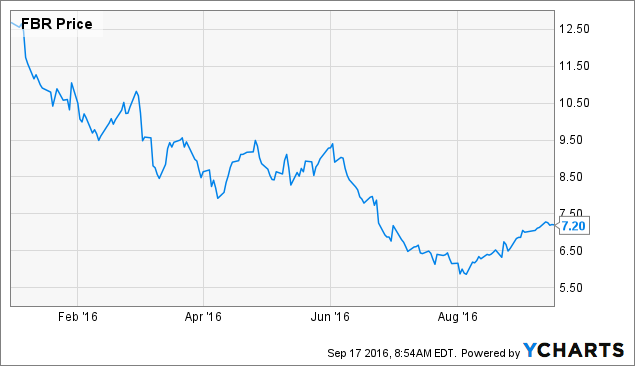 The share price bottomed around $6 per share in early August and it trades above $7 now, as the pulp market started to improve and the steep price decline was unjustified. Fibria is not only the largest but also one of the lowest cost pulp producers. It is in a good condition and profitable. Its low production costs are a huge advantage, as any potential longer term pulp price weakness will cause much bigger trouble to Fibria's competitors than to Fibria itself, which will only strengthen Fibria's market-leading position. Moreover Fibria will expand its production rapidly, after its Horizonte II project is completed. Horizonte II will not only add 1.95 million tonnes per year to Fibria's production capacity, it will also help to push Fibria's production cash costs down by 30%.
Fibria today
Despite the weaker pulp prices, Fibria is still able to generate profits. Fibria's production facilities in Mato Grosso, Sao Paulo, Espirito Santo and Bahia were able to produce 2.49 million tonnes of pulp in 1H 2016. As a result, the company generated net revenues of R$5.321 billion ($1.63 billion at the current exchange rate of 0.306068 USD for 1BRL), EBITDA of R$2.179 billion ($667 million) and net income of R$1.723 billion ($527.36 million). Fibria was able to maintain an EBITDA margin of 52% in Q1 and 43% in Q2. The results are very good given the fact that the pulp price was more than 16% lower in Q2 2016 compared to Q3 2015.
Fibria ended Q2 with cash & cash equivalents worth $932 million and a revolving credit facility of $545 million. The gross debt equals $3.96 billion which means that net debt is slightly higher than $3 billion. The resulting net debt to EBITDA ratio is 2.25 (assuming that the total 2016 EBITDA will be double the 1H 2016 EBITDA). Net debt to EBITDA ratio below 3 is generally perceived to be positive. Moreover some more significant debt maturities will occur in 2018 and later (chart below), when the Horizonte II project will be up and running. Fibria generated free cash-flow of R$1.028 billion ($315 million) in 1H 2016 and it is able to expect that the total 2016 free cash-flow will be at least $600 million, assuming that the pulp price doesn't start to decline again. Similar results can be expected in 2017. From 2018, the free cash-flow should increase by more than 50% (or to $900+ million), thanks to Horizonte 2. It means that Fibria shouldn't have any problem with repaying or refinancing its debt.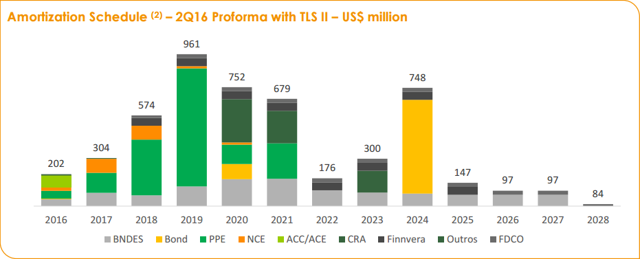 Click to enlarge
Source: Fibria
Fibria tomorrow
After the Horizonte II project is completed, Fibria's production capacity will increase by 1.95 million tonnes of pulp per year. Taking into account also the pulp that Fibria acquires from Klabin (OTCPK:KLBAY), Fibria's capacity will be twice as high as the capacity of the second largest pulp producer. The total capex for Horizonte II is $2.4 billion. According to the recent news release, it is more than 50% completed now. The project is fully funded and the startup of the new production line is expected in early Q4 2017.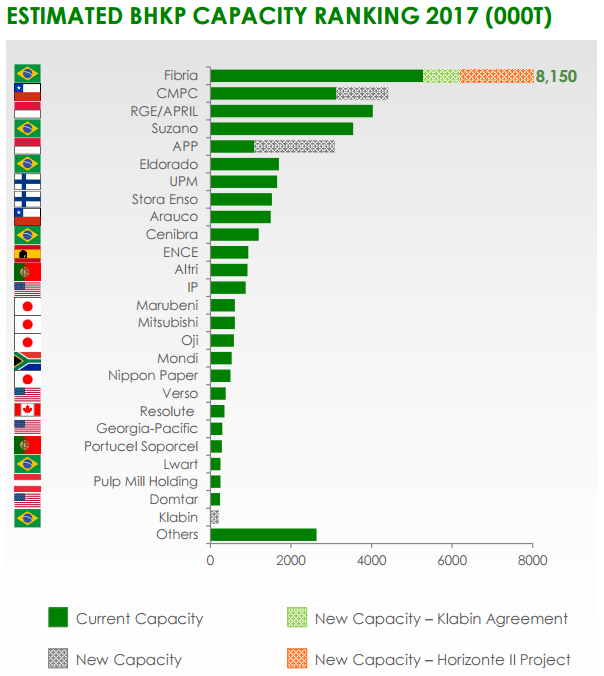 Source: Fibria
Horizonte II should produce pulp at cash cost of $99 per tonne, which is significantly below the average industry costs (chart below). Fibria itself recorded cash costs of $205/tonne over the last twelve months. The all-in cash cost should range between $270 and $320. As a result, Fibria's total cash costs for the whole company should decline from $205 to $144/tonne and all-in cash costs should decline from $449 to $366/tonne.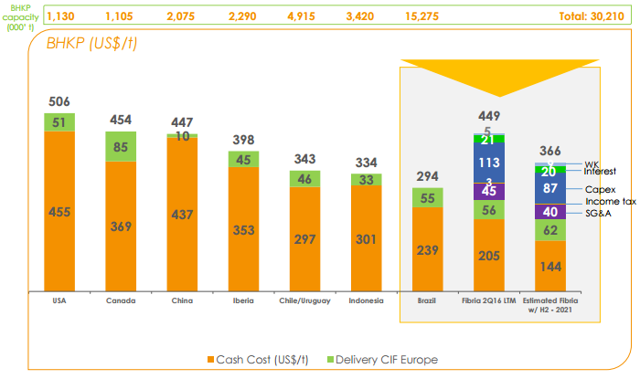 Click to enlarge
Source: Fibria
From 2018, Fibria should produce approximately 7.25 million tonnes of pulp per year, at an all-in cash cost of $366/tonne. At pulp price of $500/tonne, which is well below the current pulp price, Fibria should generate earnings close to $1 billion, or approximately $1.8 per share, given that there are 553,590,604 shares outstanding. Using a conservative P/E ratio of 10, we can come to a price target of $18 per share. It represents a 150% upside to the current share price of $7.2.
Fibria is also interesting for dividend investors. Although the dividend policy is formulated relatively vaguely (see here), the company paid dividends of R$4.15 per share ($1.27) for the financial year of 2015. It represents a 17.63% dividend yield at the current share price. Fibria is expected to generate free cash-flows over $900 million per year, after Horizonte II is in production. If the management decides to use only 1/3 of this amount for dividend payments, the dividend will equal $0.54 per share, which means a dividend yield of 7.5% (using the current share price).
Conclusion
Fibria Celulose is in a good condition. Although the pulp market experienced a weakness in the late 2015 and early 2016, Fibria was able to remain highly profitable. It is the biggest and lowest cost pulp producer in the world and it is primed to strengthen its market position further, thanks to the Horizonte II project that should get into production in Q4 2017. The company is healthy and its debt should be manageable easily. The biggest problem can arise from the current unstable political situation in Brazil. Although the wood and paper industry isn't as exposed to various policy interventions as the mining or banking industry, if situation in Brazil turns really bad, Fibria could experience some indirect damage as well. If the pulp price remains at the current levels, Fibria should be able to record EPS of approximately $1.8 in 2018 which leads to a conservative price target of $18. And there is also the prospect of very interesting dividend yields.
Disclosure: I am/we are long FBR.
I wrote this article myself, and it expresses my own opinions. I am not receiving compensation for it (other than from Seeking Alpha). I have no business relationship with any company whose stock is mentioned in this article.