Even though Xactly (XTLY) is relatively new to the public markets and the stock has done relatively well over the past few months, the business does not seem to have attracted the kind of investor attention that is usually reserved for a business delivering a consistent 20-30% type of organic growth, specializing in a SaaS-based solution, which in this case is the compensation management offering.
Like many other small-cap names in a growth phase, there are things that are worth watching out for, whether it is competition from the likes of Oracle (NASDAQ:ORCL), Cognos (owned by IBM) are Callidus (NASDAQ:CALD) that have largely adopted an on-premises or hybrid approach compared to Xactly's full SaaS model or the recent 2-3% deceleration in growth rate of billings seen in the Xactly's results, even though the metric grew at more than 25% over the previous year, but the fundamentals point to enough positive momentum to shrug off remaining doubts and attract additional coverage, in spite of the macroeconomic uncertainty.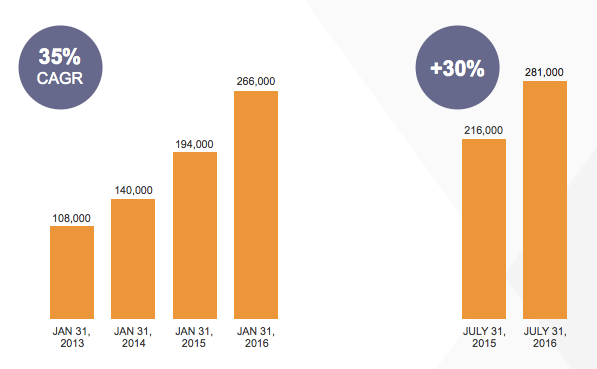 Subscribers growth. Source: Xactly
As a compensation specialist, the solutions are differentiated enough to help the company deliver a consistently high organic topline growth rate that is supported by a diverse set of verticals and customer types. With no customer representing more than 5% and module per average enterprise customer going from four to five over last year, there is enough room for growth in existing customer base. Going forward, there are various growth engines that seem to be gaining strength, be it expanding sales infrastructure, including partnerships, new products or geographic expansion, while maintaining a steady progress towards profitability, which the company expects to achieve by the end of this year, at least on a cash basis.
Near-term, seasonality alone is expected to offer a nice push over the coming months, but besides the improving growth and profitability picture, as covered in the note below, the stock should benefit from a potential re-rating that is reserved for a true SaaS-based service specialist, a.k.a. names like Zendesk (NYSE:ZEN), Workday (NYSE:WDAY) or ServiceNow (NYSE:NOW). There is limited acquisition premium attached to the name right now, but slowing software revenues should push more software players to switch to a more aggressive acquisition mode.
Overlooked leadership in the compensation solution space that is ready for a boost
There are key differentiators that do promise to allow the business to not just maintain the current momentum, especially relative to others players, but also make the business attractive for potential acquisition.
Having 14 different solution offerings around compensation, the company's fortune and focus are clearly tied to the compensation solutions, which may not help if the market turns toward integrated solutions, but for now, this is acting as a major differentiator. Xactly Insights and its decade-plus years of data is popular, with attach rates going from 20% to 30% since the beginning of the year.
Attendance at user conferences is up significantly, sales reps that grew almost 55% are ready to ramp and recent sales partnerships with Wipro (NYSE:WIT) and Willis Towers Watson (NASDAQ:WLTW) should start contributing over the coming quarters. In the meantime, profitability should get help from increasing R&D resources in the lower cost geographies, tightly managing datacenter costs and improving subscription gross margins that improved to 78% in the latest quarter, up from 72% last year.
Disclosure: I/we have no positions in any stocks mentioned, and no plans to initiate any positions within the next 72 hours.
I wrote this article myself, and it expresses my own opinions. I am not receiving compensation for it (other than from Seeking Alpha). I have no business relationship with any company whose stock is mentioned in this article.