Click to enlarge
Real Estate Investment Trusts are a crucial foundation for any investment portfolio. I love Real Estate Investment Trusts just as much as the next income investor, but have raised serious doubts about the 2016 REIT rally that has attracted so much discussion and commentary here on Seeking Alpha.
I think the consensus is that REITs, by and large, are overpriced, or at the least on the brink of being overpriced. One case in point is Realty Income Corp. (NYSE:O), an income investor's dream like no other.
Realty Income has lately entered into a correction phase, which so far has seen the REIT's share price fall ~11 percent off of its latest 52 week high. The consolidation, as far as I am concerned, is not yet completed, and Realty Income's shares are at risk of sliding even lower.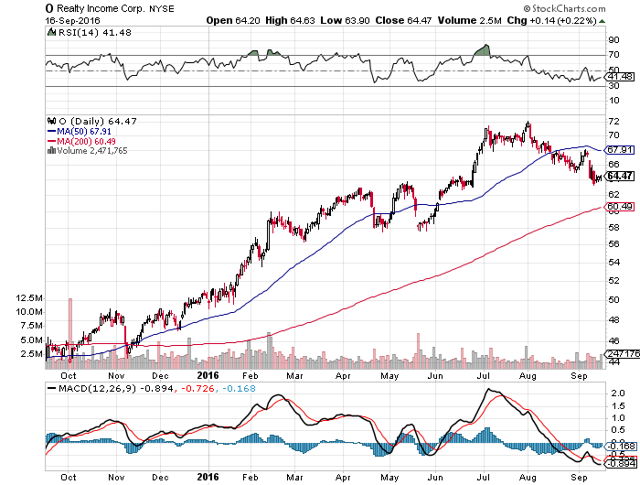 Click to enlarge
Source: StockCharts.com
Read also: "How Much Downside Potential Does Realty Income Have?".
Realty Income's shares have corrected for two reasons:
Interest rate chatter is hurting REITs, including Realty Income. Hawkish commentary by Fed officials making the case for higher interest rates have taken a toll on REIT valuations.
Profit taking. Simple. With many REITs gaining 15 percent and more in value this year, who could blame investors for taking some chips off the gambling table, especially now that valuations are stretched, and that the Fed may call an end to the surge in REIT prices with a rate hike?
At What Price Would You Consider Buying Realty Income Again?
I do own Realty Income, though not a whole lot, but always planned on adding to my position, if the prices only made more sense.
As a matter of fact, I have held off with buying REITs altogether for all of 2016 because I thought that Mr. Market was just not realistic pricing major Real Estate Investment Trusts at 20x or more this year's estimated FFOs.
What made me stay on the sidelines even more this year was this observation: We have now seen stock prices rise, more or less, since March 2009, which makes the current bull market run one of the longest in recent history...and every bull market will come to an end at some point. As a result, the reward-to-risk ratio of REITs that are bought near all time highs at stretched valuations made it very unappealing to me to even consider buying Realty Income...no matter how well the REIT is managed, or how much I love my dividends.
Would I like to buy more Realty Income?...Sure, but not at a yield below four percent, and at an unsustainable, inflated FFO multiple. I think income investors will be able to gobble up some shares well below $60 in the next twelve months.
Maybe investors will even be able to gobble up some shares in the low $50s (if the economy cools down), though this may seem unlikely at the moment. However, economies and markets constantly change. After all, every bull market is followed by a bear market, and every bear market by another bull market.
Your Takeaway
As far as I am concerned, it is still better to buy Realty Income and other REITs at valuations that reflect a less optimistic view on the economy and the REIT sector. Today, that's clearly not the case, which is why I am not buying at all.
Interest rate hikes may hurt the REIT sector over the short haul, and may set off a new round of profit taking. As a result, there may be the opportunity to buy Realty Income below $60. Considering that the current bull market is already very mature, there may be even the opportunity to gobble up some shares of Realty Income substantially below $60 in the not too distant future.
At what prices would you consider doubling down on Realty Income? At what price would you set a limit buy order? Let us know in the comments.
If you like to read more of my articles, and like to be kept up to date with the companies I cover, I kindly ask you that you scroll to the top of this page and click 'follow'. I am largely investing in dividend paying stocks, but also venture out occasionally and cover special situations that offer appealing reward-to-risk ratios and have potential for significant capital appreciation. Above all, my immediate investment goal is to achieve financial independence.
Disclosure: I am/we are long O.
I wrote this article myself, and it expresses my own opinions. I am not receiving compensation for it (other than from Seeking Alpha). I have no business relationship with any company whose stock is mentioned in this article.