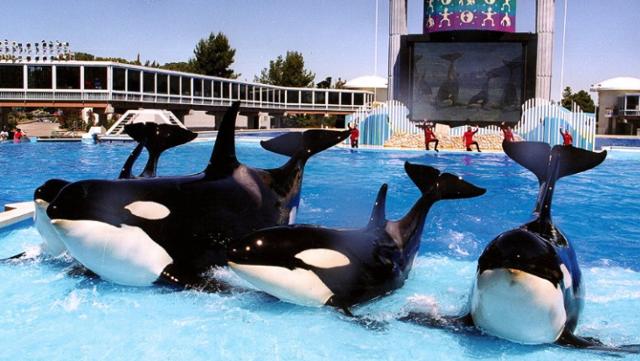 Click to enlarge
SeaWorld (NYSE:SEAS) has seen its fair share of controversies in the past couple of years as the company has fought off not only declining traffic but a scathing documentary as well. Public perception of SEAS changed immediately once Blackfish was released and the unrelenting pressure continues to this day. The stock has been hammered, of course, but one thing that has remained constant is the company's prodigious dividend. The stock is rather volatile given the swings in sentiment we've seen and at current prices, the stock is yielding close to 7%. That kind of yield is usually a red flag that a company is in a lot of trouble and/or is about to cut the dividend. But is that the case with SEAS?
To find out, I'll be taking a look at its ability to pay its dividend using data I've collected from Morningstar.
First, let's take a look at SeaWorld's dividend since it came public.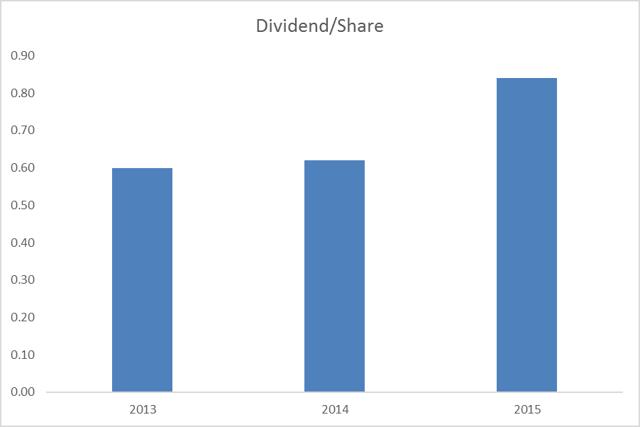 Click to enlarge
SEAS began its life as a public company with a very respectable annual payout of 60 cents but it was raised fairly recently to a whopping 84 cents. That reflected all of the company's net income and then some as SEAS has a history of steady profitability but not to the extent that its GAAP earnings would cover such a robust payout. The dividend is still 84 cents today and I suspect that if any move for the dividend is on the horizon, it is down, not up. The current payout is good for an enormous yield - even if the stock were to double from today's levels - and as I said, it isn't as though the payout is an easy thing for SEAS to make right now.
I mentioned SEAS' GAAP earnings haven't covered the dividend in the past and that is still the case today and in particular, with the recent weakness we've seen in the company's fundamentals. But GAAP earnings don't pay the bills or the dividend for that matter; what is really important is cash generation so we'll take our discussion in that direction with respect to the company's ability to continue to fund its dividend.
To that end, here's a look at the company's dividend cost against its ability to generate FCF in the same periods.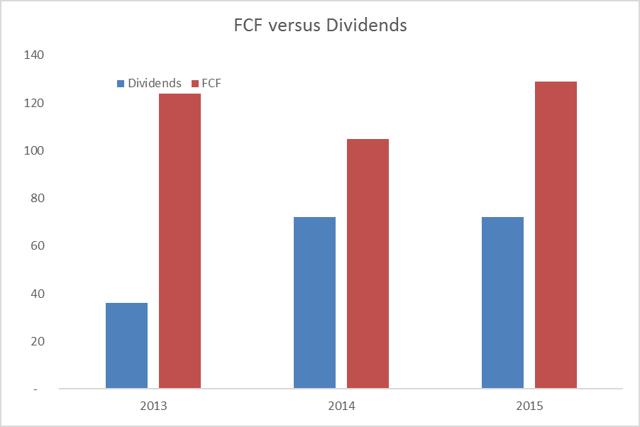 Click to enlarge
This is a far less dire picture of the dividend's sustainability as anyone looking at GAAP earnings to fund the dividend would be rightly disappointed. But if we look at cash generation, SEAS is actually in very good shape. The company's FCF more than tripled the cost of the dividend in 2013 and while the margins aren't as impressive in 2014 and 2015, FCF is still well in excess of the needs of the dividend. The picture for 2016 is likely to be less inspiring for bulls given the weakness we've seen in traffic but also keep in mind that the massive orca habitat rehabilitation that was previously planned has been scrapped since the announcement of the orca shows essentially disappearing over time. That will save a year or two's worth of dividend payments in cash on its own and while 2016 likely won't look as strong as 2015, SEAS should still ultimately be able to cover its dividend with FCF this year as well. SEAS' results are so lumpy due to intense seasonality that trying to predict FCF after just two quarters is a pointless endeavor. However, history would suggest it would take a total disaster of a second half to derail the company's FCF generation such that it would put the dividend at risk.
Why am I so confident? This chart of SEAS' FCF coverage for the past three years gives me some comfort as business as usual provides a huge cushion of FCF in excess of the dividend so again, it would take a complete disaster to derail that.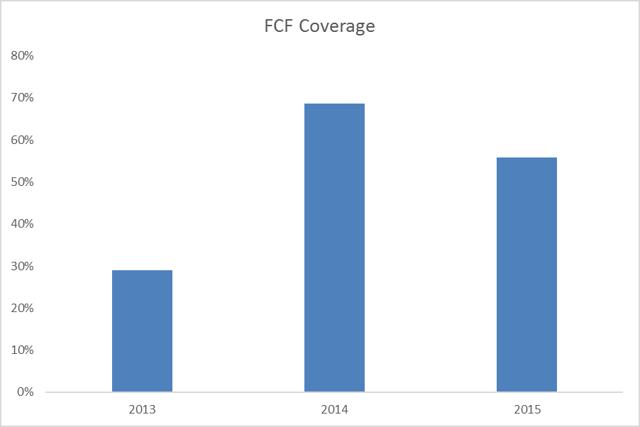 Click to enlarge
SEAS' 2013 was only a partial year so that number isn't particularly meaningful but the last two years are and as we can see, SEAS' max FCF coverage was 70%. That means that the dividend was consuming only 70% of the company's FCF, leaving the other 30% as a cushion. That ratio was just 56% last year; this is why I still have hope for the dividend despite all of the issues SEAS is facing.
While SEAS' earnings may not be very impressive and may indeed make the stock look expensive, I think there is plenty of evidence to suggest that the dividend is safe for now and likely for a long while to come. SEAS' normalized FCF generation is something on the order of 1.5 to 2.0 times the amount of cash needed to pay the dividend, even at 84 cents. So even if there is a slowdown this year - which it appears there will be - that extra cushion should at least get SEAS close enough to paying for the dividend that it can fund the deficit easily with its balance sheet. While the critical third quarter hasn't been reported yet, I'm confident that SEAS' dividend isn't going anywhere and at 6.7%, it is paying out more like a REIT than a theme park business.
Disclosure: I/we have no positions in any stocks mentioned, and no plans to initiate any positions within the next 72 hours.
I wrote this article myself, and it expresses my own opinions. I am not receiving compensation for it (other than from Seeking Alpha). I have no business relationship with any company whose stock is mentioned in this article.