In our last article we looked at the all in one Nuveen Diversified Dividend & Income Fund (NYSE:JDD). Today, in our ongoing search for yield at a discount we will take a look at a more pure play on global income that we find in the Nuveen Global High Yield Fund (NYSE:JGH).
Why global high yield?
The big fear in the United States is that after a 7 year "recovery" the interest rates will go up and bonds will be sold off. Even if that is true, and rates go up in the short term, governments around the world are nowhere close to raising interest rates. Furthermore, for the United States even if the rates do rise, there are pretty good yield spreads between government bonds and high yield. The idea goes, if rates go up it assumes the economy is doing better, and as such, high yield spreads should come down. Net result: high yield bonds should do okay even if rates rise given the cushion today.
Having discussed that... let's take a look at the fund to see if it deserves to be on your due diligence list.
Fund's Sales Pitch
The fund is targeted towards investors who are looking for high current income. By looking globally, the sponsor believes that you can generate a higher current income and protect both the income and the portfolio from regional disturbances.
The Basics
Sponsor: Nuveen Investments
Managers: John Fruit, Steven Lee, Timothy A. Palmer, Jeffrey Sch
AUM: $570.2 Million in investment exposure, $405.4 million net assets
Historical Style: Non-US/Other Global Income
Investment Objectives: The funds investment objective is to provide a high level of current income.
Number of Holdings: 306
Current Yield: 9.54%, monthly distributions
Inception Date: 11/24/2014
Fees: 1.27% + .45% Interest expense, 1.72% Total
Discount to NAV: 11.96%
Source: CEF Connect, YCharts & Nuveen
The Alpha
The strategy here is to generate a high, steady income stream by investing in high yield, non investment grade or unrated debt. The portfolio adds diversification by investing across the globe and across the capital stack. From Nuveen we have the following details.

Source: Nuveen CEF Website
The Portfolio
Even though the portfolio is fairly flexible, it is mostly invested in corporate bonds of issuers throughout the world.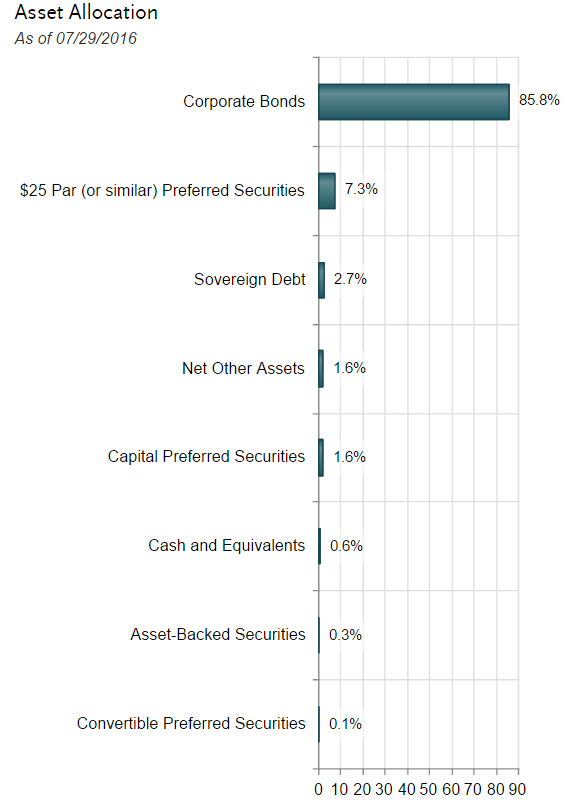 Source: Nuveen
Issuers are varied and filled with common household names such as Citigroup (NYSE:C) and T-Mobile (NASDAQ:TMUS). The top 10 issuers represent only 8.5% of the entire portfolio, presenting a nice diversified portfolio.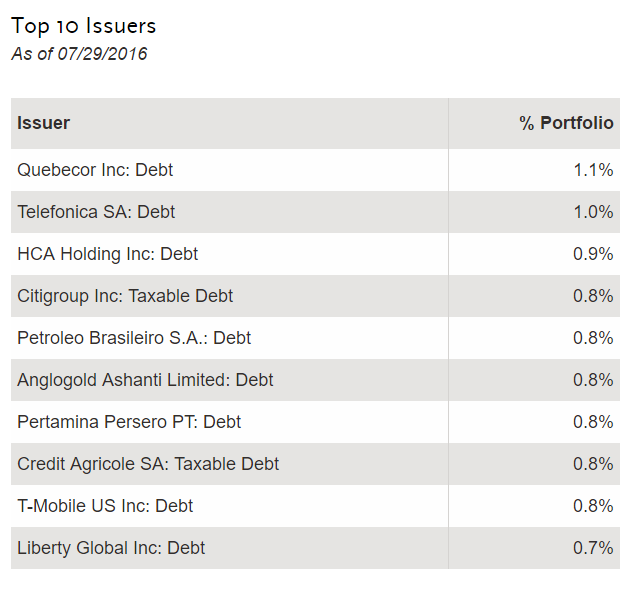 Source: Nuveen
If we take a look at the regional breakdown, even though it is a global portfolio, it is still highly concentrated to North America, in particular the United States and Canada.

Click to enlarge
Source: YCharts
The UK is limited to under 2% so for anyone freaking out about Brexit, you can relax.
With little or no Japanese exposure you are safe from the deflationary scares of Japanese society too.
With emerging markets making up about 11% of the portfolio there is nothing to be too scared about either and should provide a nice little bump to the income.
Price & Performance
JGH was created through a merger of a number of other Nuveen closed end funds. As a result, we only have a limited history for JGH.
As is common with closed end funds and global high yield closed end funds, there is usually a fairly wide discount to net asset value. Throughout JGH's history, it has not been the exception.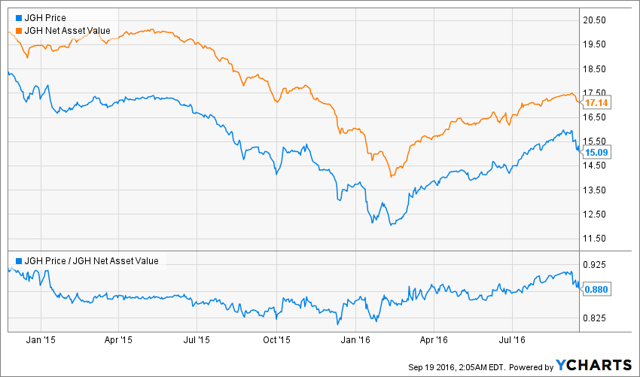 Click to enlarge
Currently the discount stands at around 11% and while it is a big discount in today's CEF universe, the discount has been as large as 20% during the end of 2015 and early 2016.
Performance wise, the fund has done quite well recently and in line with other closed end funds.
Year To Date JGH has returned a total of 21.67%.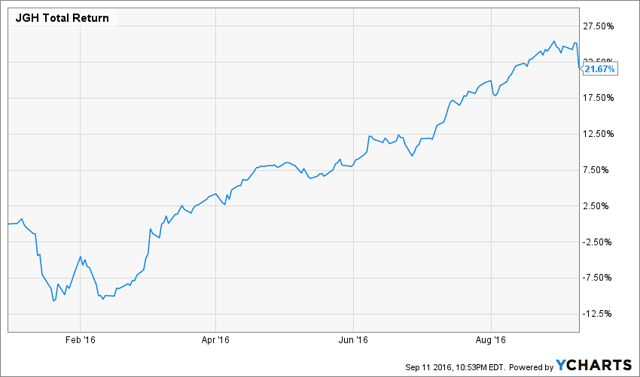 Click to enlarge
Over the last year the fund shook off the big losses and has returned a total of 13.41%.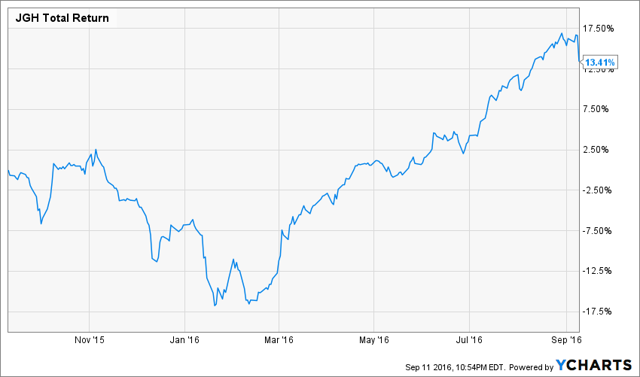 Click to enlarge
Since inception, or a bit over 18 months, the fund has broken even. 2015 was not a great year for closed end funds or high yield debt around the world.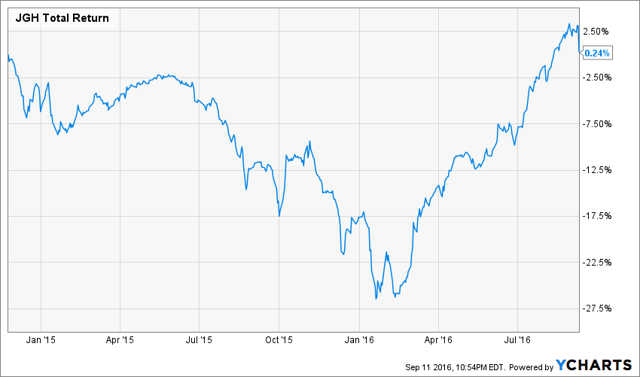 Click to enlarge
If we break down the performance, we can see that the majority of the returns for the last year were due to the market price and not the underlying NAV, again, search for yield and investors piling in.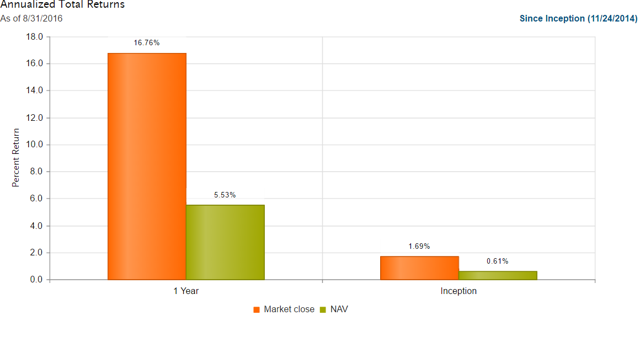 Click to enlarge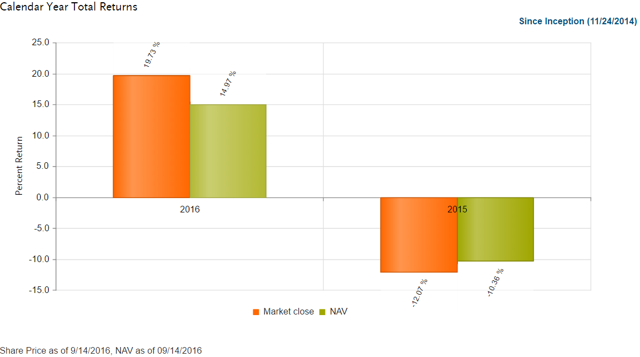 Click to enlarge
Looking at how it has done compared to some indexes, we can look at the S&P 500 (NYSEARCA:SPY) which will always be something almost any retail investor will compare their investment to, and the iShares Aggregate Bond Index (NYSEARCA:AGG).
Year to date and over the 1 year time frames, JGH has outperformed both as investors searched for yield.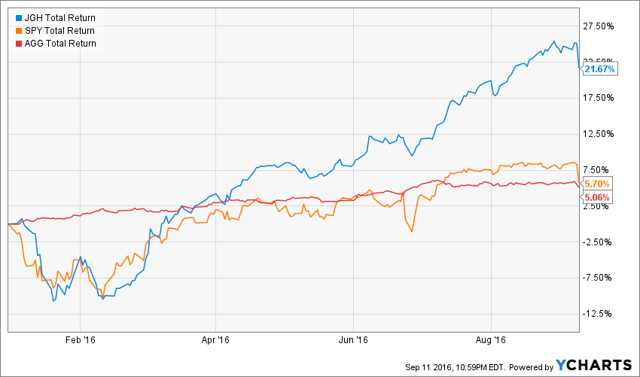 Click to enlarge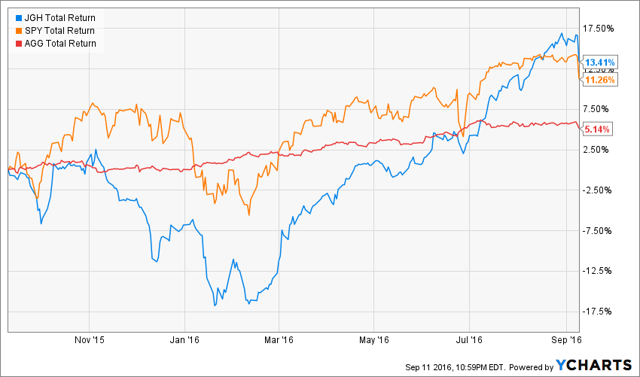 Click to enlarge
Since inception, the fund has trailed, primarily due to the big sell off during the second half of 2015.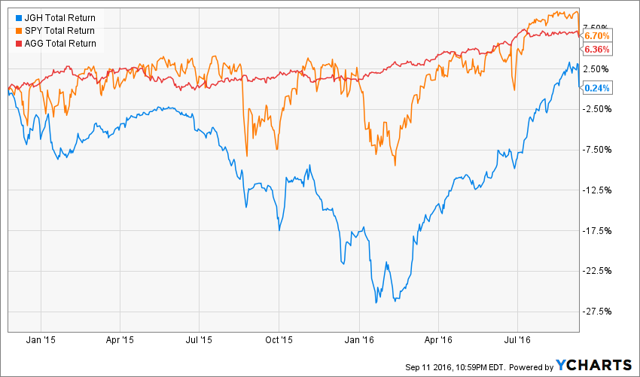 Click to enlarge
Compared to the category average, the fund has outperformed over the short term, both on the market price and NAV basis, and about even since inception.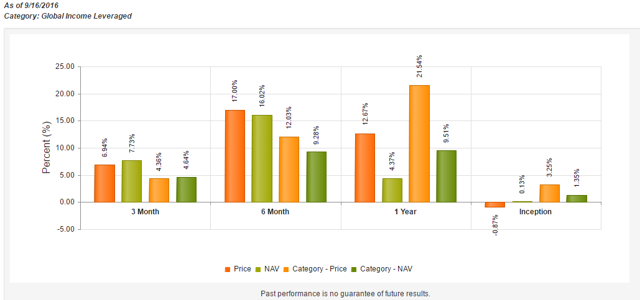 Click to enlarge
Source: CEF Connect
Overall, the fund has done as you would expect a global high yield closed end fund would; higher volatility during a time of panic and rip roaring performance when investor appetite picks up. You do get a nice high income while you hold it though.
Who's It For?
Income investors of course!
The question really should be in how you use it of course.
I don't believe that this fund should be a core, one fund solution to income, it is too risky for that. Where this fund does make sense is to use it to add to an existing portfolio.
For a fixed income investor, adding JGH would provide a bit of extra juice to their income stream and give them a bit of growth if the recovery continues or grows significantly. In a rising rate environment, high yield should be less impacted than a core, investment grade portfolio.
The other place where this may make sense to add is to a global equity portfolio. You would be taking similar equity like risk, but you would have a much better income stream and diversification across the capital stack.
For anyone holding the iShares iBoxx High Yield ETF (NYSEARCA:HYG) or the iShares Aggregate Bond ETF, adding JGH to those holdings or as part of that allocation may be an attractive choice as well, allowing you to buy high yield at a discount to NAV.
Personally, we own JGH, not because we bought it but because a previous fund we owned was merged into it. (By "we" I am referring to my family. We do not have clients invested in JGH.) We are doing ongoing due diligence on it, but for now, the discounts and the income are too big to sell the fund - in my opinion of course.
Go ahead... add it to your due diligence list.
Questions? Let's keep the conversation going.
I believe in active management that works, and I am here to help you find those opportunities. Please follow me here on Seeking Alpha as we look for those opportunities and sort out the good managers from the mediocre.Simply click the "Follow" button next to my name at the top of the article or on my profile page.
Disclosure: I am/we are long JGH.
I wrote this article myself, and it expresses my own opinions. I am not receiving compensation for it (other than from Seeking Alpha). I have no business relationship with any company whose stock is mentioned in this article.
Additional disclosure: Maks Financial Services is a registered investment advisor and our Form ADV Part 2 is available upon request. We certify that the opinions and predictions in these articles are our professional beliefs at the time of publication and should not be construed as personal investment advice. Please consult your financial professional to see how anything discussed here applies to you. Furthermore this is not a solicitation to buy or sell any securities. This is not Tax Advice. Please consult your tax professional.