I've been a fan of Occidental Petroleum (NYSE:OXY) for awhile. I last recommended the stock back on June 20th, back when shares were at $76.10. Today shares sit at $71.03, a loss of 6.7%. While I have so far been wrong on the direction of shares, one piece of good news is that management announced a slight increase of its dividend, from 75 cents per quarter to 76 cents.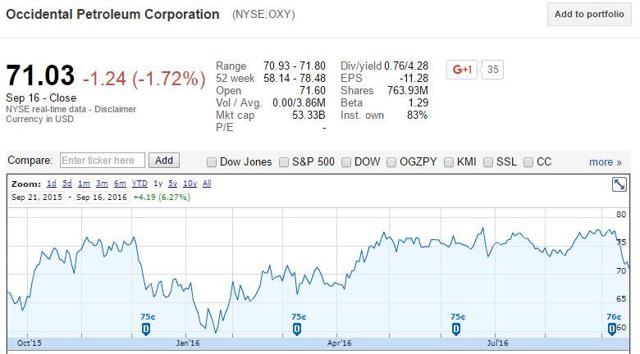 Click to enlarge
Courtesy of Google Finance.
Recently Occidental, or Oxy, released its second-quarter earnings results. This article takes a look at Occidental's second-quarter results and what investors can expect going forward, particularly in regards to the dividend.
Second-quarter results
Occidental remains on track to achieve all of its important guidance milestones. Average daily production was 653,000 barrels per day in the second quarter, versus 658,000 in the second quarter of last year. In the two remaining quarters of the year, capital expenditure will increase somewhat, and that will lead to a nice increase of production toward the end of the year. Management continues to expect total production growth of between 4% and 6%, and this year it should be on the high end of that range.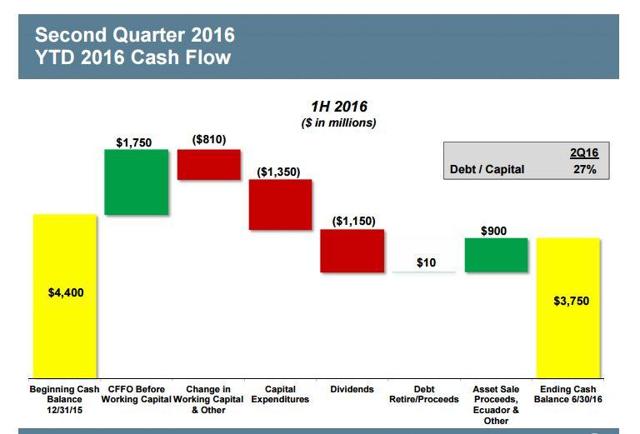 Click to enlarge
Courtesy of Occidental Petroleum Investor Relations.
In my most previous article, I said that Occidental would indeed be able to roughly achieve cash flow neutrality, with the dividend, as long as it could realize about $50 per barrel. Unfortunately, in the second quarter Oxy's realized price per barrel equivalent was about $39. Therefore, cash flow continues to be a little shaky, and that will probably continue for the foreseeable future.
As you can see in the above chart, capital expenditure and dividends outstripped operating cash flow by $750 million. Fortunately, Oxy has another $3.75 billion after it took out three separate bond issuances for a total of $10.4 billion. Oxy used those proceeds to refinance and pay off all debt coming due this year and next year, then put the rest in the bank.
Oxy's dividend continues to be fine, for now. Capital expenditure is expected to be $3 billion this year, and while taking questions, CEO Vicki Hollub said that capex would remain 'roughly the same' next year. Production growth will have some positive effects, but cash flow really is going to hinge on what realized prices are at that time. Keep your fingers crossed.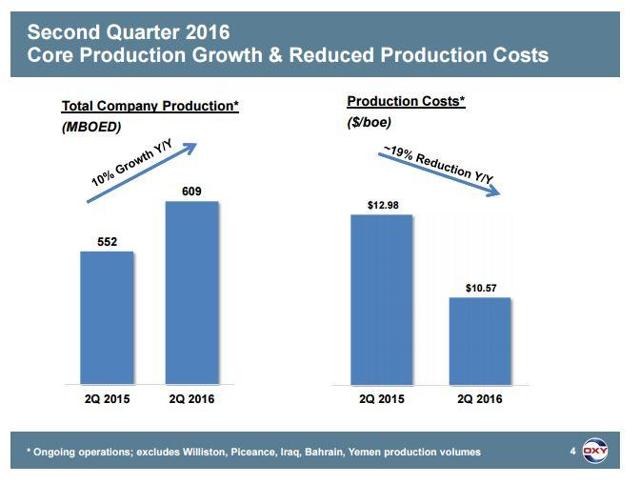 Click to enlarge
Courtesy of Oxy Investor Relations.
Over the last year Occidental was able to reduce its production costs by 19%, which seems to be quite impressive. Much of Oxy's cost improvement has come from 'Permian Resources,' which is, in fact, the company's horizontal drilling program in the Permian. Part of the reason Occidental has made such impressive progress is because the company started its Permian horizontal drilling program relatively late, and is now 'catching up,' and catching up quickly.
Another reason is that Oxy has the rather enviable position of being the largest oil producer in West Texas, with a huge 2 million acre position, much of which is in large acreage chunks. West Texas, particularly the Wolfcamp and Delaware basins, are turning out to be some of the most economical shale plays in North America. Now that Oxy has finally gotten the ball rolling on horizontal drilling, it is set to be quite a force in it, I believe.
The big question is whether Oxy can reduce production costs and increase production enough to be able to make it to cash flow neutrality anytime soon. That's the million-dollar question, and it's one I do not know. Chances are we're going to need higher crude oil prices than what we got over the second quarter. I am becoming increasingly unsure whether Oxy will be able to realize $50 WTI anytime soon. If prices remain exactly the same, I believe Oxy will be able to make a dent in its current cash flow gap, but I don't think it will be able to close it entirely.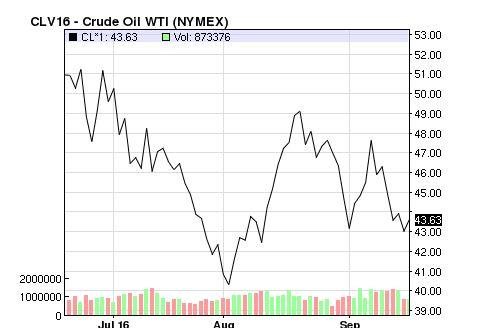 WTI crude has so far been well under $50 in the third quarter. This is not a great sign for Oxy.
I'm willing to wait a couple more quarters to see where crude oil prices go, because Oxy has plenty of cash and its cost structure seems to be improving significantly, with both well drilling costs and operating costs coming down. Another whole year of sub-$50 WTI, however, could put Oxy in a more precarious position, and could require the company to make some more difficult choices. Although any dividend hike is a good thing, this one was largely symbolic and little else.
Conclusion
I am a bit less confident in Oxy's dividend than I was when I wrote about it about three months ago, not least because it seems there is a hard ceiling for WTI and that ceiling is well below $50 a barrel. For that reason, I can't really recommend this as a 'buy.'
Overall production in the United States is continuing to tick downward, and there have so far been over 100 bankruptcies in the oil patch this year, with more likely to come. Still, it doesn't appear that crude prices want to break $50 any time soon.
I believe shareholders of Oxy should keep a sharp eye on Oxy's cash flow over the next couple quarters. With next year's capital expenditure program scheduled to be 'roughly similar' to this year's, Oxy is going to have to continue significantly reducing its cost base if crude prices continue to bounce around.
If you're interested in Occidental Petroleum, feel free to follow me here on Seeking Alpha. I've been following this company for awhile, and will continue to write update articles when doing so is both material and relevant.
Disclosure: I/we have no positions in any stocks mentioned, and no plans to initiate any positions within the next 72 hours.
I wrote this article myself, and it expresses my own opinions. I am not receiving compensation for it (other than from Seeking Alpha). I have no business relationship with any company whose stock is mentioned in this article.