Note: All of the numbers in this article relate to the Canadian Dollar, and refer to the financial statements produced in the Canadian Dollar.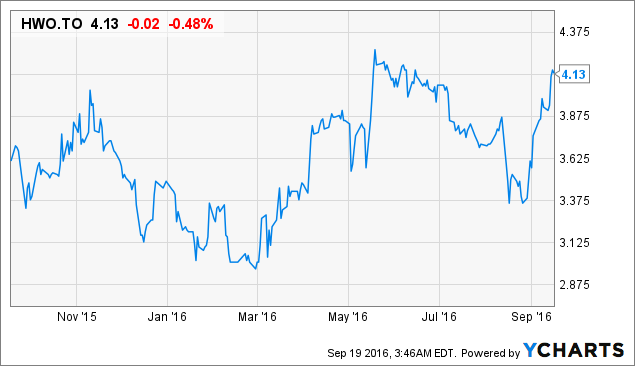 Introduction
High Arctic Energy Services (OTC:HGHAF) recently made a relatively large acquisition from Tervita Corporation (private), when they purchased Tervita's entire production services division in late August. What does this mean for High Arctic? This article will offer an overview of the transaction, largely because there is much more to the deal than was released in the brief memo on their website. This will be followed be an analysis of how this benefits the company in the future.
Three weeks ago, High Arctic Energy Services made a move to purchase the entire production services division of Tervita Corporation, an environmental solutions company that operates a wide range of services for the oil and gas industry. Tervita has been struggling to remain solvent over the last few months, spurred on by the downturn in the oil industry. Initially, Tervita resisted selling these assets as management waited for a rebound to occur. As their situation became more dire, Tervita was essentially forced to sell it's production services division to ward off insolvency, which led to High Arctic picking up their entire production service division for $42.8 million. It is worth noting that in the conference call on the acquisition, the interim CEO mentioned that Tervita had rejected a "much higher" offer about twenty months ago, highlighting just how much the market has changed since then. The plan is for High Arctic to began operating the new arm of their organization within the next two to three months, however, management has the option to wait up to 6 months before taking over.
Details of the Deal
So why was this such a good deal? For $42.8 million, High Arctic obtained:
85 service rigs, of which 68 are currently marketable
7 Operating Centers, 5 owned without debt
Rental equipment
Engineering Service Business
The rigs are all service rigs, singles or doubles, with approximately 60% being singles. There is a wide range of age for the service rigs, however, the interim CEO states that he believes they are slightly newer than peers. We do know that the rigs include a range from brand new and never used before, to legacy assets. In addition, the rigs are on average more expensive than the rigs owned by peers, and have many optional equipment such as accelerators. It is unclear of the exact book value of these rigs, however, the price paid can be estimated to be a fraction of the book value.
In addition to a great class of rigs, Tervita has a tremendous safety record, which has been a large variable that clients consider when contracting a service company. This is why Tervita had established long term relationships with major integrated companies such as Imperial Oil (NYSEMKT:IMO), and Cenovus Energy (NYSE:CVE). Related to this, Tervita's production service division has industry leading utilization, and slightly positive cash flow. The TTR for the PS division is around $64 million.
Looking at the extras, they obtained 7 operating centers (5 owned), which will help with the logistics of running a service rig division, something that is uncharted territory for High Arctic; these were purchased for $8 million originally. They also obtained a large amount of rental equipment, which little is known about, however, current book value is approximately $10 million, and was purchased initially for approximately $21 million by Tervita. Finally, there is an Engineering service business that produced around $7 million in sales last year, and is involved in monitoring suspended or abandoned wells; given the current climate in Alberta, this area will likely experience growth in the future. To quote the interim CEO, "our cost on the rigs are close to zero," when considering the individual value of each of the extras that went with the service rigs.
Changes Since My Last Article
In my previous articles, I touted High Arctic as the best Canadian Energy Services company to weather the downturn, as their long term contracts that were written during the boom, compounded with their remarkable liquidity and lack of debt, made them perfectly positioned for this downturn. I predicted that their margins would remain incredibly strong, and would lead the industry throughout the year. I predicted that the analysts were under-reporting earnings due to not fully appreciating the effect of their Papua New Guinea (NYSE:PNG) revenue, and the Finally, I predicted that they were well positioned to pick up assets or companies at bargain basement prices in the event of a major downturn.
It seems that all of these predictions came to light, and High Arctic is looking like as strong of a buy as it ever has. While the rest of the market sold off assets, decommissioned old rigs to save costs, cut staff, and trimmed salaries, High Arctic remained an outlier and barely modified their strategy throughout the downturn, aside from putting some equipment on standby. In fact, due to receiving revenue from Rigs 115 and 116, High Arctic actually increased their margins and revenue; this is the only example of this I am aware of for any Canadian company in the industry, (please message me if someone has found an exception as I have seen nothing even close). Furthermore, the delay of Rig 116 spudding, which in any other circumstance would be bad news, is actually a blessing in disguise as their 2 year contract does not begin until Rig 116 spuds. This gives High Arctic more stability as service companies are currently offering major discounts for their work right now.
Rig 103/104 Contract Renewal and Interoil's Takeover
The biggest downward pressure for High Arctic in 2016, aside from the price of oil, has been the concerns over their contracts expiring for rigs 103 and 104 with Interoil Corporation (NYSE:IOC). This created a problem because these contracts were signed during the boom, and as such had rates much higher than we are currently seeing. The contracts for 103 and 104 were due to expire mid 2016, however, due to Interoil being a takeover target, management had decided to extend the contract for 104 until October 31st, and 103 until the completion of a current project that is estimated to be done towards the end of the year.
To complicate things further, Interoil was subject to a takeover offer from Oil Search Limited (OSH), the other company that contracts High Arctic in Papua New Guinea. I saw this as initially negative news, as this would erode any "competition" for High Arctic's somewhat specialized services in PNG by only having one client. However, matters may have gotten even worse for High Arctic when Exxon moved in with a larger bid for Interoil, and shortly thereafter announcing that they would be scanning the markets for bids, essentially opening up dozens of potential competitors for the contract.
Once this news was announced, High Arctic's shares started to tumble, until it was interrupted by the Tervita acquisition. High Arctic did a conference call on the details of this acquisition, while also mentioning some updates on their talks with Exxon which turned out to be very encouraging. First, rig 103 and 104 are both being mobilized (103 is waiting for weather) at this time, which strongly suggests that the contract will be extended beyond October 31st. With Rig 103/104 contracts extending through much of the year, and Rig 116 not spudding until the very end of the year, it is reasonable that the PNG side of their revenue and expenses will be somewhat on par with the previous two quarters.
Canadian Operations
Their Canadian operations, on the other hand, are likely to continue to suffer, and will likely show similar or slightly worse numbers than before. In Q2, High Arctic's Canadian revenue declined year over year from 6.4 to 4.9 million; fortunately, this is much higher than their peers due to much of their revenue coming from the midstream sector. Management has been proactive at cutting costs in this area and have decreased their number of marketable snubbing units, which should help maintain some of their margins, however, I would not anticipate that these would generate good returns anytime soon.
However, sometime in the next few months, High Arctic will assume the operation of Tervita's PS division, which will completely transform these numbers. In the current environment, we know that Tervita's PS division was "slightly cash flow positive," which implies that they are producing negative earnings. This will likely erode any positive earnings for High Arctic, and may even put it into a loss for a couple of quarters. However, for a company like High Arctic with almost no debt, all I am looking for is cash flow neutral; this is because there is enough cash flow generated from their PNG operations, most of which is secured in long term contracts, that High Arctic does not need strong cash flow from Canada. Instead, the newly acquired PS division will be an enormous source of earnings when the eventual rebound occurs, without bankrupting the company in the meantime.
Considering that Tervita produced 64 million in TTR, and considering that the drilling revenue of peers in the Canadian drilling sector have fallen at least 60%, this suggests that their annual revenue would exceed over 100 million annually when a rebound eventually occurs, using the most conservative estimates. In reality, the figure would likely be much larger if we were to return to 2014 levels again.
The Big Picture
This acquisition essentially gave High Arctic exactly what they needed. First, this allowed them to expand their Canadian operations at an extremely low cost using almost entirely cash, therefore there is little risk of insolvency due to management "rolling the dice" using high amounts of debt. Second, they will continue to generate strong positive cash flow from their PNG operations, regardless of the outcome of their contract negotiations. This will allow them to continue to invest in capital investments as needed, and repay the small amount of debt that they have; furthermore, this allows High Arctic to offset potential losses from their Canadian operations.
Third, with Rig 116 still not initiating it's two year contract, but continual delays keep on adding to their standby revenue at almost no cost, gives the company significant stability in the future, if the downturn lasts for another couple of years. Fourth, rig 115 has been earning revenue, and still has a significant amount of time left in it's contract, guaranteeing more medium term cash flow. Fifth it seems that the 103/104 is very likely to be extended beyond October, and based on comments by management, it seems that a renewal is quite likely.
In summary, High Arctic continues to remain the best pick in the energy services sector in Canada right now, has an extremely unlikely chance of insolvency, has enormous upside in the event of an oil price rally, and Q3 results will reveal that after this new acquisition they will be trading well below their book value. High Arctic has already rallied a lot since the announcement, however, I do not believe the rally is finished. Not only is High Arctic my largest holding, but it now constitutes over a third of my portfolio; you will see why over the next few years.
Disclosure: I am/we are long HGHAF.
I wrote this article myself, and it expresses my own opinions. I am not receiving compensation for it (other than from Seeking Alpha). I have no business relationship with any company whose stock is mentioned in this article.
Additional disclosure: I own HWO on the TSX and do not own the US listing, HGHAF.
Editor's Note: This article discusses one or more securities that do not trade on a major U.S. exchange. Please be aware of the risks associated with these stocks.