Quick Take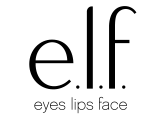 e.l.f. Beauty (NYSE:ELF) wants to raise $125 million in its IPO at a price range of $14 to $16 per share.
The company will only receive an expected $52.3 million in net proceeds, since existing shareholders are also selling shares as part of the proposed IPO.
ELF has been growing quickly, but that growth rate is slowing, as is its EBITDA. A lack of existing shareholder support in the IPO is also a bad signal, so I recommend avoiding the IPO stock.
Company
e.l.f. Beauty was founded in 2004 by Alan and Joey Shamah and sells low price, "cruelty-free" cosmetics via retail establishments throughout the U.S. and via its website, with the majority of its products at a retail price point of $6 or less.
The company's approach is to quickly iterate on new product development by soliciting feedback from early adopters, what it calls a "consumer engagement and responsive innovation model."
As a result, ELF says it can launch products "in as few as 20 weeks from concept, and 27 weeks on average." It can do this by first launching products on its website, iterating quickly followed by broadening a product's reach through its retail channels.
The company currently has product in 19,000 U.S. stores, with Wal-Mart (NYSE:WMT), Target (NYSE:TGT) and CVS (NYSE:CVS) accounting for a total of 61% of its net sales in 2015.
In 1H 2016, ELF also recorded 6% of its sales revenue from international markets such as Australia, Canada and France.
ELF is now headed by CEO Tarang Amin and his team, who were previously responsible for enterprise value growth of Schiff Nutrition from $190 million to $1.5 billion in less than two years, according to the company.
Amin's group was brought in by private equity investor TPG Growth, which acquired a majority stake in February 2014 for $135 million.
Market
According to a 2016 report by MarketResearch, the U.S has the largest cosmetics market worldwide, exceeding $62 billion.
The portion of cosmetics focused on ELF's market, that of eye, lips and face, is expected to grow to $8.4 billion by 2018, representing a 3.8% CAGR for the period 2013-2018.
A report by Euromonitor highlighted that the geographies of India and Indonesia will account for significant growth over the short term.
ELF has aimed its strategy on the three largest cosmetics sectors by application area: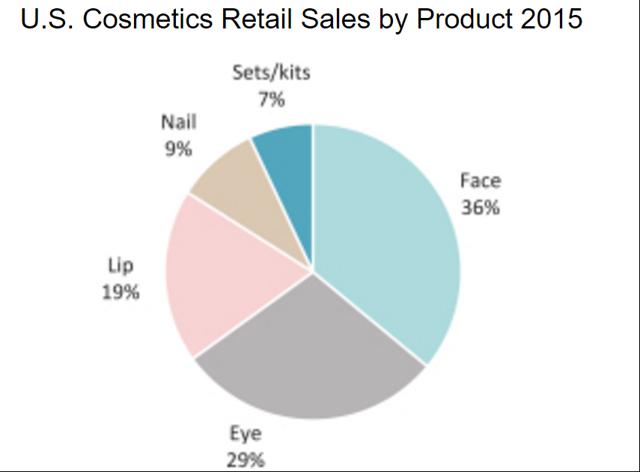 Click to enlarge
(Source: ELF S-1 Filing)
Internationally, ELF has focused its e-commerce to retail growth concept to date in Canada, the UK and Mexico and believes it can expand its distribution in those and other markets in a similar fashion to the U.S.
Competition
I divide the competition into two categories:
Legacy Incumbents - these are the brands your mother knows and loves, such as L'Oreal (OTCPK:LRLCY), Elizabeth Arden (NASDAQ:RDEN), Revlon (NYSE:REV), Estee Lauder (NYSE:EL) and Avon Products (NYSE:AVP).
ELF undercuts these giants on price and also brings products to market faster, resulting in greater efficiencies and understanding of consumer demand.
Lower Market - Some of the incumbents have down-market brands, such as M.A.C. and Bobbi Brown (owned by Estee Lauder).
These competitors go head to head with ELF, although in different venues by virtue of their parent company relationships. Some may have space in major retailer stores, others may have their own standalone operations.
Regardless, competition in the cosmetics space is fierce and brands are quick to adapt to new forms of sales and marketing, including heavy use of social media, since that's where their younger customers are.
Financials
ELF's financials are a bit of a mixed bag.
Revenues are growing, though at a slower pace in 2016 than in 2015, a negative sign that bears close watching.
Revenue
H1 2016: $97 million, 29% increase
2015: $191 million, 32% increase
2014: $145 million
Gross margin is increasing, which is favorable in a competitive environment.
Gross Margin
H1 2016: $54 million, 56%
2015: $100 million, 52%
2014: $67.5 million, 47%
Cash flow from operations has fluctuated dramatically in recent years.
Cash Flow From Operations
H1 2016: $7.8 million
2015: 24.5 million
2014: ($8.4 million)
EBITDA has steadily deteriorated in recent reporting periods, even as top line revenues have grown.
EBITDA
H1 2016: $14.8 million
2015: $16 million
2014: $18.2 million
Since the company purchases its products from Chinese suppliers, it is exposed to fluctuations in currency vs. the U.S. dollar and currently does not have an active hedging program.
Interest expense on the debt for the first six months of 2016 was $6.4 million. Going forward, my estimate is that interest expense will be reduced to $5.1 million/six months, or approximately $10.2 million per year.
As of June 30, 2016, ELF had $3.8 million in cash on hand and bank debt of $204 million.
IPO Details
ELF is selling 4 million shares and existing shareholders are selling 4.33 million shares into the IPO, so the company stands to reap $52.3 million in IPO net proceeds after deducting offering discounts, commissions and expenses.
The company intends to use $40.4 million to pay down existing high interest rate debt.
In June 2016, ELF incurred $64 million in a long-term loan facility to help fund a $72 million special dividend to existing stockholders, so the company will have approximately $163 million in bank debt after the IPO, but only $16 million in cash.
Commentary
ELF offers a "cheap chic" product line of cosmetics, similar in market positioning to how retailing giant Target made its name.
The company is a fast-growing developer of low-cost cosmetics, and essentially uses its existing consumer base to optimize its new product decisions, also known as "crowdsourcing."
This tends to reduce product development errors and improve customer loyalty and word of mouth marketing. Assuming an expected price range midpoint of $15, e.l.f. is valuing itself at approximately $683 million.
The company is recession resistant, due to low-cost products that higher-end consumers will substitute for in an economic downturn.
The pre-IPO shareholder special dividend of $72 million is not unusual for a private equity-controlled company, but required the company to add debt to an already debt-heavy balance sheet.
The company's GAAP financials present a concerning picture of slowing growth, unpredictable cash flow from operations and deteriorating EBITDA.
Also, ELF's shareholders intend to sell a minority of their holdings into the IPO, just after they pulled $72 million out in a special dividend to themselves, which required the company to issue debt to make the payment.
Although I like their crowdsourced approach to product development and experienced management team, the questionable shareholder signaling combined with unimpressive financials compel me to advise avoiding the IPO stock.
ELF needs to show increased top line revenue growth rates, a markedly stronger balance sheet and EBITDA trending upwards before I can recommend it.
Disclosure: I/we have no positions in any stocks mentioned, and no plans to initiate any positions within the next 72 hours.
I wrote this article myself, and it expresses my own opinions. I am not receiving compensation for it (other than from Seeking Alpha). I have no business relationship with any company whose stock is mentioned in this article.