In early May, I wrote an article on why shareholders should consider Duke Energy (NYSE:DUK) in their portfolio. The yield, the dividend growth rate, the potential for more cash flow to come online through significant catalysts, and a renewable focus all struck me as reasons to buy. I watched the stock rally up nearly $10/share, or about a 13% increase, only to shed nearly all of that over the summer. So, what's next for Duke? I largely believe the company is slated for success given its transition out of Latin America and focus towards renewable, high-return investments, but they could continue to be weighted down by macro factors.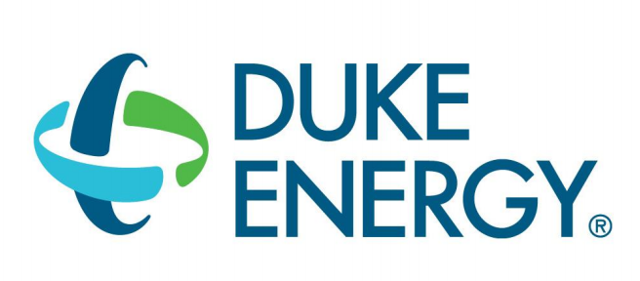 Click to enlarge
Source: Duke Energy
Putting Duke In Perspective
First, I think it's appropriate to benchmark DUK against the SPDR Utilities Sector ETF (NYSEARCA:XLU). This way we can see if DUK is an anomaly or not in its performance.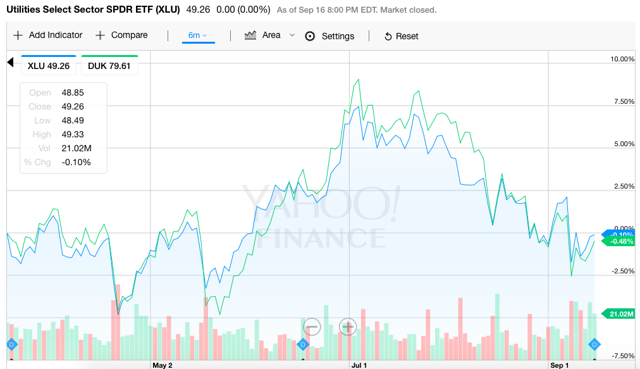 Click to enlarge
Source: Yahoo! Finance
On May 10, XLU was trading at $49.16 and is now trading at $49.26, which is not even a gain of 1%. While it's better than a loss, it was still a poor investment vehicle to hold throughout the summer. This chart should actually de-stress investors, funny enough, as there are larger factors across the utility sector that are driving these equities down, rather than something from Duke itself. If Duke had declined materially relative to XLU, then there would be evidence of a larger underlying problem that's company-specific.
Can Duke Outperform, Again?
Investors need to consider larger macro factors at work. Utilities, up until this summer, benefited from more favorable rates, in line with customer growth, all the while expenses declined due to a lower number of outages. The last macro factor that actually helped the company was Brexit, which sent shares up a couple percentage points. Yet, the summer showed us that heating degree days, or HDD, have declined significantly YTD, while cooling degree days, or CDD, actually picked up materially. The HDD are critical summer components, so it makes sense why DUK declined.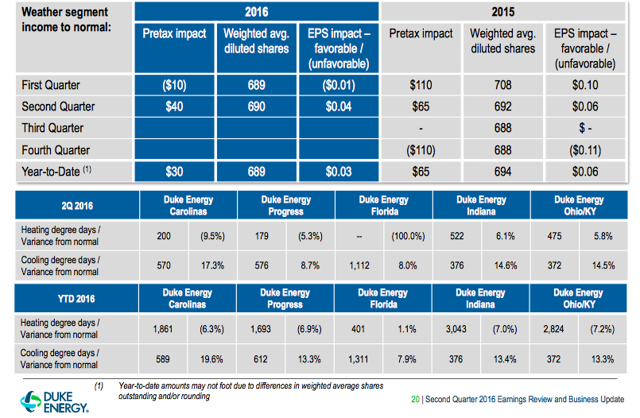 Click to enlarge
Source: Investor Presentation
So, it seems that Duke's stock is really at the mercy of the macro environment right now, with the largest driver being weather. Fortunately, it may not all be doom and gloom. La Nina still has a high probability of occurring late 2016, early 2017, which could aggravate the rates seen by Duke in previous winters. So long as this upcoming winter isn't anything like what happened last year to the eastern seaboard - dry and mild - then the stock is in an excellent position to generate positive returns.
Duke itself is actually taking all the necessary steps to generate positive free cash flow, which is my primary concern when looking at utility investments. I think the potential $2 billion price tag that the Latin American assets may generate - an announcement we may get shortly - is key to bumping up earnings as this is the only segment that is lagging, seen below.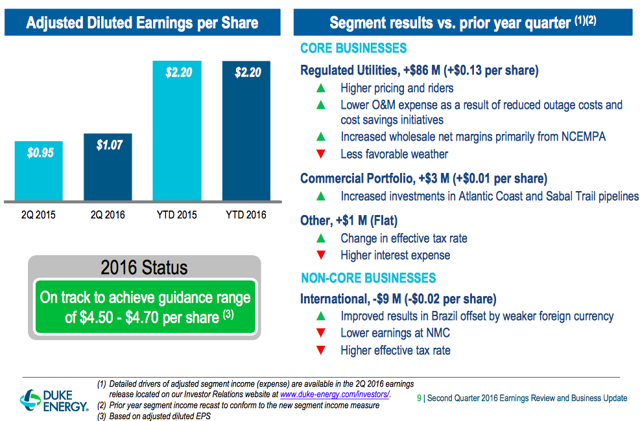 Click to enlarge
Source: Investor Presentation
Additionally, the potential for earnings increases, and subsequently, an increase in the dividend growth rate will likely occur if the synergy implementation from the Piedmont Natural Gas acquisition occurs seamlessly. Investors should likely provide Duke with 12 to 24 months for the phasing to occur, keeping in mind that a majority synergies are not produced overnight. The deal was announced back in Q4 2015.
EPS YOY, per the Q2 report, was up $0.12, from $0.95 to $1.07, which, for a utility, is substantial. Also, the company is still on track to produce their $4.50-$4.70 EPS guidance by year end, which says a lot considering the decline in utility stocks over the past few months. The dividend growth rate is already 3.6% and seeing it notched up a few dozen basis points would be exceptional.
The renewable focus, as well, is going to create outperforming returns for this stock. As it is, the company is keeping their hydroelectricity plants online, despite headwinds in previous years. In fact, they have now a renewed 30-year license, which really shows the company's faith in energy plants. With still $20 billion dedicated over the next five years towards renewable energy investment, this company has substantial growth catalysts that will be reflected in the stock as soon as they are implemented.
Conclusion
Everything in Duke's control shows that the company has the potential to outperform and realization of certain growth catalysts and divestments will help to get the stock performance up. Yet, it's difficult when macro factors are weighing against the performance of the stock, such that it is a poor investment, relatively speaking. In an optimistic light, this may be a chance for patient shareholders to buy on this dip and reduce their cost basis, if their outlook is for the long-term.
Disclosure: I am/we are long DUK.
I wrote this article myself, and it expresses my own opinions. I am not receiving compensation for it (other than from Seeking Alpha). I have no business relationship with any company whose stock is mentioned in this article.