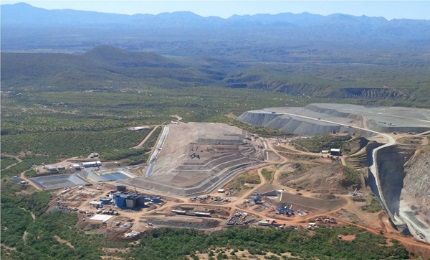 Santa Elena Mine
This article was first published on criticalinvestor.eu, a platform for (junior) mining investors.
1. Introduction
First Majestic Silver Corp. (NYSE: AG, TSX:FR), a large silver producer, took an 8% hit on September 1, 2016 right after opening, after a shorting report was published by the shorting hedge fund Kerrisdale Capital Management on my longtime platform for writing investment analysis, Seeking Alpha. I'm not really into producers as I focus predominantly on juniors, but this analysis was all over the internet and quickly got on my radar.
The first thing that piqued my curiosity, before even reading the piece, was the chart, to see what the impact would be, a few hours after opening at the time. To my surprise, First Majestic already started recovering after the initial sell-off. Even more surprisingly, looking a bit further, the stock appeared to have lost already 32-33% since the peak a few weeks ago, even before the Kerrisdale analysis was published. This was due to a sector-wide correction on lower precious metal prices, in turn caused by Fed rate hike rumours:

Click to enlarge
First Majestic share price; 1 year period
It didn't take long for the stock to stabilize, and at the end of the day, losses were limited to just -2.53%, as more and more doubts seem to be rising about the legitimacy of the Kerrisdale short call:

Click to enlarge
First Majestic share price; 5-day period
The disappointing job report on Friday had a positive effect on precious metals, erased all losses and the stock closed even higher than the day before the Kerrisdale report came out. When looking at the 1-year chart from a trading point of view, the only thing I see is a bottom forming pattern, and perfect moment to buy calls or go long after this intense profit taking and major correction, not going short. It is beyond me why Kerrisdale waited so long with its shorting report, when their so-called "ludicrous" and "absurdly" overvaluation was more compelling at the beginning of August, instead of waiting until the stock sold off completely.
As I quickly noticed a few issues besides the let's call it "subjective language", and as the report focused on subjects I'm pretty familiar with (DCF analysis, peer comparisons), I decided to spend some time on reading up on producers, doing my own due diligence on this report and First Majestic, and write a critical review.
All presented tables are own material, unless stated otherwise.
All presented images are company material, unless stated otherwise.
All prices are in USD unless stated otherwise.
2. Highlights Kerrisdale report
The "highlights" are a summary of items, which will be further elaborated upon individually later on in the Kerrisdale report. I will skip this summary, and go straight to the deliberations on the various items which deserve further attention or comments in my view.
"II. Company Overview"

"First Majestic is essentially a roll-up - a collection of silver mines purchased from and initially developed by third parties, not discovered by the company itself."
This is no negative, as First Majestic has been production growth oriented for a long time, and only recently, with the former bear market in mind, focused on margin improvements. Focusing on production growth means autonomous growth or acquiring other mines, no way around it. Neither one is good or bad in general, both cost a lot of money. Good part here is that First Majestic has an excellent staff which is able to take acquired existing operations to the next level.
The author shows financial results to highlight long-term negative free cash flow, but this is due to ongoing growth, lowering silver prices and impairments. This is also the cause of the negative cumulative free cash flow chart which Kerrisdale created in its report. I must say that it isn't easy for any producer with a strong growth trajectory to have free cash flow anyway, as there will be an almost continuous stream of capex and acquisitions gobbling up most free cash flow. This issue has been left out conveniently by the author.
After this, the report focuses on CEO and founder of First Majestic Keith Neumeyer. I was already familiar with Neumeyer not being the actual company builder of First Quantum, and being a former IR guy and frequently forecasting silver to $100/oz or even higher. What I didn't know were things like First Majestic didn't start out as a conscious silver concept from the start. So the man likes to exaggerate the past here and there. Is this a huge problem, is he the cause of excessive share price increases almost single handedly? I don't think so.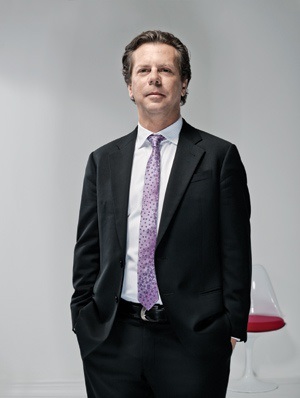 CEO and founder Keith Neumeyer
First of all, it is clear to the entire mining investment community that Neumeyer actually built out First Majestic from scratch to a multi-billion dollar go-to silver producer and created a lot of shareholder value, and manages his company very well, by hiring excellent operational teams, buying solid assets, holding very low debt levels despite a strong growth strategy, being prudent with spending, having easy access to capital, and indeed has strong marketing in place for investor awareness.
Neumeyer is also the largest individual shareholder of First Majestic and his other companies, and hasn't sold a single share as far as I know. By doing so, Neumeyer has become a real force in mining, and is one of the few big guys now who can really make things happen, and this is recognized by many. This could be observed by the six (!) times oversubscribed financing of a new and pretty interesting venture where he is again the largest individual shareholder of, and which listed very recently, called Silver One Resources (OTCPK:SLVRF).
Is he the only CEO that behaves in a promotional way? Certainly not, as for example mining titans Robert Friedland and Rob McEwen come to mind. Whereas Neumeyer frequently calls $100/oz a viable target for silver in the near future, we have Goldcorp founder McEwen forecasting a $5,000/oz price for gold. Friedland came up with the brilliant marketing strategy of announcing that his company Ivanhoe Mines (OTCQX:IVPAF) was "seeking strategic advice in response to unsolicited interest in its projects". Usually you will never see a company disclosing such developments, but Friedland simply does it, pushing up the share price by 15% on triple volume as a consequence. I must say that Neumeyer is probably the most visible of them all, but that has probably to do with his IR background. I have no problem with this, and most other (retail) investors know that $100/oz silver (or $5,000/oz gold for that matter) is a bold call.
Furthermore, it is estimated by several investment banks that retail investors aren't really the cause of the share price going to lofty heights in August, the blame for this seems to be going to funds and institutionals. I have been told by sector experts that the reason for this isn't just the promotional quality of Neumeyer, but predominantly the high return on invested capital (ROIC) of First Majestic. To be honest, I wasn't familiar with this concept, but it appeared to be a strong metric in order to determine quality of capital allocation for investors in any industry. Fresnillo is the best in this regard, and First Majestic second, per data sourced from Bloomberg, provided by a helpful expert: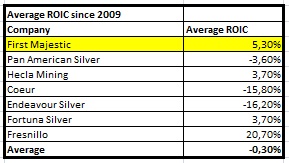 I have to take this at face value as I'm no insider on ROIC nor do I have the means to calculate this, but at least it sounds reasonable to me.
Next up were the large impairment charges, mistakenly presented as an exhibit of bad management (deplorable capital allocation). Nothing could be further from the truth in my view, as First Majestic is a strong growth story with prudent capital management. This growth is probably another reason for the appeal among funds: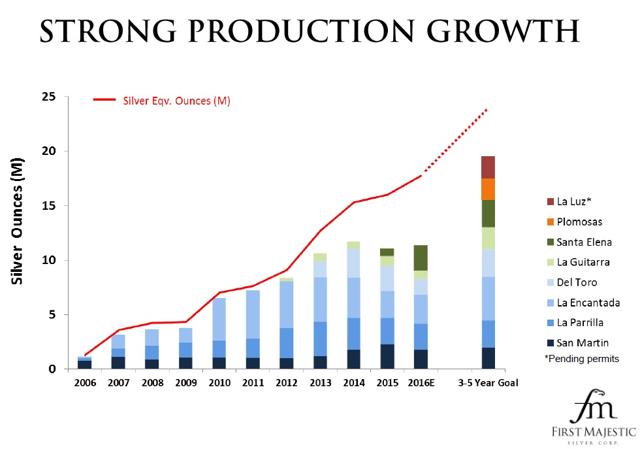 Click to enlarge
Besides this, the focus on silver revenues could be another one, as silver oriented investors differ from gold oriented investors, as silver has different fundamentals or rather sentiment drivers: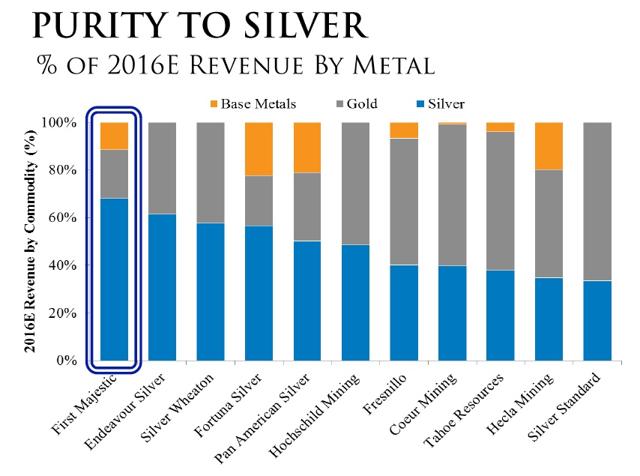 Click to enlarge
Continuing with impairments: Impairing assets is exactly the right thing to do in a bear market when metal prices went down the way they did the last 4 years, and the way it has been done suggests conservatism from management. I challenge the author to come up with a mainstream metal producer which didn't impair any mines during the downturn before 2016, this will not be an easy task. The ongoing dilution must be seen in the light of continuing growth and low debt levels, which I don't have any issue with. The current share count is still pretty decent and average for a mid tier silver producer, with 174M shares fully diluted.
3. Valuation
"III. First Majestic Is Absurdly Overvalued"
The title of this paragraph and likewise wordings were actually the reason for me to look at the content with a bit more scrutiny, as such language rarely indicates objective and professional analysis. It was in this paragraph that I found enough reason to perform full due diligence to see to what degree the article and its bold claims made sense or not.
The author starts out with general remarks on net asset value (NAV) and how this is calculated. I don't have many problems with this text to be honest, as it confirms my views in general on NAV analysis. Some excerpts:
"Thus analysts generally attribute little value to inferred resources and focus instead on reserves and measured and indicated resources (though some apply haircuts even within those categories). With this background in mind, we examine First Majestic's NAV from a range of perspectives."

"Inferred mineral resources have a great amount of uncertainty as to their existence, and great uncertainty as to their economic and legal feasibility 26."
There is indeed no doubt in my mind that inferred resources can't be used for valuation purposes as they are not economic by definition.
This is followed by NAV estimates by sell side firms, with no information on assumptions of each estimate provided, so these numbers are nothing more than a black box, besides the fact that these are sell-side numbers, often indicating less rigorous due diligence. Conveniently, the author agrees with me on the lack of transparency:
"Sell-side NAV estimates, though convenient, have the disadvantage of opacity; it's hard to be sure exactly what assumptions they incorporate."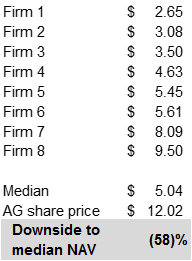 Source: Kerrisdale analysis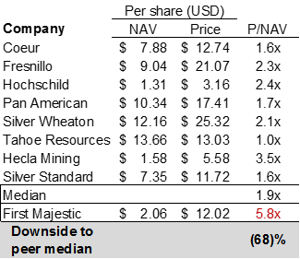 Source: BMO, Kerrisdale analysis
There is something peculiar going on in the second table; Kerrisdale uses a lower NAVPS compared to the lowest NAV estimate in the previous table, showing sell-side NAV estimates from 8 different firms. The $2.06 NAV value isn't his own estimate as can be concluded when reading the entire report. The author could have included this lower NAV to lower median even further, but didn't for unknown reasons. I suspect it is the NAV calculated by BMO. Besides this, the First Majestic NAV is excluded from calculating the median P/NAV.
One could say that outliers like First Majestic have to be excluded as those would skew averages, but in this case, I'm not so sure as this company is one of the most prolific silver producers, attracting a lot of investor interest because of it, driving up P/NAV maybe more than others. When using the lowest NAV estimate of $2.65 for First Majestic, and I would include it when calculating the median, I would arrive at a P/NAV median of 2.3, whereas First Majestic would end up with a P/NAV of 4.5, which would mean a downside to median of 48% instead of 68%. Not much, but still different.
Comparisons can be made here with for example Franco-Nevada (NYSE:FNV), which has by far the highest metric of any royalty play when looking at P/NAV (almost double the median), and is only surpassed on P/CF by Osisko Gold Royalties (OTC:OR) which I consider more of a CF growth story with more built-in premium for this metric. Is Franco-Nevada overvalued? Not to me, it is in my view just by far the best royalty play in the sector and a real go-to name, and definitely deserves this premium.
The next piece of evidence isn't the most convincing one, as the author failed to recognize 2014 being in the midst of a 4-5 year bear market, thus providing First Majestic with relatively better metrics per share, and the situation at the moment as a new bull market, providing relatively worse metrics per share, as stocks get overbought frequently on positive sentiment.
"While some of First Majestic's key metrics have improved since then in absolute terms, many have actually deteriorated on a per-share basis - the only basis shareholders should care about - thanks to repeated equity issuance at low prices. As the table below highlights, while First Majestic's share price is 17% higher than it was in mid-2014, the price of silver is down 4%, while silver production per share is down 13%, silver reserves per share are down 30%, and earnings per share are down 33%."

"To the contrary, it was fully in line with its peers. Since per-share fundamentals have worsened by 20-30%, First Majestic's price should be, ceteris paribus, at least 20-30% lower than it was in 2014, not 17% higher - implying ~40% downside from current prices."
Besides this, the company put the cyanidation circuit of Del Toro on care and maintenance and cut back production and exploration at other mines, in order to save cash and reserves, so several metrics per share in the table below don't tell the entire story as First Majestic isn't firing on all cylinders now, as it was in 2014.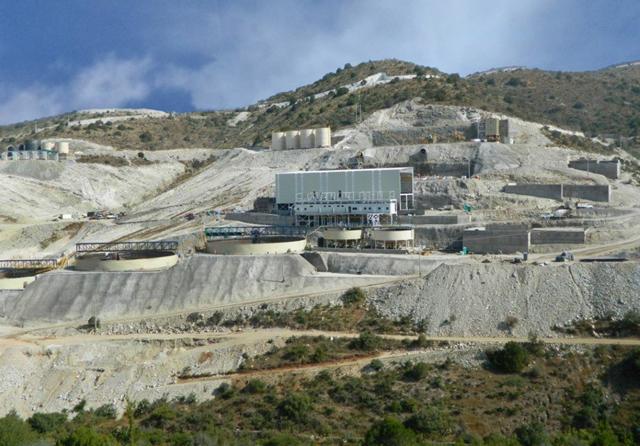 Click to enlarge
Del Toro Mine
"Evidence from Reserves and Resources"
The next issue brought forward is actually not a negligible one, indicating First Majestic trading almost at gross metal value which surprised me as well. However, in general, this metric is not very useful as ounces in the ground, for example, don't say much about profitability of those ounces. Just take a look at the large Livengood project of International Tower Hill Mines, which will probably only be economic at a gold price of $2,000/oz because of its low grade ore. Other very large deposits like Pebble owned by Northern Dynasty Minerals (NYSEMKT:NAK) are dealing with permitting issues, causing relatively low EVs to GMV and per oz as well. Here is another example of the colorful rhetorics used, describing the issue:
"It thus stands to reason that almost every gold and silver miner trades at only a small fraction of the gross value of its M&I resources. By contrast, First Majestic trades as if the ludicrously unrealistic "mine everything tomorrow at zero cost" scenario had actually come true:"
Let's have a look at the data which illustrate this remarkable situation: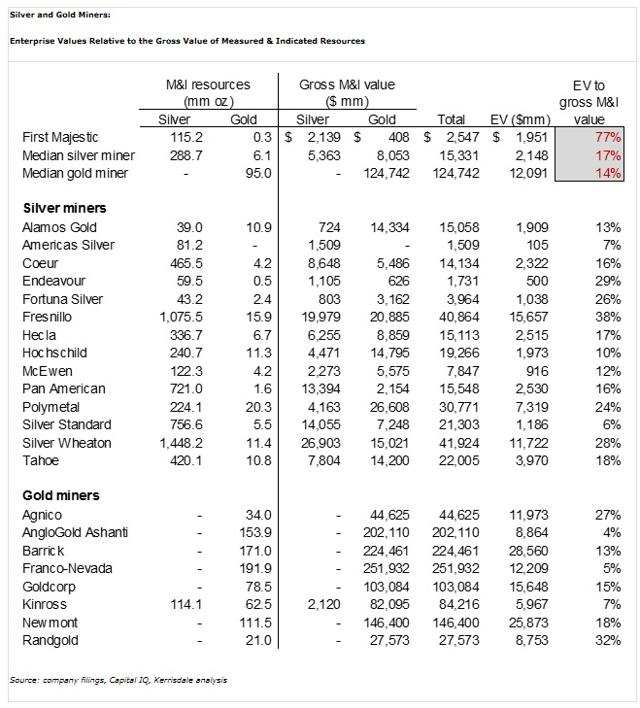 Click to enlarge
So yes, I don't consider the relatively low M&I resources a very healthy situation for First Majestic (although the author has left out First Majestic again as the statistical outlier, which of course makes things a bit worse, 17% vs. 23%) as they deviate too much in my view from the median which I consider standard practice, but this has more to do with for example the majority of Inferred resources being at such depth that those can only be converted into M&I or reserves by underground drilling, which is much cheaper than drilling from surface. This underground drilling can only be done when certain zones are reached by underground development during mining of existing reserves.
Of course, management has to allocate its cash wisely and spread it over many things at the same time, but spending more on exploration to increase M&I wouldn't be a bad thing in my view. Indeed, First Majestic is ramping up exploration efforts again with more cash flow coming in through higher metal prices, and a new NI43-101 is expected in Q4 for San Martin, and in Q1 2017 for Del Toro and La Parilla. I don't expect miracles here but it's heading in the right direction.
For me it is clear that First Majestic chose for silver equivalent production growth during the bear market over M&I expansion. This way the company set itself up to profit directly and very quickly in case metal prices would recover, and this is exactly what happened. It also showed that investors favored growth stories and cash flow over NAV in a new bull market, and this is important to keep in the back of your mind. Even more important is that Keith Neumeyer appears to understand all this very well, and acted on it with limited means during the bear market.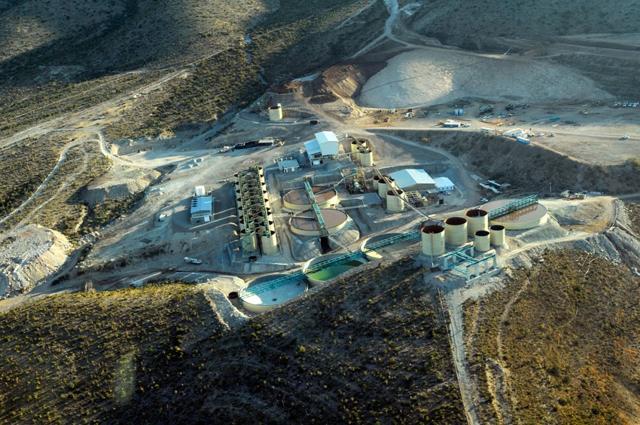 Click to enlarge
La Encantada Mine
"Evidence from DCF Analysis… Based on First Majestic's Own Accounting"
This is a part of analysis which I didn't understand very well. The author used the carrying value of assets (mine, deposits, etc.) after lots of depreciation and impairments to define an "average value per silver-equivalent ounce of measured and indicated resources", and proceeds with this average value to calculate a "total company value" based on consolidated M&I AgEq figures. Think about this for a minute. First of all, I just explained that no silver deposit is the same. Furthermore, no mine is the same. In any situation, all metrics are completely different. Think about how much difference grade and deposit size can imply for economics. Or which stage of depreciation mines are in. Or how much life of mine (LOM) is left.
If First Majestic would have written off its mines for 80%, it doesn't mean those mines lost 80% of its value related to market cap all of a sudden. This would mean that a company which had depreciated all its producing mines over time, if holding them long enough, would have an implied value of zero according to the author. To gather, converge and translate all this into an average value of AgEq ounce, and project this on all M&I ounces is useless. Creative nonetheless, but useless. Here again the analysis of Kerrisdale:
"Below we carry out this analysis. First, using the post-impairment carrying values of First Majestic's impaired mines in 2014 and 2015, we determine the value per silver-equivalent ounce of measured and indicated resources; while it varied from mine to mine (depending on factors like operating costs), it averaged $4.05 in 2014 and $4.30 in 2015. Multiplying that figure by First Majestic's current quantity of M&I resources, we estimate that its total value - including un-impaired mines - amounts to just ~$650 million, implying 65% downside to its current share price. This analytical framework - based on First Majestic's own internal DCF models - reaches the same conclusions as the other methods already described: First Majestic is dramatically overvalued."
First Majestic: Estimating Total Company Value Based on Historical Impairment Charges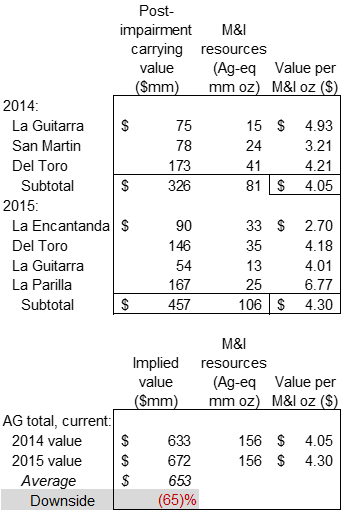 Source: company filings, Kerrisdale analysis
I found this part of the analysis disappointing to be honest. The DCF modeling was a lot more up to speed in my view despite several issues, which is up next.
4. DCF Modeling
The author used a simple and a complex DCF Model in order to generate NPVs and a NAVPS. He starts with the simple model:
''…Based on a Simple Model"
The numbers of Kerrisdale on this simple DCF Model do check out, but as it is a simplification of six individual mines, chances are that very specific details are left out (for example, grade, ounces and costs can vary a lot per year, larger cash flow in earlier years means a lot regarding discounting them over time) as I can't see if this is realistic altogether or not. I must say at first sight the NAV per share comes in very low indeed.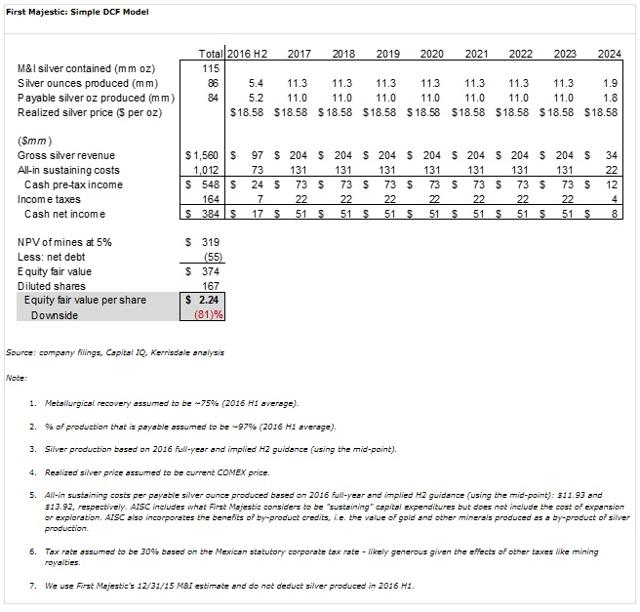 Click to enlarge
I am not repeating this simple model as it doesn't look incorrect. After this, the author continued with a more complex DCF model, based on the individual mines, and this is where I will have an in-depth look.
''…Based on a Complex Model"

"Going deeper, we modeled each of First Majestic's operating mines, drawing on management guidance, NI 43-101 technical reports, and other SEDAR filings. Aggregating the individual mines' cash flows and accounting for corporate-level overhead, we find that First Majestic's NAV is just $2.46 at current silver prices, implying 80% downside for the stock. Below we summarize our model's major outputs and underlying assumptions."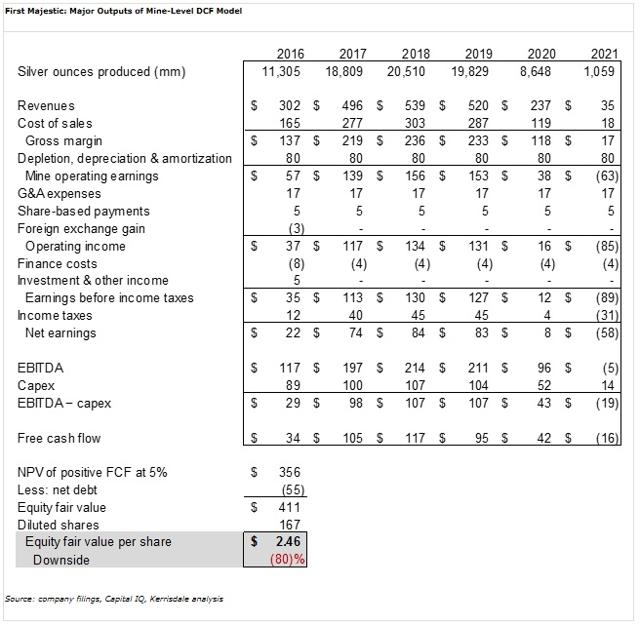 Click to enlarge
"Key Assumptions"
I will go through the key assumptions of Kerrisdale, and indicate where I agree or not:
"Commodity prices are static at the following values:

- Silver: $18.58 per ounce

- Gold: $1,313 per ounce

- Lead: $0.80 per pound

- Zinc: $1.00 per pound."
Agreed here.
"Total silver production ramps to 20 million ounces per year by 2018."
I preferred to use the production rate according to current state of affairs, so capex has to be invested already, expansion has to be under construction, etc. So my figures on production are much more static during LOM. This should have a more negative impact on NPVs as revenues and cash flows will be spread out more over LOM, experiencing more discount. The 20M oz is the upside target to be reached in 3-5 years, so 2018 is way too early. Kerrisdale is actually too positive here.
"Cumulative silver output is capped at First Majestic's measured and indicated resources (which are inclusive of proven and probable reserves). Each year, First Majestic uses a specific silver price to assess what portion of the silver theoretically present in its mines it can economically extract. At the end of 2015, that price was $18.50 - very close to the current price. We thus use the 2015 figures.

- We do not give First Majestic credit for its stated "inferred" resources. To quote the company's Form 40-F again, "Inferred mineral resources have a great amount of uncertainty as to their existence, and great uncertainty as to their economic and legal feasibility." Some industry participants assume, as a rule of thumb, that there's only a 10% chance that "inferred" resources are there at all, let alone recoverable at a profit. (Indeed, even probable reserves and measured and indicated resources are often subjected to haircuts, which we do not apply here.)

- We also focus on First Majestic's operating mines rather than its few exploratory properties. Bringing any of those properties into production would require major capital expenditures as well as government permits, and, even if it cost nothing, would be highly unlikely to swing the valuation by much relative to the current price. As further discussed below, the NAV per share of each of First Majestic's operating mines is less than $1; it would thus take many, many new mines - at zero cost - to bridge the gap between the equity's $2.46 fair value and ~$12 market price."
Where Kerrisdale is actually generous in using all M&I resources, I would like to be a bit more conservative as usually only reserves are used for stringent NAV calculations, hereby arriving at applying close to 100% of reserves in my models.
"The long-term cash tax rate is 35% per company guidance. However, we give the company credit for net-operating-loss carryforwards, which we assume reduce cash taxes to zero until 2019."
The resulting income tax after adding the 7.5% tax on EBITDA and the 0.5% royalty, and applying various deductions comes in at around 32% according to the company. I will use the NOLs during 2016-2018 as well.
To establish whether Kerrisdale has a point when stating the NAVPS is $2.46 at a price of silver of $18.58/oz, there is no other way than running the models myself. Key assumptions here are the current reserves (excluding resources), and the midpoints of the 2016 guidance:
The reserve statement:

Click to enlarge
The guidance for 2016:

Click to enlarge
When using the remaining LOM base case scenarios of the economic studies of the company, including the (much) higher metal prices used in the past, a NAVPS of 4.1 is generated: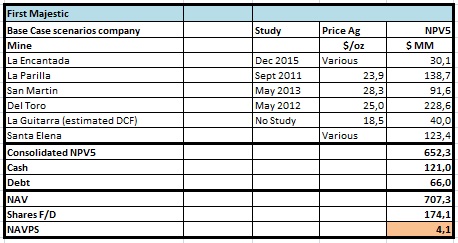 Let's see where the current metal prices and assumptions would bring us for each mine, using the DCF models of the available economic studies as a starting point. Here is a company map showing an overview of locations of all assets: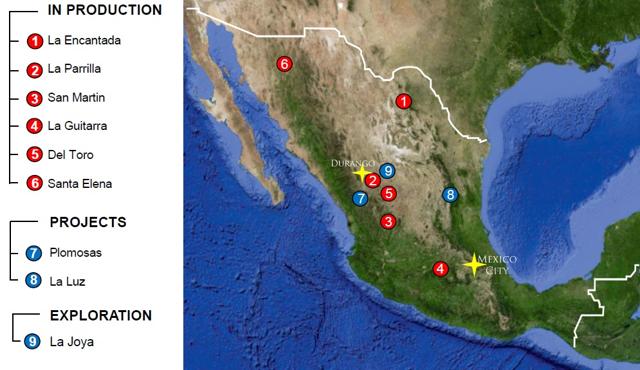 Click to enlarge
A. La Encantada
For La Encantada, a number of assumptions can be adjusted in line with a more realistic scenario.
1. the reserves are almost double the number of ounces produced in the very conservative and recent economic study, so there is potential for at least a longer production:
Economic study regarding production methods:
Cyanidation: silver metal payable 6.87Moz Ag
Flotation: silver metal payable 2.15Moz Ag
Roasting/Cyanidation: silver metal payable 9.34Moz Ag
The reserve estimate is indicating this: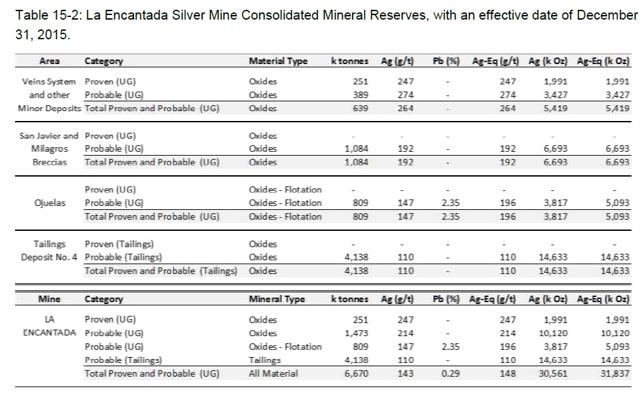 Click to enlarge
Not deducting this year's production so far from the 2016 production, we should be able to arrive at a longer LOM and larger LOM production, significantly increasing the NPV5. Production will be increased by adding 2, 3 and 4 years of LOM for the different recovery systems (cyanidation, flotation and roasting/cyanidation).
2. The study price of silver in the first 3 years is lower than the spot price of $18.58/oz used by Kerrisdale, so this will be adjusted.
3. The grade will be lowered somewhat in 2016 according to temporary lower grades as mentioned in the Q2 2016 financials.
This results in the following DCF model (yellow are adjustments/additions to the company model):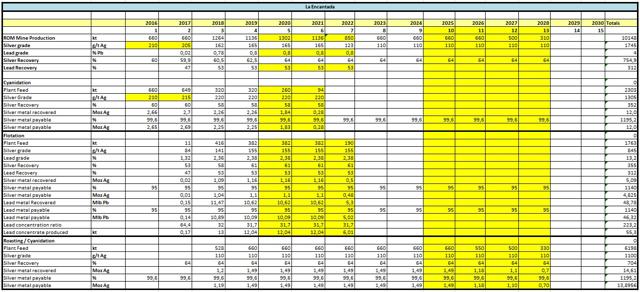 Click to enlarge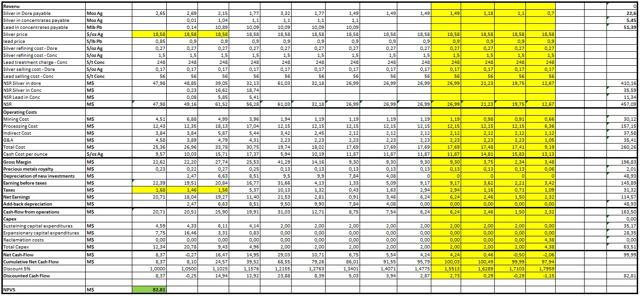 Click to enlarge
The NPV5 increases from $28.64M to $79.29M. Please notice that no increases in future production are accounted for, although company management employs growth as its main strategy, plus existing resources seem to indicate room for this when looking at M&I and Inferred resources.
B. La Parilla
The gap between actual DCF production and existing reserves is much smaller at La Parilla, so I don't see many possibilities there. The existing DCF from 2016 onwards accounts for 20.8Moz Ag, the current reserve estimate indicates 21.726Moz Ag:

Click to enlarge
As the base case silver price back in 2011 was much higher at $23.85, economics went down here significantly when using $18.58/oz silver (the NPV5 went from $132.1M to $84M):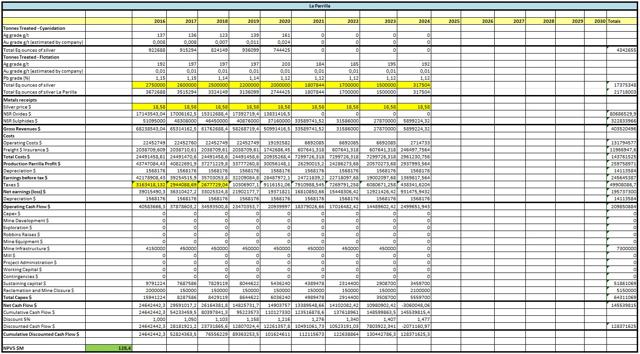 Click to enlarge
Kerrisdale goes wrong here in its analysis of La Parilla, as it used the DCF model from 2011 onwards, including the expansion capex which has a negative effect on NPV5:
"The La Parrilla mine serves as a case in point. First Majestic's 2011 technical report includes a DCF analysis arguing that expanding and running the mine had a net present value of $79 million (at a 5% discount rate). However, this analysis assumed that the price of silver would be $23.85 per ounce; currently, it's 22% lower. Based on the disclosed sensitivity of NPV to silver price 33, that move would have reduced the prospective La Parrilla NPV by 80% - from $79 million to just ~$16 million. With First Majestic trading at an almost $2 billion premium to the fair value of its existing projects, it would take a hundred La Parrilla-like opportunities to prevent the stock from being expensive."
Another issue with this is the discount, which has a more negative effect on cash flows after more years in general, and has a significant impact on NPV in this case as well. Instead of Kerrisdale's $16M, I still arrive at $117.4M.
C. San Martin
The number of total ounces produced don't leave much room for increasing LOM production, but the grade in the reserve estimate is much higher (study handles about 160g/t, but the reserve statement uses a silver grade of 262g/t), so I feel inclined to upgrade production and LOM here. Besides this, the base case price of silver is an inconvenient $28.3/oz Ag, reasonable at the time (2013), but has to be adjusted to our base case $18,58/oz Ag. Taking into account some dilution, I'm assuming 230g/t. Furthermore, I'm projecting the 2016 guidance for LOM regarding recovery (increased to 84%), and use the midpoint of 2016 guidance for 2016:

Click to enlarge
The NPV5 gets more than halved because of the current, much lower price of silver, despite some increased production: it goes from $91.6M to just $57.7M.
D. Del Toro
First Majestic has put its cyanidation plant on care and maintenance as a reaction on the longlasting bear market, and has no date set to bring it online again. As a consequence, a considerable part of production dropped off, as tonnage halved over the last two years, and silver production went down significantly as well. However, the reserves eligible for flotation are still significant, so I will increase LOM accordingly. I estimated sustaining capital much lower as the operation at the moment is much smaller.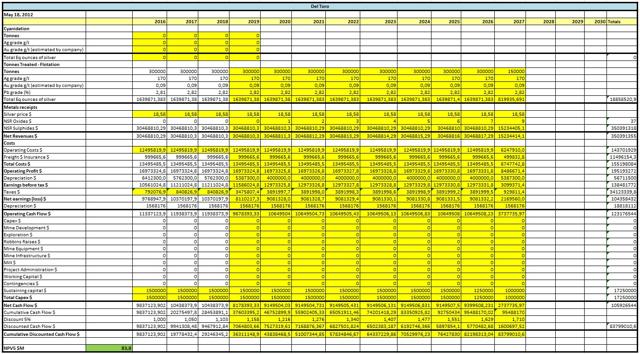 Click to enlarge
Compared to its economic study, First Majestic lost lots of NPV by minimizing Del Toro production. Based on the study silver price of $25/oz, the NPV5 resulted in $228.6M, based on the Kerrisdale silver price of $18.58/oz the NPV5 was still $152M. The current operation would provide for a NPV5 of just $78.7M, although it could continue much longer. The disadvantage here is the larger discount kicking in over the years.
E. La Guitarra
La Guitarra is the only mine with no more or less recent economic study completed on it, so I had to build my own model, based on the guidance for 2016, remaining reserves, and taking into account the 1,000tpd expansion afterwards. Gold revenues are mentioned, but excluded for calculations in this simplified table, as AISC is already net of byproducts.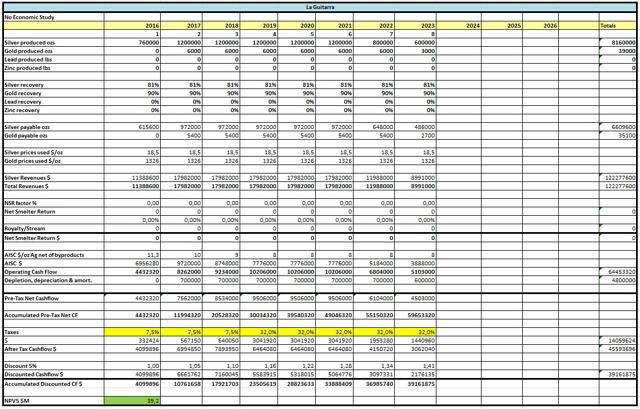 Click to enlarge
It will be clear that with a LOM production of 6.9Moz payable silver this mine isn't the biggest contributor to the NAV of First Majestic. But raising production through cheap expansion is always a smart thing to do, and all cash flow matters in the end.
F. Santa Elena
Santa Elena is the latest addition to the stable of First Majestic when it acquired Silvercrest in late 2015 for about USD 117M, which was a hefty premium at the time of very low silver prices, but almost perfectly timed at the bottom of the market. The Santa Elena mine is already worth the full acquisition price at a silver price of $21, and usually producing precious metal assets that are so profitable do fetch a significant premium to NPV or NAV, in the range of 1.4-1.6 at least.
Santa Elena is an interesting mine as it has negative cash costs due to the considerable gold "by product", which actually generates more revenue than silver. It is also the largest contributor of silver equivalent ounces to the consolidated production of First Majestic, according to the guidance figures it would produce 32% of total silver equivalent ounces for 2016. As it is a recent acquisition with no big plans announced to improve it, I have no adjustments in store for this one, and the updated PFS is basically it, although the silver price is lowered to the Kerrisdale base case of $18.58/oz:

Click to enlarge
The current NPV5 would stand at $86.3M @$18.58/oz silver. There is no doubt in my mind that First Majestic can find and convert much more resources into reserves on this one, but just like analyzing the other mines, in order to compare apples with apples, I'm confined to existing reserves.
Results
After modeling each mine for NPV5, a consolidated NAVPS is generated of $3.0, which is actually close to Kerrisdale's figure of $2.46:

Click to enlarge
This surprised me, after discovering a clear and meaningful mistake in its analysis of La Parilla. Basically, this mistake takes care of most of the difference. However, with a NAVPS of $3.0 and a P/NAV of $12.02/3.0 = 4.0, First Majestic is still enjoying a rich valuation, as the median P/NAV for silver producers is 2.24 (including First Majestic), which means a potential 44% downside if I would reason along the lines of Kerrisdale.
Still significant, but least I don't see 70-80% downside no matter how I slice it, and in the middle of a bull market for precious metals, I wouldn't really like to bet against a well managed, go-to pure silver play like First Majestic. As I explained earlier, there are reasons why First Majestic is trading at a significant premium, as there are probably good reasons why Hecla traded at a P/NAV of 3.5 at the time, too. P/NAV is important, especially in my field of expertise (juniors, in this regard developers), but there are other ratios to consider as the company is a medior producer.
To see where First Majestic stands on other important metrics, I constructed this table with a few competitors:

Click to enlarge
When looking at the most important ratio for producers in my view, P/CF, as producers can be judged best by their cash flow producing capabilities vs. their market cap, we see First Majestic topping this list as well, but it is much more in line with other silver producers, having 19% "downside potential". For EV/EBITDA, First Majestic would be 23%, both of which are more convenient and not a problem in my view, being one of the go-to growth stories and pure plays in silver. Kerrisdale should have included these metrics in its analysis to construct a complete picture in my opinion and to avoid the impression of cherry picking.
"IV. First Majestic Is Heavily Promoted"
I have covered this in an earlier paragraph. In short: I believe First Majestic is seen as a go-to silver pure play by the investment community, and CEO Neumeyer as a powerful company builder, and therefore, the stock automatically receives more love in a bull market like we are seeing now. The cause for at least part of the explosive rise of First Majestic could likely be found in the stock being oversold at the end of the bear market as well, rebounding stronger than most in my view.
Besides this, I am somewhat reluctant to follow the author on this concept, as I simply don't believe that penny stock promoters can actually move mid tiers like First Majestic a whole lot, and certainly not for so long for such a continuous rise. As mentioned earlier, this is likely the result of funds buying in, based on solid ROIC numbers. When looking at the impact of other campaigns by the mentioned promoters, this doesn't usually go beyond total added market value changing hands of about C$1-10M per recommendation.
When those promoters are running full-on campaigns of 6-9 months, in bull markets like we are experiencing now, they might be instrumental in getting a junior from a $30M marketcap to a $80-100M marketcap. However, this doesn't mean much in case of First Majestic, when looking at the daily average amount of shares traded for the US and Canadian listings combined, which is over 8.7M shares, which means about $130M daily market value. To get things moving here, the IR firms should be able to double or triple the daily volume of First Majestic on a shout out, which would be a 30-200 fold action of what they usually achieve. Extra exposure is good, but Kerrisdale seems to have held IR firms in almost supernatural regard, capable of almost earth-moving scale promotions, which seems unlikely in my view.
5. Conclusion
I must say Kerrisdale picked the right ingredients to set up a negative recommendation on First Majestic, as its low NAV, high EV to GMV and the promotional background of CEO and founder Neumeyer provide an interesting base point. However, my issues with the report are that the overall tone isn't professional, the author frequently skews averages, leaves out the most important ratios, doesn't seem to understand the need for impairments during a downturn, makes a meaningful mistake on DCF modeling of an individual mine, tries to extrapolate valuations from resource based parameters which aren't fit for this, and exaggerates the promotional qualities of Neumeyer and his hired group of IR firms, as I have good reasons to believe that funds are responsible for the most part of the spectacular rise of First Majestic this year.
Maybe the worst parts were calling a short on a go-to precious metal growth story in the midst of a bull market, and the failure to recognize the excellent allocation of capital during a severe bear market by Neumeyer, steering the company through rough times, hardly affecting its growth strategy and preparing it for the next upturn, which definitely seems to have arrived this year. If anything, it looks like First Majestic has strong leverage on silver prices, and for that reason alone, the current bottoming process could be a nice entry point for precious metal investors.
I hope you will find this article interesting and useful, and will have further interest in my upcoming articles on mining. To never miss a thing, please follow me on Seekingalpha.com, in order to get an email notice of my new articles soon after they are published.
Disclaimer:
The author is not a registered investment advisor, and currently has call options on First Majestic, and holds a long position in Silver One. All facts are to be checked by the reader. For more information go to firstmajestic.com and read the company's profile and official documents on sedar.com, also for important risk disclosures. This article is provided for information purposes only, and is not intended to be investment advice of any kind, and all readers are encouraged to do their own due diligence, and talk to their own licensed investment advisors prior to making any investment decisions.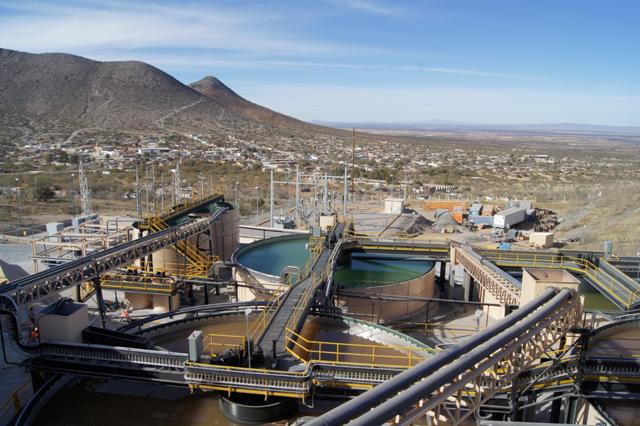 Click to enlarge
La Parilla Mine
Disclosure: I am/we are long CALLS AG.
I wrote this article myself, and it expresses my own opinions. I am not receiving compensation for it. I have no business relationship with any company whose stock is mentioned in this article.
Additional disclosure: I am/we are long Silver One