For many company managements and investors, speculative means "bet the company" in the effort to make a fantastic and unbelievably great return on an investment. However, many times, a darn good return happens, and the company cannot fully take advantage of the opportunity because the financial situation is too dire. The investors suffer despite the good fortunes of a particular discovery. When that happens, management needs to change it ways so that good results produce decent stock price appreciation.
Petroquest Energy (NYSE:PQ) announced a company changing discovery back in 2014.
"LAFAYETTE, La., Dec. 9, 2014 /PRNewswire/ -- PetroQuest Energy, Inc. announced today a significant discovery at its internally generated Thunder Bayou Prospect located inVermilion Parish, Louisiana. The Company has an approximate 50% working interest and 37% net revenue interest in the well, which logged approximately 490 gross feet (202 net feet) of high quality pay within the primary Cris R2 objective"
The company then followed up with an announcement of the production.
"LAFAYETTE, La., July 13, 2015 /PRNewswire/ -- PetroQuest Energy, Inc. announced today that its Thunder Bayou discovery well (NRI & 37%) in Vermilion Parish, LA is currently producing at a gross daily rate of approximately 28,000 Mcf of gas, 900 Bbls of oil and 1,200 Bbls of natural gas liquids. The 41 MMcfe/d gross production rate is above the Company's previously stated expected rate of 38 MMcfe/d. "
To this day, this one well represents a significant amount of the total company production. This was true even before the divestment of properties to pay down debt. It is even more true now that the company production is lower.
Source: Petroquest Energy September, 2016, Current Presentation
These four wells produce 35 MMCFE/D to this company but the total production is 70 MMCFE/D. For a company the size of Petroquest, these are the kind of wells that should guarantee a secure future for the company. So the company actually has several very profitable wells, yet it still found itself in a financial bind. Not enough investment has gone into this very successful venture when compared to the other wells of company participation.
The company could have used the announcement of the discovery to sell stock and deleverage the balance sheet. Or the company could have more comprehensively hedged production to protect its future cash flow. Management could have sold less profitable properties and concentrated on a profitable venture such as this one.
The debt balance definitely needed some rearrangement as a large amount of debt came due in 2017 and needed to be paid off. The company did sell some properties and then did a bond swap to push the maturity date to 2021. But piling financial leverage on top of operating leverage is usually a losing proposition. This company still has plenty of both leverages.
Source: Petroquest Energy September, 2016, Current Presentation
The company used a little brinkmanship to pull this off. First the payment was delayed for the grace period and then the deadline was extended for the swap offer in an attempt to increase the number of notes tendered. This was on top of hiring "advisors" that usually signals that bankruptcy is a good possibility. Plus there was a reverse stock split to maintain the NYSE listing. The company has the cash balance to repay the remaining debt due that was not swapped.
So the money that was generated by these very successful wells did not generate sufficient returns for the company to materially improve its financial position. Part of the story is in the second slide shown above. Cash production costs are down, but it took quite a while to get those costs down. Plus the costs are still a little on the high side. Gas prices have not been particularly attractive for a few years, so a more cautious capital budget and risk avoidance was indicated.
Now with the bond swap completed, and the more favorable debt structure nearly in place, it is time for management to lower the risk while maintaining the possibility of significant rewards. That will probably be the only way this company climbs out of debt.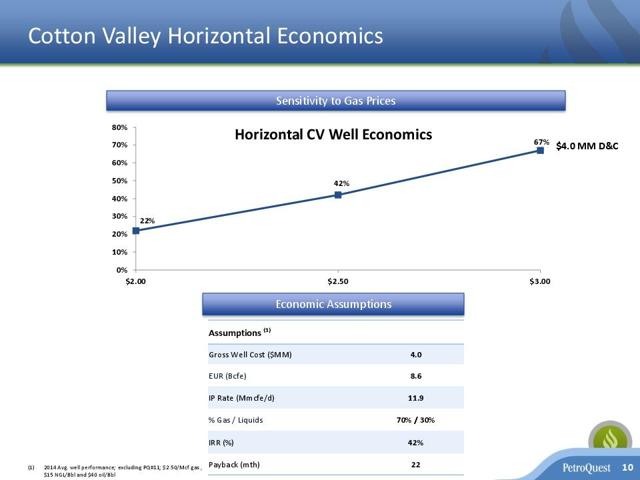 Click to enlarge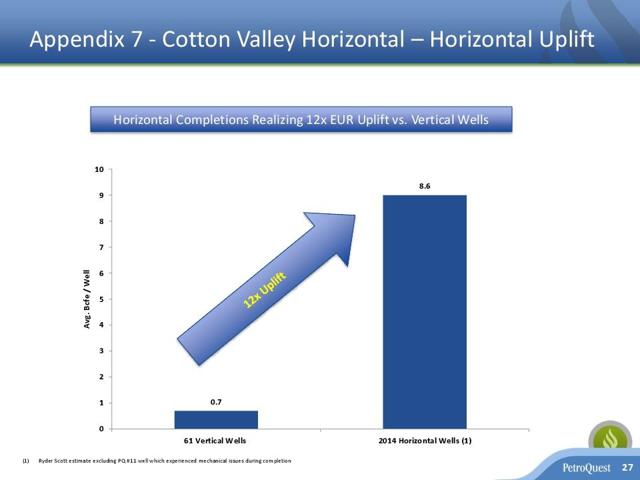 Click to enlarge
Source: Petroquest Energy September, 2016, Current Presentation
The problem appears to be that management focuses too much on events such as the second slide. However, despite all the progress made, Cotton Valley wells need gas prices of about $2.50/MCF to justify investment in new wells. Since gas prices have dropped significantly below that amount, management needs to hedge the production before the new wells are drilled and completed as producers. But this company does not have much of a hedging program. So the financial leverage combined with the mediocre returns has proved toxic to the company shareholders.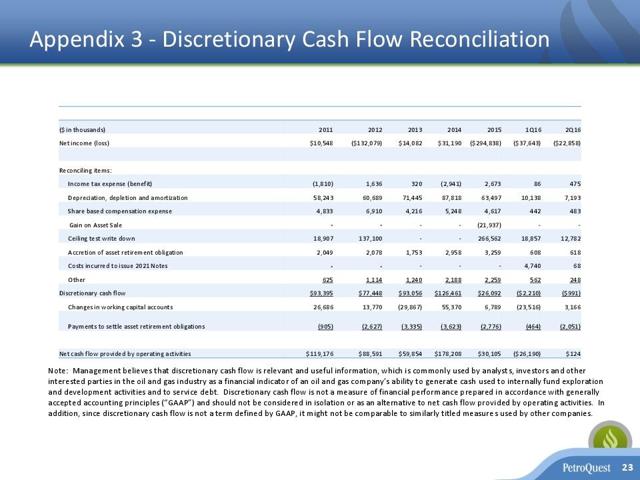 Click to enlarge
Source: Petroquest Energy September, 2016, Current Presentation
As shown above, the cash flow from operations has not been sufficient to service the debt balance for some time. The small amount of hedging did not protect the cash flow from operations. The company sold properties to pay off hundreds of millions of dollars in debt. Previous years had nowhere near the cash flow to service a debt balance anywhere near that. Yet management did nothing to improve the balance sheet. Even though the last two years of commodity pricing were unusually brutal, this company was a disaster waiting to happen before the commodity price drop.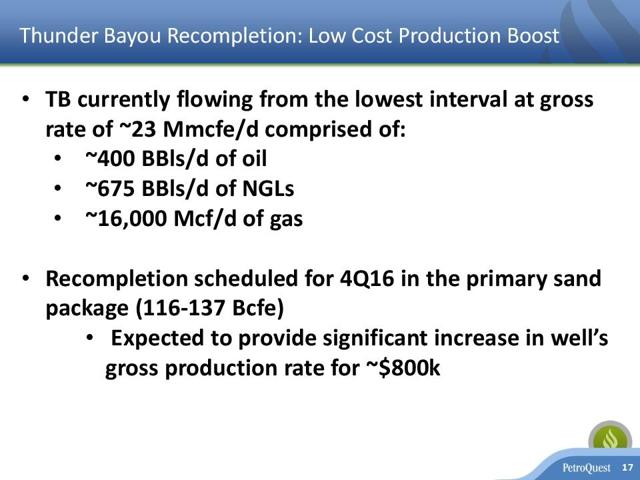 Click to enlarge
Click to enlarge
This company now has a second chance thanks to the efforts of managements. However, managements often use second chances to put the company right back into the situation the company was in before the financial challenges were resolved. Management needs to make sure that future results improve the financial situation of the company materially.
The company has about $69 million cash on hand with a 1:1 current ratio. So the remaining 2017 bonds can be paid off with plenty of cash left over. If the cash flow does not improve immediately, the company can operate with a considerably lower ratio for some time in an effort to improve cash flow. The bond swap also made a new bank loan available when the bond swap completes in a few days. The first chance to improve cash flow is with the re-completion of the Thunder Bayou well.
Then the company either needs a much more comprehensive hedging program, or it needs to improve the returns on the Cotton Valley wells. What management cannot do is simply spend the money on new wells that offer marginal returns. For many in the industry anything below about 25% is considered a marginal return. So the Cotton Valley wells have been in and out of marginal return territory for some time. The company still has too much financial leverage to allow for marginal returns. The debt will have to be repaid sooner or later. So the cash flow needed for the remaining debt needs to be at least $100 million a year (preferably more). In any event the long term debt to cash flow from operations ratio should never be more than 3:1.
This management is going to have to juggle financial risk and operational risk far more differently than it has in the past. While that may push management to find better prospects than are currently in the company leases, that push is required for this company to survive long term. Otherwise by 2021, this company will be looking at debt swaps or reorganization. Management has found highly profitable wells such as the ones in Louisiana, so there is no reason they cannot find more prospects with similar return potential. Plus the management has the experience to be able to limit risk and maximize returns. That process is known as smart speculation. There are many companies out there that I have previously written about whose management prove that speculative returns can be had without the risk of reorganization. Let's hope that this management has learned that lesson from the past experience of the last 18 months. If they have, this stock could be one fantastic bargain, because a few more Louisiana type wells would lead to great results. The other properties need more operational improvements before they even touch that kind of return.
Disclaimer: I am not an investment advisor, and this article is not meant to be a recommendation of the purchase or sale of stock. Investors are advised to review all company documents, and press releases to see if the company fits their own investment qualifications.
Disclosure: I/we have no positions in any stocks mentioned, and no plans to initiate any positions within the next 72 hours.
I wrote this article myself, and it expresses my own opinions. I am not receiving compensation for it (other than from Seeking Alpha). I have no business relationship with any company whose stock is mentioned in this article.
Editor's Note: This article covers one or more stocks trading at less than $1 per share and/or with less than a $100 million market cap. Please be aware of the risks associated with these stocks.