After two weeks, Cheniere Energy's Sabine Pass gas flow is now 0 Bcf/d. Genscape speculated last week that Sabine was going to stay online until storage was full, and expected Sabine gas flows to be 0 Bcf/d by the end of the week. This turned out to be the case as gas flows went to 0 over the weekend.
To our knowledge, maintenance started at Sabine's train 1 and train 2 on Sept. 9. The maintenance is supposed to last four weeks. LNG demand in the meantime will be 0 Bcf/d, and we have modeled that into our injection forecasts. Even with the drop to 0, injection figures could come in below the five-year minimum, which should continue to support gas prices.
In a report we released to premium subscribers yesterday, we said the following: "Looking ahead, we see natural gas prices having a hard time popping over $3/MMBtu. Unless October estimates come in below the five-year average, gas prices won't go above $3 just yet."
We currently have two weeks of October forecasts, and from what we can tell, our 3.89 Tcf EOS estimate might be a bit too high.
Looking at power burn over the weekend, power burn only averaged ~28 Bcf/d, and overall demand was down 5 Bcf/d relative to last week. U.S. gas production hasn't rebounded back above 72 Bcf/d yet, and Canadian gas imports remain around ~5.5 Bcf/d. We expressed concerns in August about the Canadian Western natural gas storage potentially hitting capacity. Looking at last week's injection data, Western Canada only saw an injection of just 1.8 Bcf while the East saw an injection of 11.9 Bcf. It's now evident to us that the toll reduction from TransCanada is shifting a lot of gas from the West to the East now. This should now alleviate any pressure that gas storage hits capacity.
This week's injection should be another low one, and we expect to publish the finalized estimates tomorrow. Natural gas prices came in a bit today, probably on the back of Sabine going to zero. As of now, Sabine going offline was part of our projection and does not change our forecasts for the next several weeks.
Eight- to 14-Day Outlook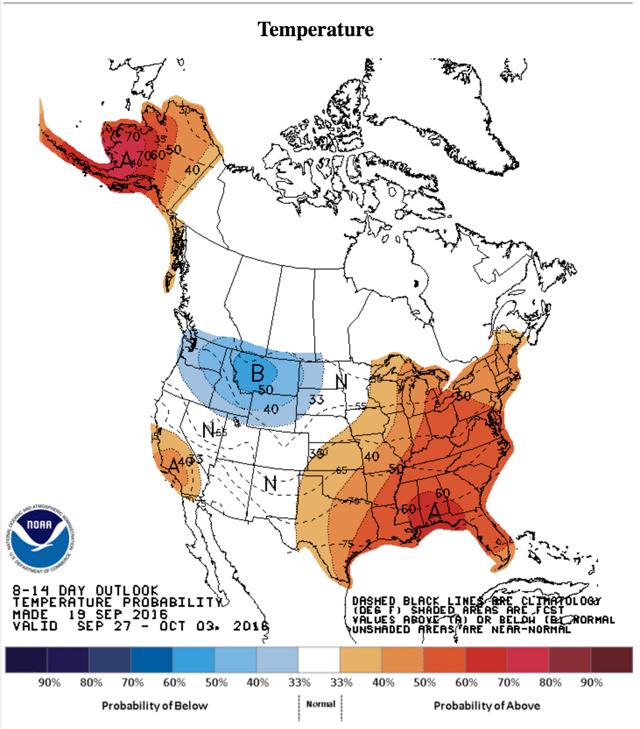 Click to enlarge
Natural Gas Prices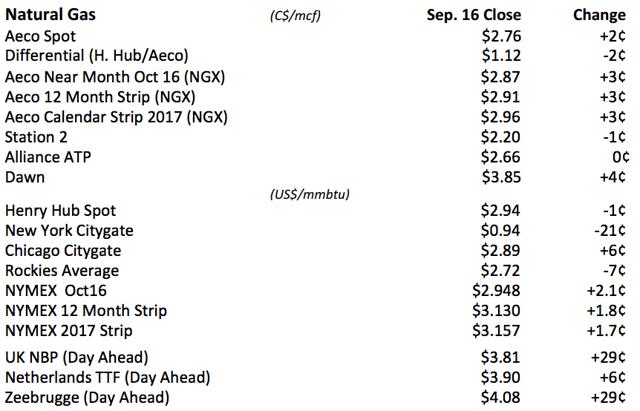 Click to enlarge
Thank you for reading our Natural Gas Daily. If you would like to read more dailies from us, please be sure to hit the "Follow" button. For those interested on the outlook of natural gas prices, HFI Research publishes a weekly outlook for premium subscribers. If you are interested, please direct message us for more information.
Disclosure: I/we have no positions in any stocks mentioned, and no plans to initiate any positions within the next 72 hours.
I wrote this article myself, and it expresses my own opinions. I am not receiving compensation for it (other than from Seeking Alpha). I have no business relationship with any company whose stock is mentioned in this article.