The Insiders Forum was launched in late June of this year. Our thesis was insider buying in attractive small- and mid-cap stocks were "tells" to future outperformance. So far, that thesis has played out marvelously, as the Insiders Forum portfolio has trashed its benchmark, the Russell 2000, by a wide margin to date (11.72% versus 1.32 as of Friday's market close)
Nowhere has this been truer than in the small biotech space. Today, we look at two attractive small biotech stocks' insider activity that points to future upside. One has already made a huge move, and one could potentially do so in the near future.
Aerie Pharmaceuticals (NASDAQ:AERI) was a star in the market last week, rising some 75% after posting much better than expected results from a critical Phase III trial, finishing just under $35 a share. The stock was the 10th recommendation within the Insiders Forum portfolio on August 21st at $19.15 a share, thanks both to upcoming milestones and positive insider purchase activity.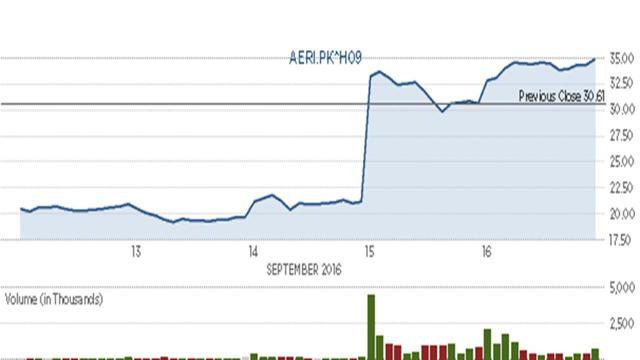 Source: 5-day Chart of AERI (CNBC.com)
Although I like the long-term future of Aerie and myriad analyst firms have placed price targets in the high $40s after those trial results this week, I would not be chasing it here, as the stock might be vulnerable to a bit of profit-taking this week. If it pulls back down to around the $29.50 level, where it did an oversubscribed $75 million secondary offering last week, that seems a good entry level for those who don't already have a position in this promising ocular concern.
What I want to do today is present exclusive research on another promising biotech within the Insiders Forum available to the greater Seeking Alpha community. Since being profiled on August 8th, the stock is slightly down, but started to move up last week. Could it be the next Aerie?
Let's take a look at the investment case and investors can be the judge.
Original August 7th Insiders Forum Article:
Company Overview
ADMA Biologics (NASDAQ:ADMA) is a New Jersey-based late-stage biopharmaceutical company that develops, manufactures, and intends to market specialty plasma-based biologics for the treatment and prevention of infectious diseases. ADMA Biologics was founded in 2004 and came public in late 2013. The stock sports just under a $70 million market capitalization and a stock price as of Friday's close of $6.32 a share, where it will enter the Insiders Forum as our seventh portfolio selection. Its 52-week high is just under $10 a share.
RI-002
The company's primary and only drug candidate is RI-002, which is a plasma-derived, polyclonal immune globulin intravenous for the treatment of primary immune deficiency disease. RI-002 demonstrated positive Phase III results and successfully achieved its primary endpoint of preventing serious bacterial infections, such as bacterial pneumonia, osteomyelitis and bacterial sepsis, in immune compromised Primary Immunodeficiency Diseases (PIDD) patients. RI-002 contains standardized, high levels of antibodies to respiratory syncytial virus (RSV) in addition to naturally occurring polyclonal antibodies RI-002 is intended to prevent infections in a subset of patients diagnosed with PIDD. RI-002 is for a target population range of approximately 10,000 to 15,000 patients primarily suffering from PIDD presentations and may also have some off-label uses, such as use with solid organ implants.
The FDA accepted the company's Biologic License Application (BLA) in September of last year. The company also operates two FDA-licensed, GHA, MFDS-certified source plasma collection facilities at their DMA BioCenters located in Georgia, which provide a portion of blood plasma for the manufacturing of ADMA's lead product candidate RI-002.
Complete Response Letter
On July 29th, the FDA issued a Complete Response Letter (CRL) to the company's BLA for RI-002. The company clarified immediately that "The CRL did not cite any concerns with the clinical safety and efficacy data for RI-002 submitted by ADMA in the BLA, nor has the FDA requested any additional clinical studies be conducted prior to FDA approval of RI-002 for PIDD.
The FDA identified in the CRL certain outstanding inspection issues and deficiencies at ADMA's third-party contract manufacturers, including its contract drug substance and product manufacturer, its contract fill and finisher and compliance issues with a third-party contract testing laboratory, and requested documentation of corrections for a number of those issues."
The stock fell some 20% in one day in response to the announcement around the CRL. I have seen a couple of these types of CRLs quickly resolved on a couple of my holdings recently. Opko Health (NYSEMKT:OPK) got a similar notice from the FDA around its compound RAYALDEE in the second quarter that was resolved in around a month, and the stock had a decent move on resolution. Last week, Ocular Therapeutix (NASDAQ:OCUL) moved some 30% after this type of CRL was addressed in less than two weeks.
I don't expect the same type of speedy resolution, but this issue should be put to bed by the end of the year at the latest. When it is, I expect the stock to recapture the losses from the CRL, if not gain further, as the product has significant potential given the small size of the company.
Balance Sheet & Insider Buying
The company raised some $14 million in May to aid in the rollout of R1-002. Impressively, insiders bought over $1.6 million of that secondary offering. In addition, numerous insiders have been making small purchases of shares every few months since the company came public in 2013. I see over 50 buy transactions over that time and not a single share sold. In addition, all of these purchases happened at higher prices than where the stock is currently selling at in the market. The company had over $11 million in net cash on the books at the end of the first quarter. With the proceeds from the secondary offering, the company has some 35% of its market capitalization in cash and is well funded to roll out R1-002 successfully
Technical Support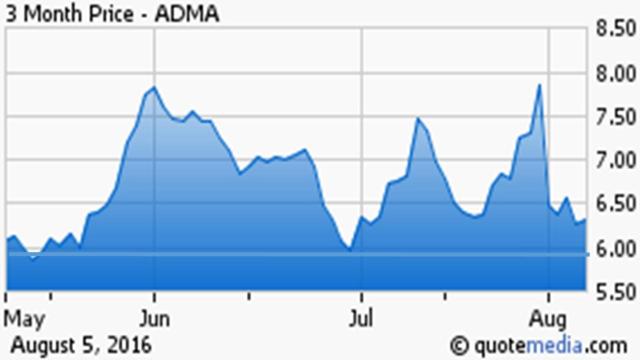 In addition, the stock seems to have some pretty solid technical support at right under current trading levels, adding another measure of confidence.
Outlook
I think analyst firm Ladenberg Thalman has the right bead on ADMA within a Buy rating they put out last week. While they did lower their price target from $17.50 to $12.50 on the delay due to the CRL, they also noted the "Complete Response Letter received by ADMA Biologics as creating a buying opportunity. We continue to believe RI-002 has the potential to become standard of care for adult Primary Humoral Immunodeficiency Disease."
There was a very in-depth and technical article on R1-002 recently, and why, based on trial results, the compound will get approved once the manufacturing issues are addressed to the satisfaction of the FDA. Revenue estimates for FY2017 before this CRL had a wide range with a high of $65 million. That optimistic sales level probably is now out to FY2018, as the CRL will slow the rollout, but shows the potential for this compound.
Given this as well as insider buying, a strong balance sheet and technical support, this seems like a nice asymmetrical trading opportunity. We will put ADMA in the Insiders Forum portfolio at $6.32 a share and will re-evaluate if/when the stock rallies to the $8-9 level, which seems possible once the recent CRL is addressed.
Recommendation: Buy ADMA up to $7.00 a share.
Note: To get these types of articles on attractive small and mid cap stocks insiders are buying as soon as they are published, just click on my profile and hit the big orange "Follow" button and choose the real-time alerts option.
Thank You & Happy Hunting
Bret Jensen
Founder, Insiders Forum
Disclosure: I am/we are long ADMA, AERI, OPK.
I wrote this article myself, and it expresses my own opinions. I am not receiving compensation for it (other than from Seeking Alpha). I have no business relationship with any company whose stock is mentioned in this article.
Editor's Note: This article covers one or more stocks trading at less than $1 per share and/or with less than a $100 million market cap. Please be aware of the risks associated with these stocks.