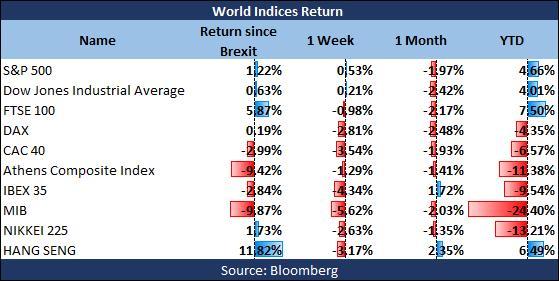 Economic data in line with expectations
Last week was quite interesting with plenty of macroeconomic news. Chinese economic figures beat expectations with retail sales up 10.6% YoY (est. 10.3%) and Industrial production up 6.3% (est. 6.1%). In Europe, CPI was in line with consensus estimates at +0.2% and core CPI +0.8%.
World ETF Performance

Ticker
Name
Return since Brexit
1 Week
1 Month
YTD
IWRD
iShares Core MSCI World UCITS ETF
0.51%
-1.61%
-1.70%
2.94%
SPY
SPDR S&P 500 ETF
1.21%
0.04%
-2.29%
4.66%
DIA
SPDR Dow Jones Industrial Average ETF
0.65%
0.03%
-2.76%
4.01%
EWG
iShares MSCI Germany ETF
-2.00%
-2.11%
-3.84%
-2.56%
EWQ
iShares MSCI France ETF
-5.10%
-2.94%
-3.02%
-3.18%
EWU
iShares MSCI United Kingdom ETF
-6.34%
-1.96%
-2.21%
-3.97%
CSX5
iShares Core EURO STOXX 50 UCITS ETF
-3.23%
-3.88%
-1.67%
-7.43%
EWJ
iShares MSCI Japan ETF
2.20%
-1.95%
-2.42%
-0.25%
AAXJ
iShares MSCI All Country Asia ex-Japan ETF
7.57%
-0.20%
-0.27%
10.88%
EEM
iShares MSCI Emerging Markets ETF
5.03%
-0.54%
-2.54%
13.42%
MCHI
iShares MSCI China ETF
13.14%
0.37%
2.20%
8.05%

Source: Bloomberg
Although the inflation indicators moved as expected, the figures remain low underpinning a low probability in rate hikes from ECB in the near-term future. BoE kept interest rates at 0.25% on Thursday but as mentioned in "monetary policy minutes," a majority of members are keen on supporting a further cut (close to but a little above 0) in one of the forthcoming meetings by the end of this year. In the US, CPI was up 1.1% YoY (est. 1.0%), CPI ex food & Energy was at 2.3% (consensus 2.2%) and initial job claims stood at 260K (consensus 265K).
Commodities Return
Ticker
Name
Return since Brexit
1 Week
1 Month
YTD
GLD
SPDR Gold Shares ETF
4.12%
-1.33%
-2.68%
23.26%
SLV
iShares Silver Trust ETF
8.31%
-1.38%
-4.39%
35.41%
USO
United States Oil Fund
-16.53%
-5.57%
-9.01%
-9.09%
UCO
Ultra Bloomberg Crude Oil ETF
-33.23%
-11.18%
-18.77%
-30.30%
DBA
PowerShares DB Agriculture Fund
-8.01%
-0.05%
-2.26%
-1.36%
UNG
United States Natural Gas Fund
7.17%
5.60%
10.87%
0.00%
PPLT
ETFS Physical Platinum Shares ETF
5.14%
-4.55%
-9.10%
13.65%
DBP
PowerShares DB Precious Metals Fund
4.01%
-1.42%
-3.38%
24.89%
UGA
United States Gasoline Fund
-5.57%
7.48%
5.24%
-10.12%
Source: Bloomberg
Political risks in Europe still present
Better-than-expected economic figures in Britain after the vote to leave the EU in June, may have put the fears about the country's economy out, but the bloc is still facing the risks that arise from this decision. EU member states' leaders (excluding UK) met at the Bratislava summit on Friday to discuss the future of the Union, the necessary measures which need to be implemented and the stance they will keep with regard to negotiations with the UK. Despite the effort to show a unified stance, Mateo Renzi and Victor Orban, have urged to express their disappointment about the discussions and the results of the summit. The EU is struggling to overcome the economic turmoil and terrorist attacks and the refugees crisis has added pressure to Brussels. The way EU handled the refugee crisis, the Greek turmoil, the high unemployment figures in EU countries and the late response to all those matters have left the politicians in the South Europe and the people of the bloc concerned about the effectiveness of the EU, and this in turn has led to euroskepticism growing even in countries like Germany. The far-right and far-left parties are gaining ground, and this adds to the already high political risk in Europe, as elections in France and Germany as well as the referendum in Italy is close.
Volatility picking up
As mentioned in one of my articles, volatility should rise just due to the failure of Central Banks to deliver the right message to investors regarding the level and timing of interest rate hikes. If the Fed decides to keep rates unchanged, volatility could remain low in the short term, but we see volatility picking up as soon as the next Fed meeting gets closer and the negotiations of the UK with the EU start.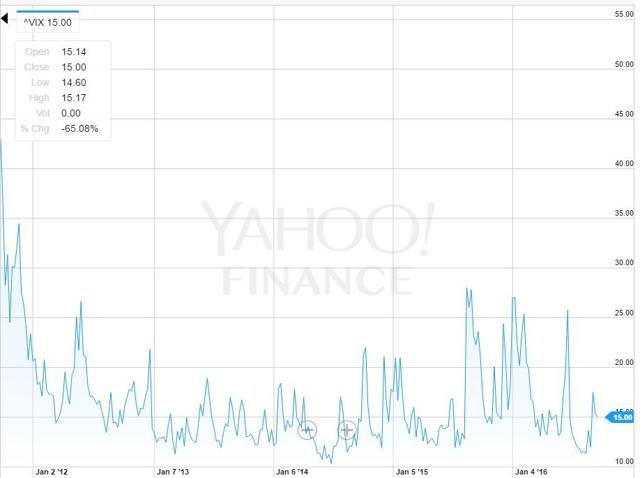 Click to enlarge
Stock Market Outlook
The return of US markets may have turned to positive sign last week, but the rest of the indices closed with a negative weekly return. Most European indices haven't recovered from the Brexit losses yet. We expect markets to be volatile as there is no clear picture of the Fed's intentions to raise rates in September, but it is quite clear that rates will be raised by the end of the year. In our view, the Fed has continuously expressed the intentions to raise rates, but investors seem to ignore this and act as if it will never go ahead and raise interest rates. We also notice that future earnings growth remains low and this does not support the high PE ratios in the market. This could lead to an abrupt market correction, especially if Fed goes ahead and raises interest rates as the market returns seem to be driven mainly by Central Banks' decisions. An explanation for this is that interest rates and equity premiums stand at historical lows and the only direction is to go up in the future. Essentially, the only way valuation models will lead to higher stock prices is earnings growth which is not impressive for the current PE ratios.
This week's economic calendar
Although the economic calendar for next week does not include a large number of economic figure releases, the Fed's interest rate decision on Wednesday is expected to have a material impact on markets globally. Other economic releases next week include Building permits and housing starts on Tuesday, initial jobless claims (US) and Draghi's speech on Thursday, PMI in US and EU as well as the Baker Hughes US Oil Rig Count on Friday.
Disclosure: I/we have no positions in any stocks mentioned, and no plans to initiate any positions within the next 72 hours.
I wrote this article myself, and it expresses my own opinions. I am not receiving compensation for it (other than from Seeking Alpha). I have no business relationship with any company whose stock is mentioned in this article.