We have been fans of the TASER (NASDAQ:TASR) growth story ever since a rise in fatal police shootings underscored the necessity for greater transparency in law enforcement, but we felt the valuation of the stock got ahead of itself around $29 per share. The stock has since dramatically pulled back, but the underlying growth story has been strengthened by recent fatal police shootings which have drawn significant political attention. Despite the rally today, we think it is still generally a good time to get back into this stock.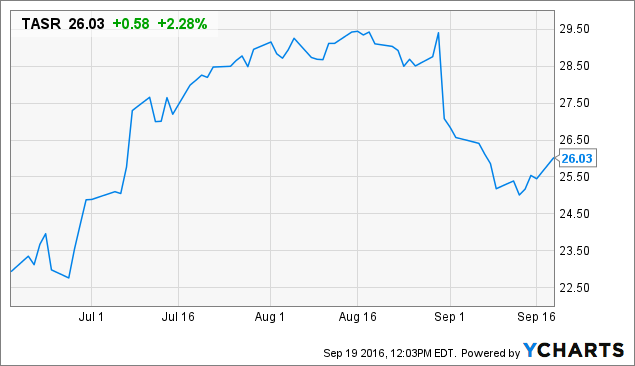 From a valuation standpoint, we like the stock on this pullback. We maintain that shares are worth $29, representing a 46x forward P/E multiple on earnings growth that we see as north of 30% per year over the next 5 years. We like the PEG considering the robust potential earnings growth, the company's ability to generate cash, the strong balance sheet, and the underlying secular growth story.
Despite a pullback in the stock, the underlying growth story has only strengthened in recent weeks. Unfortunately, fatal police shootings remain a major issue in the United States. There have been 686 fatal police shootings in the United States this year, which is roughly 20 more than there were up to September last year. If slight YoY growth continues, we will end 2016 with more than 1,000 fatal police shootings in the United States, equating to almost 3 per day. That statistic tells an unfortunate truth that greater transparency in law enforcement is a necessity.
Fortunately, an increase in social awareness and press coverage is pushing smart-weapon/body-cam adoption. TASR is adding roughly 2 new US police departments as customers each quarter, Axon revenue was up 49% last quarter, and smart weapon revenue was up 20%.
This adoption is already showing results, as body and dash cams are now capturing fatal police shootings and bringing greater transparency to the issue. Last week, 40-year old Terence Crutcher was shot and killed by Tulsa police. The shooting was captured on a dash cam, and full video footage of the shooting is expected to be available later today. A local pastor who has seen the footage said Crutcher's hands were clearly up, while an eyewitness claims everything about the police report is inaccurate.
This past summer, a fatal Chicago police shooting was captured by police-worn body cameras. The fatal shot itself was not recorded by a body cam although the officer was wearing one (we expect that legislation addressing this issue will arise shortly), but the footage leading up to the shooting shows a number of procedural errors on behalf of the involved officers. Nonetheless, in both cases, body and dash cam footage add an element of transparency and justice to the situation that would otherwise not have been possible.
We firmly believe TASR will add every major US police department as both a smart weapon and body cam customer within the next several quarters. This adoption will continue to be pushed by social and political pressure, which will likely intensify as non-body cam and smart weapon users become the minority. Under these assumptions, the stock is undervalued here at $26 per share. We see upside to a $29 level and are buyers today.
Investors who view TASR's growth story favorably might also be interested in a potential investment in Ambarella (NASDAQ:AMBA), the chip supplier for TASR's high-growth Axon body cameras.
Disclosure: I am/we are long TASR, AMBA.
I wrote this article myself, and it expresses my own opinions. I am not receiving compensation for it (other than from Seeking Alpha). I have no business relationship with any company whose stock is mentioned in this article.