Tesla Needs New Management
Tesla (NASDAQ:TSLA) has a lot on its plate. In addition to being a leading EV (electric vehicle) company with a continued need to innovate on that front, it is also investing in battery R&D directed at making the EV affordable for mass adoption. Tesla's R&D has more than tripled since 2013 to $717.9 million from $232.0 million. Tesla's many initiatives require a lot of funding.
A merger with SolarCity (NASDAQ:SCTY) ultimately might be synergistic for Tesla. However, we don't think Tesla is in a position to add SolarCity at this time, particularly as General Motors (NYSE:GM) is close to bringing the competing Bolt to market.
EVs Should Be Primary Focus
The company cannot focus on integrating SolarCity until it reaches breakeven. One of CEO Elon Musk's goals is to make EVs a mainstream automotive choice, but at this early point EVs and hybrids comprise less than 1% of the total number of cars sold in the world.
They are not affordable for mass market adoption and also do not provide the range or refueling convenience that traditional vehicles offer. According to MIT Technology Review, "For all their attributes, electric cars still are haunted by two damning factors: high costs and less-than-optimal batteries."
The sticker price of most EVs is significantly higher than that of most traditional cars. However, Tesla, GM and Nissan (OTCPK:NSANY) plan to introduce long-range EVs that are more affordable. Batteries comprise about 33% of the cost to construct an electric vehicle. In order for EVs to gain mass market traction, battery costs must decline. This is a major goal behind Tesla's Gigafactory.
The soon to be released Bolt represents an industry shift towards EVs, with GM positioned as the market leader, in our opinion. The Chevy Bolt will have a significant impact on the market, in our view, as Bolt will be first to market EV priced below $40,000 and will have a number of attractive features, including a greater than 200-mile range that will alleviate some of the range anxiety consumers have about driving EVs.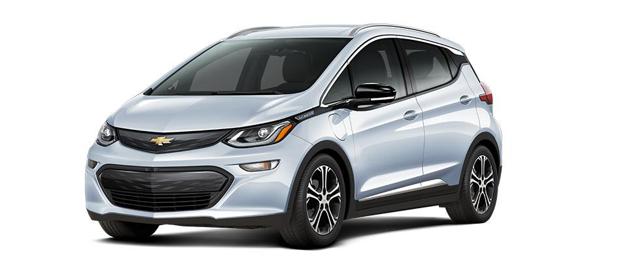 GM had initially indicated the Bolt's range would be at least 200 miles. Now, it turns out that the Bolt will get 238 miles on a single charge, which is more than originally expected. It is also 10% more than Tesla's upcoming mass-market Model 3, according to Fortune.
The Detroit News notes that GM intends to have the Bolt at dealerships by 4Q16. By comparison, Tesla is expected to introduce the Model 3 sometime in late 2017 and Tesla is notorious for missing deadlines.
The Bolt has already successfully been through the first two of three new automobile test phases and has been pre-produced at GM's Orion facility. Test drivers in the greater Detroit metropolitan area have had Bolt prototypes out on the road and Car and Driver magazine has test driven the Bolt, as well.
The Bolt will be the industry's first EV with at least 200 miles of range at a price designed for mass consumer adoption. In addition to the Bolt, Nissan also plans to launch its next generation Leaf, although it hasn't disclosed when the Leaf will be available.
The bottom line is that the EV market is evolving and Tesla needs to focus on attaining financial flexibility to keep up. The objections to the pending SCTY M&A transaction have been well documented in the press. There's no need to recap them here other than to say both companies are highly leveraged and Tesla continues to access the capital markets to fund operations.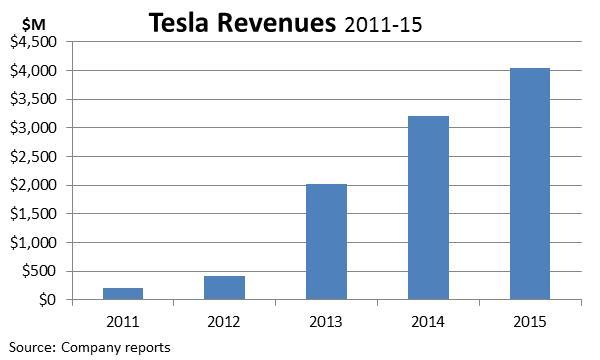 Tesla has done a good job of growing its top line. Revenue reached $4.0 billion in 2015, up from $204.2 million in 2011. However, we think it might be time for Tesla to bring in new management with strong financial and operating experience to help convert that revenue to positive earnings and cash flow. We would like a new team to take what Elon Musk has built and develop it into a profitable company.
Don't misunderstand - we would love to see Tesla and other environmentally conscientious companies help the environment. According to a Treehugger article called Tesla sees itself as an "energy innovation company as much as a car company, "Elon Musk has always said that his reason for creating Tesla and SolarCity was that he wanted to catalyze both the production and consumption of clean energy. It looks like Tesla will have a role to play not only in the consumption part (moving transportation from oil to electricity), but also in the storage of renewable energy, which often comes from intermittent sources like wind and solar. The battery Gigafactory will, of course, play a big role in that, with a certain amount of its production going to stationary energy storage devices."
Yes, SolarCity could help Tesla with the gigawatt or even with its Powerwall initiative. But Powerwall is a small, ancillary part of the overall business and gigawatt doesn't need SolarCity to be in-house.
Too Much Uncertainty
If Tesla were privately held, its idealistic goals would be extremely laudable. But as a public company, Tesla has an obligation to its shareholders to move the company to breakeven and then positive cash flow generation. TSLA shares trade at hefty multiples and the company should not heap even more risk and uncertainty on.
Disclosure: I/we have no positions in any stocks mentioned, and no plans to initiate any positions within the next 72 hours.
I wrote this article myself, and it expresses my own opinions. I am not receiving compensation for it (other than from Seeking Alpha). I have no business relationship with any company whose stock is mentioned in this article.