5 Gold Exploration Stocks to Put On Your Radar
This is a follow-up on a previous article I wrote back in July that highlighted five high-potential gold exploration stocks. These articles have been getting a lot of positive feedback from readers and I keep finding gold explorers worth covering, so I'm happy to expand my coverage.
There are literally hundreds of these types of companies, so many of them are not worth an investment for one reason or another. But if you look hard enough, I think you can certainly find some opportunities in this sector.
As a reminder, gold exploration stocks typically carry more risk than typical mining companies, but also carry more upside, so these projects are very early-stage and new gold discoveries can lead to a revaluation of the company.
In a gold bull market, the results can be staggering as these stocks generally offer higher leverage to gold prices. For example, so far this year, SPDR gold shares, which tracks the price of physical gold, is up 23.58%, while the VanEck Gold Miners Index (NYSEARCA:GDX), which contains a basket of mid-tier and senior gold miners, is up 90.60%. Meanwhile, the Global X Gold Explorers ETF (NYSEARCA:GLDX), which mostly contains gold exploration stocks, is up 138.62%.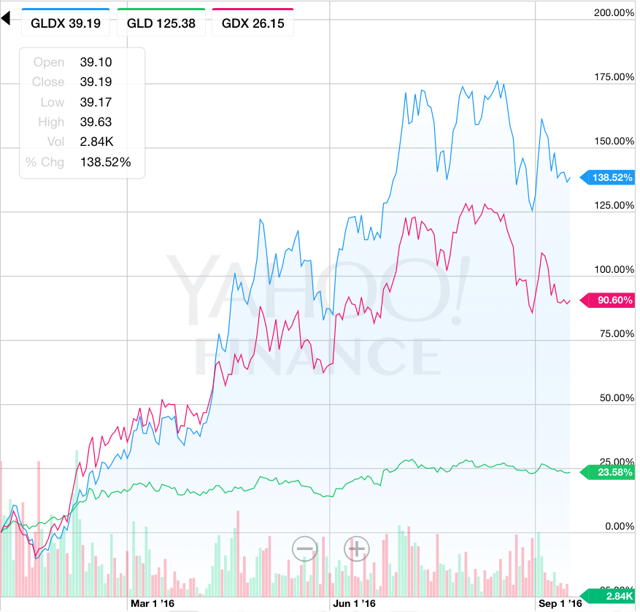 Click to enlarge
(Credit: Yahoo Finance)
During a gold bull market, the returns can be really high. One of the best-case scenario examples I can give here is a former gold explorer called Fronteer Gold, which was bought out by Newmont Mining (NYSE:NEM) for $2.3 billion, or $14 per share, back in early 2011, which was a big premium to Fronteer's share price at the time. Fronteer was taken over for its three Nevada assets, while 11 of its other projects were spun-off into a new company called Pilot Gold (OTCPK:PLGTF).
Despite never producing an ounce of gold, Fronteer Gold shareholders made out very well. Historical stock charts show that shares went from $2 in May of 2009 to its takeover price of $14 in early 2011. Investors would have outperformed pretty much every other gold stock, including miners.
Gold Explorers: What to Look For
I can't promise those type of returns by any means. My goal is to outperform the benchmark gold miners index , as well as the junior miners index (NYSEARCA:GDXJ) and the gold explorers index . What I'm looking for is I projects with excellent exploration upside, and it's a major bonus if the deposits are located near currently producing mines (or past producing mines).
A strong management team is a big bonus as well, and I always like to see management have some skin in the game with strong insider ownership. Another bonus is if major or mid-tier mining companies own shares - for example, mid-tier miner OceanaGold (OTCPK:OCANF) owns 19.9% of one of my favorite gold explorers, NuLegacy Gold (OTCQX:NULGF). In my view, this increases the chances of a takeover at some point in the future. It's also a positive if a gold streaming and royalty company owns equity, a royalty or a gold stream on the project, as I see this as a third-party validation of the project.
Here, I list five more gold exploration stocks I think investors need to put on their radar now.
Erdene Resources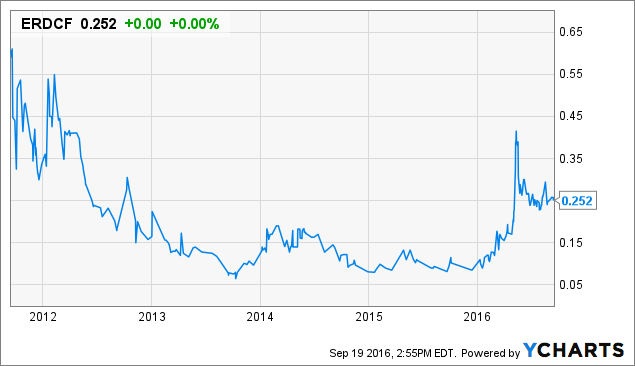 I learned about Erdene Resources when reading through Sandstorm Gold's (NYSEMKT:SAND) royalty holdings. For those unaware, Sandstorm owns 131 gold streams and royalties, and many of these royalties are on early-stage projects that carry long-term upside and optionality to gold prices.
I learned that Sandstorm owns a 2% royalty on both of Erdene's Altan Nar and Bayan Khundii projects, located in Mongolia. I later found out that Sandstorm's $2.5 million financing with Erdene included an equity component, as Sandstorm bought five million shares of Erdene for $.20 per share.
According to Erdene's corporate presentation, Sandstorm now owns 4.1% of the company, while Teck Resources owns 10.8% (and is partnered with Erdene on copper projects in Mongolia) and Erdene management and directors own 12.5% of shares. This is a major positive for investors.
Erdene caught my attention recently when it announced it had begun drilling on its two projects; this drill campaign follows up previous successful drilling, as Erdene intersected 14.3 g/t gold over 8.3 meters announced back in June. Surface sampling has returned up to 4,380 g/t gold at Bayan Khundii, while drilling last quarter intersected high-grade zones, including up to 63 meters of 5.3 g/t gold.
Erdene's projects certainly look like they have big upside. Investors should keep a close eye on drill results from the ongoing drill program at Bayan Khundii.
The one downside, however, is Erdene's project location, as Mongolia isn't exactly the most favorable mining jurisdiction. However, the political risks appear to be going down a bit due to a few positive developments. For one, Rio Tinto's Oyu Tolgoi mine has been delayed for several years due to a dispute with the Mongolian government, but it looks like things are starting to get better in Mongolia as a $4.4 billion financing was later approved for Oyu Tolgoi. Meanwhile, Centerra Gold's (OTCPK:CAGDF) Gatsuurt project secured parliamentary approvals in February. It's important to note that mining also makes up 23% of Mongolia's GDP, so the economy relies heavily on mining.
I'm very interested in Erdene, but have yet to commit to buying shares. I like the upside, but I want to see results from its latest drill program first.
Pure Gold
Pure Gold owns one of the highest-grade undeveloped gold deposits in the world, as its Madsen mine in Red Lake, Canada hosts a defined resource of 928,000 ounces at 8.93 g/t gold in indicated and 297,000 ounces at 11.74 g/t gold in inferred resources. This is a past-producing gold mine that operated for over 36 years, producing 2.5 million ounces of gold at 9.9 g/t gold.
The company also owns all of the existing infrastructure at Madsen, including a mill and permitted tailings facility, which should greatly reduce initial capital requirements to bring the mine to production. In fact, Pure Gold's preliminary economic assessment on Madsen says that just $20 million in pre-production capital will be required, according to Pure Gold's corporate presentation.
Two positive news releases from Pure Gold caught my attention lately. First, the company announced that it had intersected 50.2 g/t gold over 4 meters at Madsen, as part of its 51,000 meter drill program at the project. Other drills intersected 67.5 g/t gold over 1.1 meters and 32.5 g/t gold over 2 meters.
The results are significant because the company says the results indicate that the high-grade gold shoots have similar geometry and style to the Austin horizon mineralization at Madsen, where over 2 million ounces of gold were historically mined. The mineralization intersected here is expected to positively impact Pure Gold's current resource estimate at Madsen.
Next, Pure Gold says it raised $19 million through the exercise of share purchase warrants, so the company is well-funded and has no need to tap into the equity markets any time soon.
Finally, insiders own 4.4% of the outstanding shares. In addition, senior gold miner AngloGold Ashanti owns 12%, while Evanachan Ltd., owned by Robert McEwen of McEwen Mining (NYSE:MUX), owns 10.4%.
I think these latest drill results are just the beginning for Pure Gold and investors should keep a close eye out for future drill results. I'm bullish on the stock for the reasons mentioned above.
Atac Resources (OTCPK:ATADF)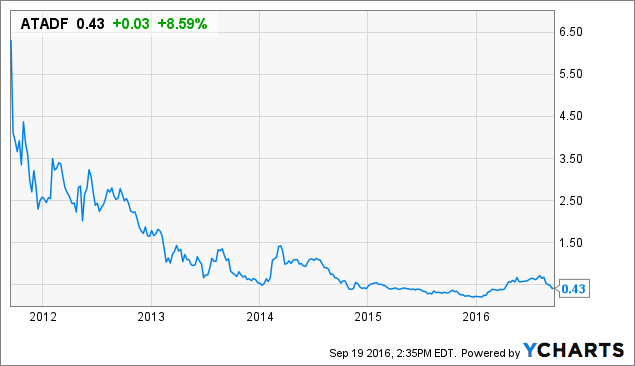 Atac is a company I just discovered recently. The company is developing Canada's only "Carlin-type" gold district in the Yukon, at its 100% owned Rackla gold project. This project is located near Victoria Gold's (OTCPK:VITFF) Eagle Gold project, and Alexco's (NYSEMKT:AXU) Bellekeno project. It looks like it has the potential to be a multi-million ounce gold deposit.
Atac came on my radar when the company announced it had intersected 61.29 meters of 2.75 g/t gold at Rackla, plus 14.61 meters of 3.98 g/t gold and 13.15 meters of 3.92 g/t gold. These are just the first three diamond drill holes completed on its planned 10-hole program at Rackla's "Orion Zone," located on the eastern end of the project. But successful drill results like these seem common. For example, past drill results at Rackla's Conrad Zone include 114.93 meters of 3.15 g/t gold and 124.96 meters of 3.02 g/t gold. Back in August, the company announced high-grade drill results at the western end of Rackla.
The company is still early stage with Rackla but has already completed a preliminary economic assessment on Rackla's Tiger deposit. Using a gold price of $1,250 per ounce, mining on this deposit would yield 302,307 ounces of gold; the project carries a pre-tax net present value of $106.6 million and a rate of return of 34.8%. This is nearly double Atac's current market cap of $69 million on the TSX.
In addition, Atac is well-funded and has $16 million in working capital, so it has no need to issue additional equity in the near future. It's also noteworthy to mention that Atac raised $13 million in equity in a financing with Agnico Eagle (NYSE:AEM) back in 2013 at a price of $1.35, which is far higher than the current stock price.
I think Atac's Rackla project carries huge upside, and its current resource of 680,000 ounces of gold looks like it is could be expanded considerably with further drilling. In addition, M&A activity has been heating up in the Yukon, as Goldcorp (NYSE:GG) acquired Kaminak Gold (OTCPK:KMKGF) for $520 million back in May; Kaminak owned the 3+ million ounce Coffee deposit in the Yukon. I am looking to conduct more research on Atac before deciding whether or not to buy shares, and I think interested investors should keep a close eye on this gold explorer.
Skeena Resources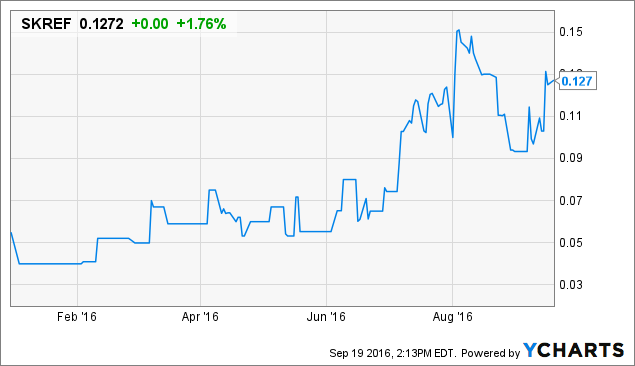 Skeena has an option to acquire 100% of the Snip Gold Mine from Barrick Gold (NYSE:ABX); as mentioned in my real-life portfolio article, I think the Snip mine has a ton of potential - for one, the mine is located in British Columbia's Golden Triangle, a region that has produced millions of ounces of gold historically; the region contains Pretium Resources' (NYSE:PVG) Valley of the Kings project Seabridge Gold's (NYSEMKT:SA) KSM deposit, and Barrick Gold's (NYSE:ABX) Eskay mine.
Snip is a past-producing mine as 1.10 million ounces of gold were produced at 27.5 g/t head grades from 1991 - 1999 (closed due to low gold prices).
Skeena really impressed me recently when the company announced fantastic drill results at Snip. These results were from the first eight drill holes on its 6,000 meter drill program at Snip.
According to Skeena, highlights include a wide interval which occurs approximately 200 metres into the footwall below the historic Twin Zone mine production area, and drill results returned 16.24 g/t gold over 13.5 meters including 30.99 g/t gold over 4.5 meters. The company feels that because of these results and the historic gold intersections on adjoining sections, there is potential to expand on this interval with further drilling.
This is just great news for Skeena because it's the first drill program at Snip and all eight of its drills intersected high grade gold mineralization. The company expects to complete exploration spending commitments required to earn 100% of Snip by October of this year. The stock has yet to take off following this news, so I think it's a good time to buy shares. I plan on doing just that in the new future.
Integra Gold (OTCQX:ICGQF)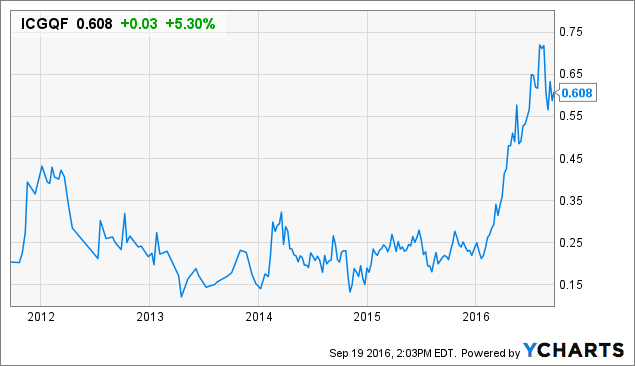 I'm mentioning Integra on this list because the company recently announced some of its best drill results to date at its C2 structure at the Triangle Zone deposit.
The Triangle Zone contains a current resource base of 503,420 indicated ounces (9.4 g/t), and 676,960 inferred ounces (8.8 g/t). The latest drill results include intersections of 70.59 g/t gold over 12.7 meters, 269.71 g/t gold over 1 meter, 54.43 g/t gold over 3.6 meters and 68.97 g/t gold over 2.2 meters. I believe this latest news release also bodes well for nearby gold explorer Alexandria Minerals (OTCPK:ALXDF), which owns the nearby Airport property (located directly south of Integra's Triangle Zone) and recently completed drilling on its "Triangle Too" target.
Besides the high-grades (many of which are higher than the grades in the current resource), the results are significant because they demonstrate the continuity of gold mineralization in the C2 structure, so the resource at Triangle could be much larger than initially expected. In addition, assays are currently pending from an another 40,000 meters (133 drill holes) of diamond drilling at the Triangle Zone, so more good news could be coming in the near future. The indicated resource at Triangle Zone has already increased by 229% over the past 3 years or so, but further expansion should be expected in my view.
Also, El Dorado Gold (NYSE:EGO) holds a major position in Integra Gold, as a private placement last year gave the senior gold miner 15% ownership in the company.
As mentioned in my real-life portfolio update article, Integra is a major holding of mine, and while I locked-in some profits back in August (at a gain of over 200%), I am bullish on the company and may buy more shares soon.
A Note of Caution
Gold exploration stocks gives investors leverage to gold prices, but not all explorers are worth an investment. I believe these five gold explorers have the potential to outperform peers by a wide margin. But you still need to be aware of the risks.
Please note that these stocks carry more risk than typical gold stocks. Investing in these stocks is not for the faint of heart, as these stocks can be volatile, and can carry wide bid/ask spreads. Gold explorers such as the companies mentioned here do not produce any cash flow, and there's no guarantee each company will be able to raise the financing needed to explore their properties and keep the lights on.
Of course, there's no dividends being paid by any of these companies, and there's also no guarantee each project will turn into an actual producing gold mine.
To reduce these risks, I recommend spreading out investments in gold explorers as opposed to going all-in on just one or two stocks. I also don't recommend holding anymore than 10% to 20% of a gold portfolio in gold exploration stocks, unless you have a higher risk tolerance than typical investors.
Disclosure: I am/we are long SAND, ALXDF, ICGQF, PLGTF, NULGF, CAGDF.
I wrote this article myself, and it expresses my own opinions. I am not receiving compensation for it (other than from Seeking Alpha). I have no business relationship with any company whose stock is mentioned in this article.
Editor's Note: This article covers one or more stocks trading at less than $1 per share and/or with less than a $100 million market cap. Please be aware of the risks associated with these stocks.