Kinder Morgan (NYSE:KMI) may be a stock you are frustrated at because of the dividend cut late last year or because of the way management handled the situation. Regardless of your feelings, KMI is still an investment vehicle that can add value to your portfolio. The following analysis is going to focus on correlations of KMI to different commodities and it is my hope that investors recognize that certain catalysts in KMI's growth profile will have materially different impacts.

Source: Wikimedia
Kinder Morgan's Large Catalyst
I've talked previously about the company's ability outperform via a few large catalysts. These are the Trans Mountain Pipeline Expansion project, a credit rating increase, a later dividend increase when stability is achieved and naturally, La Nina. Yet, I really want to focus on La Nina for this article, in light of new data regarding KMI's correlations with commodities.
For those who are familiar with Kinder Morgan, then the correlation between KMI and crude oil over the past 18 months to 2 years is nothing new. There's been a bit of fault with this correlation at certain intervals and the resumption of a correlation with natural gas has shown its merit at these intervals this year, notably when volatility was low, particularly for crude. Below is KMI versus the VIX: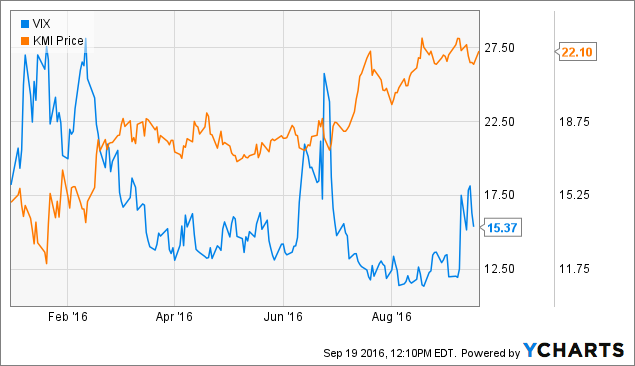 Source: YCharts
Additionally, here's KMI against the price of natural gas, in the same YTD time frame. I'd warn investors here to use always natural gas futures themselves from the CME Group or a major database because using a proxy like the United States Natural Gas Fund (NYSEARCA:UNG) or one of the leveraged natural gas ETFs is going to give you a skewed return view, instead of a pure performance tracker.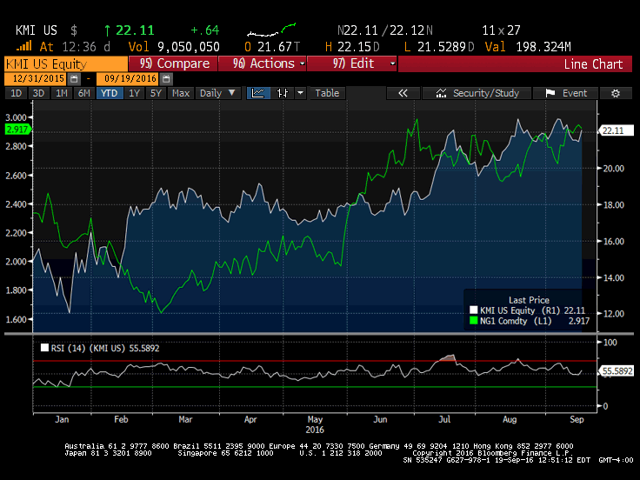 Click to enlarge
Source: Bloomberg
YTD, KMI is up 48.16% and natural gas is up 24.9%. First, it does make sense that KMI's return is substantially higher than natural gas vehicle given its leverage near 5x debt/EBITDA. That sort of leverage naturally creates amplified returns. Second, while it may just be coincidence that these two have held some sort of a positive correlation YTD, it's tough to think that it's just a coincidence given the high amount of fee-based revenues stemming from natural gas transport for the company.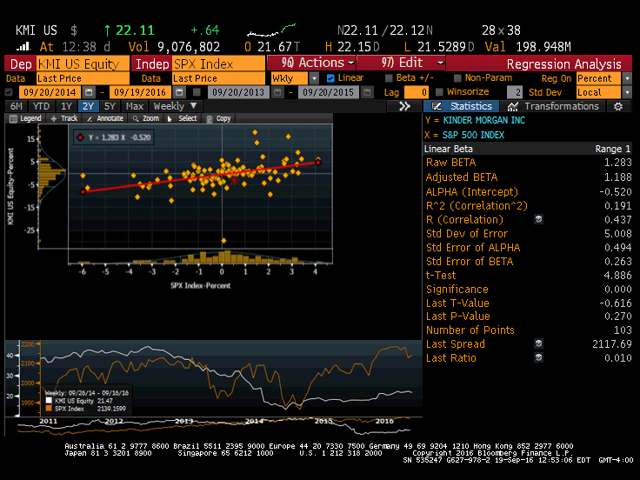 Click to enlarge
Source: Bloomberg
The graph above shows a correlation analysis between KMI and the S&P 500. Thus, this sets our baseline for what KMI's pull to the broader market it, on a scale of 0 to 1. Here, the R figure reported is 0.437. Not particularly strong, which is what we'd hope to see.
Remember how I said the positive correlation mustn't be a coincidence? Actually, the correlation is negative between natural gas and KMI. Unfortunately, from an equity performance standpoint, natural gas prices aren't going to help this stock at all. In fact, the correlation on a YTD time frame between KMI and natural gas is less than 0, implying an inverse correlation. That's really disheartening. If you increase the time frame, i.e. put it on the same basis as crude oil, the correlation is less than 0.1, which is very minimal.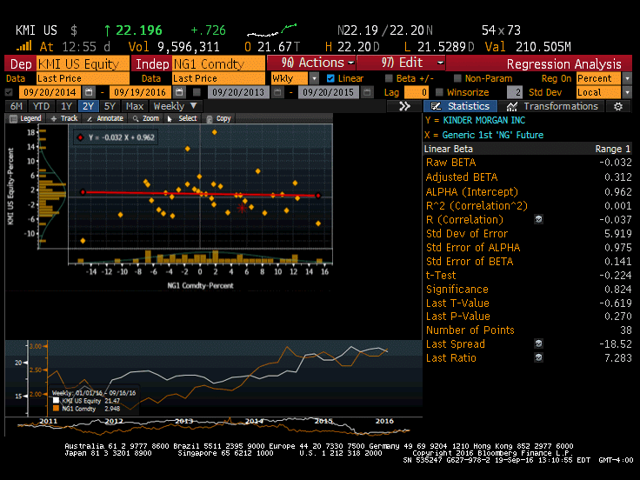 Click to enlarge
Source: Bloomberg
Not to be the bearer of bad news, but crude oil's correlation is still intact. Now, it was much higher in 2015 and early 2016, with the correlation being range bound between 0.53-0.60, so the fact that it has declined in recent months is a positive sign, given the range bound pricing for crude right now.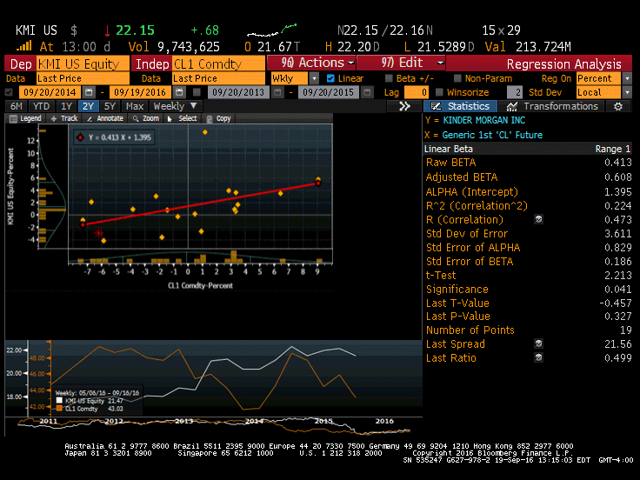 Click to enlarge
Source: Bloomberg
What's The Impact of La Nina?
Investors are really going to start to hear a lot about La Nina and its relation to natural gas prices over the next couple of months. I've personally been early in observing the correlations, just to keep it front and center on my investing radar as it has the potential to create serious outperformance for certain securities.
Unfortunately for KMI shareholders who watch natural gas prices, like myself, La Nina may have a negligible impact on the share price. I do not want to say definitively that this will be the case as correlations may dramatically shift in the next couple of months.
Yes, the potential for capital gains directly attributable to higher natural gas prices is low. Yet, the indirect effect of natural gas prices leading to higher earnings and then subsequently leading to a higher share price for KMI is relatively high.
Commodities have routed KMI over the past two years and it's only been the past six or seven months that a basket of commodities have begun to pick up, notably natural gas and crude oil. I'll refrain from talking about crude oil right now as I want to retain focus on natural gas. While investors have seen the sensitivity of the company multiple times over of KMI to separate commodities, it's important to know how positive the picture is with higher natural gas prices, aka near $3/MMBtu.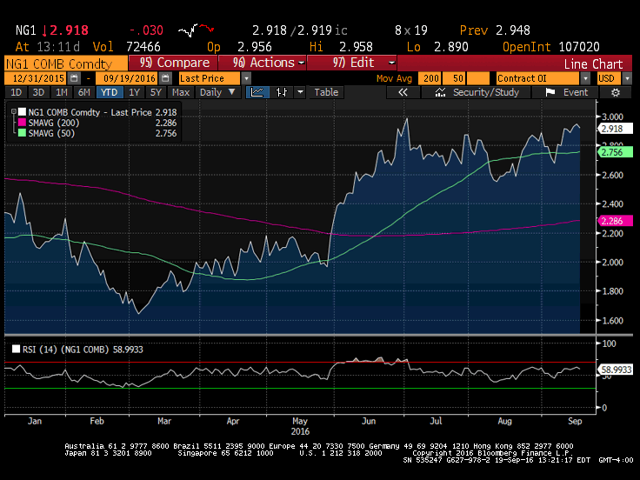 Click to enlarge
Source: Bloomberg
The graph above is critical to view. The 200 MDA is above $2.28/MMBtu. Despite natural gas right now trading at $2.91, which is applauded by the Street for nearly any natural gas exposed company. Let's recall that the sensitivities to commodities for KMI are as follows:
$1/Bbl change in oil price = ~$6.5 million DCF impact
10¢/MMBtu change in natural gas price = ~$0.6 million DCF impact
So, here, the distributable cash flow impact isn't even that high for roughly a 4-5% in the price of natural gas. What is impacted by this is the volume of natural gas as prices increase. In theory, natural gas volumes increase when prices are more favorable as margins are higher for E&Ps. That's the indirect effect I'm talking about. While earnings may increase slightly because of natural gas prices, the point is that volumes will increase meaningfull, which well help KMI produce better top and bottom line earnings.
Interestingly enough, last Q3, we saw closeout prices averaging a similar level to what Q3 is averaging right now. Thus, expectations are a bit tough to gauge because at one hand, investors could be looking at last year's numbers and realize commodities haven't improved, so KMI isn't warranted gain; but, on the other hand, natural gas prices are up to $2.91/MMBtu, which is a massive jump from the sub-$2/MMBtu February lows and from the $2.35/MMBtu YTD starting point.
Earnings reports will provide exceptionally positive impacts if the latter is the expectation, as it could provide great confidence to larger shareholders and induce heavy buying. On the other hand, larger investors may realize that KMI isn't going to hit its budget with natural gas prices the way they currently are, keeping in mind that low 200 DMA.
Conclusion
Natural gas is on a roll and it's YTD performance is a strong indicator of that. KMI YTD has also been on a roll, but apparently for separate reasons. I'm still long this company for a variety of reasons and my time frame on it has been increased substantially. When the dividend comes back, being paid to wait patiently for the stock to return to early 2015 levels, at bare minimum, will be quite the positive return. Unfortunately, natural gas prices, at a high level, may not be the fuel to get this stock there from a high-level perspective.
Disclosure: I am/we are long KMI.
I wrote this article myself, and it expresses my own opinions. I am not receiving compensation for it (other than from Seeking Alpha). I have no business relationship with any company whose stock is mentioned in this article.