Ford Motor Company (NYSE:F) is trading around $12.13 with a P/E ratio of 5.5. A major driver for this decline in stock valuation is the fear surrounding the "global auto slowdown". However, I think that people are erroneous equating the "US auto slowdown" with a "global auto slowdown", while these are actually very different things.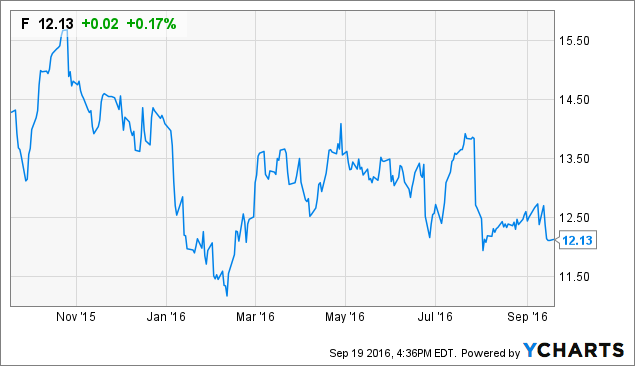 Auto Market Slowdown
US auto sales saw a drop in deliveries by 4.2% during the month of August, which is typically one of the busiest months for the auto industry. In fact, Ford saw an 8.8% year-over-year decline in light vehicle sales in the month of August and expects to see further domestic declines over the coming months into 2017.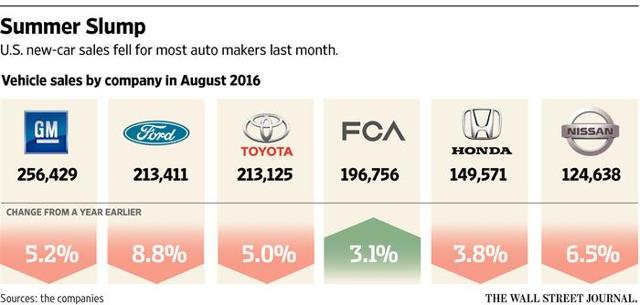 Indeed, I do believe the US auto market has been mature for some time and is finally hitting a plateau which will slow some of the crazy growth numbers we've become accustomed to in the past.
Regardless, this is just the natural progression of things. In this case, a regional marketplace becomes saturated, and thus, capital expenditures in expansion and innovation become profitable against the opportunity costs. Just because US auto numbers are dwindling, it doesn't mean the global auto market is doomed.
Global Diversification
I absolutely think one needs to look globally to see the real picture. In reality, while a large factor, the US auto market is only a small piece of the total pie. Seeking Alpha reported last week that Ford recently announced that during the month of August, Asia Pacific sales rose 22% to 126,834 vehicles, while increasing its regional market share by 4.1%. This was primarily driven by strong performances in Vietnam, China, and the Philippines.
Additionally, automobile deliveries in China increased 26% year over year to 1.8 million units in August, matching the rate of sales growth seen in the month of July. At the same time, European Ford vehicle registrations increased by 7.1% in the month of August.
The picture I'm painting here follows the following logic - although the US auto market may be experiencing a slowdown of sorts, there are many more markets that are only just now reaching their rapid growth phases. These are the regions where we should be focusing. It is easy to believe that the sky is falling when we only focus on the markets in decline. I urge you to broaden your gaze.
Ford Product Innovation
On top of this, Ford is also working to innovate upon its core business in order to hedge against the auto market slowdown that may be occurring. For instance, the company expects strong growth within its new business services unit which plans on venturing into areas such as robo-taxis, electric cares, transportation services and autonomous vehicles. Ford is undergoing a rapid evolution - no longer is it the boring auto company as of old.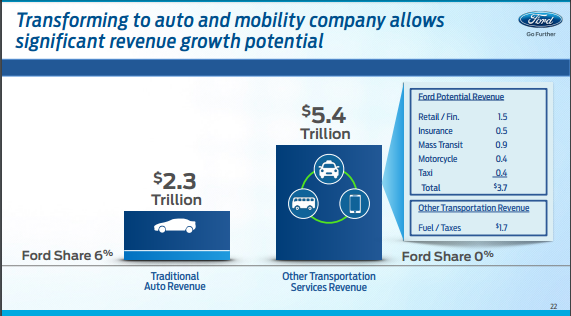 Source: Ford Investor Day Presentation, September 2016
Conclusion
People need to stop viewing Ford as a boring, one-trick pony. This is an evolving company under relatively new management, with technological innovation and global expansion on the horizon. It will absolutely not sit on the sidelines as Tesla (NASDAQ:TSLA), Google (NASDAQ:GOOG), and Uber (Private:UBER) blow by.
Disclosure: I/we have no positions in any stocks mentioned, and no plans to initiate any positions within the next 72 hours.
I wrote this article myself, and it expresses my own opinions. I am not receiving compensation for it (other than from Seeking Alpha). I have no business relationship with any company whose stock is mentioned in this article.