Back on March 1st, I wrote that Royal Bank of Canada (NYSE:RY) was "a great value" with shares down at $51. Today, US shares of Royal sit at $61, a significant appreciation in value over the last six months. Overall, that would be a gain of about 19%. Not bad at all.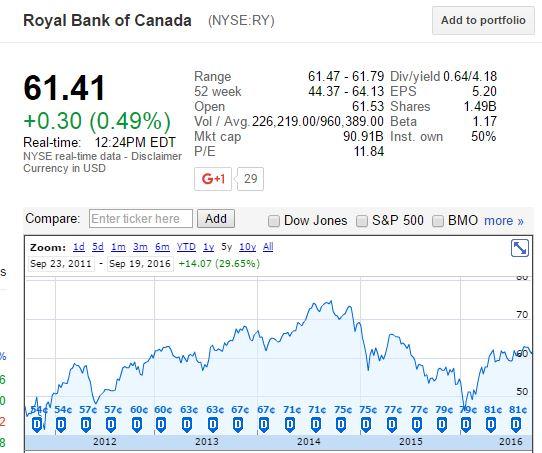 Courtesy of Google Finance.
Shares are significantly higher today. In addition, Royal Bank of Canada has since come out with its second quarter earnings. It also announced an increase of the quarterly dividend to $0.83 Canadian, another increase of 2%. That would represent an annualized increase of 5% on constant, Canadian dollars, because earlier it had increased its dividend once already. This article takes a look at Royal's latest quarter as well as what investors can expect going forward.
Staying the course
This quarter, net income increased by 17%. However, much of that was due to the acquisition of National City. On a constant basis, net income increased 3% quarter over quarter and 7% year on year. Those are still some pretty solid earnings growth numbers. Credit losses were down 12 basis points as a percentage of net income, and the bank's tier 1 capital ratio increased from 10.1% to 10.5%. Altogether, these are some good signs, especially given the latest economic weakness in the Canadian economy.
Personal and commercial banking, the largest single segment of Royal's business, saw net income increase 3% compared to last year, and Canadian Banking increased 4% compared to last year, with fee-based revenue powering growth across "most businesses."
Wealth management net income was up 36%, which includes the addition of City National. Without City National, net income here would have gone up 1% or so. Insurance net income was affected by the sale of Royal's auto insurance and home insurance businesses, for which the company posted an after-tax gain of $235 million. Ignoring the effects of that, however, net income declined by 27% due to lower earnings from U.K. annuity contracts and also from the Fort McMurray wildfires in May.
Capital Markets' net income increased 17% from a year ago, thanks to organically strong results in the Global Markets business. This was mostly due to higher fixed income (bonds) trading revenues. This was probably the brightest spot in Royal Bank of Canada's business this quarter, and that means a lot because Capital Markets is the second-largest business, with a total revenue of $635 million Canadian. Finally, Investor and Treasury Services' net income was down 6% from a year ago, but that was because the prior year included an extra month of activity.
Coming risks
Back when I wrote my last article, investors were quite nervous about the slowing Canadian economy, plunging crude oil prices and sky-high real estate prices in Toronto and Vancouver. Management had "stress-tested" its balance sheet and reported that loan provisions would most likely be well within its "tolerance." Considering the bank's valuation at the time, I was willing to just take their word for it and hit the "Buy" button.
Valuations are significantly higher today, it doesn't look like crude oil prices are going anywhere and the economy shrunk by another 0.4% in the second quarter. One more quarter of that and Canada will dip back into recession. Most of all, price to trailing earnings are now up to 11.9 times, up from just 10 times the last time I wrote an article.
While 11.9 times certainly doesn't seem very expensive, I believe the change is pretty significant because Royal's average ten-year valuation is 12.6 times, so shares have more or less reached their average valuation. The remaining upside is 5.8% plus, of course, the annual dividend of 4.2% for each share on the NYSE. That's something, but suffice it to say that I am a lot less excited about buying Royal Bank of Canada at this valuation than I was three months ago.
Conclusion
So, I'm on the fence with Royal Bank of Canada. The good thing is that dividends are only 62% of trailing earnings, with the current dividend annualized. I suspect Royal will continue increasing its dividend by around 5% annually in Canadian dollar terms. That's good enough for me as long as the US-Canada exchange rate remains stable.
However, I think we investors need to be realistic about the prospects here: low crude oil prices have hurt Alberta's economy and will continue to do so. While there haven't been any issues from the Toronto or Vancouver housing markets yet, there could be. Finally, the Canadian economy overall is sputtering, it is no longer in a recession, but it's just one quarter away from falling back into recession. If shares were at just 10 times earnings, as they were before, I'd be willing to overlook these things, but now that Royal is at about its average valuation, I'm feeling a bit more "iffy" about its prospects.
I am personally long Royal, and no, I do not plan on selling. I like that dividend and solid dividend growth too much to dump shares here. However, I no longer can recommend continuing to buy this one. I think it's time to just "Hold" or look for value elsewhere to put new money.
If you're interested in Royal Bank of Canada, feel free to "Follow" me on Seeking Alpha. I am personally long the stock, and will continue to provide update articles when doing so is both material and relevant.
Disclosure: I am/we are long RY.
I wrote this article myself, and it expresses my own opinions. I am not receiving compensation for it (other than from Seeking Alpha). I have no business relationship with any company whose stock is mentioned in this article.