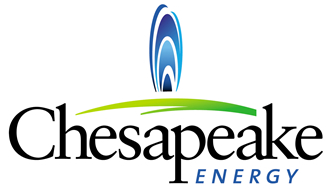 Shortly after I raised my short term price target on oil and natural gas producer Chesapeake Energy Corp. (NYSE:CHK) to $8, I penned an article on the energy company entitled "Chesapeake Energy: Time To Tread Carefully?", in which I called for caution in light of a 61 percent surge in valuation over the preceding month. In fact, I recommended investors to take profits in their Chesapeake Energy long positions because investor optimism was very high, and the good clip of price appreciation in Chesapeake Energy's shares was not sustainable.
This was how I justified selling Chesapeake Energy into the latest strength:
It is time to tread more carefully now. Chesapeake Energy has had an excellent run since February, but shares are overbought, and it is only a question of time until profit-taking will set in and drive shares lower - which, I presume, will happen faster than many investors now think is possible. As a result, the reward-to-risk equation has changed, and investors may want to think twice about taking some profits given the surge in Chesapeake Energy's valuation this year.
Fast forward ten days, and Chesapeake Energy's shares are off ~16 percent from their most recent high ($8.15), largely because of profit taking.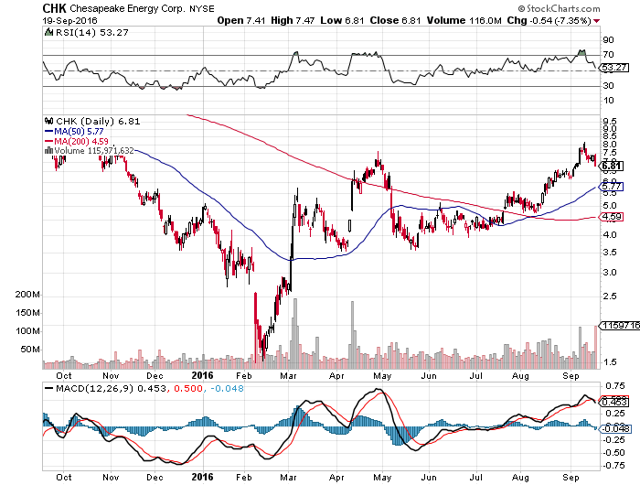 Click to enlarge
Source: StockCharts.com
Read also: "Chesapeake Energy: What To Do Now?".
Further, activist investor Carl Icahn issued a statement on his website on Monday, announcing that he sold more than half of his stake in energy company. This is what Carl Icahn had to say about his sale:
We believe that over the last few years Doug Lawler and his team have done an admirable job, especially in light of the circumstances. We reduced our position to recognize a capital loss for tax planning purposes.
Big sales of major shareholders are rarely well received by other investors, which is also why they ran for the hills yesterday.
Chesapeake Energy's shares cratered more than seven percent on Monday, and another five percent after hours, after markets were informed that Carl Icahn has sold a big chunk in the oil and natural gas company. Icahn has reduced his stake in Chesapeake Energy from 9.4% to 4.6%, a significant decrease.
Are We Diving Below $6?
Icahn's share sale was bad news for the company because it hurt growing investor optimism, which has been chiefly responsible for the high rate of price appreciation that we have seen in Chesapeake Energy in the last few months. It can be expected that Chesapeake Energy's share price overshoots at this point, and drops below $6 in the short haul. I will consider adding to my small trading position in the high $5s if Chesapeake Energy's shares become oversold again.
Your Takeaway
Icahn's share sale is a big deal for Chesapeake Energy because Icahn's presence in the name was uplifting for a lot of investors. Though Icahn sold for "tax planning purposes", he clearly seems to think that taking a loss on his investment is not a bad option. This, expectedly, weighed on Chesapeake Energy's shares yesterday, and could continue to weigh on them for a while. A dip below $6, at which I would consider buying again, is entirely within the realms of possibility.
If you like to read more of my articles, and like to be kept up to date with the companies I cover, I kindly ask you that you scroll to the top of this page and click 'follow'. I am largely investing in dividend paying stocks, but also venture out occasionally and cover special situations that offer appealing reward-to-risk ratios and have potential for significant capital appreciation. Above all, my immediate investment goal is to achieve financial independence.
Disclosure: I am/we are long CHK.
I wrote this article myself, and it expresses my own opinions. I am not receiving compensation for it (other than from Seeking Alpha). I have no business relationship with any company whose stock is mentioned in this article.