Quick Take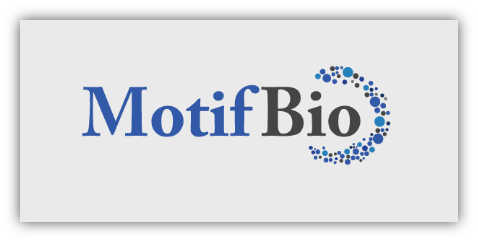 Motif Bio plc (Pending:MTFB) is a clinical stage UK-based biopharmaceutical company that wants to list 2.8 million ADS (American Depositary Shares) on the Nasdaq and raise $35 million in U.S. financing for commercializing its candidates to treat treatment-resistant bacterial infections.
The company has never generated revenues and we won't know the results of Phase 3 clinical trials until the middle of 2017.
The management team is highly experienced, but there are many large competitors in the space and Motif is a tiny fish in a big ocean.
I'm neutral on the IPO stock. I recommend waiting until the first results come out of Phase 3 trials in 2017.
Company
Motif Bio plc was founded in 2006 and is based in London, with its U.S. subsidiary Motif BioSciences based in New York. The company is focused on developing antibiotics that are effective against infections caused by multi-drug resistant bacteria.
Motif plc became listed on the London AIM stock market as part of a transaction to acquire Nuprim, a company that had acquired the rights to Iclaprim, the company's promising lead infection-fighting candidate.
The management team, led by CEO Graham Lumsden who joined Motif in 2013, is composed of several senior executives from well-known biopharma firms such as Merck (NYSE:MRK) and Pfizer (NYSE:PFE), so the team is quite impressive.
Motif is backed by Amphion Group and global private equity firm Invesco, both of whom have made numerous investments in the biopharmaceutical sector and together own a total of 60.4% of company shares.
No investors are selling shares as part of the IPO and Invesco has indicated that it intends to support the IPO by investing in it according to its pro-rata share rights.
Technology
Motif is in European Phase 3 clinical trials for two preparations of its Iclaprim antibiotic candidate, REVIVE-1 and REVIVE-2. Iclaprim is a diaminopyrimidine class antibiotic that inhibits a form of folic acid required by bacterial DNA and RNA.
The company has also completed Phase 2 trials for its INSPIRE formulation and is still in preclinical development for a pediatric formulation. Finally, Motif is in preclinical development for its MTF-101, an IV/oral delivered drug for the treatment of osteomyelitis and prosthetic joint infection.
Below is a summary of the Motif's drug pipeline status: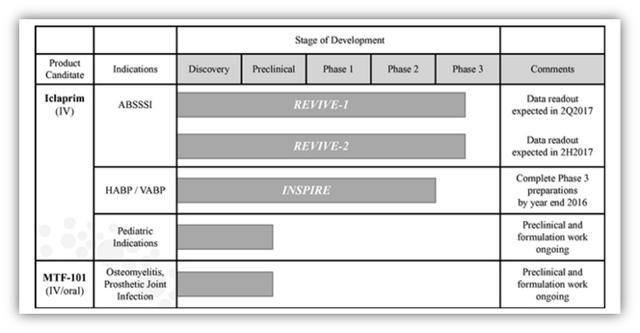 Click to enlarge
(Source: Motif Bio F-1 Filing)
The company won't have final Phase 3 results on its lead candidate until 2Q 2017 at the earliest and doesn't expect marketing approval until at least 2018, assuming a best-case scenario. If Iclaprim is approved, Motif plans to commercialize it in the U.S. and partner with other organizations outside the U.S.
Market
As the world uses more antibiotics, bacteria is becoming more resistant to existing drug treatments, necessitating new antibiotic formulations to fight infectious disease.
According to a March 2016 market report from BCC Research, the worldwide systemic antibiotics market is expected to reach $44.6 billion in 2020, representing a five-year CAGR of 2% from 2015.
On May 27, 2016, Reuters reported that U.S. CDC health officials announced "the first case in the country of a patient with an infection resistant to a last-resort antibiotic, and expressed grave concern that the superbug could pose serious danger for routine infections if it spreads."
The company cites specific figures for the initial target U.S. market of its lead candidates:
Motif believes the first-line treatment market for Iclaprim in the U.S. is 936,000 patients annually with ABSSSI (Acute Bacterial Skin and Skin Structure Infection) and 1.4 million patients annually with HABP/VABP (Hospital Acquired Bacterial Pneumonia/Ventilator Associated Bacterial Pneumonia).
Competition
Motif has several competitors that are developing antibiotics that are not DHFR-based:
Durata Therapeutics - dalbavancin
The Medicines Company (NASDAQ:MDCO) - oritavancin
Tetraphase (NASDAQ:TTPH) - tetracycline
Paratek (NASDAQ:PRTK) - tetracycline
Basilea (OTC:BPMUF) - cephalosporin
GlaxoSmithKline (NYSE:GSK) - cephalosporin
Merck - cephalosporin
Cempra (NASDAQ:CEMP) - macrolides
Melinta - quinolones
Actavis - quinolones
So, while there are many competitors developing next generation antibiotics, the most likely outcome in the marketplace is that there will be a need for many different treatment options in order to diversify efficacious agents against numerous bacterial strains.
Financials
Motif has not generated revenues to date and has an accumulated deficit of $34.5 million as of June 30, 2016.
Below are the company's recent results from operations. (IFRS, Non-GAAP)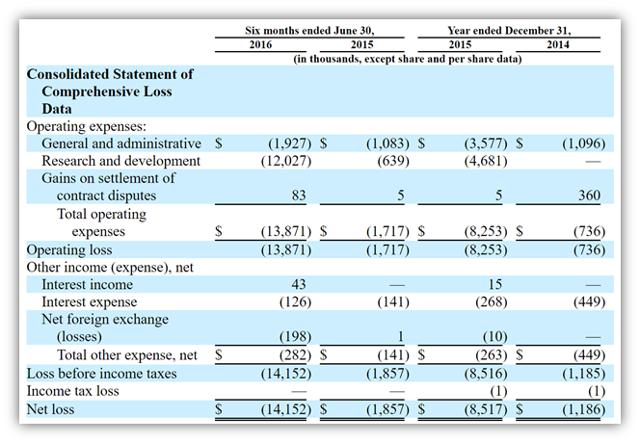 Click to enlarge
As of June 30, 2016, Motif had $19.5 million in cash and current liabilities of $10.2 million.
IPO Details
Motif intends to sell 2.8 million ADSs at a price of $12.42 for a total IPO of $35 million, with each ADS representing 20 ordinary shares in Motif Bio plc, and held by the U.S. depositary, The Bank of New York Mellon.
Assuming a successful IPO, the company expects to be valued at approximately $110 million.
Motif will use the IPO proceeds to complete Phase 3 trials for Iclaprim for the treatment of ABSSSI, to prepare for Phase 3 trials for Iclaprim for the treatment of HABP/VABP, and for general corporate purposes.
Joint bookrunners on the IPO are listed as SunTrust Robinson Humphrey and Ladenburg Thalmann & Co., and the company is in the roadshow phase of marketing the IPO to institutional investors.
Notably, existing investor Invesco, who owns 25.4% of company shares, has indicated a desire to acquire approximately $9 million of the $35 million IPO, so the public float will initially be $26 million.
This existing investor 'support' is fairly common for life science IPOs in recent years and is a positive signal from existing backer Invesco.
Commentary
The Positives:
The space for development of new antibiotics is large and growing, as the threat from treatment-resistant 'superbugs' has become real.
Motif has clearly identified its initial target markets, is developing differentiated treatment candidates and features a high quality management team.
The Negatives:
Management has chosen a risky strategy of 'going it alone' and not working with a deep-pocketed development partner (Amphion notwithstanding). Clinical trials are promising, but we won't know the outcome of pivotal Phase 3 results until 2H 2017.
There are numerous competitors working on different antibiotic treatments. While the market is large and diverse enough to accommodate many different treatments, Motif is a little fish in a big ocean.
I'm neutral on the IPO stock. I recommend waiting until initial Phase 3 trial results are published and then taking a look again.
Disclosure: I/we have no positions in any stocks mentioned, and no plans to initiate any positions within the next 72 hours.
I wrote this article myself, and it expresses my own opinions. I am not receiving compensation for it (other than from Seeking Alpha). I have no business relationship with any company whose stock is mentioned in this article.