This election year is providing endless fodder for late-night talk show hosts, YouTubers, and columnists. But behind the daily drama, what could a Clinton or Trump presidency mean for markets? While much could change in the coming months, as well as after the election when Congress has its say, the reality is that markets anticipate outcomes. So, given what we know now, I will focus on the investment implications of the current election outcome probabilities and on four potential market-moving issues: fiscal spending, global trade, immigration, and taxes and regulation.
The Probabilities Favor Clinton
In the wake of the Democratic convention in late July and some damaging comments from Trump, Clinton's lead widened in both the national polls and important swing states, including Ohio, Florida, Pennsylvania, and Michigan. More recently, the polls have narrowed. Polls can be wrong, however, as we saw with the Brexit vote in the UK. Though the polls for the primaries were generally accurate, it's possible that the number of Trump supporters may be underreported. On a related note, high turnout will be critical for the Trump campaign.
A number of more predictable factors weigh in Clinton's favor, including the electoral college. While a candidate may win the popular vote, getting 270 electoral votes is what matters. Electoral votes are allocated to states by population, and Democratic states tend to be more populous, so the starting point favors Clinton (Figure 1). Trump would need to win the vast majority of the swing states to become president. In addition, Trump's supporters form a narrow base compared to Clinton's, and Trump's ground game in terms of field staff, offices, phone banks, mail campaigns, and TV spending is sparse compared to Clinton's campaign machine.
Figure 1
The electoral college favors Democrats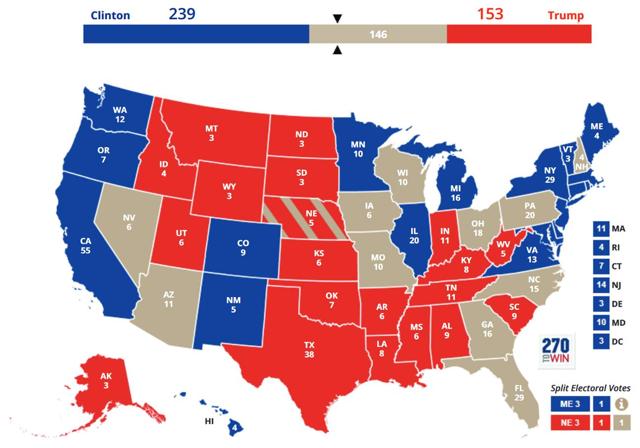 Click to enlarge
Based on polling and professional forecasts.
(Source: 270towin.com, as of 8/31/16)
All told, current information suggests it is likely that Clinton wins the election. As for Congress, a reasonable assumption is that the Senate (currently Republican) goes with the president elect's party and the House remains Republican. To overturn the current Republican majorities, the House would need 30 more Democrats - a difficult task - and the Senate would need five or six more Democrats. With any outcome, there should still be checks and balances. Even with a Trump win and a Republican Congress, the GOP leadership would be unlikely to go along with all of Trump's policies.
Investment implications: If Clinton maintains her lead, I expect market volatility driven by political risk to remain muted. If Trump gains ground in the swing states of Florida and Ohio, then volatility could increase. The September 26 debate will be a key event.
Fiscal Spending Likely To Rise Regardless Of Who Wins
A growing number of policymakers argue that monetary stimulus must be supplemented with more fiscal stimulus to boost economic growth. Both candidates have offered fiscal spending plans, but they differ substantially. As Figure 2 shows, Clinton proposes spending $1.55 trillion over 10 years, financed largely with higher taxes on the wealthy. Trump proposes spending $1 trillion and significantly reducing taxes, leaving a much bigger spending gap that would have to be financed largely with US Treasury debt.
Figure 2
Trump's plan likely to create a bigger budget gap

Click to enlarge
(Sources: Wellington Management, Committee for a Responsible Federal Budget, as of 8/31/16)
Research indicates that fiscal spending tends to be more effective when it is initiated during a recession and made permanent, financed by debt rather than taxes, and focused on consumption and investment rather than tax reductions or transfers to households. Because slack in the US economy, as observed in employment and wages, has fallen substantially in recent years, the growth impact of fiscal spending may be small. It should have some positive effect given the slump in fixed capital spending, the need for infrastructure, and the low cost of capital, but I think the impact is likely to be less than 1% of gross domestic product (GDP).1
Investment implications: Fiscal spending on infrastructure would benefit the industrial and machinery sectors, especially since equipment demand has been weak. The key is for these to be substantive projects. Some of the "shovel-ready" projects in Obama's first term were too small or short-term to have a major impact. More broadly, markets are likely to worry that Trump will greatly harm government finances, though he should be reined in by a more fiscally conservative GOP Congress. Still, I would expect the US dollar and bond prices to be vulnerable in a scenario in which US Treasury debt rises and the nation's credit quality could deteriorate.
Anti-Trade Policy Could Be A Drag On US And Emerging Market Growth
Both candidates have expressed negative sentiments about global trade, and it seems increasingly unlikely that the Trans-Pacific Partnership, Obama's signature free-trade deal and the largest regional trade accord in history, will pass Congress. While Clinton has historically been a strong supporter of global trade, her position appears to have been influenced by the success of Bernie Sanders and his case against free trade. Anti-trade views are a pillar of Trump's campaign, and there would be some leeway for him to use executive action to change policy - an added uncertainty for markets.
A protectionist bent could reduce global trade and cut into global GDP, which would likely temper global yields. Freer global trade has supported competition and lower prices, so a policy reversal could be inflationary, in which case inflation-sensitive assets could benefit. I would expect emerging markets, which rely heavily on exports, to feel the impact of declining global trade most directly (Figure 3).
Figure 3
Emerging markets depend on exports to US as a % of GDP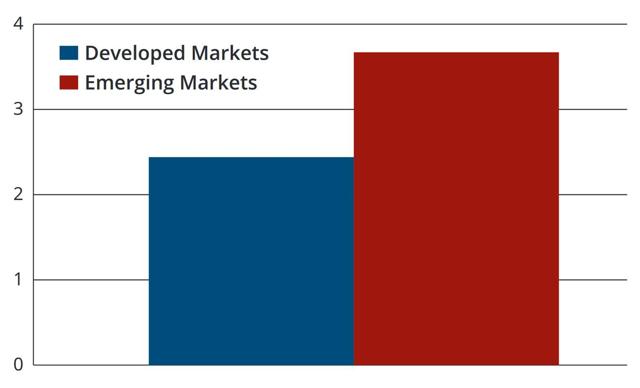 Click to enlarge
(Sources: Haver Analytics, IMF, Wellington Management, as of 12/31/15)
Investment implications: Less trade would have the greatest impact on economies most dependent on exports, including Mexico and other emerging markets, as well as Canada. Companies with international exposure would likely underperform. In such a scenario, emerging market equities would likely be hurt more than debt, and emerging market currencies would also be at risk.
Stemming Immigration Could Slow The Economy
Trump's proposed crackdown on illegal immigration could detract from growth and hurt government finances. Immigrants tend to be young and working. Since 2007, the foreign-born population has accounted for about half the growth of the US labor force. Curtailing this source of labor growth would subtract from growth and could push up wages.
Investment implications: In an environment of slower growth and higher wages, I would expect stagflation-type assets to outperform, including US Treasury Inflation-Protected Securities (TIPS)2 and gold/precious metals.
Taxes And Regulation: Sticking To The Party Lines
On taxes and regulation, I expect the candidates to follow party orthodoxy, meaning higher taxes and more regulation under Clinton and just the opposite under Trump. The common understanding is that taxes and regulation can stifle growth by reducing the incentive for people to work and burdening businesses with complex rules. As an example, after the 2008 financial crisis, the Dodd-Frank law was intended to make the banking system safer, but the cost of doing business is now substantially higher.
Investment implications: Higher income taxes with a Clinton win could be positive for municipal bonds, for those who can exploit the tax advantage. Though unlikely, a Democratic sweep could be negative for equities broadly, and for the healthcare, energy, and financial sectors in particular, because markets would expect a greater regulatory burden. Drug pricing would likely be a continued source of volatility for the pharmaceutical industry, though I think innovation would still be rewarded. A Democratic sweep would be good for alternative energy sources like wind and solar.
Repatriation/international tax reform could be a plus for international companies that have substantial earnings overseas. Both candidates have spoken out against multinational companies keeping earnings overseas (around $2 trillion in total) to avoid taxes and suggested some form of repatriation to bring those earnings back to the US. Both candidates are likely to negotiate this alongside a lower corporate tax rate.
Lower taxes and less regulation in Trump's plan could be positive for regulated sectors such as energy. The future of the Affordable Care Act would be in question, though - so healthcare, especially hospitals, could be vulnerable.
Investment Implications
Pre-election volatility - Since Trump is the more unpredictable candidate, I expect narrowing in Clinton's lead in the polls to contribute to increased volatility and outperformance of safer assets, like credit, income-oriented equities, and gold/precious metals. US government bonds and the US dollar might not benefit given the budget deficit that Trump's fiscal and tax plan would entail. After the election, I expect volatility to decline as the checks and balances of a divided government (even with a Trump presidency) will limit what either president can implement.
Meaningful fiscal spending - With either candidate, spending on infrastructure could benefit the industrial and machinery sectors. Concerns about Trump's impact on government debt could weigh on the dollar and bond prices.
The cost of protectionism - Anti-trade policy could pose the greatest risk for emerging market equities and currencies.
Immigration policy and stagflation assets - US TIPS and precious metals could benefit if immigration policy slows labor force growth and pushes wages up.
Tax and regulation winners and losers - Higher income taxes with a Clinton win could be positive for municipal bonds. A Democratic sweep could be negative for equities broadly, but good for alternative energy. Lower taxes and less regulation in Trump's plan could be positive for regulated sectors such as energy, but negative for healthcare. A lower corporate tax rate, likely with either candidate, would be a positive for multinational companies.
---
1 Gross Domestic Product (GDP) is the monetary value of all the finished goods and services produced within a country's borders in a specific time period.
2 Treasury Inflation-Protected Securities are Treasury bonds that are adjusted to eliminate the effects of inflation on interest and principal payments.
Investors should carefully consider the investment objectives, risks, charges, and expenses of Hartford Funds before investing. This and other information can be found in the prospectus and summary prospectus, which can be obtained by calling 888-843-7824 (retail) or 800-279-1541 (institutional). Investors should read them carefully before they invest.
All investments are subject to risk, including the possible loss of principal. Municipal securities may be adversely impacted by state/local, political, economic, or market conditions. Investors may be subject to the federal Alternative Minimum Tax as well as state and local income taxes. Capital gains, if any, are taxable. Fixed income risks include credit, liquidity, call, duration, and interest-rate risk. As interest rates rise, bond prices generally fall; these risks are currently heightened due to the historically low interest rate environment. U.S. Treasury securities are backed by the full faith and credit of the U.S. government as to the timely payment of principal and interest. The value of inflation-protected securities generally fluctuates with changes in real interest rates and the market for these securities may be less developed or liquid, and more volatile, than other securities markets. Foreign investments can be riskier than U.S. investments due to the adverse effects of currency exchange rates, differences in market structure and liquidity, as well as political and economic developments in foreign countries and regions. These risks are generally greater for investments in emerging markets. Commodities may be more volatile than investments in traditional securities. Risks of focusing on investments that involve sustainability and environmentally responsible investment criteria may have increased risks related to downturns or other adverse developments in that market segment.
The views expressed here are those of Nanette Abuhoff Jacobson. They should not be construed as investment advice. They are based on available information and are subject to change without notice. Portfolio positioning is at the discretion of the individual portfolio management teams; individual portfolio management teams and different fund sub-advisers may hold different views and may make different investment decisions for different clients or portfolios. This material and/or its contents are current as of the time of writing and may not be reproduced or distributed in whole or in part, for any purpose, without the express written consent of Wellington Management or Hartford Funds.
Disclosure: I/we have no positions in any stocks mentioned, and no plans to initiate any positions within the next 72 hours.
I wrote this article myself, and it expresses my own opinions. I am not receiving compensation for it. I have no business relationship with any company whose stock is mentioned in this article.