With crude oil futures weakening on schedule - at the beginning of the seasonally-weak September-March period - one has to wonder what would happen to other highly-correlated risk assets, like emerging markets and junk bonds. (Crude oil should be weaker in the next six months because 88% of the world's population lives in the Northern hemisphere, where fall and winter demand is lower.)
Making matters worse, the global oil glut has only grown deeper over the past year, with the decline of production in the U.S. being picked up by an increase of crude oil supply elsewhere, most notably in Iran.
Still, one has to wonder why emerging markets and junk bonds have been resilient while the oil price has weakened. Historically, such divergences have not lasted long. A sharply weakening oil price is not a factor of just ample supply, but also weak demand. I am of the opinion that China is facing a generational downshift in growth rates and is likely headed for a hard economic landing.
As the largest consumer of commodities, most notably oil, the Chinese hard landing will show up in the commodity markets. In many respects their economic slowdown has already shown up in commodity prices, but since I believe that their economic slowdown will deepen in 2017, I think we may yet see new lows for the oil price.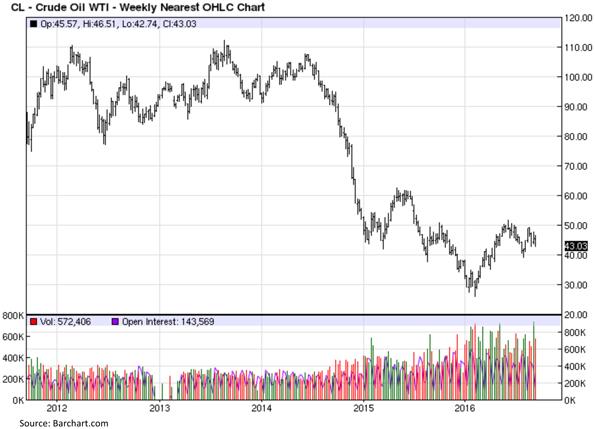 Graphs are for illustrative and discussion purposes only. Please read important disclosures at the end of this commentary.
The 2016 topping pattern (in the chart, above) started this June and accelerated in July. Save for the August short-squeeze rebound, it is very similar to what we saw in 2015. One has to wonder where the crude oil price will be in early 2017. Right now, my working hypothesis is that it will be somewhere in the $20s.
Such a negative view on crude oil causes me to be quite skeptical of other risk assets that are correlated to it. Both junk bonds and emerging markets have been holding up well. That divergence first became apparent in July as crude oil was heading towards $40 per barrel. As time has passed and the markets have zigged and zagged, the divergence has only gotten bigger (See August 11, 2016 MarketWatch article, "One of these two risk assets is sending the wrong signal - but which one is it?")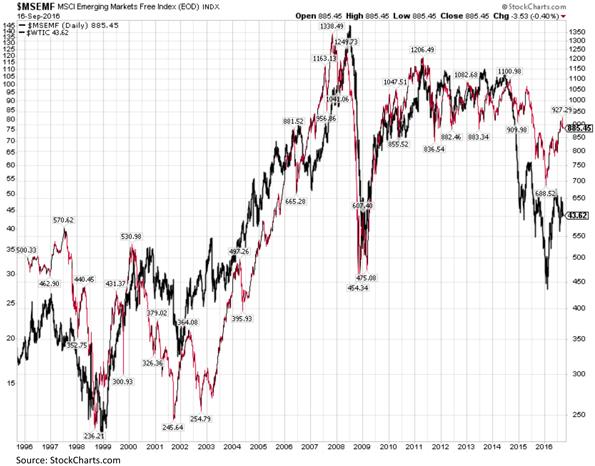 Graphs are for illustrative and discussion purposes only. Please read important disclosures at the end of this commentary.
There is some weakening in the MSCI Emerging Markets Index in September and it may be the start of a much bigger move if crude oil falls to $20/bbl early in 2017. Many of the economies in the MSCI Emerging Markets Index are driven by trade with China, either via export of commodities or manufactured goods. If China sneezes, its giant $11 trillion economy could cause most emerging markets to catch a cold.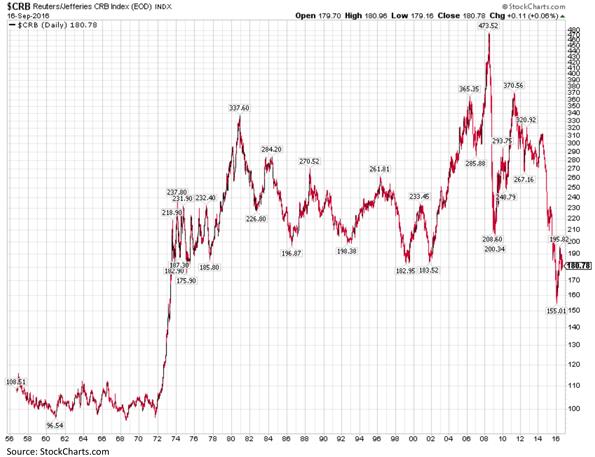 Graphs are for illustrative and discussion purposes only. Please read important disclosures at the end of this commentary.
You can see what has happened to the CRB Commodity Index over the past couple of years as the Chinese economy has decelerated. The CRB was cut in half at one point, falling from 310 to 155 in January of this year, when it hit 40-year lows not seen since before the oil embargo in 1973. If we see a Chinese recession, which is coming sooner or later, in my view, I don't believe the 155 low will hold.
The sharp weakening in the price of oil also raises interesting questions about the junk bond market, as much of the surge in production in the U.S. since 2008 has been financed via junk bonds. The new supply of shale oil is also very high-cost in nature. It is not uncommon for cash production costs per barrel to be in the $40s, $50s, and $60s, and in some cases even higher. You could say that the seasonal rebound we saw in mid-2016 saved many high-cost producers - some of them only temporarily - from bankruptcy.
Many over-leveraged, high-cost producers produced oil at a loss in 2015 and early 2016 hoping for a rebound to bail them out; and they had to keep making payments on their bond and bank loans. What happens to those producers if oil makes a lower low in price and the seasonal rebound next year is much smaller than this year? There should be a notable pickup in bankruptcies in the sector under that scenario.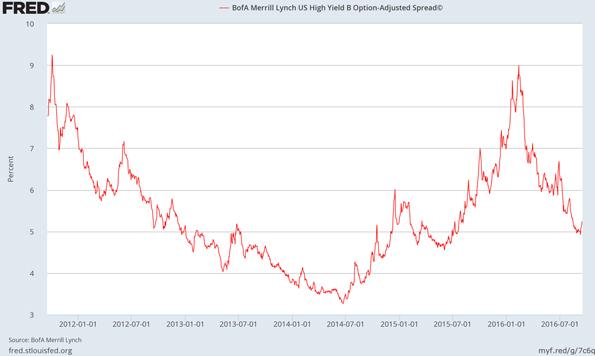 Graphs are for illustrative and discussion purposes only. Please read important disclosures at the end of this commentary.
The BofA Merrill Lynch B Option Adjusted Spread - a measure of the yield premium bond buyers are seeking to buy B-rated "junk" bonds over the comparable maturity Treasuries - topped out near a 900 basis point (9%) premium over Treasuries when the oil price went to $26/bbl in January. This spread index got as low as 498 bps at the end of August and it had only recently turned up to 524 bps at last count. Where will it be come next January if oil is at $26 or lower? My guess is near 900 bps or higher.
Deutsche Bank and U.S. Bond Yields - Another Correlation Gone Berserk
While it is easy to see how emerging markets and junk bonds can be correlated to commodity prices and more importantly crude oil, the case of Deutsche Bank's (NYSE:DB) share price (green line in the chart below) and the 10-year Treasury note yield (black line) is a bit of a head scratcher.
This could be caused by the decline in the 10-year U.S. Treasury yield being seen as a deflationary sign, which in turn pressures DB's stock, while a rising U.S. 10-year Treasury yield is seen as a sign of easing deflation, therefore a boost for DB. (See June 24 MarketWatch article, "A look at the global economic malaise through Deutsche Bank.") (Please note: Ivan Martchev does not currently own a position in DB. Navellier & Associates, Inc. does not currently own a position in DB for any client portfolios.)
The peculiar point of this correlation is that one part of this equation is the risk-free interest rate in U.S. debt, while the other is the stock of the largest financial institution in Germany and continental Europe.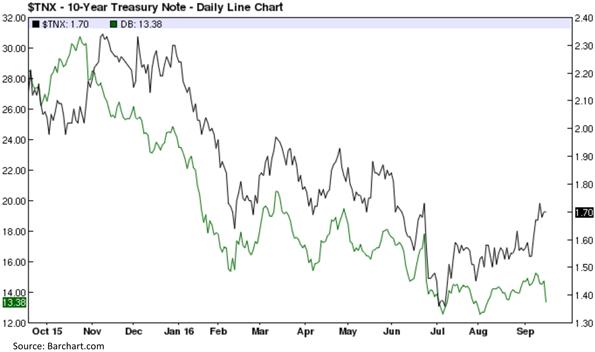 Graphs are for illustrative and discussion purposes only. Please read important disclosures at the end of this commentary.
The source of the latest divergence is Deutsche management declining to accept an offer from the U.S. DOJ to settle claims of mortgage-backed securities (MBS) for $14 billion. Deutsche's point is that other MBS players had to settle for way smaller amounts, so it is going to defend its ground against the DOJ. (see Bloomberg.com, September 19, 2016, "Deutsche Bank Extends Losses as Analysts See Capital Threats.")
The market didn't like Deutsche management's attitude and sent both its stock and its bonds lower last week by the largest magnitude since Brexit.
Somehow I do not see the DOJ pressing its case against DB in the middle of the Brexit mess while DB is in a weakened position and may not even have the money to settle unless it forces a dilution on its shareholders. DB stock has a market capitalization of $18.3 billion and it trades at 24 cents on the book value dollar. Needless to say, this reflects a crisis valuation that is below the bank's 2008 low.
If this DOJ drama continues, it has the potential to push DB stock to fresh 52-week lows faster, which were probably coming anyway due to the deflationary dynamics playing out in Europe. The trouble with such a depressed share price in a time of falling bond prices and surging credit default swaps is that DB's counterparties may simply lose confidence in the company. As we saw in 2008, particularly in the Bear Stearns situation, such "death spirals" can develop rather quickly.
In this case, I think the German government, the Bundesbank, and even the Fed will step in as Deutsche Bank has a bigger balance sheet than Lehman Brothers at the time it went bust eight years ago this week. The fact that DB stock may be imploding surely does not seem reassuring at the moment.
Disclosure: *Navellier may hold securities in one or more investment strategies offered to its clients.
Disclaimer: Please click here for important disclosures located in the "About" section of the Navellier & Associates profile that accompany this article.