REIT Ranking Overview
In our "REIT Rankings" series, we introduce readers to one of the 13 REIT sectors and the individual REITs that comprise these sectors, focusing only on the larger, internally managed REITs with proven track records of performance. (We avoid externally managed, non-traded and otherwise exotic REITs)
We rank REITs within the sectors based on both common and unique valuation metrics, presenting investors with numerous options that fit their own investing style and risk/return objectives. We plan to update these rankings every quarter.
We encourage readers to follow our Seeking Alpha page (click "Follow" at the top) to continue to stay up to date on our REIT rankings, weekly recaps and analysis on the REIT and broader real estate sector.
Office Sector Overview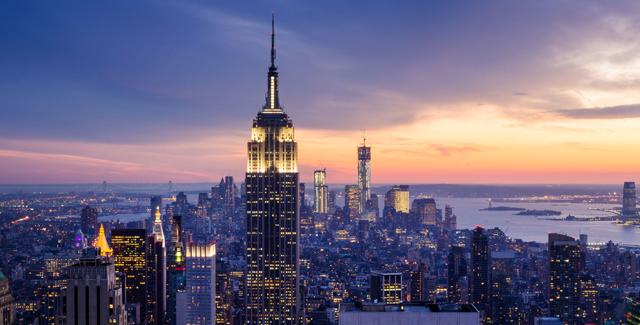 Click to enlarge
(Empire State Realty Trust)
Gaze across the skyline of New York City, Washington, D.C., Chicago or Los Angeles and you will surely see an investable asset owned by one of nearly two dozen office REITs. Innovation in construction techniques throughout the twentieth century, particularly the invention of the mechanical elevator, pushed the vertical boundaries of building construction into the clouds…literally.
Strong job growth, specifically in the professional sector, combined with robust investment demand from foreign sovereign wealth funds seeking dollar-denominated, positive yielding, "safe" assets, has put the wind in the sails of the office sector. The strong performance and investment demand, though, has also prompted the construction of new supply, particularly in the central business districts [CBD] of major "job-hub" cities.
It is important to note the variation within the office sector. The sector can be delineated into two asset-types: CBD assets (including the multibillion-dollar trophy properties) and suburban assets. Private market values of CBD assets have skyrocketed in a low-interest rate environment, with some high-demand assets trading for sub-4% capitalization rates. Weaker job growth in the suburbs since the recession has resulted in slower price gains for these assets.
There are several distinctive features of the office sector. New leases for CBD assets are generally 10-12 years while suburban assets are 3-7 years and include significant "tenant improvement" allowances in which the landlord pays for all or part of an interior renovation to suit the needs of the tenant. This TI allowance, combined with leasing costs, results in high capital expenditures, far above the typical REIT average. On a similar note, high vacancy rates are a persistent issue that gives lessees considerable negating power.
An interesting trend has occurred in the office sector that highlights the fascinating public valuation versus private valuation dynamic that can occur within REITs. As we will see in discussions below, after a nice run in 2016, office REITs appear extremely "expensive" based on cash flow valuations. This is a result of an influx of foreign demand for office assets, bidding the private-market asset values for office buildings higher, while expected cash flows are unable to keep pace. Thus, the sum of the private market values of a REIT's portfolio may be dislocated from the multiple of cash flows that investors are generally willing to pay in the public markets.
This dynamic tends to have negative long-term effects on the supply/demand fundamentals of the office industry. High current valuations for office values have prompted an influx of new construction as REITs and other developers can realize a far higher yield on new development than by buying existing assets. Oversupply, though, tends to be a market-by-market issue, which is why it is important for investors to be aware of the composition of their REIT portfolio. Too many cranes generally mean trouble ahead for REITs concentrated in those markets.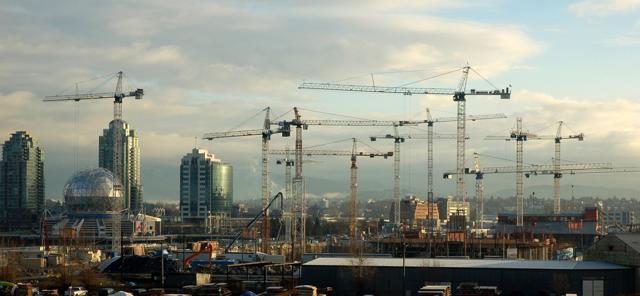 Click to enlarge
(CraneBlogger)
Finally, we should note the rise of prominence in co-working concepts. Despite WeWork's $16 billion valuation (with nearly zero net earnings), co-working is not a new or particularly innovative concept. Regus PLC operates nearly 2500 "business centers" around the world in which individuals can rent a single office or simply a desk in a commercial office building. While the hype surrounding the Silicon Valley-backed WeWork may lead one to believe it is a legitimate threat to the office rental model, we actually think it may be an incremental positive for office REIT demand. Security and privacy are major concerns (and regulatory requirements) for major office tenants in the finance, law and technology business and they are highly unlikely to switch to a co-working model. The true incremental demand comes from small businesses or private contractors that would otherwise work at home, a market that Regus has effectively targeted. We calculated that if WeWork were valued by the same metrics as Regus, it would command a valuation in the millions, not billions.
While it is difficult to estimate the total value of office properties in the country, academic research suggests there are roughly 12 billion square feet of office space, accounting for roughly $2-3 trillion in value when valued at replacement cost. (Slicing, Dicing and Scoping the Size of the U.S. Commercial Real Estate Market). If we assume that to be accurate, REITs hold less than 5-10% of US office assets, suggesting a significant addressable market for potential expansion.
Office REIT Overview
Office REITs comprise roughly 13% of the REIT Index (NYSEARCA:VNQ). Within our market value-weighted office index, we track fifteen of the largest office REITs within the sector, which account for roughly $93 billion in market value: Boston Properties (NYSE:BXP), Brandywine (NYSE:BDN), Corporate Office (NYSE:OFC), Cousins (NYSE:CUZ), Douglas Emmett (NYSE:DEI), Empire State (NYSE:ESRT), Equity Commonwealth (NYSE:EQC), Highwoods (NYSE:HIW), Kilroy (NYSE:KRC), Mack-Cali (NYSE:CLI), Paramount Group (NYSE:PGRE), Piedmont (NYSE:PDM), SL Green (NYSE:SLG), Vornado (NYSE:VNO) and Washington Real Estate Investment Trust (NYSE:WRE).
Below we show the size, geographical focus and quality focus of the two office REITs we track. Vornado, Boston Properties and SL Green are the major players in the sector, accounting for roughly half of the performance of the office index. "Quality" is determined by the average value of the office buildings within the REIT's portfolio, which is primarily a function of location. CBD assets in major markets are the most valuable, while suburban assets are considered lower "quality."

Click to enlarge
(Hoya Capital Real Estate)
More than other REIT sectors, office REITs tend to be more geographically focused and thus less "diversified." This increases the need for investors to be aware of the strategy-focus of the particular REIT to avoid over concentration in one particular market or asset-type. For example, investors may mistakenly believe that just because they hold 2 or 3 office REITs that they are adequately diversified. That would not be the case if those REITs were PGRE, SLG and ESRT, for example, in which nearly 100% of the assets are located in Manhattan.
Recent Performance of the Office Sector
Over the past three years, office REITs have performed roughly in line with the broader REIT sector, returning 22% on a total price return basis compared to the broader REIT sector's 25% three-year price return. Until the past six months, office REITs had lagged the broader index, but continued strength in non-farm employment, combined with increasing private market values have propelled office REIT higher by roughly 10%. The office sector is the fourth best performing REIT sector over this period, trailing only single family rental, industrial and healthcare.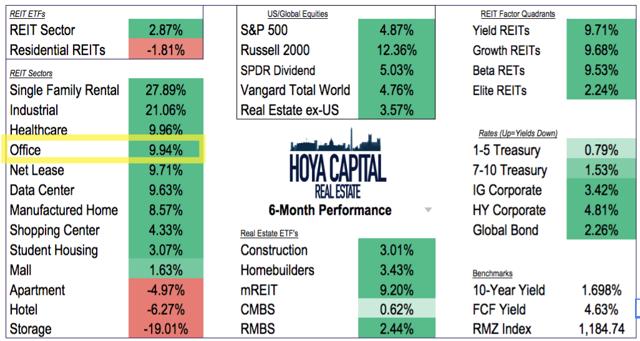 Click to enlarge
(Hoya Capital Real Estate)
The 1-year relative performance chart below tells the story of office REITs' resurgence that began in early 2016. After underperforming the REIT sector through 2015, office REITs are now outperforming the broader index by over 5% over the prior 52 weeks.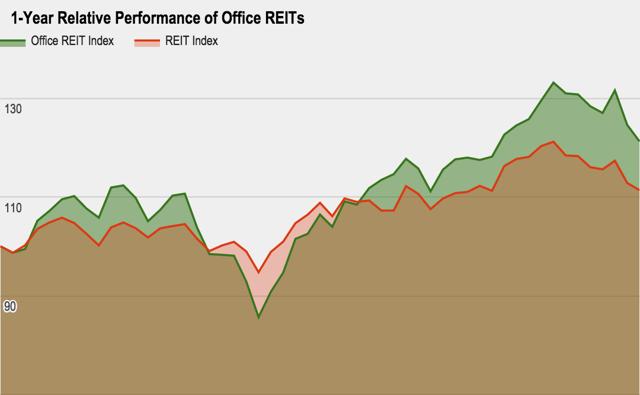 Click to enlarge
(Hoya Capital Real Estate)
Multiple Valuation of the Office Sector
As introduced above, on a cash-flow basis, office REITs appear quite expensive. This is a side-effect of the inflow of foreign demand that has bid up the private market values of office assets.
Office REITs are the single most expensive sector based on current and forward Free Cash Flow multiples. At 33x current and 30x forward FCF, office REITs are trading at premiums to the sector average of roughly 24x and 22x, respectively.
When we factor in two-year growth potential, though, the sector appears more attractive. The strong growth is a function of expectations for re-leasing spreads, whereby current tenants are effectively paying below market rate rent under their current lease. Put simply, when the lease expires, rents and cash flows will increase by that spread.
We use a modified PEG ratio, using the forward FCF multiple divided by the expected 2-year growth rate which we call FCF/G. Based on an FCF/G of 5, office REITs still screen as expensive compared to the average FCF/G REIT multiple of 4.5.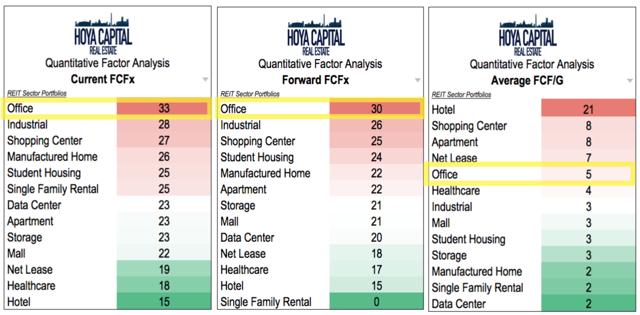 Click to enlarge
(Hoya Capital Real Estate, company financial statements)
Expected to grow FCF at roughly 10% over the next two years, office REITs are among the fastest growing REIT sectors.
Dividend Yield and Payout Ratio
Based on dividend yield, office REITs are among the lowest-yielding REITs, yielding just 2.2% compared to the sector average of 3.4%. These firms, though, pay out only 75% of their cash flow towards dividends, again falling in the lower range of REIT sectors. As a whole, based on anticipated growth rates, these REITs will have quite a bit of cushion for dividend expansion over the next several years.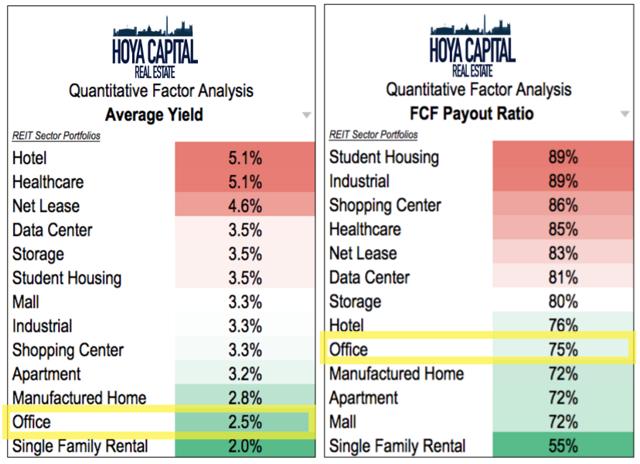 Click to enlarge
(Hoya Capital Real Estate, company financial statements)
Sensitivities to Interest Rates and Economic Growth
Followers of our research know that we put a lot of emphasis on factor analysis, specifically looking at how REITs have historically responded to changes in the broader equities market, interest rates and to movements in the REIT index itself. We believe it is critical that investors understand how their investments will respond to different economic environments.
Using our Beta calculations, office REITs fall firmly in the "equity-like" REIT category, distinct from the "bond-like" category. Equity-like REITs respond favorably to positive economic news and are less sensitive to changes in interest rates.
The sector is the third least sensitive to interest rates, suggesting that many office REITs are effective hedges or compliments to other yield-sensitive real estate investments.
For a more specific explanation of these calculations, we highlighted the dynamics of bond-like and equity-like REITs in our previous articles, "Are REITs Bond Substitutes" and "REITs Without Interest Rate Risk."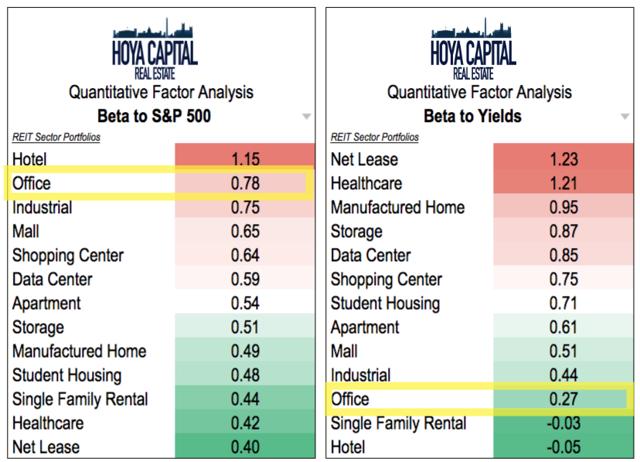 Click to enlarge
(Hoya Capital Real Estate, company financial statements)
Individual Office REIT Performance
We now move into rankings and analysis of the specific REITs that comprise the sector.
As we highlighted, office REITs have been among the strongest performing REIT sectors over the prior six months.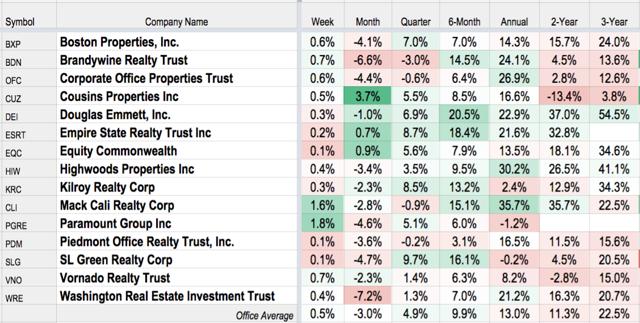 Click to enlarge
(Hoya Capital Real Estate)
Office REIT Performance Relative to Office Index
We find it very useful to analyze how individual REITs perform relative to their peers to identify sector-neutral performance patterns. We are looking for trends for how the particular REIT's strategy focus (size, geographical, quality focus) contributed to the performance.

Click to enlarge
(Hoya Capital Real Estate)
One notable trend stands out. Lower quality suburban-focused REITs significantly outperformed in the early part of the year but that trend reversed in the last six months as higher quality CBD-focused REITs have outperformed of late. This is indicated by the differential between the 1-year and 6-month relative performance.
Office REIT Valuation Rankings
As we always highlight, in efficient markets, high multiples are a function of an expectation of stronger future operating performance, as well as the predictability and sustainability of future cash flows.
Some companies, particularly those with management teams that have a proven track record of Net Asset Value growth, warrant a persistently high multiple, while other companies achieve a higher than warranted multiple through a shorter-term market inefficiency.
Equity multiples have added operational significance for REITs. As REITs must raise equity capital to fuel growth, equity that can be sold at a premium is cheaper and thus more likely to result in NAV accretion. In that way, equity valuations for REITs have self-reinforcing characteristics. Thus, cheap REITs have a tendency to stay cheap and expensive REITs tend to stay expensive.
As described above, office REITs are some of the more expensive REITs based on AFFO multiples, but their higher-than-average expected growth results in AFFOG multiples that screen as more attractive.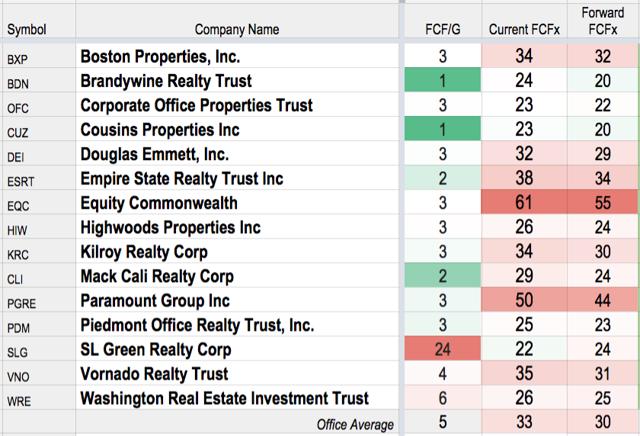 Click to enlarge
(Hoya Capital Real Estate, company financial statements)
While this data can be noisy, it does highlight the importance of using several different cash flow-based valuation techniques. Some REITs screen as extremely expensive based on FCF multiples, but FCF/G data paints a different picture that gives the names credit for their anticipated growth rates over the next several years. Equity Commonwealth is an extreme example of this with its extreme 61x current FCF but relatively attractive 3x FCF/G.
Brandywine and Cousins screen as the most attractively valued, based on cash flow multiples.
Sensitivities to Interest Rate and Economic Growth Factors
As we described earlier, on average, Office REITs exhibit less sensitivity to interest rates and more sensitivity to economic growth than the average REITs.
For investors looking for REITs with less interest rate risk and more leverage to an improving economy, there are several solid choices among this sector, indicated by high "Beta to SPY" and low "Beta to Yields."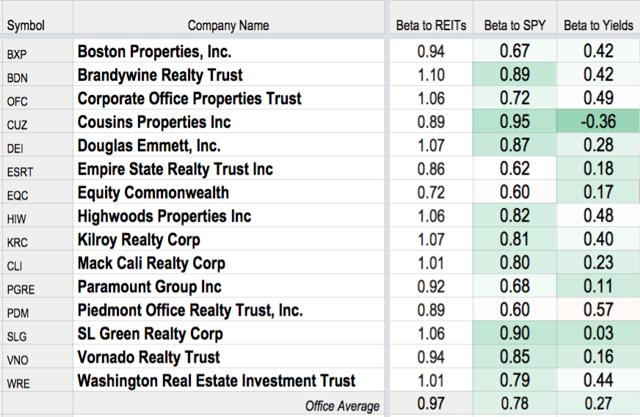 Click to enlarge
(Hoya Capital Real Estate)
Dividend Yields
Finally, when it comes to dividend yields, there is quite a bit of variation within the office REIT sector, but it boils down to two categories: REITs that retain cash flow and REITs that pay out all of their cash flow.
Investors seeking above-average yields may turn to Brandywine, Corporate Office Properties, Piedmont or Washington REIT. Note that these REITs pay out between 95% and 105% of their current FCF, leaving little room for growth via retained earnings, low probability of significant dividend expansion and a small cushion if cash flows decrease or stagnate.
Investors that are less concerned with immediate income may prefer the more moderate yielding REITs that retain more cash flow for acquisition or future dividend increase.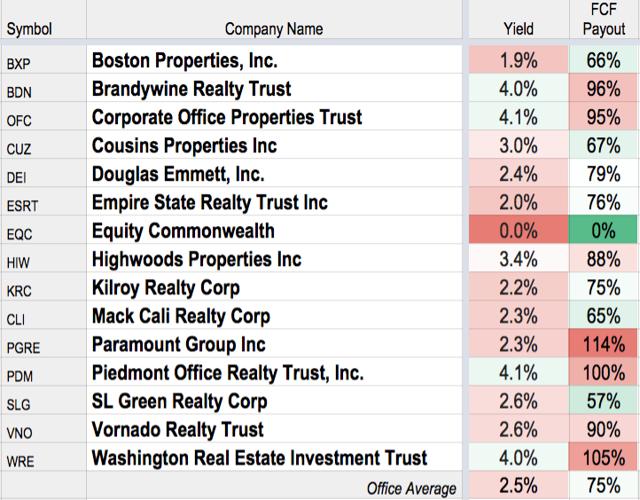 Click to enlarge
(Hoya Capital Real Estate, company financial statements)
Bottom Line
More than any other major REIT sector, office REITs buck the trend of "rates up, REITs down." Levered to a strong economy and relatively shielded from movements in interest rates, office REITs exhibit pro-cyclical investment characteristics are very appealing to real estate investors that are generally over concentrated in yield-sensitive names.
FCF multiples rank the sector as the most "expensive," as investors have to pay up for many of the names within the sector. High projected re-leasing spreads point to 10%+ cash flow growth over the next two years which makes their current valuation slightly more palatable.
We noted the interesting private versus public dynamic within this sector: NAV has been inflated by foreign demand while cash flow yields have not been able to keep up with the elevated valuations. We fear that a pullback in foreign demand for dollar denominated non-negative yielding safe assets would impact office REITs first among REIT sectors. Oversupply is a significant and warranted concern in major markets, particularly NYC and investors need to watch construction data very closely.
In all, office REITs offer investors a unique opportunity to own a part of the skyline in major metropolitan cities while mitigating the interest-rate sensitivity of their current real estate portfolio. Office REITs have been among the top performing REIT sectors of 2016 amid continued employment gains.
Let us know in the comments if you would like us to expand on any part of the analysis. Be sure to check out our other REIT Rankings articles, located on our author page. (Click to view)
Again, we encourage readers to follow our Seeking Alpha page (click "Follow" at the top) to continue to stay up to date on our REIT rankings, weekly recaps and analysis on the REIT and broader real estate sector.
Disclosure: I am/we are long BXP.
I wrote this article myself, and it expresses my own opinions. I am not receiving compensation for it (other than from Seeking Alpha). I have no business relationship with any company whose stock is mentioned in this article.
Additional disclosure: All of our research is for educational purpose only, always provided free of charge exclusively on Seeking Alpha. Recommendations and commentary are purely theoretical and not intended as investment advice. Information presented is believed to be factual and up-to-date, but we do not guarantee its accuracy and it should not be regarded as a complete analysis of the subjects discussed. For investment advice, consult your financial advisor.