Now that we are near the 2,150 on the S&P 500 (NYSEARCA:SPY), I now think that we definitely printed a daily cycle low and this is going to have ramifications for many markets, especially the biotech complex which will probably lead this bull market over the next few years. If we look at the chart here of the S&P 500, we can see that the last intermediate cycle lasted from early February to late June. Therefore, with the first daily cycle now definitely printed, we are still very early into this new intermediate cycle. Suffice to say that I don't see us dropping in equity markets until after the elections.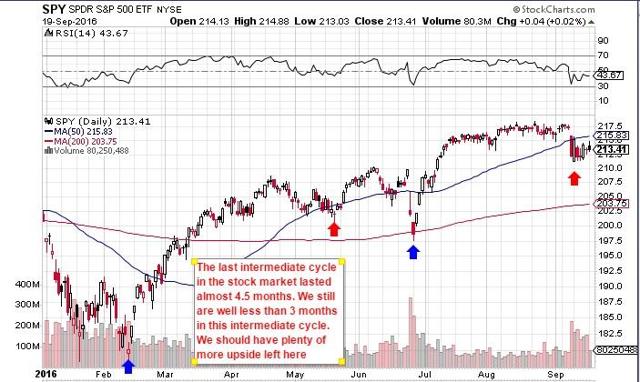 Click to enlarge
Now, if we switch over to a chart of the biotech ETF which is the iShares Nasdaq Biotechnology ETF (NASDAQ:IBB), what was convincing for me was the new highs that we printed in early August. This illustrates to me that the bear market in the biotech complex since the middle of last year is done. The biotech complex has rallied hard out of the stock market's daily cycle low. Furthermore, I think it's only going to be a matter of time before we take out 300 on the biotech index.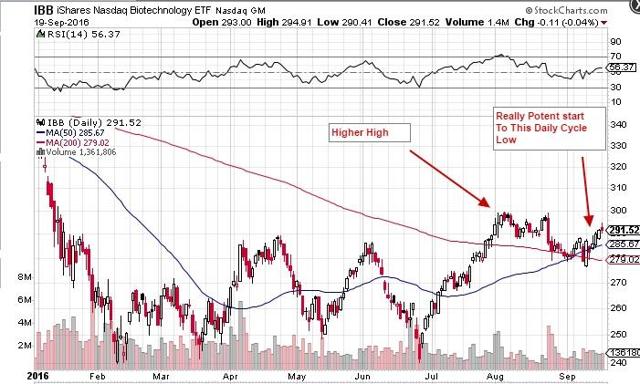 Click to enlarge
I wrote in my last Gilead (NASDAQ:GILD) article that I felt that I couldn't see the stock being left behind and that is what we are seeing here with the stock up almost 2% since the 15th of September. Moreover, from listening to the CEO's (John Milligan) comments at a recent Morgan Stanley conference, I am even more bullish now on the HIV side of things than I was before.
What could really move the needle for Gilead in the HIV space is a drug called bictegravir which is basically an integrase inhibitor that is currently in Phase 3 trials. Now Milligan is on record as stating that the company should be able to file for its approval by the middle of next year. If it gets approved, it could be a game changer.
Why? Well, these combination regimens have really gained traction in recent years. For example, if you look at Gilead's competitor GlaxoSmithKline (NYSE:GSK), its two drugs in this space are Triumeq and Tivicay which have been growing relentlessly over the past few quarters. Gilead's offering bictegravir would be able to go head to head against these type of drugs and could potentially take meaningful market share which would take some pressure off the company's declining HCV sales at present.
Whereas the market has been focusing on declining HCV sales, HIV sales have been going very well recently. For example, sales in this sector increased 15% from $2.7 billion up to over $3.1 billion last quarter on a rolling year basis. This was probably down to the TAF based regimens which include drugs such as Odefsey, Descovy and Genvoya. I was listening to the CEO's comments regarding the TAF line of products and he is very bullish going forward and for very good reason.
TAF based regimens have been marketed a lot recently because the old line of drugs which were the TDF regimens are basically coming off patent in a couple of years. Therefore, management have intentionally put a meaningful price difference between the new TAF offerings and the old TDF offerings in an attempt to get customers to upgrade to the new drugs. This is why we saw huge results for Genvoya over the first six months. It was only approved last November and the growth has been unbelievable.
Bears are stating that the growth in TAF is mainly down to internal switching (just Gilead customers trading up), but I don't see things remaining this way. Why? Because the side effects are less damaging so we should see the regimes also taking meaningful market share off the competition (especially if the price remains competitive). So this is definitely something to watch because the market as I said has been focusing on HCV because it is the biggest breadwinner in the company. However, HIV is growing rapidly and will continue to grow, I believe, in forthcoming quarters.
Investors have to remember that although Gilead dominates the U.S. markets with HIV, there is huge runway for growth in international markets. Once the market gets wind of this, I think the share price will be priced upwards accordingly
However, analysts mainly tuned in to Milligan's comment about the HCV space. He described this area of the business as being in a curved shape recovery and I agree with him. I do think that eventually this market will bottom out and sales will stop declining. One has to remember that when these blockbuster drugs came on stream last year, you had huge numbers of patients starting at the same time. These levels were always going to slow down which we obviously have seen this year in its 2016 sales of Harvoni and the like.
But that doesn't mean that these products or the demand will go away anytime soon. What I feel will happen is eventually you're going to see a bottom in HCV mainly because of demand slowly rising again. One has to remember that Gilead has excellent margins and is a premium brand, and the best thing it did in this downturn was not to drop its prices. By dropping its prices, you automatically impair your brand to a degree. Gilead managed to avoid this which will stand to the company in the long term.
Also, I feel the Chinese market is going to be a growth area for the likes of Sovaldi and Harvoni because obviously those drugs are not approved there yet. So when you add up its premium brand, the increasing screening tests that are taking place in Hepatitis C, big HIV growth and the sector's fundamentals, I don't see how there's a lot of downside left to Gilead's stock. The screening levels which are increasing are just going to increase the amount of patients that need to be treated by these drugs and that's what Milligan emphasized in his recent comments. He emphasized that consistent patient inflow will continue to bring in excellent cash flows which can be siphoned off to grow other areas of the business.
Therefore to sum up, many investors believe that Gilead has turned basically from a growth stock into a value stock. But I don't necessarily see it that way. With biotech flying high, there is a good chance Gilead has bottomed out here so I would advise investors to position themselves accordingly.
Disclosure: I am/we are long GILD.
I wrote this article myself, and it expresses my own opinions. I am not receiving compensation for it (other than from Seeking Alpha). I have no business relationship with any company whose stock is mentioned in this article.