For more than a year, money market managers and corporate treasurers alike have been preparing for October 14, 2016. The compliance deadline for the Securities and Exchange Commission's (SEC) amendments to Rule 2a-7 of the Investment Company Act of 1940 looms just a few weeks away, bringing with it ascending London Interbank Offered Rates (LIBOR) and inopportune timing for a potential interest rate hike by the Federal Reserve (Fed).
The amendments, adopted in July 2014, seek to promote stability within the money market industry and reduce the risk of runs in funds during times of market stress. Bearing the brunt of the impact are prime money market funds (prime funds) geared toward institutional investors. Prime funds invest predominantly in corporate debt. The reforms require institutional prime funds to implement a floating, market- based net asset value (NAV), in place of a fixed $1.00 NAV. In addition, prime fund managers may impose redemption fees or suspend redemptions in volatile markets, and may be required to do so under certain circumstances.
In effect, the regulations have shifted risk to the institutional investors, who value stability and unhindered access to their assets. Fund managers, in turn, face the challenge of gauging future investor demand for prime funds, just as investors turn away. To that end, the market has seen action from both sides as institutions look to reallocate their assets and managers shift the focus of their funds, or establish new funds, in anticipation of investor needs. Assets in prime funds have nearly halved since November 2015, to $729 billion, with institutional prime funds shrinking 53% to $429 billion on September 14, 2016. Estimates anticipate $200 billion to $300 billion more will move by mid-October.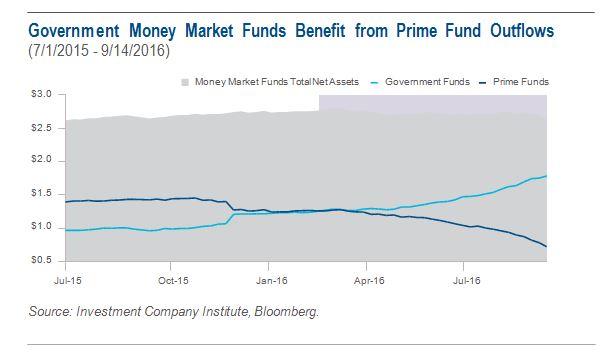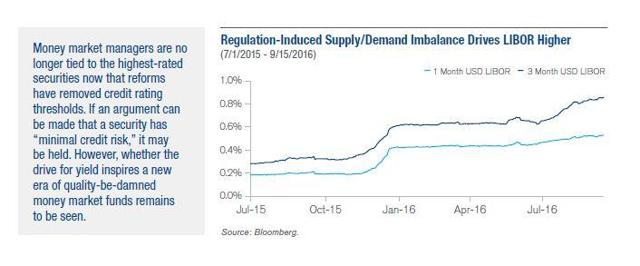 Click to enlarge
As investors eke out the last bit of incremental yield from their prime funds, managers are decreasing the tenors of portfolios in order to have liquidity on hand to meet further redemptions. According to iMoneyNet, the weighted average maturity of institutional prime funds shifted down from 31 days in November 2015 to just 12 days as of September 14, 2016.
This massive transition of assets has left corporate borrowers out in the cold, struggling to offer high enough yields on bank certificates of deposit (CDs) and commercial paper to entice borrowers, while the demand for short-term government and agency securities has grown. Consequently, market participants have watched LIBOR climb steadily as the October compliance deadline approaches.
The good news is that this move in LIBOR is not a result of bank stress. The de facto tightening in short-term rates reflects a regulation-induced supply/demand imbalance. With liquidity paramount in the weeks to come, maturing bank securities are unlikely to be rolled over, potentially pushing LIBOR higher still. Once investor intentions are known and fund managers can resume buying longer-term maturities, we anticipate a stabilization, or possibly a minor relief rally, to emerge. However, the appetite for prime funds will likely remain low, continuing to suppress demand for commercial paper and short-term CDs and leaving LIBOR structurally higher. Eventually spreads on prime funds should widen enough over government money market funds and prod corporate treasurers to weigh the benefit of higher yields against any uncertainty tethered to a floating NAV.
Half of institutional respondents to the Association for Financial Professionals' "2015 Liquidity Survey" said that no amount of spread difference could entice them into a floating NAV fund. However, in the midst of the 2016 quest for yield, that percentage dropped to 30%. While greater yields may lure some investors back into the space, a wholesale shift is unlikely.
We believe these market dynamics present an opportunity for short-term bond investors. Money market managers have increased focus on government and agency securities, leaving a demand gap for highly-rated corporate credit issued to fund short-term liabilities. Our portfolio managers and traders are closely watching this dynamic in an effort to take advantage of price dislocations in securities we would like to hold. Other buying opportunities may arise as companies in need of funding seek alternative sources to commercial paper, including the issuance of corporate debt further out on the yield curve.
While transitioning assets may present opportunities for some, money market managers could face additional difficulties in the form of an increase in the Fed funds rate. Janus' Fundamental Fixed Income team does not anticipate a September rate hike, in part, due to the volume of dollars on the move. Ideally, any institutional prime funds that have not yet transitioned to a floating
NAV will open October 14 at $1.00. A Fed tightening will trigger a repricing of the market and could leave managers underwater on their current holdings, making a market-based NAV of $1.00 elusive. A weaker NAV could in turn cause a loss of investor confidence and further redemptions. Any hike prior to October 14 would increase the degree of difficulty for many money market managers facing redemptions. Even a small 25 basis point hike could feel considerably more drastic in an already tight market.
Disclosure: I/we have no positions in any stocks mentioned, and no plans to initiate any positions within the next 72 hours.
I wrote this article myself, and it expresses my own opinions. I am not receiving compensation for it. I have no business relationship with any company whose stock is mentioned in this article.
Additional disclosure: The views presented are as of the date published. They are for information purposes only and should not be used or construed as an offer to sell, a solicitation of an offer to buy, or a recommendation for any security or market sector. No forecasts can be guaranteed. The opinions and examples are meant as an illustration of broader themes, are not an indication of trading intent, and are subject to change at any time due to changes in market or economic conditions. There is no guarantee that the information supplied is accurate, complete, or timely, nor are there any warranties with regards to the results obtained from its use. It is not intended to indicate or imply in any manner that any illustration/example mentioned is now or was ever held in any Janus portfolio, or that current or past results are indicative of future profitability or expectations. As with all investments, there are inherent risks to be considered. In preparing this document, Janus has relied upon and assumed, without independent verification, the accuracy and completeness of all information available from public sources. Fixed income securities are subject to interest rate, inflation, credit and default risk. The bond market is volatile. As interest rates rise, bond prices usually fall, and vice versa. The return of principal is not guaranteed, and prices may decline if an issuer fails to make timely payments or its credit strength weakens. This material may not be reproduced in whole or in part in any form, or referred to in any other publication, without express written permission. Janus is a registered trademark of Janus International Holding LLC. © Janus International Holding LLC. Janus Capital Management LLC serves as investment adviser. FOR MORE INFORMATION CONTACT JANUS 151 Detroit Street, Denver, CO 80206 / 800.668.0434 / www.janus.com C-0916-4279 09-30-17 666-15-44279 09-16