Background
According to HNI Corporation's (NYSE:HNI) website, they are a "leading global provider and designer of office furniture and the nation's leading manufacturer of hearth products." They sell quality office furniture which helps meet customers' needs. Hearth products are the strongest and most respected in the industry. Some of their products include gas, electric, wood, and biomass fireplaces, inserts, stoves, facings, and accessories.
Additionally, I have many friends and colleagues that work for them. They all seem to enjoy what they do, which indicates to me that HNI is providing satisfying employment to their employees. Their compensation incentives are one example. If they treat their employees well, their employees will treat the customer right. This is one of the basic building blocks to running a successful business.
Quarterly Results Overview
Revenue in the most recent quarter was $536.5 million, down 5.6% year over year. Organic sales were down 6.7% year over year due to an acquisition and divestiture of small office furniture. North American and International sales decreased. However, they had some strength in their supplies-driven channel.
EPS was $.68, up an impressive 28.3%. Gross margin was up 340 basis points. Operating income was up 23.1% and operating margin was up an impressive 210 basis points. SG&A expenses were up 90 basis points, as a percentage of sales. This was because they had higher incentive compensation policies. All in all, they had great cost execution despite the revenue decline.
HNI guided for full year results earlier this year, initially stating that they expect to earn $2.80-$2.95 for the full year. At the low end of their guidance, that would represent 18.9x full year earnings. At the high end of guidance it would represent 18x full year earnings. This would make the stock slightly cheaper than the average company in the S&P 500.
However, they recently announced that their guidance was too bullish. They now believe they can earn $2.50-2.70 for the year. This is not a good sign for the company. Sales will also be lower than expected.
Quarterly Results by Segment
HNI Corporation has two main segments: Office furniture and hearth products. To provide some context on the makeup of the business, I will review the fiscal year 2015 results by segment. Office furniture had $1.74 billion in sales, accounting for 77% of total revenue. Operating income was 134 million, accounting for 63.2% of the total. Hearth products accounted for $527 million and had $78 million in operating income. This accounts for 23% of revenue and 36.8% of total company operating income.
Office Furniture
HNI's office furniture segment had $428.1 million in sales in the most recent quarter, down 5% year over year. Operating income was up 9% to $43.4 million. Operating margin was up 130 basis points to 10.1% showing strong cost execution. Compensation incentives increased in the quarter, but that did not do much to boost sales.
Hearth Products
Hearth products sales were down 7.8% year over year to $108.4 million. This was because of considerable weakness in the retail channel. New construction channel helped offset a portion of the decline. Operating income was down 10.8% to $10 million. Operating margin was down 30 basis points year over year. Again, higher incentive compensation hurt results but productivity improved.
Valuation
At the time of writing, HNI has risen 47% year to date and is near its highs. This has pushed valuations to 17.4x forward earnings, which is not expensive relative to the market. According to CNBC, 2017 earnings are expected to be $3.36. 2016 earnings are expected to be $2.87. That is a 17.1% growth rate, making the PEG 1.02. That is closer to the cheaper end of the spectrum, meaning HNI may have some room to run.
Charts
Given HNI's monster move, it is prudent to look at the charts. The stock has clearly had a sensational move off of its lows. If we look at the chart below, we will find that the stock is slightly above its 50-day moving average, which is acting as support. The stock could have some upside if it can break above the $56 level. Resistance and support levels are also important to know. Resistance is at the $56 level, while support is located at $52, $48, $46, and $44. If the stock can move a little lower, perhaps to the $44 level or even lower, I believe it would represent a nice opportunity to pick up some shares on the cheap.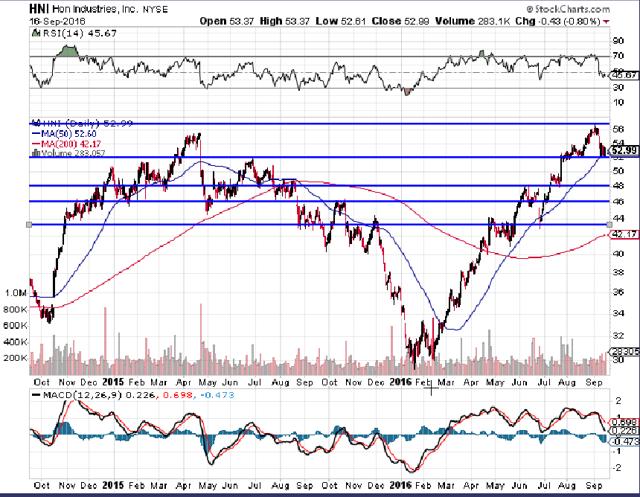 Click to enlarge
Source: StockCharts
Conclusion
HNI had a mediocre quarter in terms of revenue, but earnings were stellar. Their continued and diligent focus on costs has boosted profitability immensely. What had enticed me, before their recent earnings and revenue guidedown, was a big runway for growth. They are projected to earn $3.36 in 2017, and this puts the stock at under 16x earnings. But in light of the recent news, I have some major reservations about the company meeting this target.
In the press release (mentioned above) CEO Stan Askren said, "Sales for the quarter did not develop as expected. Economic uncertainty is weighing on our markets making them more dynamic and difficult to predict than recent periods." He goes on to say, "Our businesses continue to compete well and we remain confident in our strategies as we respond to the changing environment." The company explained the weakness in each business. Office furniture sales "will be lower than expected due to overall softer than anticipated demand, subdued small business confidence and lower than anticipated project activity."
I had been wondering how long the strength in this business would last. The media has made it known that small business formation is not robust, including in this article.
HNI Hearth sales will be lower too. This is due to "slower than expected housing starts, acquisition integration and acquired dealer transitions timing, and continued decline in pellet appliances." While this business is not a major revenue contributor, it is still not ideal to see weakness in this business. Overall, the news of lowered guidance and demand in their end markets does not bode well for the company. Strong cost execution will be needed to counter this.
Still, I believe that HNI runs a successful business. Their shares have run a lot, and the reduced confidence due to lowered guidance will be a drag in the short term. If the company can execute and demand picks up, it will become a more attractive story. This will not happen for at least a quarter. Short term, HNI will decline. However, if you can buy HNI on a pullback to the $44 level or even lower, I think it would represent a good buying opportunity.
Disclosure: I/we have no positions in any stocks mentioned, and no plans to initiate any positions within the next 72 hours.
I wrote this article myself, and it expresses my own opinions. I am not receiving compensation for it (other than from Seeking Alpha). I have no business relationship with any company whose stock is mentioned in this article.