Home beverage appliances, including soda machines [Sodastream International (NASDAQ:SODA)], coffee makers (Keurig Green Mountain), juicers, and countertop blenders are continuing to gain traction in their respective industries. These appliances have achieved rapid growth in recent years (Figure 1) and the latest report from The NPD Group found this trend to be especially prevalent for home craft coffee machines. Craft coffee brewing is hot amongst millennials: 11% of this demographic uses craft coffee brewing to meet their daily coffee needs, and millennials are two times as likely to use them as their baby boomer parents. We think the trend is worth exploring in order to assess whether home coffee makers pose a threat to the traditional coffee shops.
Figure 1: Home Beverage Appliance Growth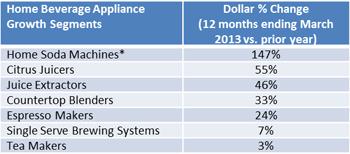 Source: npd.com
Home beverage appliances have risen in popularity for two main reasons: 1) they are more convenient than shopping at a store or café for drinks, and 2) they offer greater customizability. If these factors give home beverage machines an advantage, it is not a surprise that craft coffee makers have become the most popular. People tend to consume coffee at the busiest parts of the day, which puts a premium on convenience. By brewing their own cups of coffee, consumers can shave 20 minutes off their work commute. The convenience advantage is a less of a benefit for soda machines and juicers. Second, coffee allows for more customization than other types of beverages. According to the report, "craft brewing at home enables [consumers] to personalize coffee to their individual tastes and get the same quality and flavor of the coffee they would buy away from home…and [consumers] are attracted to the skill and challenge involved in crafting their own coffees". Millennials account for almost half of the coffee appliance market, and one third of these customers live in densely populated areas with a high concentration of coffee shops. It is therefore necessary to explore the impact that home coffee makers could have on Starbucks (NASDAQ:SBUX) or Dunkin (NASDAQ:DNKN).
Of the two major coffee houses, Starbucks is more insulated from these threats. SBUX has strong brand, a loyal customer base, and an expansive coffee menu with plenty of opportunities to customize. Most importantly, Starbucks has transcend what it means to be a coffee shop by making its cafés destinations at which people want to spend hours of their time. Millennials love to hang out at Starbucks for the atmosphere, and by differentiating itself in this manner SBUX competes less directly on the actual coffee product. DNKN also has a well-known brand, but it doesn't hold as much weight with consumers as that of Starbucks. We think DNKN's brand advantage is largely the result of having a high store count (which breeds familiarity among consumers), rather than the coffee itself. DNKN doesn't differentiate itself the way SBUX does, and we think DNKN is more susceptible to the threat from home coffee makers. In the latest quarter, traffic declined 1.40% at US Dunkin stores and was flat at US Starbucks shops. The impact of home coffee makers is hard to quantify, but it was likely minimal. The weak traffic mainly reflects a slowing US economy and social unrest, and traffic has been declining throughout the entire restaurant and retail industries, not just at coffee shops. However, one of the reasons for the lower foot traffic is the rising disparity between the costs of eating out and dining at home. When income growth slows consumers become more sensitive to price, and home coffee makers could be more competitive going forward if they help save gas money.
Conclusion:
The rise in home coffee makers is a trend to keep your eyes on, especially if the economy continues to weaken, as we believe it will. NPD forecasts 9% growth in at-home coffee consumption through 2024. The market is still small, and most likely won't have a big impact on the major coffee players in the short-term. But it's impossible to say how things will shape up over time. Between SBUX and DNKN, Dunkin is more exposed and will experience larger declines in traffic should at-home coffee makers become more popular.
Disclosure: I/we have no positions in any stocks mentioned, and no plans to initiate any positions within the next 72 hours.
I wrote this article myself, and it expresses my own opinions. I am not receiving compensation for it (other than from Seeking Alpha). I have no business relationship with any company whose stock is mentioned in this article.