I was intrigued by National Beverage (NASDAQ:FIZZ) after the company's fiscal Q4 report (FIZZ fiscal years end in April), but a price above $60 and increasing competition left the bull case a bit too stretched.
But FIZZ shares have pulled back from those all-time highs in the low $60s, closing Friday at $52.29. And the company's first quarter report was dazzling, with National Beverage showing both accelerated growth and a hugely impressive expansion in margins.
I'm loath to overreact to a single quarter, but Q1 was extraordinary in the truest sense of the word. Admittedly, it's difficult to dive too deep into the fundamentals, as National Beverage gives less detail than most public companies, but it's almost impossible to see the quarter's numbers as anything but positive.
I do see some risk in the growth story here - but I still don't think LaCroix is a fad, and apparently accelerating sales certainly buttress the growth case for FIZZ. That case looked reasonably strong to begin with; after Q1, with shares still 15%+ off July highs, FIZZ looks like a buy.
The Numbers
As a growth stock, National Beverage is a bit of an interesting case. The company's LaCroix sparkling water has become a late-blooming hit; the brand was developed in the 1970s, and purchased by National Beverage in 1996. National Beverage's legacy portfolio is concentrated more in Shasta and Faygo soda, which still drive a majority of sales. (My best estimate for FY16 was that LaCroix drove 30-35% of revenue.)
The soda business is stagnant (we'll avoid the term 'flat') at best: volume growth was -7.5% in FY14 and appears to have been modestly negative combined in FY15 and FY16. So even with torrid growth at LaCroix - the company's so-called "Power+" business grew volume 31% in FY16, per the 10-K, with LaCroix certainly the primary driver - FIZZ's top line growth doesn't look particularly compelling. Revenue increased 9.1% in FY16; sales rose less than 1% in FY15 despite 15%+ volume growth in Power+ the year before.
So the 17% growth posted in Q1 is far more impressive than it might first appear. LaCroix's year-over-year growth likely was above 50%; the Power+ segment grew volume 45.6%, per the 10-Q. And what is more notable is that Power+ volume growth is accelerating off continually larger bases.
Power+ volume increases have been 5.4% in FY13, 8.2% in FY14, and 15.3% in FY15, before spiking to 31.4% in FY16. Even near-term results have steadily improved: volume increased 27% and 25% in Q1 and Q2 of FY16, respectively, before reaching 35% and ~38% (estimated) in Q3 and Q4.
The stepped-up growth should be particularly comforting since recent results have come even as PepsiCo (NYSE:PEP) and Coca-Cola (NYSE:KO) have ramped up their competitive activity, with Pepsi rolling out Aquafina sparkling water and Coca-Cola expanding the number of Dasani flavors in April. Privately-held Spindrift and Polar have targeted the business as well, and natural diet soda provider Zevia launched sparkling water at the end of June.
Even SodaStream (NASDAQ:SODA) has focused on sparkling water over its namesake product. Yet LaCroix's growth figures still seem to outpace an admittedly fast-growing category (29% growth in 2015, according to one source), implying steady or increasing market share.
The top line improvement alone should drive some optimism coming out of Q1; but the performance below the top line was even more impressive. Gross margin increased 550 basis points year over year, jumping to 39.4%. Cost per case declined a spectacular 10% against the year-prior period, according to the 10-Q, driven by lower input costs and "product mix changes."
The mix change appears to be an increasing proportion of LaCroix, which actually provides lower revenue (case volume grew 19.5%, but sales just 17.1%), but apparently, sharply higher margins. And the margin expansion, too, appears to be accelerating. Cost per case (it was referred to as cost per unit in Q1 FY16, which I believe is the same metric) increased 2.7% in Q1 last year and 1.8% in Q2; by Q3, the figure was even YOY.
Q4 cost per case appears to have been down ~1.5% before the improvement accelerated in Q1. The same trend is seen on an absolute basis: gross margin ranged from 32.5% to 33.9% in Q1-Q3 last year before reaching 36.5% in Q4 and then 39.4% in Q1.
There is a benefit from seasonality (sales naturally are stronger in the summer months), so expecting a 39% figure for the full year seems optimistic. It's not clear which input costs benefited the quarter; aluminum prices are low, but have been for some time, so it may be lower wholesale fruit costs providing a benefit to Q1. But it also appears that as mix shifts toward LaCroix, margins are going to benefit in a way that offsets the top line pressure from that shift.
Meanwhile, FIZZ leveraged opex nicely: SG&A fell 80 bps as a percentage of sales, with the absolute increase attributed to higher sales and marketing and distribution expenses. In sum, operating margin expanded a stunning 630 bps year over year, and represented a substantial step up: quarter-by-quarter operating margin a year ago was 14%, 13.1%, 10.6%, and 14.8%.
Operating income increased 69% year over year; EPS jumped from $0.37 to $0.62, a 68% gain. At the risk of sounding like a naive (or paid) pumper for FIZZ, it really looks like a blowout quarter on all fronts.
The Business And Valuation
Yet FIZZ didn't really get that much of a bump from the quarter. The market shrugged off preliminary fiscal Q1 figures in early August and sent the stock to a twelve-week low: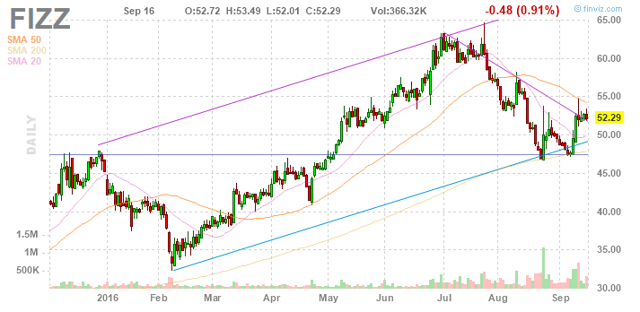 Click to enlarge
Source: finviz.com
Even with shares down from $60+, this is far from a riskless trade. Competition is intense, as noted, and with category growth far outpacing that of other beverages, it may get worse before it gets better. My experience in Chicago - where LaCroix has become seemingly ubiquitous - supports my argument that the product is here to stay, and that sparkling water itself isn't a fad.
But LaCroix is a Midwestern product (even though National Beverage is headquartered in South Florida) and it may become increasingly difficult to expand distribution beyond the brand's traditional footprint, particularly if the beverage giants decide to flex their muscle.
From a trading standpoint, FIZZ volume has jumped exponentially of late, which presents a bit of a double-edged sword: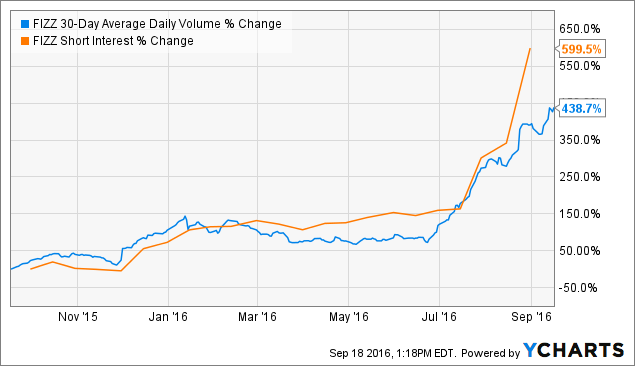 FIZZ 30-Day Average Daily Volume data by YCharts
There's liquidity in the stock that wasn't there even a year ago - but that also has brought with it a potentially viable short trade. (I wrote after Q4 that shorting FIZZ seemed like a "suicide mission" simply from a structural standpoint; but if current volume figures hold, that's no longer the case.)
I wouldn't be surprised to see volatility increase over the next few months, due to higher volume in both the equity and options markets; there have been a number of large near-term call purchases of late, as a reader pointed out to me last week.
But these concerns are relatively standard growth stock problems, and they reflect FIZZ's maturation as a stock. This isn't a hidden, low-float, controlled-company play on some small brand that many investors likely hadn't heard of.
The stock, anyway, is going a bit more mainstream - which has benefits (liquidity, hedging, dry tinder for a short squeeze) and drawbacks (short/option-driven volatility, and the nagging sense that it's always dangerous to jump in a story after the market understands it).
And as a growth stock, FIZZ looks pretty good right now, particularly after Q1. Again, I don't think investors need to overreact; modeling 20% operating margins going forward seems a bit aggressive. Q1 is the seasonally strongest quarter, which should benefit gross and operating margins.
But the pattern over the past few years shows steadily increasing growth, and the past few quarters now are showing an acceleration, even discounting seasonality and simply using YOY comparisons.
From my standpoint, the major growth stock-type risk to FIZZ is that sparkling water turns out to be a fad, or at least faddish. LaCroix already is reasonably cheap (again, National Beverage prices it cheaper than Shasta), which should limit the ability of competitors to undercut on price. Its branding is set: the product, and the company, are the antithesis of corporate, unhealthy, mass-produced drinks, and I see that message as placed perfectly in the current environment.
Admittedly, I don't much like the product, but I know plenty of people who do (including my wife), and it doesn't take long on social media to see how ardent those customers are.
And I don't see much reason to see the category growth as a fad. The decline of soda consumption - in particular, diet soda - clearly is not a fad; it's a long-term, consumer-driven trend as Americans become more skeptical of chemicals and processing. There's no reason to see that trend even pausing; and it leaves a huge base of potential converts for LaCroix and its peers.
Competition is an issue, but it's not as if Coke and Pepsi, in particular, have shown all that much success outside of soda. As I pointed out after Q4, many investors assumed that Monster Beverage's (NASDAQ:MNST) first-mover advantage would be quickly negated by the sheer size of KO/PEP; but Coca-Cola essentially ceded the space to Monster just last year after gaining little in the way of market share.
So the case, in my opinion, comes down to valuation, with the important caveat that modeling FIZZ growth needs to take into account the dead weight in the soda business. A 10-point acceleration in LaCroix's growth rate probably only drives an incremental 3.5-4 points in overall revenue growth for National Beverage. But even with that caveat, that looks like more than enough. After Q1, I'd model FY17 as follows:
Revenue growth of 13%. I'm not quite ready to see Q1 as the "new normal," although the growing share of LaCroix's revenue does help. (In other words, the greater LaCroix sales are, the greater the overall contribution of its growth. The flip side to that is that it usually is difficult to grow off a higher base, though that clearly hasn't been an issue for LaCroix of late.) A rate split between Q1 and the high single-digit average in Q2-Q4 looks a bit more conservative.
Gross profit of 37%. Again, there's been a huge spike from 32-33% in Q1-Q3 FY16, and the figure tends to dip in the winter quarters. It looks aggressive to consider 39%+ a viable full-year figure at the moment.
SG&A of 20%. Fixed-cost leverage declines in the lower-revenue winter months; a 110 bps improvement year over year on the back of double-digit top line growth seems to incorporate both aggressive spend and leverage.
That would give FIZZ FY17 revenue of $796 million, and operating profit of $135 million at a 17% margin (up 380 bps year over year). At the recent 34.2% effective tax rate, net income would be $89 million and EPS would come in at $1.90. That would put FIZZ's forward multiple at about 27.5x, and ~26x backing out nearly $3 per share in cash.
For this story - even including the soda business, which probably deserves a low- to mid-teen multiple - that doesn't seem particularly expensive. MNST trades at ~30x forward earnings on the same basis; KO, PEP, and Dr Pepper Snapple (NYSE:DPS) all have ~20-21x forward multiples.
The problem is that such a valuation has to account for the soda business, which still accounts for ~60% of gross profit. Assuming a 13x multiple for Shasta/Faygo, the Power+ segment (mostly LaCroix, but also Shasta sparkling water and two small brands in juice and energy drinks) is valued at ~45x.
But I'm not sure that seemingly high figure is unsupportable. After all, it's not as if there's a short runway for growth here. LaCroix sales appear to be about $250 million-$300 million at the moment, based on my own estimates which incorporate checkout data cited elsewhere. There's still plenty of geography to cover, and LaCroix appears to have little, if any, penetration in convenience stores.
The worst-case scenario for LaCroix probably is Snapple, disastrously acquired by Quaker in the 1990s; what's often forgotten is that the brand already had peaked before the purchase (Snapple shares were down by more than half by the time of the acquisition). Yet even that product got to $700 million in sales, almost certainly more than double LaCroix's current numbers.
And where Q1 helped change my mind is on the margin front. Again, I don't believe that 20%+ margins are sustainable for the full-year (whether in FY17 or beyond); but there does appear to be more potential leverage than I believed heading into the quarter.
I'm still a bit concerned about the fundamentals: even assuming $1 billion in FY19 revenue (~11% CAGR in FY18 and FY19) at a high-teen margin, FY19 EPS would be about $2.50. A mid-20s multiple (blended half between a 12-15x for Shasta/Faygo and 35-40x for Power+) only gets shares to the low 60s, which discounted back implies fair value around $53-$55, modest upside.
But with possible upside to both sales and margins, assuming recent trends hold, the growth case looks stronger. And, in my opinion, the case for FIZZ comes down to two questions:
Is the category going to slow significantly?
Will LaCroix lose share?
On both points, I'm relatively confident the answer is 'no'. I don't believe the category is a fad; I see it as the logical successor to diet soda given recent changes in American consumer preferences. And while LaCroix will have competitors, its brand is set and its consumers are clearly loyal.
Between the recent pullback and the Q1 release, FIZZ looks attractive at current levels. My only concern might be near-term volatility; the stock does move and I'm not sure that, personally, I need to jump in at $52 instead of waiting/hoping for the $47 handle the stock hit (twice) in the past month.
But I like FIZZ as a midterm play, whether as an acquisition target or simply as a company with the potential to become a standalone leader in its space. I may not drink LaCroix, but I'd like to own it.
Disclosure: I/we have no positions in any stocks mentioned, but may initiate a long position in FIZZ over the next 72 hours.
I wrote this article myself, and it expresses my own opinions. I am not receiving compensation for it (other than from Seeking Alpha). I have no business relationship with any company whose stock is mentioned in this article.