The baked chèvre is good. But why you would pair it with some overwrought marinara is beyond me. The burnt crostinis make the whole thing a no-go. I ate it. I never send anything back.
The heartburn that's invariably coming from mixing marinara with lime-infused cocktails had me ready to pull out my credit card like a Wild West gunslinger so I could stop by the nearest Duane Reade for some Tums ASAP when the couple beside me caught my attention.
They're probably 60 (give or take) and she's wearing a necklace with what looks like a Yankees World Series ring on it. The way the ambient light is reflecting on it makes it look authentic. Then I notice he has one too (not on a necklace of course).
I ask them what they do. He simply holds up his ring. Ok, whatever. I don't know if that means he's closer to George Steinbrenner or George Costanza, and I really don't care. I get the point. He's got something to do with the Yankees.
Now I wasn't going to talk about HIBOR on Monday. Why? Because "HIBOR" sounds like a name for a bad bag of marijuana to most people. But it's actually important. Here's WSJ:
The cost for banks to borrow yuan from each other overnight in Hong Kong surged to its second-highest level on record Monday, the latest sign of tumult plaguing the Chinese currency just as it is poised to join the basket of global reserve currencies.

The overnight yuan Hong Kong interbank offered rate, or Hibor, jumped to 23.683% from 7.95% on Thursday, reaching the highest level since Jan. 12. Markets in Hong Kong and China were closed Friday for the mid-autumn festival.
That's a huge jump. Here's some context: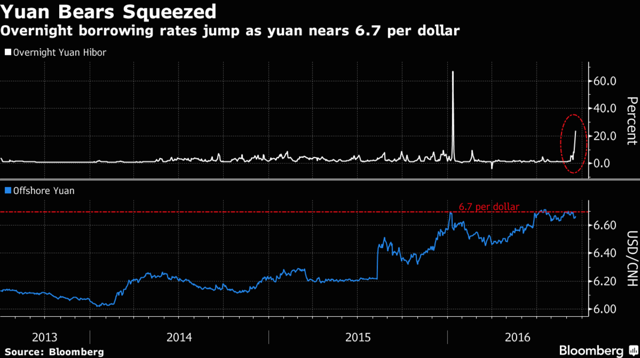 Click to enlarge
(Chart: Bloomberg)
Meanwhile, here's USDCNY (NYSEARCA:UUP):

Click to enlarge
Do you see what they're doing? They're guiding it lower over time but then drawing a line at 6.70. When you see HIBOR spike, they're just murdering shorts.

Click to enlarge
Here's WSJ again:
Several traders and analysts say the recent rise in the cost of borrowing yuan in Hong Kong's so-called offshore market, which began earlier this month, bears the hallmarks of China's central bank. They say that by buying up yuan via branches of state-owned Chinese banks, the People's Bank of China hopes to raise the cost of betting against the Chinese currency by investors such as hedge funds.

Its tactics seem to have worked in the short term. The yuan in offshore markets traded slightly stronger than its level in mainland China on Monday, with the dollar trading at 6.67 yuan.
And recall this from January:
Chinese banks' buying spree, seen as a sign of central-bank intervention, effectively shut down the yuan market in Hong Kong on Tuesday, as supply of the currency all but disappeared. The benchmark rate at which banks borrow yuan from each other surged to an unprecedented 66.8%, up from what had been a record level of 13.4% on Monday. The benchmark is based on rates contributed by 18 domestic banks each morning. Traders said the actual yuan borrowing rate reached as high as 110% during the day.
Here's a bit of color from CIMB via Bloomberg:
Liquidity drain on CNH suggests Chinese govt favors currency stabilization over internationalization in near term and offshore yuan could now rebound, CIMB analysts Ben Bei and Edith Qian write in note today.

CNH has historically risen after sudden spikes in Hibor, possibly due to short covering and/or fewer speculators betting against PBOC; the overnight rate surged 15.7 percentage points to 23.7% yesterday

CNH rebound likely to be in low single digits and last until end of Oct., Bei says on phone; upside limited as Fed should still hike at least once this year

CIMB maintains year-end forecast of 6.8 yuan per dollar

PBOC will only allow yuan to decline gradually and in controllable way

NOTE: USD/CNH up 0.11% at 6.6733; USD/CNY up 0.03% at 6.6708

Main reason for recent tight CNH liquidity is PBOC not extending swap contracts that are close to maturity; central bank likely entered into contracts after Aug. 2015 depreciation to stabilize currency

Decision not to extend them is a tightening stance and favors near-term currency stabilization, today's CIMB note says.
The Yankees guy asks me a question: "We're getting ready to launch a small-batch Kentucky bourbon, so do you know a good advertiser in Shanghai?"
"Why would your first move to market a small-batch bourbon be in China?" I asked (and that's coming from someone who knows a thing or two or three hospital visits about Kentucky bourbon).
"We've been there before," he says. Adding that "we do business in Hong Kong and then through the offshore market we move onshore."
"You're aware HIBOR spiked 16% last night right?" I asked.
He clearly had no idea what I was talking about.
Do I know what that means for his business? Absolutely not. But the problem is, apparently neither does he.
A Clark Griswold sighting - with a Yankees World Series ring.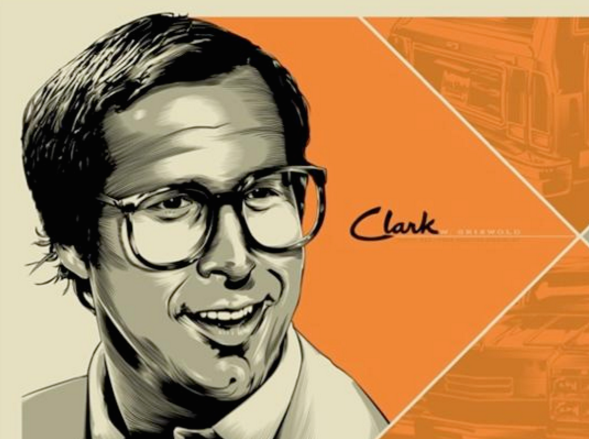 Disclosure: I/we have no positions in any stocks mentioned, and no plans to initiate any positions within the next 72 hours.
I wrote this article myself, and it expresses my own opinions. I am not receiving compensation for it (other than from Seeking Alpha). I have no business relationship with any company whose stock is mentioned in this article.