A little over a month ago, I published an instablog which used Bruce Greenwald's Earnings Power Value strategy to illustrate that GameStop Corp.'s (NYSE:GME) shares could be significantly undervalued. Since the instablog was published, GameStop's shares have fallen another 13%, compelling me to demonstrate why I believe GameStop's shares present a good value today.
GameStop Corp.
For those who aren't aware, GameStop Corp. is a Grapevine, Texas-based video game, consumer electronics and wireless services retailer. Until recently, the company has been solely a retailer of video games and video game consoles. Today, GameStop has many brands that are non-specific to video game retail, including:
The Fall
Over the past three years, GameStop Corp. has seen its share price more than cut in half. This decline was largely due to a chairman change, guidance cut and rising fears about increased competition in the used game business and a larger shift towards PC and web-based gaming. There were many people following the stock's price crash in late 2013/early 2014 likening GameStop's future to the downfall of Blockbuster's movie retail business.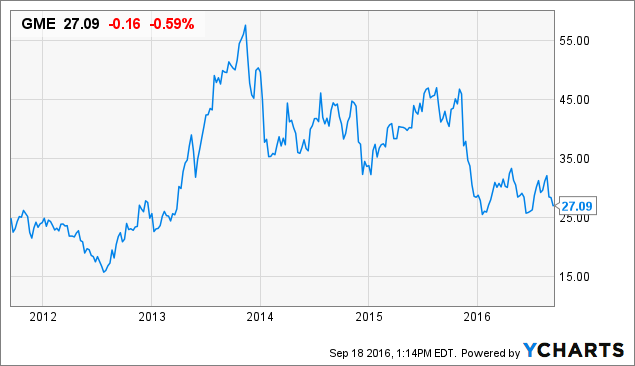 Despite the bleak outlook, GameStop managed to continue to increase its dividend on an annual basis (something it's done since 2012) and also managed to buy back nearly a quarter of its outstanding shares since 2012.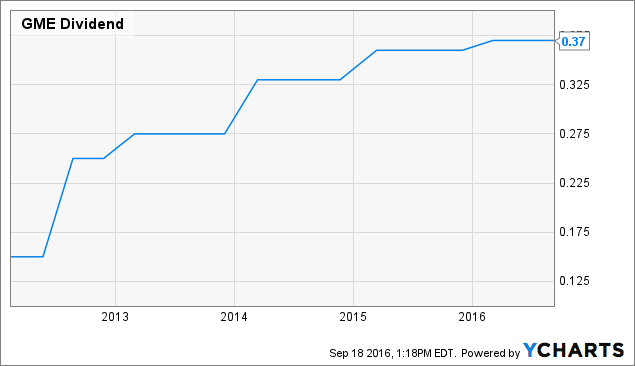 GME Dividend data by YCharts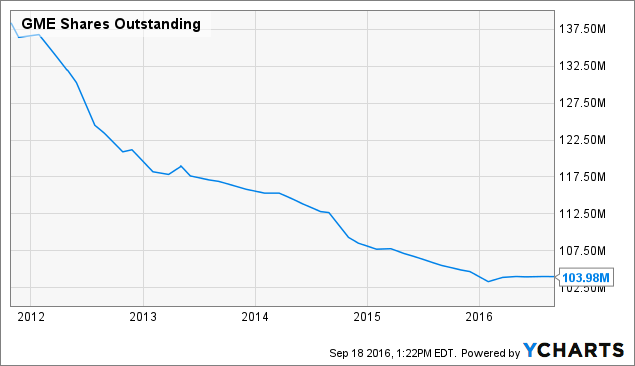 GME Shares Outstanding data by YCharts
Despite efforts to create shareholder value, the share price continued to tumble. Investors' fears for GameStop's future were at least somewhat justified. There were many parallels to the headwinds faced by Blockbuster before its demise. Similar to the effects of Netflix (NASDAQ:NFLX) and Redbox, the rise of PC gaming, facilitated by companies like Riot and Steam, has resulted in a perceived shift away from traditional console gaming. GameStop differs from Blockbuster because it isn't denying a decline in its industry, but rather facing it head on and preparing to shift into more stable markets.
Understanding the Cyclicality of Console Gaming
One of the best ways to invest is through identifying companies in a clear cyclical trough. Video game retail is an obviously cyclical industry; sales are higher in the few years following the release of popular consoles and begin to fall as more people come into possession of their consoles. For example, GameStop's new video game hardware sales rose from $1,333.4 million to $1,730 million (a 29.7% increase) between fiscal 2012 and fiscal 2013, primarily due to the introduction of Sony's (NYSE:SNE) PS4 and Microsoft's (NASDAQ:MSFT) Xbox One. The following is an excerpt from GameStop's 2015 annual report:
"Growth in the video game industry is generally driven by the introduction of new technology. Gaming consoles are typically launched in cycles as technological developments provide significant improvements in graphics, audio quality, game play, internet connectivity and other entertainment capabilities beyond video gaming. The current generation of consoles (the Sony PlayStation 4, the Microsoft Xbox One and the Nintendo Wii U) was introduced between November 2012 and November 2013. With the introduction of the new consoles in the fourth quarter of fiscal 2013, sales of new hardware have increased; however, sales of the Sony PlayStation 4 and the Microsoft Xbox One negatively impacted our gross margin percentage in fiscal 2014 and fiscal 2015."
While the statement suggests that the introduction could be less beneficial due to its effect on gross margins, investors must keep in mind that the introduction of new consoles primarily fuels top-line growth. The following statement from GameStop's 2013 annual report illustrates how the introduction of new consoles has a negative impact on margins in the short term but a positive effect on margins in the mid to long term:
"Typically, following the introduction of new video game platforms, sales of new video game hardware increase as a percentage of total sales in the first full year following introduction. As video game platforms mature, the sales mix attributable to complementary video game software and accessories, which generate higher gross margins, generally increases in the subsequent years. The net effect is generally a decline in gross margin percent in the first full year following new platform releases and an increase in gross margin percent in the years subsequent to the first full year following the launch period."
Another excerpt from that annual report describes a situation I believe GameStop currently finds itself in: there hasn't been much going on in the console gaming industry and thus investors' perceptions of how broad of a market the company caters to are skewed.
"Historically, new hardware consoles are typically introduced every four to five years. We experienced declines in new hardware and software sales throughout the first few months of fiscal 2013 due to the age of the older generation of consoles. With the introduction of the new consoles in the fourth quarter, sales of new hardware have increased."
GameStop's share price has been very reflective of the above statements. Following the release of new consoles, the company's share price approached all-time highs. As console hype has worn off, share prices have declined. Nintendo (OTCPK:NTDOY) is releasing the NES Classic Edition in November of this year and targeting a March 2017 release date for its following console, which has been codenamed Nintendo NX. With Nintendo dropping all sorts of news recently, we can expect an official NX reveal in the coming months. I suspect that the NX reveal and eventual release could get investors interested in video game retail once again. After all, the introduction of new consoles spurred growth for GameStop last time around.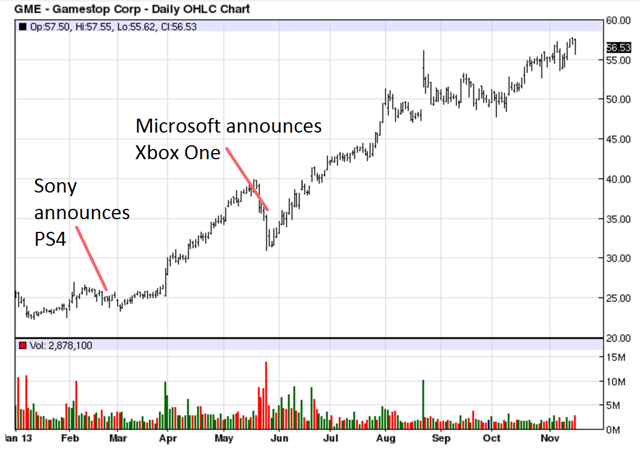 Click to enlarge
Although I believe the NX could respark interest in the gaming retail industry, many would point to the disappointing performance of Nintendo's Wii U. David Trudel argues in an article written for Movie Pilot that the Wii U's failure can be attributed to the conjunction of four fatal factors:
Poor marketing
Poor first party support
Poor third party support
Poor console design
Investors can be fairly confident that the first three issues will not complicate the promotion of Nintendo's next console. Investors believe that Nintendo is very well situated right now (if you don't believe me check its stock chart), and it is unlikely it will let the opportunity slip through its fingers. Additionally, the console is expected to adopt a classic controller design, nothing too difficult to learn. The Wii U's failure taught Nintendo a valuable lesson about poor console preparation and the current atmosphere of classic Nintendo nostalgia amongst millennials should set up the NX for a successful launch.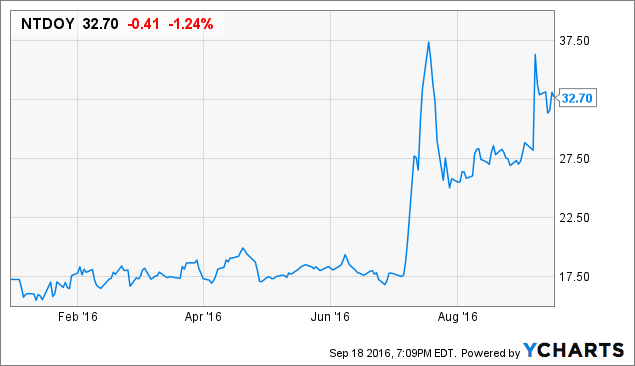 You may be thinking to yourself, "Won't gamers just purchase their consoles from online retailers like Amazon (NASDAQ:AMZN)?" The answer to that question is that some will. But to assume that the physical video game retail business will disappear altogether is ridiculous. Every time one of the 3 big console developers (Sony, Microsoft, Nintendo) releases a new console, thousands of people wait outside physical video game retailers to buy their console as soon as possible. For the more serious gaming community, getting their hands on a new console after everybody else already has is something they aren't willing to risk.
Other Areas for Potential Growth
"During the past few years, we have transformed from the world's largest specialty retailer of physical video game products into a family of retail brands selling many of the world's most popular technologies and pop-culture products. Our vision is to continue to expand our business as a global family of specialty retail brands. Our mission is to continue to be the world's largest omnichannel retailer of new and pre-owned and value video game products, to continue to grow sales of digital products, to expand the sales of collectible products through our video game stores and thinkgeek.com, to increase the number of our pop culture-themed stores and to strategically grow our Technology Brands segment to further diversify our revenue streams. Our goal is to have 50% or more of our operating earnings for the 52 weeks ending February 1, 2020 ("fiscal 2019") come from sources other than physical gaming."
Mobile and Consumer Electronics
In an effort to meet its goal of deriving 50% or more of operating earnings from sources other than physical gaming, GameStop recently purchased 507 AT&T wireless stores, bringing the total wireless store count to 1,421. The transaction cost most of the $475 million raised through a recent debt offering but is a proactive move by management. GameStop is acting in a realistic manner, neither panicking to get out of the video game retail industry nor misleading investors that the industry will be experiencing serious growth in the coming years. The result is a smooth and practical transition towards a more diversified and stable revenue stream. The company has guided that its revenue realized from its tech brands business should grow 50-60% YOY for fiscal 2016. Some investors have speculated that GameStop and AT&T could enter into a more beneficial partnership, one where AT&T's brick and mortar sales are partially dependent upon GameStop's businesses. I hope to see GameStop further invest in its mobile and consumer electronics business in the future.
Collectibles
One major, and perhaps unforeseen, area of growth for GameStop has been the video game collectibles market. Although video games are transitioning from physical to digital, there is still a physical presence of video game culture. For example, in 2014 Nintendo released Amiibos, collectible figurines that interact with the 3DS and Wii U.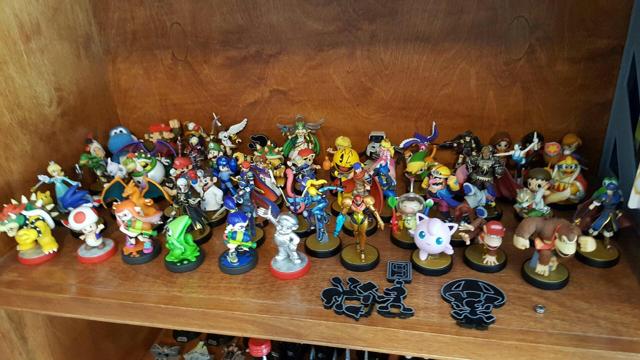 Click to enlarge
Although many readers will not understand the fascination with video game merchandise, the collectibles market is unquestionably large and growing larger. The above picture is the Amiibo collection of a close friend of mine (he has spent far more than he likes to admit on the collection). Collectibles are called collectibles for a reason: those who buy them are usually trying to complete a collection, not just purchase one or two items. This trend can be shown through the atmospheric number of Amiibos Nintendo has been selling. In the fiscal year ended March 31, 2016, Nintendo sold approximately 24.70 million Amiibo units. Originally listed at $13 a piece, it is evident how significantly the collectibles market has grown. In addition to Amiibos, GameStop's ThinkGeek business sells "geeky" plush toys, costumes, and other odds and ends. According to the company, collectibles represent an $11 billion industry in the U.S. That number is expected to grow to $16 billion by 2019. GameStop projects the collectibles revenue to grow 45% YOY in fiscal 2016. For the 26 weeks ended July 30, collectibles sales have already grown over 170% YOY. With ownership of one of the largest video game merchandise retailers in the country, GameStop is well positioned to benefit from the promising collectibles market over the next few years.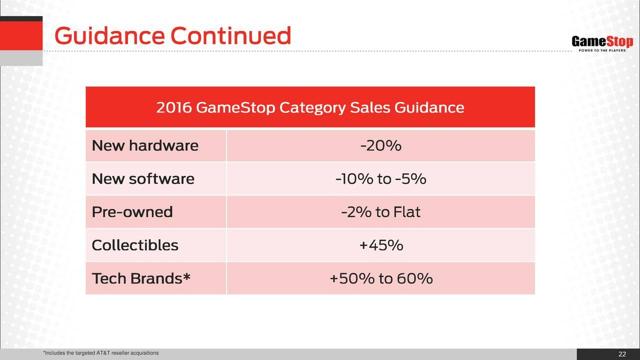 Click to enlarge
About the Dividend
GameStop is expected to pay out $1.48 in dividends this year. Considering the company has raised its dividend every year since 2012, it likely intends to raise the dividend to at least $1.62 in 2017. With the company guiding fiscal 2016 earnings to be in the range of $3.90-$4.05, the payout ratio should only be in the range of 36.5-37.9%. This ratio is in range with what the company has been paying out for most of the dividend's history.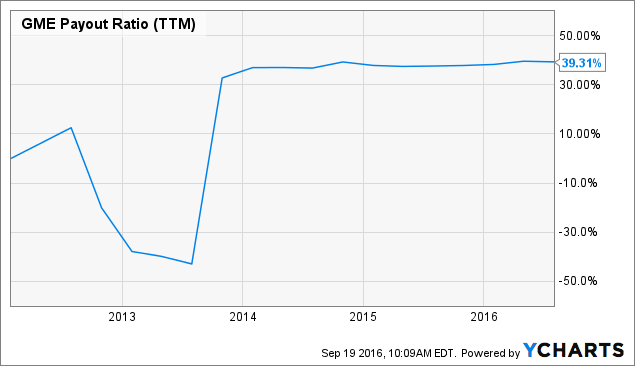 GME Payout Ratio (TTM) data by YCharts
The only question now is whether or not the company's current level of earnings is sustainable. The company's management seems to believe that the dividend is, in fact, sustainable:
"Based on our current operating plans, we believe that available cash balances, cash generated from our operating activities, funds available under our $400.0 million asset-based revolving credit facility (the "Revolver") and the proceeds from our recently issued 2021 Senior Notes together will provide sufficient liquidity to fund our operations, store openings and remodeling activities and corporate capital allocation programs, including acquisitions, share repurchases and the payment of dividends declared by the Board of Directors, for at least the next 12 months."
Management is also not expecting a huge negative impact on profitability over the next few years. According to NASDAQ's website, 9 analysts are estimating EPS of around $3.99 for fiscal 2016, with the estimates ranging from $3.90 to $4.08. Additionally, 8 analysts are estimating EPS of around $4.28 for fiscal 2017, with the estimates ranging from $4.00 to $4.50. It seems those who know the company best aren't expecting a decline in profitability.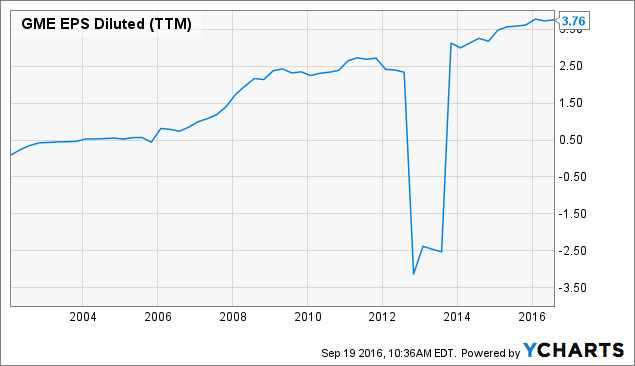 GME EPS Diluted (TTM) data by YCharts
Insiders are also increasing their position within the company, putting some skin in the game and betting on their diversification strategy. Over the last three months, insiders have bought 53,344 shares while only disposing of 6,178. Just last week the company's executive VP, Mike Mauler, purchased over $269,000 worth of stock. Nobody knows the company's situation like its insiders, and the insiders seem to want more shares.
Valuing the Company
Because purchasing GameStop shares is a more contrarian play, I have used Bruce Greenwald's Earnings Power Value technique to value the company. The Earnings Power Value technique, outlined in Greenwald's book Value Investing: From Graham to Buffett and Beyond, ignores the effects of growth (which can often lead to speculative net present valuation) and looks simply at the free cash flow the subject company can currently generate. If a company trades below its EPV by a significant margin, and if investors believe that the current level of profitability is sustainable, it is very likely that the stock is undervalued. I have calculated GameStop's EPV (although it was a somewhat lengthy process documented here) to be about $41.93/share. With shares trading for about $27.09, the disparity between the company's earnings power value and its share price represents an upside of about 54.7% for the stock. The company's TTM return on invested capital (18.38%) is also larger than its cost of capital (11.33%), meaning that the company's investments are creating value for the company. For this reason, I do not see any price-to-book ratio less than the current 1.35 being justified, although Mr. Market may cause it to be so. If the company's investments are creating value, it makes sense that it is worth more than just the value of its assets.
Conclusion
Much of GameStop's worries presented by investors are rooted merely in speculation. Investors fail to realize that the company's revenue stream is quickly drawing more from sources other than physical video game sales. GameStop provides value in the sense that despite the fact that it will be drawing away from physical game retail in the coming years, investors hear the company name and automatically think of its physical game stores. I believe the company's name alone discounts it by some degree from a more accurate valuation.
Disclosure: I/we have no positions in any stocks mentioned, and no plans to initiate any positions within the next 72 hours.
I wrote this article myself, and it expresses my own opinions. I am not receiving compensation for it (other than from Seeking Alpha). I have no business relationship with any company whose stock is mentioned in this article.
Editor's Note: This article discusses one or more securities that do not trade on a major U.S. exchange. Please be aware of the risks associated with these stocks.