In this article, I will be examining the newly minted Fidelity Dividend ETF for Rising Rates ETF (NYSEARCA:FDRR) and detailing why I believe this new ETF is worth consideration for the current interest rate environment.
FDRR Description & Key Information
The Fidelity Dividend Index for Rising Rates is designed to reflect the performance of stocks of large and mid-capitalization dividend-paying companies that are expected to continue to pay and grow their dividends and have a positive correlation of returns to increasing 10-year U.S. Treasury yields.
- FDRR Summary Prospectus

International stocks may comprise up to 10% of the index. The index is rebalanced annually, as of the close of business of the NYSE on the third Friday in February.
- FDRR Prospectus
Expense Ratio: 0.29%
Launch Date: September 15th 2016
Number of Holdings: 117
Pays Dividends: Quarterly
Even though FDRR has only three days of trading under its belt, what makes FDRR unique is its screening process. FDRR takes into account not just dividend yield, dividend growth and dividend payout ratio, but also adds in correlation to the 10-year treasury rate. As you can see in the chart below, in the process of building a composite score for each stock, one of the criteria is correlation to changes in the 10-year treasury rate. While this only is a 10% in determining the composite score for each stock, it is clear this has an impact on the holdings of FDRR because sectors like Utilities and Real Estate are significantly underweighted compared to other dividend ETFs.

Click to enlarge
[FDRR Index methodology description]
FDRR Top 10 Holdings
As you can see in the table below, the majority of the top 10 holdings are from the technology and health care sector.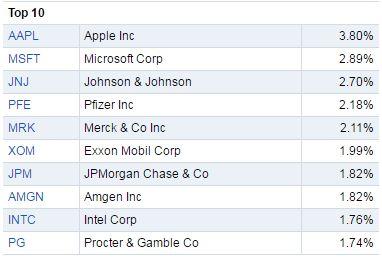 [FDRR Portfolio Snapshot]
FDRR Sector Weights
As I mentioned above technology and health care stocks comprise the majority of the top 10 holdings and this pattern holds true for the ETF as a whole.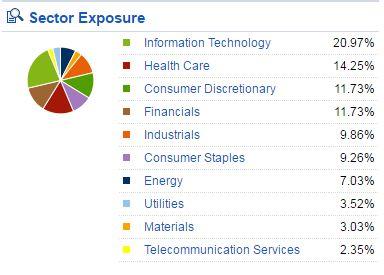 [FDRR Portfolio Snapshot]
Estimated Yield
Since FDRR is brand new, there is no information yet about how much the ETF will yield, which is an important piece of information that dividend investors will be looking for. Therefore, I took all the holdings and multiplied there weight by their corresponding dividend yield and in doing so found that the ETF should yield around 3.50%.
Competition
The closest direct competitor that specifically filters companies by how rising rates affects the underlying stocks is the PowerShares S&P 500 ex-Rate Sensitive Low Volatility Portfolio (NYSEARCA:XRLV). In addition to XRLV, FDRR will be going up against all other large popular dividend ETFs like the iShares Select Dividend ETF (NYSEARCA:DVY), the SPDR Dividend ETF (NYSEARCA:SDY) and the PowerShares S&P 500 High Dividend Low Volatility Portfolio ETF (NYSEARCA:SPHD).
While this is a short time horizon, the index that FDRR tracks has been available since August 1 st 2016. As you can see in the chart below the index FDRR .tracks, [Red line] has performed well since inception in comparison to its competition. This is important because during this period there were multiple days where the S&P 500 (NYSEARCA:SPY) was down big including the one day where the Dow (NYSEARCA:DIA) fell over 400 points due to concerns over rising interest rates.

Click to enlarge
[Google Finance]
Closing Thoughts
In closing, I believe FDRR is worthy of consideration because as part of the screening process FDRR takes into account correlation to 10-year treasury, which should help dampen potential losses if the market sells off due to an interest rate increase. In addition, if the yield is close to the 3.50% figure I calculated, it would be higher than the 2.35% yield for SDY, the 3.04% yield for DVY and slightly higher than the 3.46% for SPHD. This would make the ETF appealing for investors looking for income and less interest rate sensitivity from the income portion of their portfolio.
Disclaimer: See here.
Disclosure: I am/we are long FDRR.
I wrote this article myself, and it expresses my own opinions. I am not receiving compensation for it (other than from Seeking Alpha). I have no business relationship with any company whose stock is mentioned in this article.