The Amazon (NASDAQ:AMZN) Echo has captured the imagination of millions of consumers with its novelty, futuristic concept of a virtual assistant residing in your home and awaiting your commands. This has led many pundits to call the Echo the next big thing in technology and the dawning of a new era where services replace hardware, spelling doom for product companies like Apple (NASDAQ:AAPL).
In my article titled Don't Believe The Amazon Echo Hype, I expressed my skepticism about the product's concept and mass-market appeal. I wrote:
The next big thing in technology will expand on the success of the smartphone and its core concept of making technology more personal, mobile, and flexible. The Amazon Echo is not such a product as it goes exactly the opposite way and trades off the high value of mobility and flexibility for the low value of a more powerful speaker.
While many expect Apple to follow Amazon and Google (NASDAQ:GOOG) (NASDAQ:GOOGL) and develop its own connected speaker, the Cupertino company has already revealed a product which, similarly to the Echo and Google's Home, allows for listening to audio and interacting with a virtual assistant using voice commands but in a more personal and mobile way. Enter AirPods.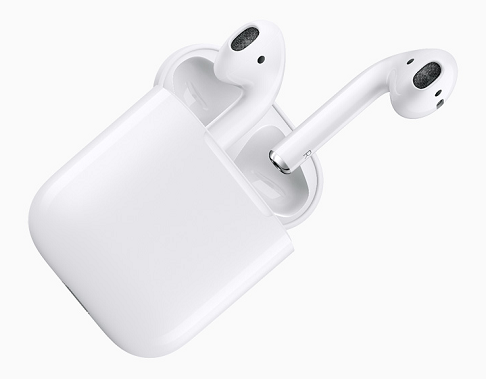 Source: Apple
Mobile product for a mobile world
AirPods are wireless headphones with ease of use, innovative user interface, and Siri controls. Apple leverages the fact that we are living in an increasingly mobile-centric world and introduces a product which, compared to the stationary concept of the Echo, better fits into the ecosystem of our multiple mobile devices accompanying us throughout the day. AirPods increase the value of these products, unlocking new use cases like turning a smartwatch into a highly portable and convenient music player, or allowing for semi-private interactions with a virtual assistant while your smartphone is in your pocket.
If Amazon Echo's virtual home assistant is an intriguing if niche proposition (there is a number of devices with a VA already present in our households), then taking it on the go in your ear with a connected mobile device allowing for additional inputs and outputs offers a truly mass-market potential. Here's TechCrunch:
After only a few days with Apple's wireless AirPod headphones, it's clear that there will be a huge platform business based on the reliable, persistent availability of a contextual artificial intelligence that can talk to you and receive commands.
Besides being mobile and offering mainstream use cases, AirPods have other hallmarks of a mass-market technology product - they are easy to use with automatic device pairing and switching, and have an innovative, surprisingly versatile user interface. To give you an example, to pause a song on your Apple device, you can double-tap either headphone and ask Siri, or simply remove AirPods from your ears to have the playback automatically paused thanks to built-in sensors.
A new wearable category
Competing devices from Samsung (OTC:SSNLF) and Bragi suggest that the current features and capabilities of AirPods are just the beginning. Samsung Gear IconX and Bragi Dash already support heart rate monitoring and have a built-in music player with own memory storage. Inevitably, more value will be added to wireless headphones over time, including additional sensors for health and fitness monitoring, GPS/mobile network connectivity, or a hearing aid.
We are therefore no longer talking about mere accessories, but a standalone wearable category. Similarly to the wrist, the ear is a natural place for technology allowing for features related to augmented reality, health and fitness, and fashion. This is a mass-market territory with great sales potential.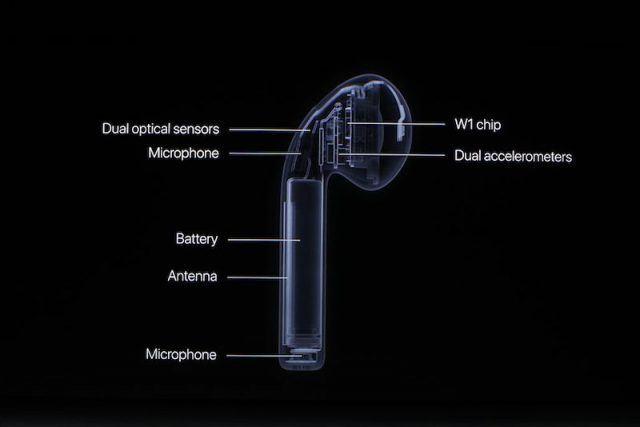 More than meets the eye. AirPods are Apple's smallest wearable product yet. Source: Apple
Hardware remains crucial
AirPods and the latest wearable platforms for the wrist and ears demonstrate the importance of hardware. For technology to become more personal, less visible, and at the same time have a greater impact on our lives, it actually takes more engineering expertise, innovation, and vertical integration in hardware. Not only that - with new wearable form factors, fashion and branding themes also enter the equation.
Notice the paradox here: Google is telling us the future will be device-less and found with services, while in reality the company continuously expands its hardware portfolio in order to build and control additional platforms for its services. The simple truth is that while services are important, you cannot have them without hardware. In such an environment, a company like Apple pushing the technology envelope with new, ever-smaller wearable products and integrating them into its software and services ecosystem is only going to thrive.
Estimating AirPods sales
AirPods' sales potential is enabled by these factors:
Apple's product ecosystem has over 1 billion active devices. If we focus just on the iPhone installed base as the most active and engaged user group, we have a potential market size of at least 550 million users.
The product's price of $159 is at the lower end of Apple's product range
The market for wireless headphones is more mature than it could seem. According to the NPD data from this past June, sales revenue from wireless headphones now exceeds the wired headphones segment in the US, with a 42% y/y growth in the first half of the year.
AirPods have a clear value proposition with attractive use cases appealing to the mass-market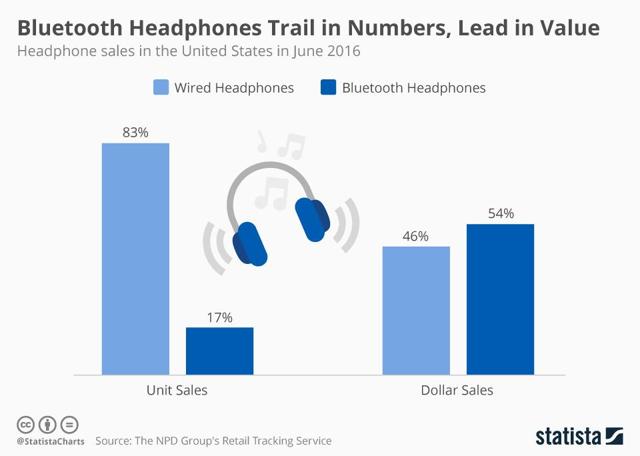 If we assume just 1% penetration of the iPhone installed base (less than for the more expensive Apple Watch targeting the yet immature smartwatch market), we would be looking at sales of 6 million units annually, bringing in revenue of nearly $1 billion. Gradual expansion of the product line to more affordable price points and higher-end products could then lead to sales which could rival the Apple Watch (CEO Tim Cook gave a hint at Apple's recent keynote that the Watch's 2015 revenue was between $2.5 and $4.7 billion).
Risks
There is little downside to AirPods as there are virtually no expectations regarding the product. Solid sales and development of the product into another wearable category can only lead to a positive surprise.
The $159 price point makes AirPods an attractive holiday gift so any near-term risks are to be found with insufficient supply in the upcoming holiday season. Another risk is the design of the first version of the product which can be divisive. Regarding fears over the wireless AirPods falling off customers' ears during sport activities and getting lost, I don't expect any 'Lostgate' based on the experience of users of the similarly-shaped wired EarPods.
Investor takeaway
AirPods' reveal occurred in the shadow of the big iPhone 7 and Apple Watch announcements but underestimating the product based on its current accessory status and current features and capabilities would be a mistake.
After the Apple Watch, AirPods is another wearable product from Apple which follows the company's successful concept of making technology more mobile, more personal, and more capable. Such an approach is the right one to build more value for the company's ecosystem and return Apple to growth.
Author's Note: If you have enjoyed reading my article and found its content valuable, please take five seconds to follow me by clicking the "Follow" button next to my name at the top of the page.
Disclosure: I/we have no positions in any stocks mentioned, and no plans to initiate any positions within the next 72 hours.
I wrote this article myself, and it expresses my own opinions. I am not receiving compensation for it (other than from Seeking Alpha). I have no business relationship with any company whose stock is mentioned in this article.
Additional disclosure: This is no recommendation to buy or sell securities as that carries with it very high risks. The information contained in this article is for informational purposes only and subject to change at any time. Do your own due diligence and consult with a licensed professional before making any investment decision.
Editor's Note: This article discusses one or more securities that do not trade on a major U.S. exchange. Please be aware of the risks associated with these stocks.