My approach to trading oil (USO) is 90% based on technicals and sentiment. I accept there are participants in the oil market with much more expertise and power than me. When I read the chart I try to understand what they have done, and are likely to do next.
I know many watch inventories and rig counts, and if that works for you, then kudos to you. When the EIA reported two unexpected drawdowns in a row in early September, many would have expected a rally. I would have too if I didn't read the technicals.
My fundamental analysis only attempts to set context for my technical analysis. I want to describe the market in words as well as in lines and patterns. What is the oil market doing now, and why?
Context
Oil is recovering from a bear market decline of -77%. A solid capitulation low in February spurred an initial recovery into a June high. This gave producers a chance to re-group, bring rigs back on line and hedge to ensure survival. This created selling in the market and a rise in supply, which in turn led to the current pullback and consolidation through July - September.
What I just described was the oil market in 2009. You could use the same passage, word for word (even the 77% decline) to describe the oil market in 2016.
Actually I pointed this out on 1st August at the lows, and 2009 has served as a very good guide. The updated chart from mid-August (shown below) suggested the market would not rally too far and to expect choppy consolidation throughout August and September.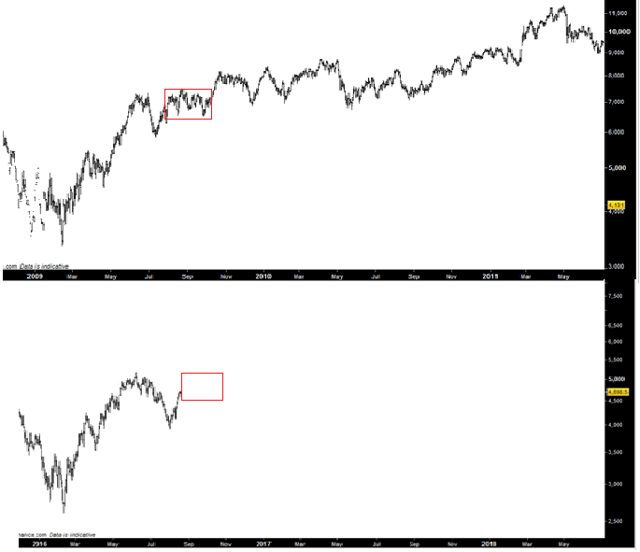 Click to enlarge
Pretty much what happened.
The key takeaway for me is not to bother too much with the noise of inventories and OPEC.
Once the overhead supply is diminished, oil should move higher in line with the 2009 guide. I am staying long.
Other Technicals
Oil is now resting on what appears to be an important trendline which marked the low on Friday 16th.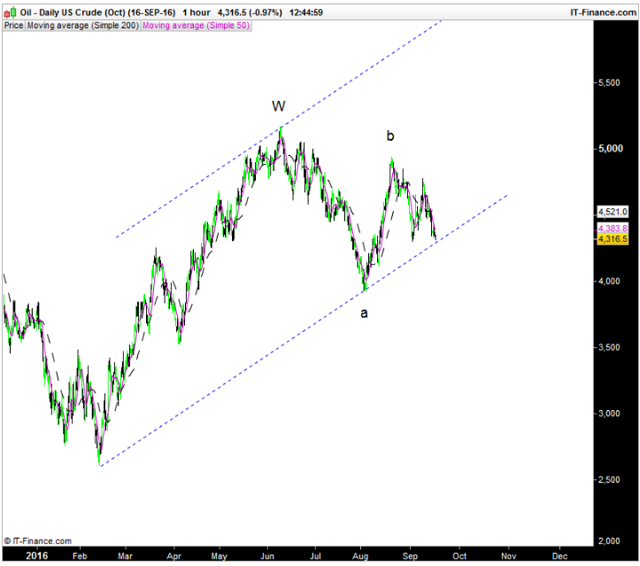 Click to enlarge
Technical traders such as myself noticed. and many will have bought here.
But trading is not as easy as joining two dots. Trendlines such as this often fail for two reasons. Firstly, it is too obvious and there will be liquidity (stops) below. Secondly, the trendline is not actually indicative of trend. At this point in time there is no channel and the line is only connecting two random points.
If you look closely at the 2009 price action you will see a very similar trendline, which can again act as a guide.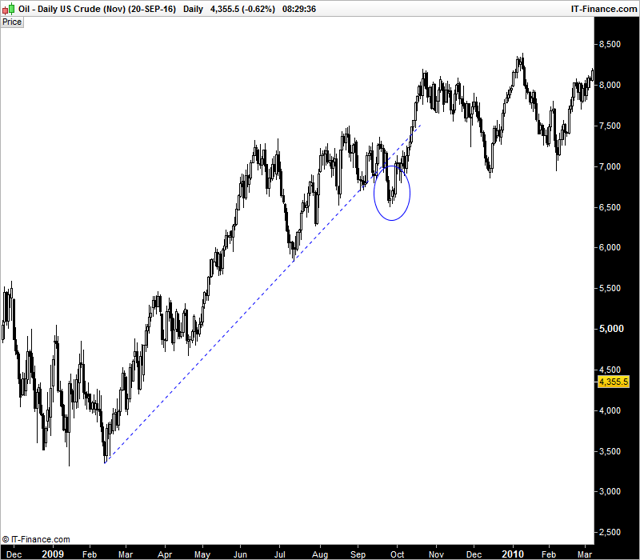 Click to enlarge
The trendline provided support on a number of occasions, but broke in late September. I imagine every successful test gathered in more and more weak longs and the break eventually stopped them out. Some may have even flipped short, but as you can see, this move marked the low for a number of years.
My point here is not to put too much importance on this trendline. The August low of $39 is much more important.
Another pattern forming is the inverse head and shoulders. It's quite a symmetrical and well formed pattern, although I prefer to have the neckline sloping downwards as part of a channel.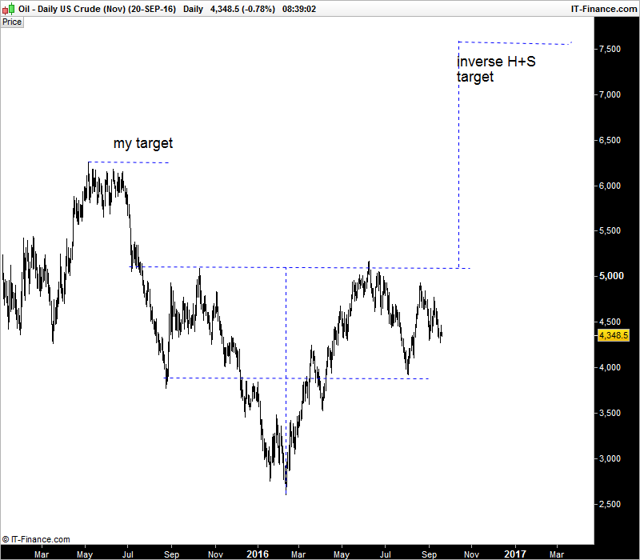 Click to enlarge
The pattern projects a target of $75 once active above $51. My target is more conservative at $62.5. I am merely including the chart here as a technical review would be incomplete without it.
Conclusions
Oil has been trading a range for the last few months and it has been hard to make sense of the price action or fundamental drivers such as supply and demand.
Technical analysis helped me buy the August lows and stay long, but only because I have stuck to a bigger picture view and tried to ignore the noise.
Oil is currently testing a trendline. This may seem important, but the probabilities of it holding are not too good. A break and sharp recovery is actually more bullish than a few small bounces. I will add to my longs if I see a short term capitulation move below $43.
My stops remain below $39.
Click "follow" by my name at the top of the article to receive updates and other trade ideas.
Follow me on Twitter - @elroytrader - for shorter term ideas and trade entries etc...
Disclosure: I/we have no positions in any stocks mentioned, and no plans to initiate any positions within the next 72 hours.
I wrote this article myself, and it expresses my own opinions. I am not receiving compensation for it (other than from Seeking Alpha). I have no business relationship with any company whose stock is mentioned in this article.
Additional disclosure: I am not long USO, but a CL futures contract with a UK broker. It rolls over each session for a cost of 1 pip. I also traded CL short term as detailed on my Twitter account.