By Parke Shall
A piece of the Ford (NYSE:F) puzzle that has not yet been put into place looks as though it may be on its way. Everybody knows that we have been for bulls for quite some time now, but the sell side has not had as overwhelming of an opinion as we have had.
This morning it looked as though the tide may be turning as Nomura published a bullish note on Ford with a buy and a price target of $14, citing many of the reasons we have been consistently bullish for quite some time. Here is part of what the Nomura note read, followed by our analysis,
Analyst Anindya Das commented, "Ford will retain its commanding share of the highly profitable US pickup truck segment, we believe, as it benefits, albeit slowly, from the recovering housing market. The company is poised to remain competitive in the fast growing and popular crossover segment on the strength of its highly recognized Explorer, Edge, and Escape models. The company's automotive finance business should continue to contribute a significant and steady source of group profits, leveraging Ford's US presence and we expect Ford's cumulative earnings in automotive markets outside North America to steadily improve. Finally, Ford stock offers a very attractive dividend yield, with a steady cash flow from the company's North American operations and a healthy automotive net cash position, helping to support future payouts. We expect Ford to pay out $0.75 per share in FY2017 (including supplemental dividends), yielding 6.2%, the highest among its peers."
We agree that Ford is the unprecedented leader in U.S. pickup trucks and that it will likely remain this way for some time.
Nomura is right that the dividend yield is impressive at this point and that is a product of the share price and PE multiples being compressed so low. The company definitely has the dividend coverage with its robust cash generation, so the dividend is going to stay the same in absolute amounts and the yield will go up anytime the price continues to fall. This is one reason we've stated on several occasions that we think Ford's cash generation and its capital return to shareholders could put a floor under the stock. At $12, if we are not close to that floor yet, we would be surprised.
Usually, these lines don't move in the same direction.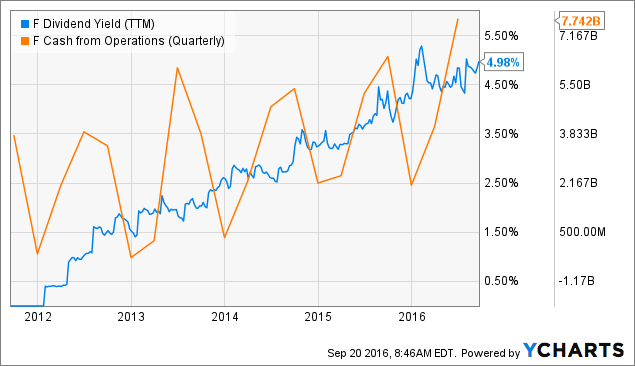 F Dividend Yield (NYSE:TTM) data by YCharts
There are still a couple of items that Nomura has really missed upon that we wanted to reiterate in light of their note this morning.
First off, the analyst misses a pretty cogent reason for the stock price going up. They allude to the business transforming and they alluded to these transformations helping the company diversify, but they don't point out that it is through business diversification that we believe the multiple can grow. Once investors see Ford as more than simply a production vehicle company, they are more likely to assign it a bit more aggressive of a multiple.
We have said in past articles that investors can short Credit Acceptance (NASDAQ:CACC) if they are worried about a bubble in auto lending. Shorting this loan originator will give investors a hedge in the event that the market or the auto market starts to pull back. In that case, we would expect that CACC would pull in much further than Ford would, and that the delta between the two names would increase the lower it goes, making it a attractive hedging strategy to us.
While the Nomura note makes light of the fact that Ford's in-house credit has been performing well, we are skeptical on giving either of the two US automakers credit for their credit divisions at this point in the shorter-term debt cycle. We think a lot of chickens are still set to come home and roost and we think auto loans will be in part and parcel with that party.
Another key point that Nomura missed is the company's growing international footprint. While it alludes to the business moving in the right direction, the fact of the matter is that diversification globally has been one of the key points to our bullish case for Ford. It creates a failsafe for the company in the event that certain parts of the globe experience economic crises and it takes a US brand and turns it into an international powerhouse with several legs to stand on. We won't repeat everything we said in our last article about how important it is that Europe is now profitable, but we will say that we hope to see these types of results in other major first world geographic locations in coming quarters for the company.
Our narrative has been one that we have been consistent with over the last year. It is only now, with the share price moving this low and with a valuation moving this low that sell side analysts are finally potentially starting to come around on the name. While we have stayed in the name from over $17 and will continue to stay in the name specifically for the dividends and because we believe the company is rock solid to the core, it is just now probably coming across the screen of lots of quantitative analysts who are looking for a cash rich quality company at a low earnings multiple. In that regard, we have to believe Ford is setting off some alarm bells.
We hope additional sell side analysts undertake the same tasks as Nomura because we believe they will have no choice but to draw the same conclusions. In the event that the sell side starts to come around on the company, we could see price expansion and a little multiple expansion which would in turn lower the dividend yield. Buying here locks in the almost 6% dividend yield, as Nomura states, and we will be buying more Ford to add to our long position if it keeps falling.
Disclosure: I am/we are long F.
I wrote this article myself, and it expresses my own opinions. I am not receiving compensation for it (other than from Seeking Alpha). I have no business relationship with any company whose stock is mentioned in this article.