The time has come for an incredibly important meeting: The September FOMC. However, the next seven days are quite hectic as the Bank of Japan is trying to increase their yield curve and OPEC is having a meeting with other producers regarding production caps. Thus, opportunities in gold, notably the SPDR Gold Trust ETF (NYSEARCA:GLD), iShares Gold Trust ETF (NYSEARCA:IAU), as well as 3x leveraged counterparts (NYSEARCA:DUST) and (NYSEARCA:NUGT) may be present. I believe the aggregate effect from all three of these meetings is that the price of gold will be higher after September 28th than it is right now.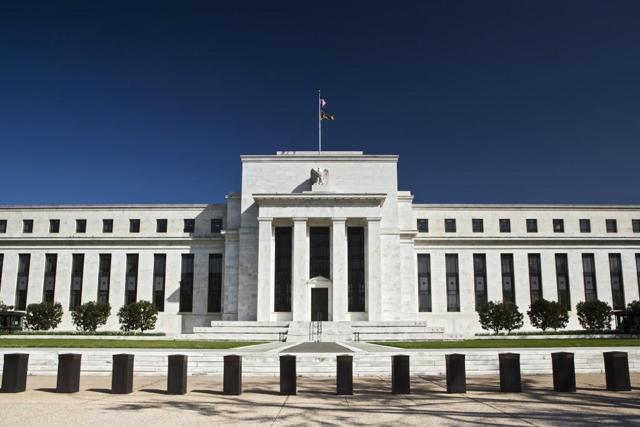 Click to enlarge
Source: PBS
Bank of Japan
The Bank of Japan is meeting today and tomorrow, where they will be discussing whether or not to increase the amount of negative interest rate bond buying. Japan, as a reminder, is the largest negative yield issuer in the global fixed income market and is trying to spur growth to hit an inflation target, quite similar to the American Fed.
The moral of this story is that the Japanese yield curve is an ugly sight for yield-seeking eyes. Several things could happen in this meeting. The BoJ could increase their bond buying program, could leave policy unchanged, or they could send rates even more negative, potentially causing the Japanese 10-year to head into negative territory.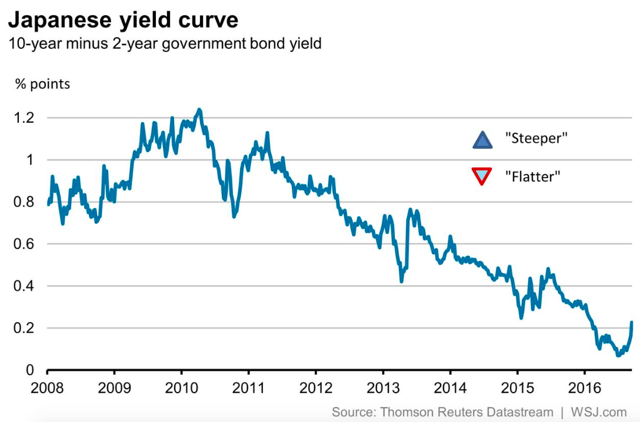 Click to enlarge
Source: WSJ
The Nikkei 225, as a proxy, has been heavily volatile since global equity market touched lows in early February, so traders are looking to see if the index will break out of its 500 point trading range, between 16,500 and 17,000. The Nikkei 225 is currently not oversold and momentum seems to be minimal according to MACD, seen below.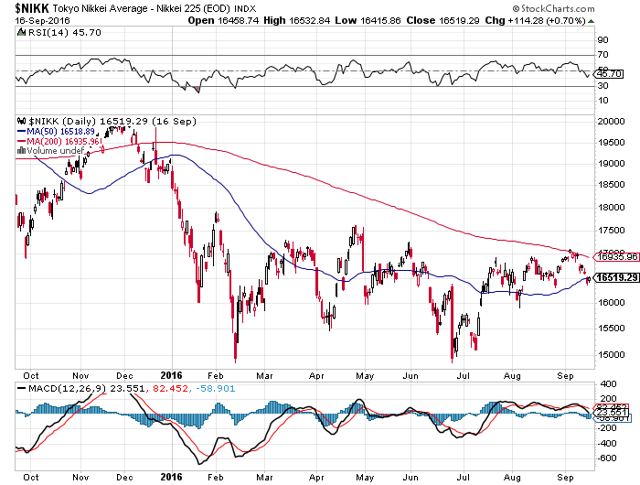 Click to enlarge
Source: StockCharts
There's no clear cut indication as to what the BoJ will do. If yields are sent further into negative territory, gold may see an increase, making GLD, IAU, and NUGT strong investments. However, if they attempt to heighten the yield curve, then DUST is going to see intraday efficacy. I'm now factoring in the BoJ to have the largest shock potential to the market.
Conflicting Data Makes September Meeting Interesting
At Jackson Hole, Fed Chair Janet Yellen said "I believe the case for an increase in the federal funds rate has strengthened in recent months." With the market at all-time highs and valuations also significantly high, she may have an excellent point. The housing market is producing strong returns, sentiment is building, and commodities did see a summer increase.
However, I'm not so sure the forward outlook for a rate increase is that positive given the Q4 outlook for base metals and crude oil, the housing starts report this morning fell below expectations, and negative interest rates across the globe are causing investor panic, most notably in the credit markets. On the other hand, if the Fed doesn't raise rates soon, they'll have lost a significant amount of credibility and global markets may stop pricing in the Fed's actions to the extent that they do right now.
The market probability of an interest rate increase is relatively low in light of the December data. Both projections are available via the CME Group's website, currently indicating that December is the more realistic month to raise rates. In fact, the probability to raise rates in September is only 15%.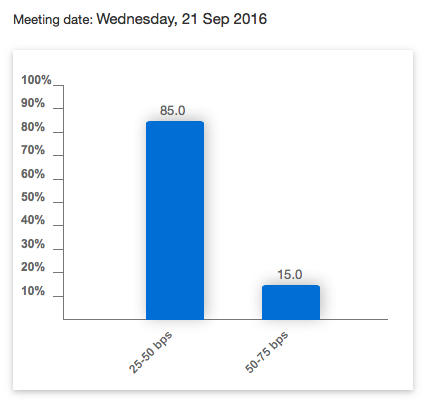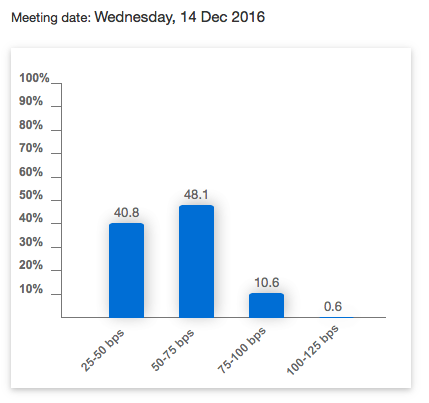 Source: CME Group
I think it's crucial to note that only two out of the twenty-three primary dealers expect interest rates to be raised today. Based upon the probabilities and expectations of primary dealers, it would follow suit that an investment in gold is a smart idea. This operates off of the logic that an increase in interest rates is a bullish outlook on the American economy, thus spurring investment in equities and out of safe havens, like gold.
When the FOMC actually makes its announcement this week on whether interest rates will be raised or not, the 3x levered ETFS, DUST and NUGT, will move materially. Based upon the current probabilities showing that raised rates won't occur, it's best to take a position in NUGT as gold miners will see support. If the risk associated with this ETF is too high, I suggest that investors take a look at gold miners Barrick (NYSE:ABX), which has significantly delevered in the LTM, or Newmont Mining (NYSE:NEM), who has a more diversified growth profile.
OPEC Meeting
To cap it all off, no pun intended, we have an OPEC meeting starting on Monday and running through next Wednesday. This meeting is aptly positioned such that gold traders will have time to digest the BoJ's meeting and the FOMC this week and place bets over the weekend on how OPEC might handle the supply glut hitting crude again. Crude was supposed to materially appreciate YOY, however black gold is at about the same level at this time.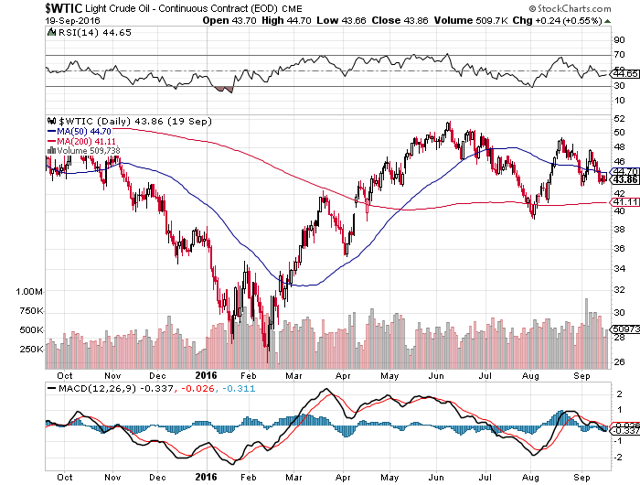 Click to enlarge
Source: StockCharts
If OPEC and Russia can agree to a production cap, albeit at all-time highs, the market will gain a significant support level at the current price of $43/barrel. With downside inherently limited from that point, it would cause investors to be bullish on the crude oil market, so we'd likely see net outflows from gold and into crude-related securities. However, talk is cheap and coming to a freeze deal is a difficult feat to pull off, with the Doha meeting earlier this year as a precedent.
Personally, I do not have faith in OPEC to come to an agreement, so I largely see initial downside for crude oil and an initial increase in the price of gold. In this case, NUGT becomes a viable instrument, as do GLD and IAU.
Below, you can see how mixed the sentiment is as traders are not risking it all in either direction and are instead predicting that crude oil will continue to trade within a range, notably $40 to $50 over the next couple of months. Monitoring the ratio of short to long positions will be crucial towards the correct trade in a gold-related security.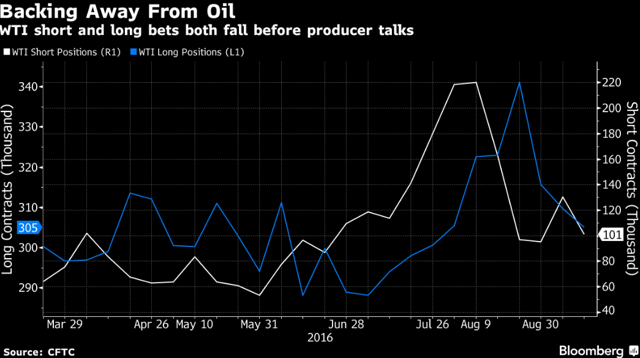 Click to enlarge
Source: Bloomberg
Conclusion
How confident are you that the Fed will raise interest rates at this point in time? Being on the safe side would mean that you're long gold because you don't believe the Fed will raise rates. On the other hand, a wildcard could be thrown into the mix and cause gold to fall heavily. Fortunately, there are two other events to move the price of gold over the next seven days, should one trade go sour, as the Bank of Japan is looking to get a grip on negative interest rates and OPEC is looking to increase the price of crude significantly.
Disclosure: I am/we are long DUST, GLD, ABX.
I wrote this article myself, and it expresses my own opinions. I am not receiving compensation for it (other than from Seeking Alpha). I have no business relationship with any company whose stock is mentioned in this article.
Additional disclosure: Day trading DUST and GLD, long ABX on a much longer time frame