Note: This report was originally published on August 22, 2016.
As markets continue to reach all-time highs, market top calls are becoming louder and louder. This behavior is not uncommon as the market climbs the proverbial wall of worry. But most investors forget that there is a huge amount of stimulus making the stock market churn higher. This stimulus, however, is not from the Federal Reserve or central banks.
Corporations provide stimulus to the markets through activities like buybacks and M&A activity. Buybacks, in particular, provide support for the market when things get choppy. You can see evidence from the beginning of the year. The market volatility in January and February scared away a lot of investor capital - but not corporations. S&P 500 Index companies repurchased over $165 billion in stock in the first quarter. It was the strongest quarter for share repurchases since 2007 and ranks second in history.
Buybacks help stocks in two ways. Reducing the number of shares outstanding improves earnings per share. Share repurchases can also signal that a company deems its stock undervalued while increased buying can push prices higher.
While buybacks typically peak at the end of a market cycle, several factors lead us to believe repurchases can still go higher from here. For starters, S&P 500 companies' corporate cash levels are at an all-time high of $1.3 trillion, so firms are well positioned to continue their strategy of driving shareholder value through buybacks.
Corporations also do not appear ready to use that cash for capital spending purposes. Capacity utilization rates still have room to rise, which means the most likely use of capital will be for more shareholder-friendly actions. Secondly, the corporate bond market continues to have a thirst for yield thus raising additional capital should not be an issue.
Exhibit 1: S&P 500 Earnings Yield Vs. Corporate Bond Yield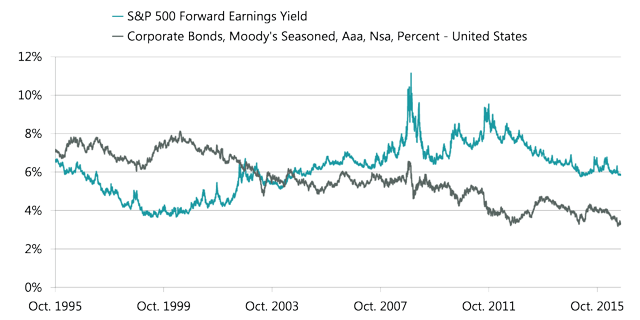 Click to enlarge
Earnings yield represents forward earnings based on consensus earnings estimates for current and next year divided by S&P 500 stock price index. Source: FactSet.
More importantly, companies have an incentive to buy as long as the forward earnings yield of their stocks exceeds their after-tax borrowing cost. The forward earnings yield of the S&P 500 Index was 5.9% as of the end of July (Exhibit 1). The after-tax cost of borrowing is a little harder to determine but we estimate it to be below 4%. Historically, this is a huge spread. As long as this spread persists, and corporations continue to minimize capital spending, elevated levels of buybacks should push stock prices higher.
Disclosure: I/we have no positions in any stocks mentioned, and no plans to initiate any positions within the next 72 hours.
I wrote this article myself, and it expresses my own opinions. I am not receiving compensation for it. I have no business relationship with any company whose stock is mentioned in this article.
Additional disclosure: All opinions and data included in this commentary are as of August 22, 2016 and are subject to change. The opinions and views expressed herein are of Jeffrey Schulze, may differ from the firm as a whole, and are not intended to be a forecast of future events, a guarantee of future results or investment advice. This information should not be used as the sole basis to make any investment decision. The statistics have been obtained from sources believed to be reliable, but the accuracy and completeness of this information cannot be guaranteed. Neither ClearBridge Investments nor its information providers are responsible for any damages or losses arising from any use of this information. Past performance is no guarantee of future results.