By Parke Shall
Yesterday, we wrote an article about MGT (NYSEMKT:MGT) claiming that the SEC subpoena news, while obviously not being a huge positive for the company, could go either way (i.e. sometimes subpoenas are issued and no action is taken). This morning's disclosure that the NYSE has prevented MGT from issuing the shares necessary to make a potential acquisition it has been planning on for months is not a good sign. Together, the two paint a dreary picture for the stock, at least for the coming months while all of these issues are sorted out.
The truth of the matter is that companies get subpoenas for all different reasons. Generally when a company receives an SEC subpoena it is not good news for the company. On rare occasions, however, the SEC will subpoena a company and not take action against them. During our write up yesterday, we tried to be as balanced as possible and let shareholders and potential investors understand the two roads that the SEC are likely to go down when they issue a subpoena. We noted that it would take several months, but usually the SEC winds up sending a either a Wells Notice (an intent to sue to the company) or an all clear to the company after it has reviewed all of the documentation it has requested.
While bears of the company seem to have the momentum in their favor with the news of this SEC subpoena, in poker we would say that bulls still have an "out" because occasionally the subpoenas end with findings of no wrongdoing.
But today's news twists that knife a little bit further. We had written in the past that MGT shareholders should use the rights that are afforded to them at the annual general meeting and reconsider the issuance of such an extraordinary amount of shares to acquire a development stage company that is arguably worth considerably less than what they're paying. We urged to investors and shareholders to take a second look and to perhaps consider this prior to the shareholder vote.
Others have also been critical of this potential acquisition, but all signs continued to point to it happening up until this morning. So what does today's announcement of the NYSE stopping the share issuance mean for MGT shareholders?
First, and most obviously, it is proof that these regulators seem to be communicating with one another and working with one another. We do not think it is a coincidence that the SEC issued a subpoena and the NYSE halted the company from issuing shares a day later. Whether one was done in reaction to the other is certainly possible, but we're fairly certain that these two regulatory agencies are in communication with one another and until they are both satisfied that shareholders are being protected and that no wrongdoing is taking place, it doesn't look as though either of these clouds will part ways anytime soon. It also wouldn't surprise us to learn that other regulators are looking into the business.
Two, it means that the business plan proposed for the time being is not likely to move forward. A lot of MGT's business plan was them working to roll up several other companies and build a business from that. If the company cannot issue shares to buy companies, there really isn't a business plan. The fact is that the company needs to issue shares, whether it is simply for funding the company or for acquisitions. If the company cannot do either of those things, it has no source of revenue and therefore no source of cash.
Finally, if there is one good thing to take out of this for shareholders, it is that if the company survives it may rethink this acquisition which again we have argued is not a good acquisition for shareholder value. This would only be a small modest positive in a sea of negative at this point for the company and the market's reaction today is very telling.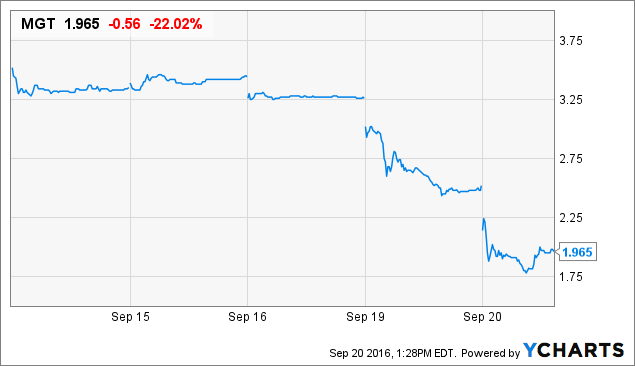 MGT Price data by YCharts
In our article yesterday, we raised the possibility of simply waiting on the sidelines and avoiding MGT to either the long or the short side until the smoke clears. We've tried to look at both sides of the coin with MGT.
Until we see what regulators do, and we get a clear vision for what the company's business plan is going to be moving forward, it's tough to consider an investment. Without getting into the details of the CEOs personal life, we believe there are numerous issues that need to be sorted out before this company can become investable for anybody, even those looking for the most speculative of bets.
We will continue to watch for further developments in this case and will try to issue balanced updates with an outlook on the future moving forward. For now, we'd avoid MGT.
Disclosure: I/we have no positions in any stocks mentioned, and no plans to initiate any positions within the next 72 hours.
I wrote this article myself, and it expresses my own opinions. I am not receiving compensation for it (other than from Seeking Alpha). I have no business relationship with any company whose stock is mentioned in this article.
Editor's Note: This article covers one or more stocks trading at less than $1 per share and/or with less than a $100 million market cap. Please be aware of the risks associated with these stocks.