Welcome to the Superlative issue of M&A Daily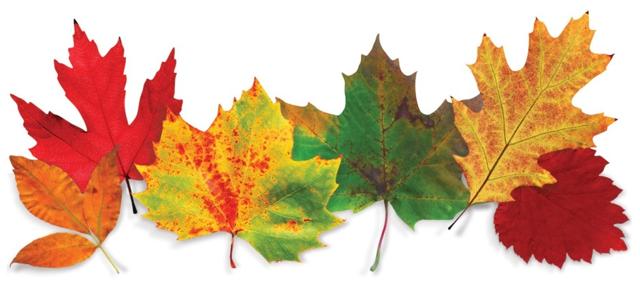 Autumn begins this week and the fourth quarter is right around the corner. No matter how well this year has gone so far, I reject any impulse to go into a prevent defense. Instead, here are some of my top picks for beating the S&P 500 (NYSEARCA:SPY) in 2016's final quarter.
Currency
My top currency pick is BTC - up by about 267% over the past twelve months, but with more to go in Q4. You can get $10 off here.
Country
My top country market is Russia. With an average dividend yield over 4%, trading at 0.8x book, and a CAPE of 4.9, Russia, for all its faults, is a bargain. One might get Russian exposure via EOS Russia or shorting the Direxion Daily Russia Bear 3X Shares (RUSS).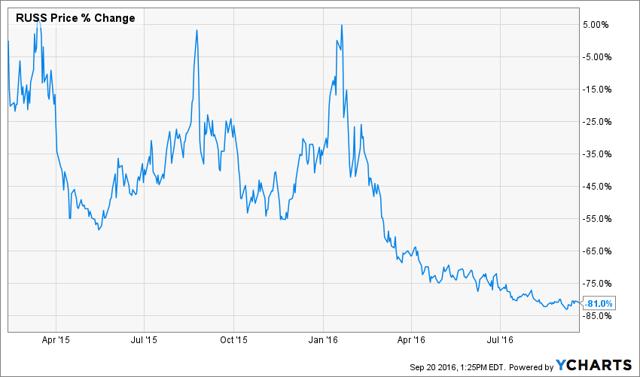 Click to enlarge
Arbitrage
In terms of definitive arbitrage targets, I like Syngenta (NYSE:SYT). It was a great opportunity before CFIUS approval, but remains a good one today.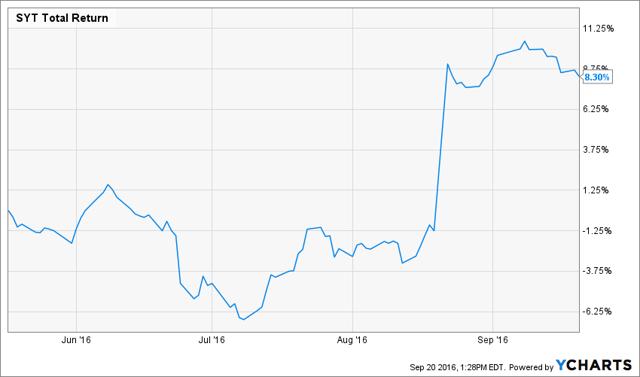 Click to enlarge
The $6.80 arb spread offers a 25% IRR if the deal closes by year-end.
Takeover candidate
Among the takeover candidates, my favorite is Depomed (NASDAQ:DEPO). I still believe what I wrote in June,
This is a deeply undervalued, poorly defended company with a highly convincing activist working to maximize value. There are many ways to win.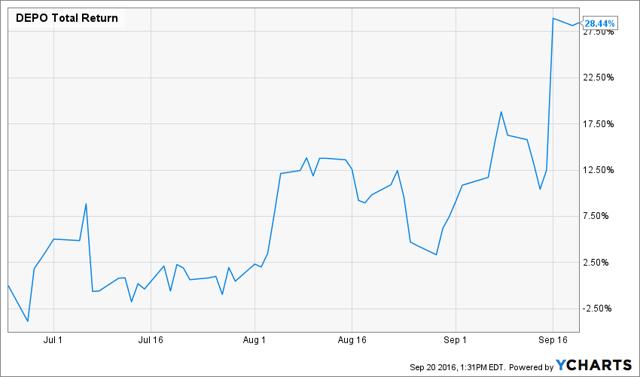 Click to enlarge
Gold
What are my thoughts on gold? It is better to own a lot of it than to not own a lot of it. If you want exposure to gold, I quite like Gold Reserve (OTC:GDRZF).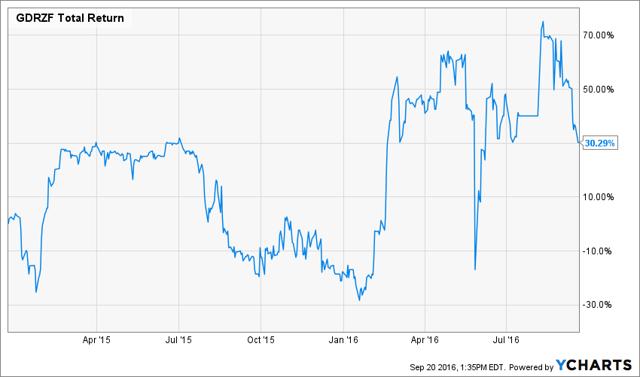 Click to enlarge
In the coming quarter, we will see if the legal settlement with Venezuela is worth the paper it is written on… A worse counterparty would be hard to find but the upside is pretty spectacular.
Baseball
The 64-98 Braves (NASDAQ:BATRK), of course. They are currently the third worst MLB team, with plenty of room for mean reversion. Meanwhile, other MLB teams have been getting strong valuations. Either successful real estate development or a better team could substantially increase its value.
White House
In terms of preference, I'm with nobody; in terms of prediction: I'm with her. It is far from a sure thing - Hillary is at 59.5% on FiveThirtyEight, up 1.3% in the 2-way and up 1.1% in the 4-way polls on RealClear Politics. Want to place a bet? You can do so on Predict It. You can get $50 matched using promo code "STW50."
The CFTC capped individual bets at $850. But if you want to scale it up somewhat (I did), you can make three nearly indistinguishable bets: on Clinton, the Democrat, and a woman getting elected U.S. President in 2016 for a total of over $2,500. While the polling numbers are currently showing some modest drama, things are clearer in the electoral college. Adding up all of the states where Trump has ever led still show him short by a state or so.
Short
Bubbles burst. The current bubble is in the long bond. Buy a house and take out a big mortgage. Rates are incredibly low and you buy a lot of house relative to renting. Short the Direxion Daily 30-year Treasury Bull 3x shares (NYSEARCA:TMF). It has fallen a bit recently, but could fall much, much further.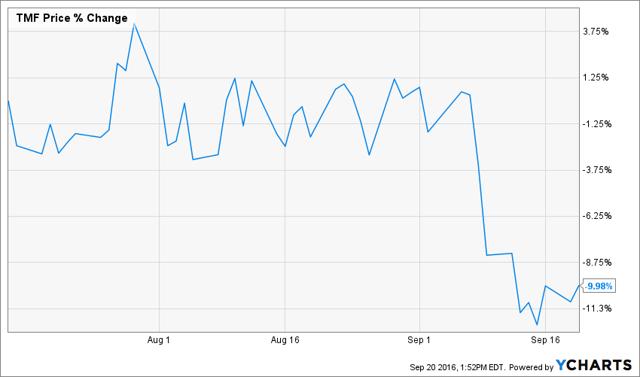 Click to enlarge
Onto our regular programming…
Tobira
Allergan (NYSE:AGN) is buying Tobira (NASDAQ:TBRA) in a deal worth as much as $1.695 billion. TBRA holders get $28.35 in cash and a CVR worth as much as $49.84. The target is working with Centerview and Citi (NYSE:C).
DTS
Tessera (NASDAQ:TSRA) is buying DTS (NASDAQ:DTSI) in a $783 million cash deal. DTS holders get $42.50 per share.
Alere
The first proxy amendment was filed for the Abbot (NYSE:ABT) acquisition of Alere (NYSE:ALR). The $12.79 arb spread offers a 99% IRR if the deal closes this year on original terms. However, even if the deal gets done in some form, it is most likely going to be recut first.
Technip
The first S-4 amendment was filed for the FMC (NYSE:FTI) acquisition of Technip (OTCQX:TKPPY).
AVG
The CFIUS waiting period is set to expire today for the Avast acquisition of AVG (NYSE:AVG).
Hewlett Packard Enterprise
The European Commission approved the Computer Sciences (NYSE:CSC) deal with Hewlett Packard Enterprise (NYSE:HPE).
Morgans
Morgans (NASDAQ:MHGC) filed an update on its engagement with Bidder 5. They asked the suitor to submit a final proposal no later than September 21. More to come in future editions of M&A Daily…
Done deal.
Elsewhere on Seeking Alpha
Sifting the World
Disclosure: I am/we are long ALR, DEPO, HPE, MHGC, SYT, GDRZF, BATRK, BNCC.
I wrote this article myself, and it expresses my own opinions. I am not receiving compensation for it (other than from Seeking Alpha). I have no business relationship with any company whose stock is mentioned in this article.
Additional disclosure: Chris DeMuth Jr and Andrew Walker are portfolio managers at Rangeley Capital. We invest with a margin of safety by buying securities at discounts to their intrinsic value and unlocking that value through corporate events. To maximize returns for our investors, we reserve the right to make investment decisions regarding any security without notification except where notification is required by law. We manage diversified portfolios with a multi-year time horizon. Positions disclosed in articles may vary in sizing, hedges, and place within the capital structure. Disclosed ideas are related to a specific price, value, and time. If any of these attributes change, then the position might change (and probably will).
Editor's Note: This article discusses one or more securities that do not trade on a major U.S. exchange. Please be aware of the risks associated with these stocks.