GoPro (NASDAQ:GPRO) announced a slate of new products yesterday, 9/19, including the highly anticipated Karma drone. The stock soared into those product launches, and that was an excellent profit-taking opportunity as the stock went above our $16 fair value. The stock has since tumbled, and we are buying back today what we sold before the announcement yesterday. Investors disappointed with the hardware product launches seem to be misunderstanding the real winning component of Monday's announcement: GPRO is finally developing a moat with its software products by creating an end-to-end user experience.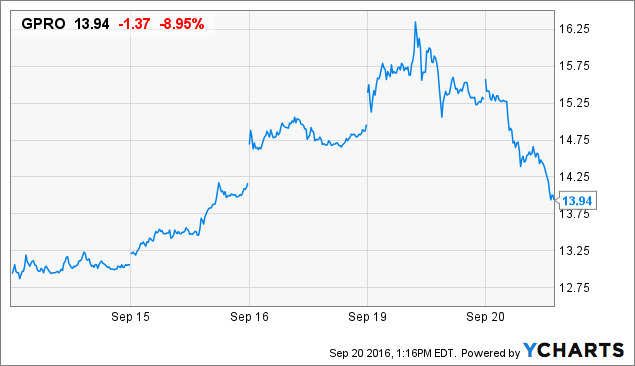 GPRO Price data by YCharts
We thought the hardware product launches were largely as expected. The Hero5 Black features GPS, a touchscreen, video stabilization, water-proofing, voice control, 4K video, and 12 megapixel photo-taking capabilities. These are solid upgrades, but nothing significantly distinct from what is currently on the market. Garmin's (NASDAQ:GRMN) new VIRB Ultra 30 action cam is also voice controlled, while Nikon's new action cam is more waterproof than the Hero5 Black (out of box without housing). Perhaps the lack of competitive advantages, though, is reflected in the lower price-point, as the camera is listed at $399, much lower than what we had anticipated. The low price-point should help it sell better over the next several months. It should also be noted that voice-control and water-proof upgrades across several products will likely cause general market growth, not intense sales competition, and we see most action cameras putting up big sales numbers this Holiday season.
The Karma drone was also largely as expected. It's a staple GPRO product with lots of portability, versatility, and durability. While it looks somewhat distinct on those fronts, the drone field is highly competitive with relatively low barriers to entry. Then again, so is the action camera market, and GPRO has managed to rise to the top of that low-moat industry. We think GPRO's brand power will create strong demand for the Karma, but otherwise believe the product isn't terribly different than current consumer drone offerings.
The real winning component of Monday's announcement was GPRO's software side of the house. It finally appears as though GPRO is developing some semblance of a moat beyond its brand power, and that moat comes in the form of a beefed-up ecosystem. GPRO launched GoPro Plus on Monday, a $4.99 cloud sub service that allows users to seamlessly upload footage from their camera to the cloud, where they can subsequently edit the footage using GoPro's suite of mobile and desktop editing apps. This means GPRO has created a seamless, end-to-end photo capture and display experience. This is important because content is more than just captured on a camera. It also needs to be offloaded, managed, edited, and displayed. GPRO is attempting to control this entire process, from the capture of content with the action camera to the transfer of content with cloud uploads to the management and display of content with photo editing apps. We currently view this as GPRO's distinguishing value prop to consumers, and believe a beefed-up ecosystem will drive better-than-expected 2016 Holiday sales.
We aren't sure where this stock will head before its next ER, which is due towards the end of October. We do think, though, that the stock is materially undervalued on a normalized basis. We also believe there will be strong early demand for both the Karma and Hero5 Black, largely pushed by a unique end-to-end user experience. We like the value and the story here, and will look for the stock to approach $16 before we consider selling again.
Disclosure: I am/we are long GPRO.
I wrote this article myself, and it expresses my own opinions. I am not receiving compensation for it (other than from Seeking Alpha). I have no business relationship with any company whose stock is mentioned in this article.