Given the rising costs of medicine, pharmaceutical companies have entered the public consciousness. Presidential hopeful Hillary Clinton has vowed to go after companies engaging in price-gouging, and Valeant (NYSE:VRX), Gilead (NASDAQ:GILD) and Mylan (NASDAQ:MYL) are in the middle of the debate. Not only is Valeant at risk for a decline in pricing power, but the company remains the full employment client - it keeps getting sued. Valeant is under investigation by the FBI, which could lead to criminal prosecution. T. Rowe Price (NASDAQ:TROW) has sued the company for securities fraud and the New York Police Department labor union accused Valeant of overcharging for drugs.
While the lawsuits pile up, the company's legal fees could mount and dampen Valeant's ability to divest certain units in order to pare debt. Despite these issues and the company's unproven strategy of maximizing cash flow, the market has awarded VRX with a $9.6 billion market capitalization. VRX trades on sentiment and what the last sucker paid. However, it's only worth $11.
Valeant Is Worth $11
Based on a bottom-up analysis, VRX is worth $11, or 60% less than its current value of $27. Below are the details.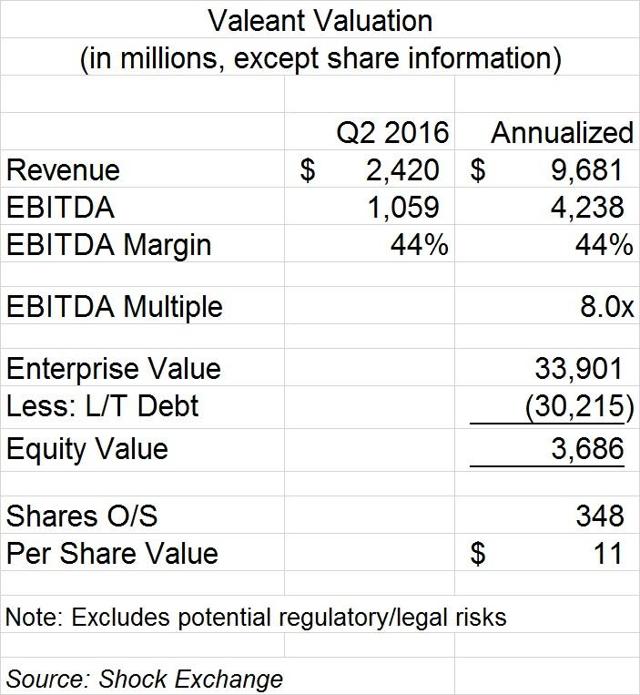 Click to enlarge
Revenue, EBITDA
Run-rate revenue and EBITDA are Q2 revenue and EBITDA annualized. After dropping Philidor - which previously represented about 6% of total revenue - and cutting prices for certain of its heart drugs, the world has changed for Valeant. Its ability to generate top line growth through acquisitions has been stymied for now. Q2 revenue and EBITDA could be a high watermark; I expect revenue and EBITDA to slide further.
Enterprise Value
I would not consider Valeant a biotech company in the traditional sense. Its R&D is about 5% of revenue and it has traditionally been a serial acquirer of brands. Secondly, an 8.0x EBITDA multiple is appropriate for valuing a no growth company like Valeant. At 8.0x run rate EBITDA, Valeant has an enterprise value of $33.9 billion. Its cash balance and net debt could be negatively impacted if any of its pending lawsuits result in sizable payments to plaintiffs.
Equity Value
After subtracting net debt of $30.2 billion, Valeant's equity value would be about $3.6 billion, or $11 per share. Its large debt load negatively impacts its equity value.
Per Share Price
Assuming 348 million shares outstanding (per Yahoo!), VRX would be worth about $11 per share.
Conclusion
Longs like to point to Valeant's prodigious cash flow and the likelihood the company will not go bankrupt. There is a huge gap between "not going bankrupt" and $27 per share. Based on a bottom-up analysis, VRX is worth $11. Investors should avoid the stock.
Disclosure: I am/we are short VRX.
I wrote this article myself, and it expresses my own opinions. I am not receiving compensation for it. I have no business relationship with any company whose stock is mentioned in this article.