Last month, I previewed the anticipated dividend raise coming from technology giant Microsoft (NASDAQ:MSFT). Given the company's pending acquisition of LinkedIn (NYSE:LNKD), I believed investors might not see as much of an increase as in previous years, and that turned out to be the case. While Microsoft did increase its dividend on Tuesday, and also hiked its buyback, investors might have been hoping for just a little bit more.
The company's board of directors announced a 3-cent quarterly increase to $0.39 a share, the low end of my prediction range. This represented an increase of 8.33%, about half of last year's percentage hike, and Microsoft's lowest percentage increase since the financial crisis. The chart below shows Microsoft's dividend history since 2005.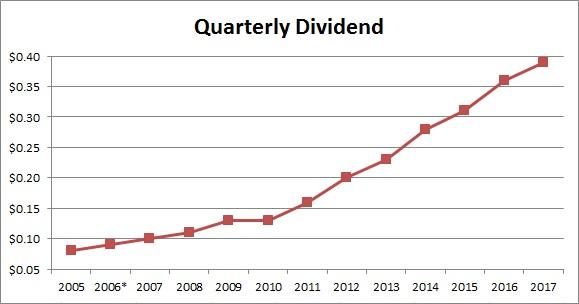 *According to Microsoft's dividend history, the first payment in fiscal 2006 was $0.08 before rising to $0.09 for the final three payments. The chart above uses the $0.09 figure for fiscal 2006. Year above represents the year in which a majority of payments will be.
In the comments to my dividend prediction article, it seemed like the consensus was 40 cents or even a little more, so perhaps some investors were disappointed. Additionally, because of the rise in the stock since last year's raise, the annual yield is a bit lower than we saw a year ago. In fact, just a few days after last year's increase, Microsoft shares yielded 3.31%, and that was almost 40 basis points above the 30-Year US Treasury. Even with the dividend increase Tuesday, Microsoft yields just 2.75% currently, and that's only 32 basis points above the 30-Year. In fact, if you exclude Apple (NASDAQ:AAPL), Microsoft's annual yield is below that of peers Intel (NASDAQ:INTC), Cisco Systems (NASDAQ:CSCO) and IBM (NYSE:IBM), as seen below. That gap could widen in a few months when Intel is expected to hike its payout.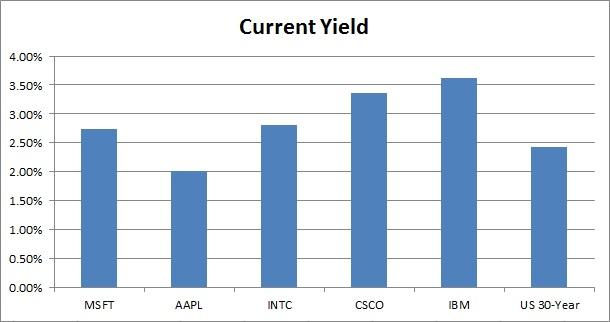 When Microsoft took out almost $20 billion in debt to fund the LinkedIn purchase in August, the weighted average interest rate was 2.68%, just below the stock's current yield. More debt is likely needed to fund the $26 billion purchase, expected to be completed later this year, and US rates have risen since that debt deal. With more debt on the balance sheet, and perhaps a Fed rate hike coming, the overall interest cost for the LinkedIn deal will likely equal or even top that of Microsoft's dividend yield.
What's the big deal about interest expenses? Well, like Apple and other tech peers, a significant portion of Microsoft's cash is located outside the US, unable to be used for dividends or buybacks without repatriation. In fact, Microsoft had just a few billion in US cash on the balance sheet each quarter, meaning buybacks are mostly funded through debt. With interest rates rising and the stock's dividend yield not increasing that much, Microsoft might not realize much of a cash flow savings by repurchasing shares that yield more than the cost of debt. In fact, there's a chance that buybacks could cost more And don't forget this buyback first has to offset dilution from executive compensation, which could rise after the LinkedIn deal given that company's high stock-based compensation expenses.
That gets me to the announcement of the $40 billion buyback. While it is nice that Microsoft is rewarding its shareholders, no time frame was given for this plan. It could take three years like the last $40 billion plan, or it could take 5-10 years if buybacks slow down. That's why the amount isn't necessarily the important part but the timing or pace of the program. Don't forget that Microsoft shares are up about 30% over where they were a year ago, so $40 billion isn't as impactful on the overall situation as it was then (and even less so than when the last $40 billion was announced in 2013 with shares in the low to mid $30s). Look at the rally below.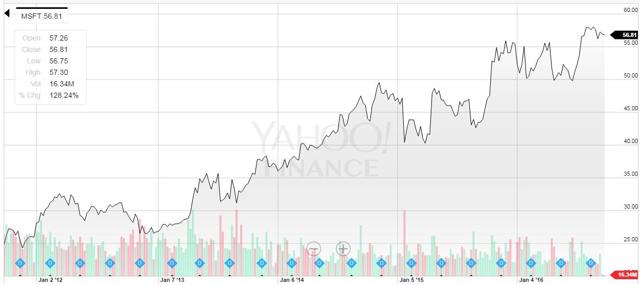 Click to enlarge
(Source: Yahoo! Finance)
In the company's most recent 10-K filing, Microsoft detailed almost $16 billion in share repurchases for the fiscal year ending June 30, 2016. In Tuesday's announcement, the company affirmed its plan to finish the current buyback by the end of calendar 2016, of which $7.1 billion was left as of June 30th. However, if the company doesn't purchase almost $8 billion in the second half of 2016, it will represent a slowdown of the buyback, and again these purchases will come at a higher price and perhaps a lower dividend yield.
While Microsoft did announce a dividend raise and new buyback program on Tuesday, investors may not be fully satisfied. The dividend hike was the company's smallest percentage increase since the financial crisis, and the stock's run in the past year puts the annual yield below a number of tech peers. A new buyback was announced, but no timing was given, and the 30% rise in shares means $40 billion doesn't go as far as it used to. Microsoft will need to keep the buyback going at a high rate to maintain its effectiveness, but that might not be possible given the low US cash balance, addition of lots of LinkedIn debt, and rising interest rates. Overall, Microsoft investors are probably happy with Tuesday's news, but I don't think they are out in the streets jumping for joy.
Disclosure: I/we have no positions in any stocks mentioned, and no plans to initiate any positions within the next 72 hours.
I wrote this article myself, and it expresses my own opinions. I am not receiving compensation for it (other than from Seeking Alpha). I have no business relationship with any company whose stock is mentioned in this article.
Additional disclosure: Investors are always reminded that before making any investment, you should do your own proper due diligence on any name directly or indirectly mentioned in this article. Investors should also consider seeking advice from a broker or financial adviser before making any investment decisions. Any material in this article should be considered general information, and not relied on as a formal investment recommendation.