Daily I come across investors arguing back and forth about which is a better investment: Sirius (NASDAQ:SIRI) or Pandora (NYSE:P). Motley Fool suggests that Clear Channel (CCMO) is also a contender. While I don't claim to know how satellite and other radio and music services will pan out, there is another reason why I'm staying away from Sirius.
High Frequency Trading
I encourage you to have a quick look at this intra-day chart below from Feb.27th on Sirius: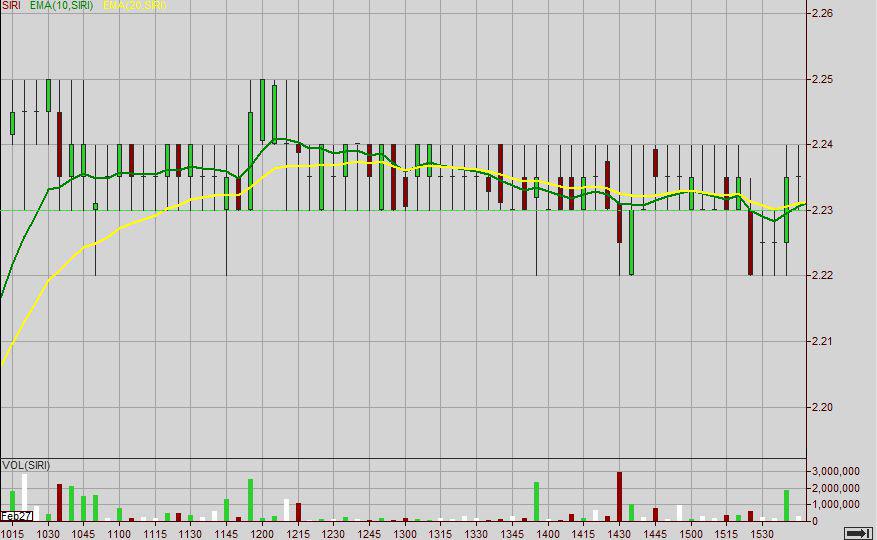 Click to enlarge
Each candle represents 5 minutes of trading. Look at what little ground is covered over many hours of trading. Then look at the volume which can be as high as three million shares inside a 5 minute window. What does this mean? This stock is the king of high frequency algorithmic trading. As such, I'm choosing not to invest with Sirius.
Consider: average daily volume is around 50 million shares and at an average price of $2 this is $100 million dollars. With an $8.37 billion market cap, SIRI is churning 100% of their market cap every 83 days. Compare this to the two monster cap companies Apple (NASDAQ:AAPL) and Exxon Mobil (NYSE:XOM).
Apple trades $7.4 billion daily with a $490 billion market cap; it takes 66 days to turn over its market cap. Sirius may be a good stock but it is no Apple and judging by intra-day trading patterns there seems to be more real investors driving Apple shares.
Exxon trades $1.5 billion daily and takes 278 days to turn over its market cap.
Good Fundamentals But...
What are a few fundamentals that draw me in?
7 years average sales growth is 72.3%
1 year net income growth is 890%
Free cash flow doubled over the past year
Gross profit margin is over 60%. 2007 had margin at 40%
5 year expected growth rate sits at almost 20%
Eventually share prices should follow fundamentals. But what real effect are long-term investors having on share prices at this point? Are human 'buy and hold' or other long-term investors accounting for even 5% of the trading volume? I wonder. Computer algorithms are making a killing by flipping this stock back and forth for a fraction of a penny. Any real position you might have is quickly gobbled up in the high frequency trading monster that ignores your sentiment and adds so much liquidity on both sides, making this stock a battle of Deep Blue vs. Joshua from the 1983 movie WarGames. If you don't mind computer servers manipulating your shares all day long, then load up on Sirius.
True, we don't yet know the full impact that high frequency trading has on long-term investing but I'm not one of those people willing to find out. My guess is that as long as you see extreme computer-driven volume you will also see share prices reacting to technical trading rules. Share price movement is a reflection of the participants - human or computer - and the more computer driven algos the more share price movement should reflect that.
On a technical note, I can see how share prices could continue to rise between $3.50 and $4.50 by year's end if the current channel holds, although we are sure to meet a little resistance at the $2.50 quickly being approached.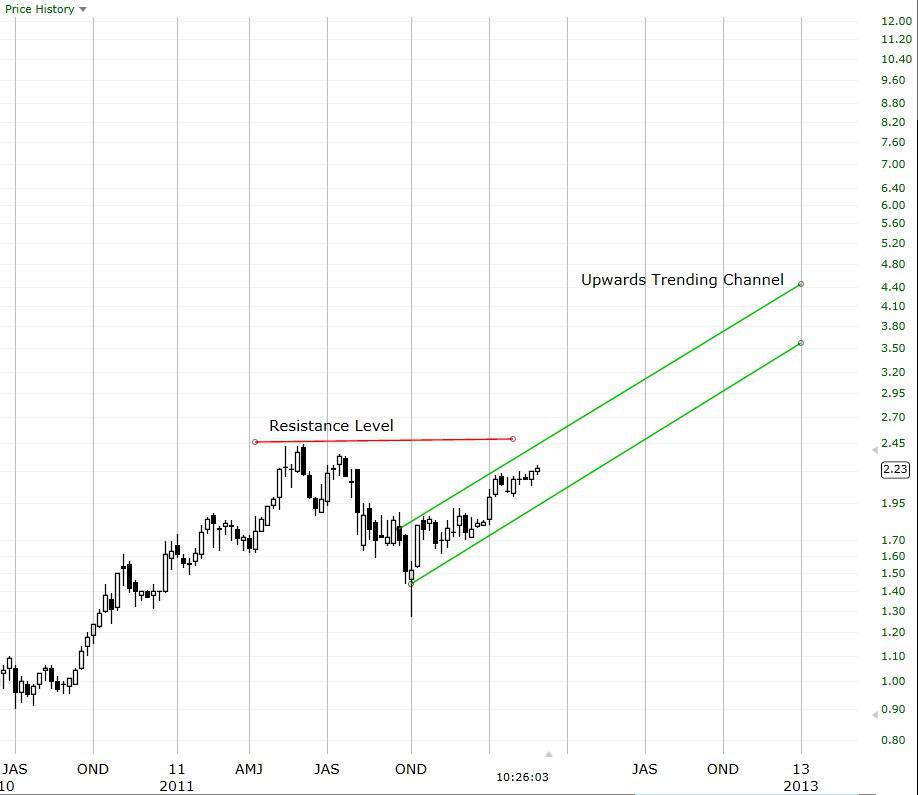 Click to enlarge
When it comes to investing I like to stack the cards in my favor but with the majority of shares coming from 'card counting' computers operating on different principles than mine, I am making the decision to sit out Sirius regardless of the upside potential.
Disclosure: I have no positions in any stocks mentioned, and no plans to initiate any positions within the next 72 hours.