NewLink Genetics (NASDAQ:NLNK) is a small biopharmaceutical company (market cap: $347.84 million) developing novel immuno-oncology product candidates. Following the May results of the failed IMPRESS Phase 3 pancreatic cancer study of algenpantucel-L , NewLink abandoned its HyperAcute Cellular (HAC) platform and has been winding down the rest of their HAC immuno-oncology (I-O) clinical trials that do not include a checkpoint inhibitor combination. There also is V920, an HAC-based Ebola Zaire vaccine candidate - it is in Phase 3, has Breakthrough Therapy Designation from the Food and Drug Administration (FDA), and PRIME (PRIority MEdicines) status with the European Medicines Agency. These permit close interactions with the regulatory agencies and facilitate review. During the peak of the 2014 Ebola outbreak in western Africa, NewLink licensed the vaccine to Merck (NYSE:MRK), which is responsible for V920's further development, manufacturing and regulatory efforts
NewLink is now focused on indoleamine 2,3-dioxygenase 1 (IDO) checkpoint inhibitor platform to treat a wide range of oncology indications. The company's most advanced remaining candidates are IDO pathway inhibitors indoximod, which is wholly owned, and GDC-0919, which is partnered with Roche (OTCQX:RHHBY). There happens to be numerous indoximod data readouts before the year end, although some may spill over to the first half of 2017 (see Table 1). NewLink also has $160.5 million cash, representing at least nine quarters of operational funds. This financial stability, along with the aforementioned catalyst events, forms the basis for a relatively risk-free investment in the biotech sector.
Table 1. Indoximod Clinical Trials
| | | | |
| --- | --- | --- | --- |
| Trial | Phase | Disease | Completion |
| NCT01560923 | Phase 2 | Metastatic Prostate Cancer | Dec-16 |
| NLG0401 | Phase 1 / Phase 2 | Non-small Cell Lung Cancer | Jun-17 |
| NLG2101 | Phase 2 | Metastatic Breast Cancer | Dec-16 |
| NLG2102 | Phase 2 | Glioblastoma Multiforme | Dec-16 |
| NLG2103 | Phase 2 | Metastatic Melanoma | Dec-16 |
| NLG2104 | Phase 2 | Metastatic Pancreatic Cancer | Dec-16 |
| NLG2105 | Phase 1 | Glioblastoma Multiforme | Jul-17 |
| NLG2106 | Phase 1 / Phase 2 | Acute Myeloid Leukemia | Jul-18 |
Immunotherapy Background
IDO's main function is to break down the essential amino acid tryptophan ((Trp)) into various active metabolites such as kynurenine ((Kyn)) and the coenzyme, nicotinamide adenine dinucleotide (NAD). Some tumors express IDO, which provides them with a means to evade the body's immune response. Although the exact complex mechanisms are not known, IDO immunosuppression works by 1) depleting effector T cells of Trp, which inactivates them; 2) triggering nearby IDO-expressing dendritic cells (a bystander effect which spreads the immunosuppression, a phenomenon that is also seen with HIV); and 3) producing Kyn, which is toxic to CD8+ T cells and natural killer cells but at the same time promotes the formation of regulatory T cells that express cytotoxic T-lymphocyte associated protein 4 (CTLA-4).
CTLA-4 functions as another immune checkpoint transmitting an inhibitory signal to T cells. The sole CTLA-4 monoclonal antibody ((mAb)) on the market is Bristol-Myers Squibb's (NYSE:BMY) Yervoy (approved in 2011). In a Yervoy melanoma biomarker trial, elevated baseline levels of IDO expression have been associated with improved clinical outcomes (p = 0.012). Therefore, dual blockade of IDO and either CTLA-4 or another immunosuppressive molecule such as programmed cell death 1 (PD-1) may be synergistic.
Competitive Landscape
The only other two clinical CTLA-4 mAbs in the industry are tremelimumab, which is in Phase 3 by AstraZeneca (NYSE:AZN), and AGEN1884 from I-O specialist Agenus (NASDAQ:AGEN). Because two are Big Pharma, that means eventually there may be a bidding war for the latter. Agenus' promising prospects were detailed in a very recent article. The two commercial PD-1 inhibitors are BMS' Opdivo and Merck's Keytruda. NewLink's main IDO competition is epacadostat by Incyte Corporation (NASDAQ:INCY). The much larger company already has their candidate at the pivotal trial stage. The antitumor activities of IDO pathway inhibitors as single-agents are modest, so indoximod is being further developed in combinations with other immunotherapies such as anti-CTLA-4 and PD-1 mAbs, as well as cytotoxic chemotherapy.
Catalyst Events
NCT01560923
First on the trial list is an investigator-sponsored, double-blinded, randomized, placebo-controlled trial (RCT) in men with asymptomatic or minimally symptomatic metastatic castration resistant prostate cancer (mCRPC) which is hormone refractory. Patients receive either twice daily oral indoximod or placebo for six months beginning the day after the third and final Provenge infusion. Provenge is an autologous cellular immunotherapy which was acquired by Valeant Pharmaceuticals (NYSE:VRX) from Dendreon last year. Provenge's survival benefit is limited to asymptomatic or minimally symptomatic mCRPC. In theory, it makes sense to add tumor microenvironment modulators to enhance the immune response against the prostate cancer cells. However, prostate cancer appears to be minimally responsive to immunotherapy. This conclusion is largely based on the failure of a Phase 3 RCT of Yervoy plus radiation compared to radiotherapy alone, and supported by several PD-1 Phase 1 studies that showed activity on solid tumors in locations other than the prostate. The convoluted mechanisms of mCRPC resistance are a mystery, but whatever the cause(s), they cast doubt on the chances of this tumor type responding to indoximod.
NLG2101
The second highlighted trial is a Phase 1/2 double-blinded RCT of indoximod in combination with taxane chemo (docetaxel or paclitaxel) in metastatic breast cancer (mBC). Paclitaxel is among the preferred standard of care (SOC) first-line single agents for mBC but is not able to prevent immune escape mechanisms developed by IDO which can cause the tumor to become resistant to the body's immune response. In indoximod's first-in-man Phase 1 dose-escalation trial as a single agent, two of seven breast cancer patients had partial responses (PR) by RECIST criteria at lower indoximod doses. It is reasonable to expect the same or better results with the new established higher indoximod dose.
NLG2102
Next is a Phase 2 study of the combinations of indoximod for adult patients with temozolomide-refractory primary malignant brain tumors:
Indoximod and temozolomide with stereotactic radiation. Indoximod and temozolomide with Roche's Avastin Indoximod and temozolomide (Avastin-naive patients)
Of these cohorts, the most interesting is the triple combo. Unlike other cancer sites, the brain is susceptible to tumor- and therapy-induced inflammation which may cause additive/synergistic brain swelling and possible neurologic compromise. Even normal antitumor immune responses lead to inflammation. Therefore, Avastin, a VEGF neutralizing antibody that secondarily decreases inflammation, is a logical option to combine with immunotherapy.
NLG2103
The trial with the most success so far is a Phase 1/2 study of indoximod plus immune checkpoint inhibitors for patients with advanced or metastatic melanoma. In the Phase 1 part for treatment naïve patients, indoximod was dose escalated in combination with Yervoy (which was halted either due to reaching 4 21-day cycles or due to toxicity) then continued at 28-day cycles in the Phase 2 part until toxicity or disease progression. In the event of progression, the provider would change therapy from one checkpoint inhibitor (anti-CTLA-4 or anti-PD-1) to another (Yervoy to Keytruda or Opdivo as well as Keytruda or Opdivo to Yervoy) while continuing indoximod.
Interim response data was available on 28 total patients as of the American Society of Clinical Oncology (ASCO) 2016 Annual Meeting in July. A 36% (10/28) objective response rate (ORR: complete responses [CR] plus PR) was observed (see Figure 1), including three CRs (11%). Of the 12 subjects (including nine in Phase 1) who received Yervoy initially, one attained CR at 13 months (Figure 2). The best responses came from the 15 patients in Phase 2 who received Keytruda in combination with indoximod as initial therapy. ORR was 53% (8/15) with two CRs (13%, Figure 3).
Figure 1. Phase 2 NLG2103 -Advanced Melanoma (all patients) Interim Data Presented at ASCO 2016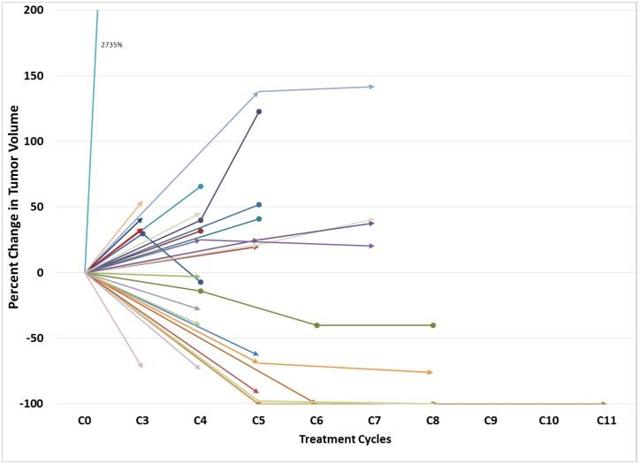 Click to enlarge
Figure 2. Phase 2 NLG2103 -Advanced Melanoma (Yervoy patients, including sub-optimal dosed), ASCO 2016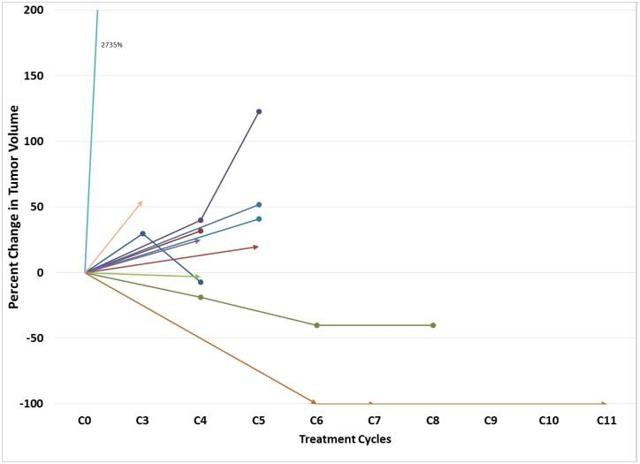 Click to enlarge
Figure 3. Phase 2 NLG2103 -Advanced Melanoma (Keytruda patients), ASCO 2016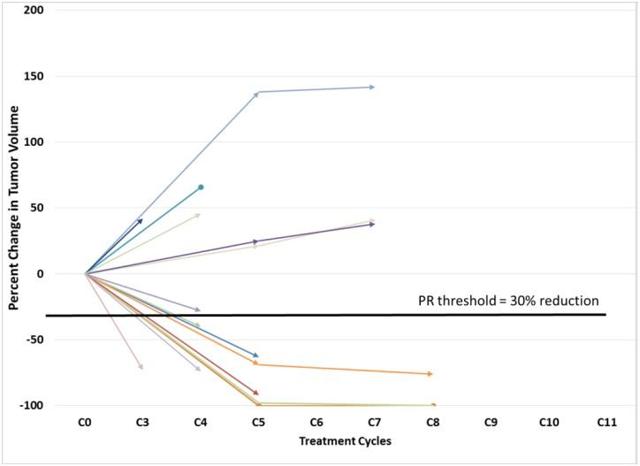 Click to enlarge
NLG2104
Finally, this is a Phase 1/2 trial on metastatic adenocarcinoma of the pancreas. Patients were treated as first-line with indoximod in combination with gemcitabine and Abraxane, a nanoparticle albumin-bound form of paclitaxel from Celgene (NASDAQ:CELG). The 28-day gemcitabine and Abraxane regimen is one of two preferred standard of care (SOC) for metastatic disease. Pancreatic cancer is characterized by poor prognosis, mainly due to desmoplastic reaction, which is the growth of dense tissue (stroma) which may surround tumors. This prevents efficient drug delivery and leads to poor response to therapy. Abraxane somehow gets around the desmoplasia and has been shown to synergistically increase intratumoral gemcitabine levels.
In the present study, interim response data was available on 31 patients in time for the ASCO 2016. At the time of analysis, ORR was 45% (14/31, see Figure 4). A delayed response pattern was observed, such that two patients (6%) achieved a CR at Cycle 8. The full readout will determine whether a Phase 3 is worth pursuing. Currently, the triple combo is running ahead of Abraxane's 23% ORR in its pivotal IMPACT RCT, although only keeping abreast with Abraxane's exploratory Phase 1/2 ORR of 45%.
Figure 4. Phase 2 NLG2104-Metastatic Pancreatic Cancer Interim Data Presented at ASCO 2016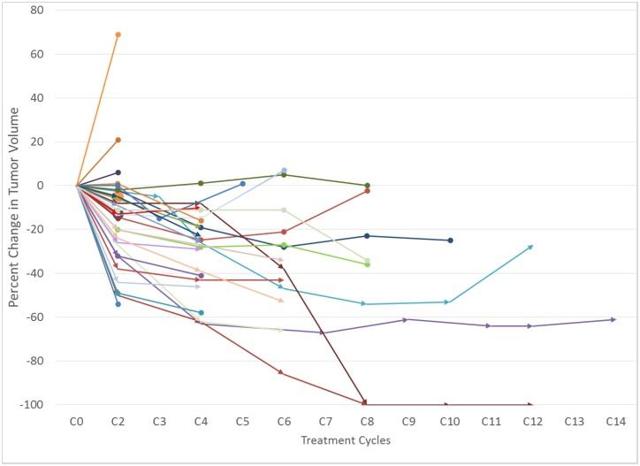 Click to enlarge
Conclusion
Most of these indoximod trials are very encouraging. In particular, the NLG2103 Keytruda cohort is the one to watch. PD-1 inhibition is more tumor-specific than CTLA-4 blockade, resulting in reduced toxicity. The other studies except NCT01560923 all have a good chance to succeed. As a bonus, there is also a Phase 1 trial completing around the same time frame for NewLink's second-generation IDO inhibitor, GDC-0919. All NewLink only really needs to come out from these exploratory trials is just one solid Phase 3 to devote its resources on to ultimately win marketing approval (additional indications can always wait); the company will most likely get that shot.
Disclosure: I/we have no positions in any stocks mentioned, and no plans to initiate any positions within the next 72 hours.
I wrote this article myself, and it expresses my own opinions. I am not receiving compensation for it (other than from Seeking Alpha). I have no business relationship with any company whose stock is mentioned in this article.